Dogs Unite Sponsored Dog Walk is an annual event in Blackpool in support of Guide Dogs. It's an amazing night with your four legged friend under the Blackpool Illuminations
Original Date – Friday 12 October 2018 
POSTPONED TO SUNDAY 21 OCTOBER
The weather forecast for Friday 12 October is atrocious, with Storm Callum predicted to hit the UK. Organisers of this event have therefore taken the decision to postpone it.
Event starts with a dog show from 5pm
Sponsored walk begins at 7pm
Meet at/set off from the seafront at North Pier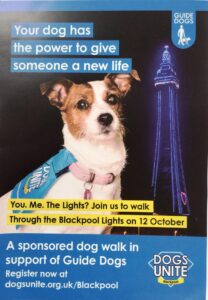 There is one walk route, with two distances that can be chosen on the day: approx. 5km (3.1 miles) for the keen, and 1.6km (1 mile) for those wanting a gentler stroll.
Dog Show categories include:
Cutest puppy
Prettiest bitch
Most handsome dog
Best fancy dress
Beast sausage catcher
Best rescue
Best veteran (8+)
Best trick – and more!
To enter costs just £1 per class, or £5 to enter as many as you wish.
Plus, there's FREE parking in the Houndshill from 5pm. Find out how to claim your free parking offer when you get your registration pack.
Find out More
Have a look at the Live Blackpool website homepage for more of the latest updates.
If you love the Fylde Coast you ought to sign up for our weekly email newsletter. It's packed full of interesting things and will arrive in your inbox all 52 weeks of the year.
Sign up for the Visit Fylde Coast enews here
Join us on Facebook at our Visit Fylde Coast Facebook Group
Don't forget to follow us on Twitter @visitFyldeCoast