Blackpool Gambia School Project was set up in 2003 to help deprived children in The Gambia with their education.
With the help of family and friends, the Project now sponsors the education of 40 children.
Please help with pencils…
Gary Pretty, Chairman of the Project has been very lucky to get a palette load of pencils from another Rotary Club. These have been given from a famous pencil manufacturer as seconds and are to be given to schools in third world countries.
Gary says "There are 20 boxes, each containing approximately 4000 pencils. I would like to send these to The Gambia at the end of this year in a container so that they will arrive when I hope to be there at end of Jan/Feb next year and I can then distribute them to the schools where we have sponsored children and any other needy schools that would benefit from them. I am looking for anyone who would like to sponsor a box or two to be shipped. It will cost about £20 per box. This will enable us to use other funds we have raised this year to finish building our school. Please contact me if you can help in any way."
Gary's contact details are below left.
---
Recent Success
They've helped to build the first three classrooms for Kotukala Primary School. With funding in 2013 from Blackpool Palatine Rotary Club, local workmen made the furniture for the classrooms.
In 2014, again with the help of funding from Palatine Rotary Club, the Project furnished, tiled, painted and plumbed the new toilets for the school.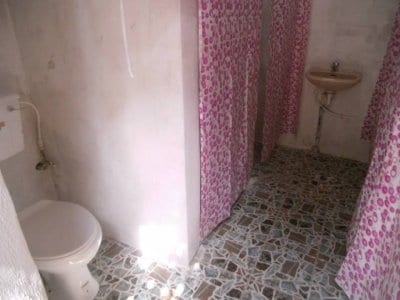 New girls toilets
The toilet block had been built by another charity so they were finished off by being painted, tiled, plumbed and shower curtains put up for every cubicle for privacy. We also had a cement floor put down for the entrances. There is one teacher toilet, 6 cubicles and a sink for the girls, 3 cubicles and 3 urinals and a sink for the boys. All with running water which is a real luxury for them. All paid for by Rotary Club of Blackpool Palatine.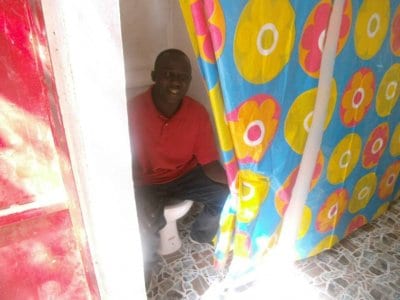 Mr Cham the headmaster, showing off the boys toilets
With the money left over a new library was painted and shelves were made. They now need your help to raise funds to build the final three classrooms.
Another project going on is to support a very poor school in the provinces called Jannehkunda School – it's never had any charitable support and it is desperately needed. Earlier this year a bush fire had destroyed a lot of the fencing around their school garden where they grow bananas, cassava and other crops to be able to supplement the very meagre food the children get.
Without the fence it meant that cattle, sheep and other animals could get in andeat everything. The Blackpool Gambia School Project gave them some funding so that the fence could be renewed with wire so the crops can now grow again. The Project will be giving this school a lot more support.
Join the Blackpool Gambia School Project on Facebook (here) and keep up to date with the latest news
---
More About the Blackpool Gambia School Project
The Gambia in West Africa is the sixth poorest country in the world and most parents atruggle to pay for their children's schooling.
The Blackpool Gambia School Project is trying to raise funds to build some new classrooms at a community primary school in Sukuta – a village with a high population of young children, with very few school facilities.
The Project has been working with the owners of the school who have built four classrooms on a piece of their own land which are used by 4-8 year olds. We'd like to be able to extend the school to keep children in continuous education until they are 12 and move onto secondary school.
Community schools are staffed by the government but everything else is supplied by the community. School fees are determined by how much they do for themselves, but are typically £4 per month which includes a hot meal every day and all books and stationery.
There are various ways in which the Blackpool Gambia School Project raises money, mainly by running stalls at events around Blackpool. If you can offer a space at an event for a cake stall or Teddy Tombola we'd love to hear from you.
The Blackpool Gambia School Project is aiming to raise at least £10,000 to enable this primary school to be built and equipped. Further funds will be used to help with other projects. It's a lot of money to raise, but such a worthwhile cause. The people have nothing and want for nothing, but are the friendliest and happiest people who would be so grateful for any help that they can be given.
Some examples of costs:
Building new toilet blocks – approx £1500.00 each
New tables and benches – £25 each and 250 are needed
Community Hospital requires upgrading at a cost of £25,000
Build a new skills centre – £8,000 for the structure
These prices are for materials only, all the labour will be supplied by the various local communities.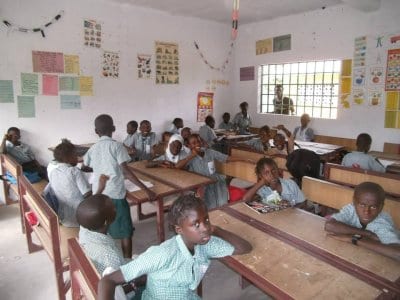 New classroom at Kotukala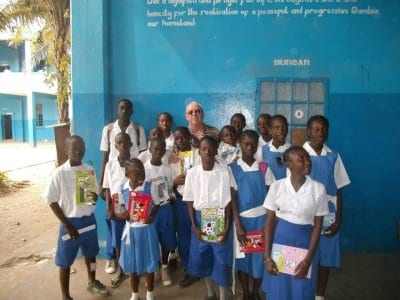 Sponsored Children at St Josephs School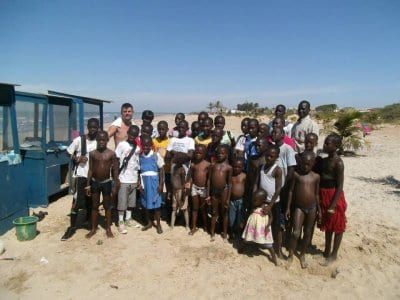 Sponsored children at a beach party
Can you help?
Send correspondence and donations to:
Gary Pretty
Chairman, Blackpool Gambia School Project
c/o Hesketh Hotel
51-53 Hesketh Avenue
Blackpool, FY2 9JX
Tel: 01253 500321
Email: heskethhotel@hotmail.com
Cheques made payable to Blackpool Gambia School Project