Highfield Road Park Boat Rebuild
Write to the Gazette!!!!! It's awful!! How could anyone do anything like that??
All comments  received by the Friends of Highfield Road Park committee on the Park on the morning of Friday 24th July.  Such was the response to finding the wooden boat half burnt out on the toddlers natural play area. To say I was gutted is an understatement but we have been here before, not to this extent but unfortunately vandalism is part and parcel of being involved in a local Parks group. After nine years of being Chairman of the Friends of Highfield Rd Park this was different. An arson attack on a play area that was used so much by so many toddlers. How can we get it rebuilt, the Council have no money and we (the Friends Committee) have no joinery skills.
We have never publicised vandalism on the Park through The Gazette, as we always try and remain positive. However after this attack we decided that social media might help, as we were so frustrated we decided our Facebook page would be our first course of action. Our average audience being approximately 200, on this occasion the final hits of our initial post reached almost 43,000 people. The comments that came along with these hits were breath-taking.  I was humbled by the comments including offers of help to re-build the boat.
Such a fantastic Community response! Following the arson attack the Chairman of the South Shore Community Association (SSCA) said that he would approach his committee to donate £500 towards the re-build, which was subsequently agreed – Many thanks to them.  We have also received £60 in donations from members of the Public who visit the Park. A local retired joiner, Granville Coxhill and Dave Bennett said they would give their time free of charge.
A meeting was held, measurements taken by Granville, an order was placed with Chadwicks and the wood delivered the following day. We held a well-supported action day the following Saturday 1st of August, with one of the participants coming all the way from Salford. The boat was stripped down to the unaffected wood. Granville and Dave promised to return the following Thursday and Friday. True to their word, within two days they had re-built the boat. What a great effort. Thank you both. Unfortunately I was away but on my return it was amazing to see the boat rebuilt. The Council Parks team visited and approved the re-build. Some painting remained to be done, sand sifted and a porthole installed. This was carried out Saturday 15th August and the next day the sun came out and the area was re-opened.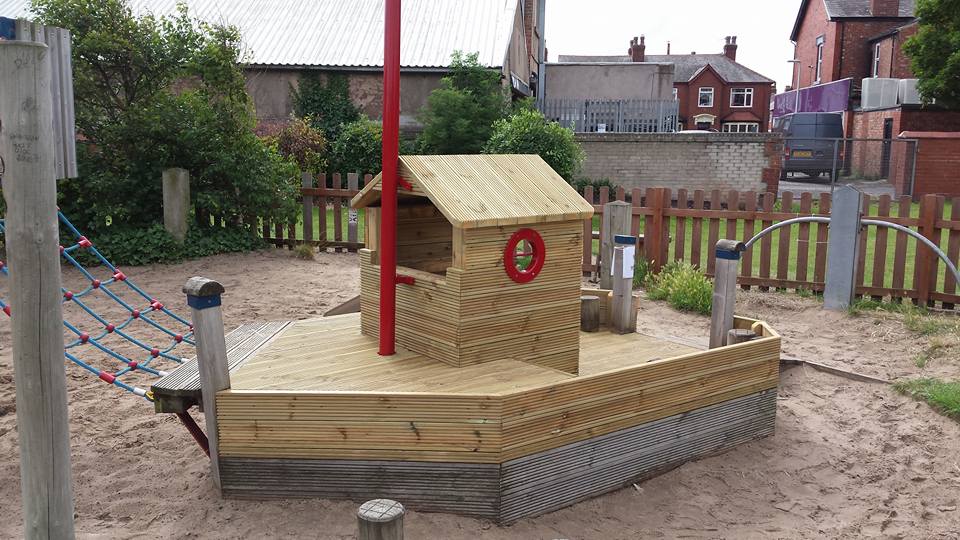 The rebuilt boat at Highfield Road Park
In just over three weeks the Community of South Shore and Highfield Road came together and made a statement. We will keep our community that we live in a great place to be, because we are proud to live here and will carry on making it a better place to live, work and play.
What a great Community spirit, I cannot thank people enough. They know who they are. This is a great positive story about the people of Highfield Road and Blackpool, which should be publicised and celebrated. When there are so many bad stories about Blackpool, let's celebrate the good things that happen.
There are many voluntary groups in Blackpool that do the same type of work. We enjoy what we do because we believe we make a difference. At times it is frustrating but this incident just proves that the Community will rise to the occasion when asked.
One Happy Chairman. 
If you would like to join this group or find out more, it's the annual A.G.M. on Thursday 3rd of September at South Shore Community Centre (the old Highfield Library) at 7pm. All are welcome and there will be free refreshments.
---
Community Payback at Highfield Road Park – August 2015
How often do you hear that criminal offenders are sentenced to do so many hours 'community service' and wonder what they do?  Well at Highfield Road Park the Community Payback Team has been very active since 2014.  Led by their Supervisor Shaun Halstead, various offenders worked in the park during the Summer of 2014.  However when the weather became cold and wet the Friends of the Park were asked if the team could help out with any other Projects.  In October the Friends asked if there was any chance of the team helping with a 'Refurbishment Project in the Park Pavilion.'  Shaun and his team were only too pleased to take up the challenge.
Following a meeting in October a list of materials was drawn up. The Friends knew they would be able to provide some materials with the council providing the paint that was needed for the first phase of work. Work was carried out on some of the coldest winter days but the improvements could be seen straight away, inside and out. The peeling plaster was removed and a new lick of paint applied giving the main room a much brighter look.  However phase two was more of a challenge and the Friends knew that many more materials and skills would be needed.  Once again the Community Payback Team said that they would be able to undertake the work providing the Friends could supply the materials.
By now it was January 2015 and the Friends thought they would have to wait while they raised further funds. Then a new member joined their Committee and told them of a Community initiative that local firm Chadwicks were running and thought they would be willing to supply materials for the rest of the Pavilion 'Makeover'.  Materials were ordered, then Shaun and his team sprang back into action, often working weekends – as some professionals who are completing their community service have to sometimes fit it round their usual jobs.  Thankfully they were able to complete the work in time for the Park's Centenary Celebrations in July when the role of both Chadwicks and the Community Payback Team was recognised, the pavilion was officially opened to the public and a plaque installed to thank those involved and recognise their contribution.
However the story does not end there when the park suffered an arson attack in July the Community Payback Team once again came along to help and were shocked by the damage done as they had also become 'Friends' of the park. Shaun said they had enjoyed helping the group out and appreciated the support the community had given whilst working at the park. 
---
Fun Day in June 2015
The Friends of Highfield Road Park enjoyed yet another record breaking Community Fun Day event as the sun shone brightly on approximately 800 visitors attending their Fun Day on Sunday 7th June. The highlight for many was Enchanted Dreaming Princesses Anna and Elsa visiting the park for an hour from 12 noon, who patiently posed with everyone who wanted their photograph taken with them.
With more stall holders than ever, there was something for everyone; Mums and Dads looking at the old 1915 coins on Chard Jewellers stall while children enjoyed playing on the Fun Fair or having their faces painted by Lauren from Issypink. Many winning a prize on the popular Super Tombola which has become renowned for its fabulous prizes. Dancers from UDP – Urban Dance Project performed for the crowds.  Plenty of photo opportunities for Steve Smith of Creative Portraits – who also had a stall.  Steve said "it was a fabulous event! A lovely community feel to it too, promoting that wonderful sense of community which has sadly been eroded over the years."  Visitors of all ages enjoyed having their photograph taken with a special creation of a Seaside photo board which the Blackpool Art Society painted for The Friends after being approached by the Secretary, due to both groups connection with the late Sir Cuthbert Grundy – the original park benefactor. 
The event continued the parks celebrations in its Centenary year as the Friends raised more funds to make further improvements on the park. The event took £1355 giving them a profit of £1300 to go towards their next project which the public will help choose at their A.G.M. in September this year.
Next month the Friends will celebrate the official 100th birthday of the park on Sunday 12th July, when they hope many visitors will join them from 12 noon for a community park picnic and watch the Celebration Bowling Match from 2pm onwards.  The seaside scene will make another appearance then, which the group feel sure Sir Cuthbert Grundy would be proud of. For further details about this event or The Friends; please contact Karen tel 312986/07905 371947.
---
Friends of Highfield Road Park win a Community Green Award
On Wednesday 13th November 2013 a small group of the Friends of Highfield Road Park were priviledged to attend The Blackpool Gazette and Lancashire Evening Post Green Awards – sponsored by Remsol Co. Uk.
The evening was the pinnacle to almost two years planning to transform one of the old unused bowling greens at Highfield Road Park in to a new open community area.
Never in our wildest dreams did we think we would be coming home with a fabulous winning trophy and certificate, especially when we saw the other shortlisted candidates who we were up against.
When our task began almost two years ago I think a lot of local people were sceptical. At times it seemed to take so long to get each step completed that we wondered when the area would be finally transformed.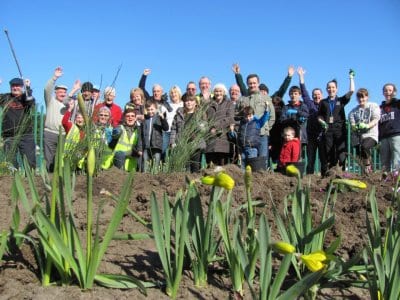 Incredible to think that just twelve months ago I was sat with Justine Hall an ex-council employee and horticulturist leafing through books choosing what we thought would be the best plants for the new sensory gardens. Plants which six months later would be installed with the help of over 40 volunteers of all ages, when we held our community ground force day in April this year.
Of course the work did not stop there, right from the start we knew the garden beds would need to be looked after something that we – the Friends – agreed to do if the council could mow the grass.
Thanks must also go to all our funders who so generously sponsored the garden. Without them, we would not be where we are today with a fabulous open space which many visitors enjoy.
Most importantly I would like to dedicate our win to the community gardeners who regularly meet up on a Wednesday morning to maintain the garden.
We may only be a 'pocket park' in the South of Blackpool but if you haven't found us yet please do try and visit. We still have more improvements to make especially in the playground, but we hope you will enjoy a visit to the haven we have created.
L-R Karen Pennington, Avril Braithwaite and Enid Sharratt
(Friends of Highfield Road Park Committee members.)
---
Find out More
Facebook at Friends of Highfield Road Park
Twitter @HighfieldRdPark
Contact Karen tel 01253 312986 or 07905 371947.
Rebuilding the Play Boat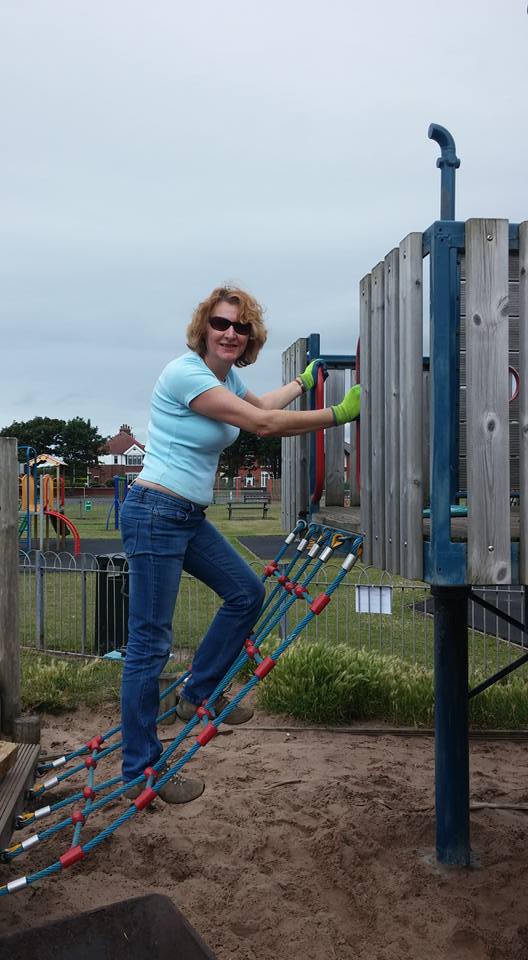 Sue Lowe inspecting the top
Sifting sand boy & Avril Braithwaite
Paint preparation L-R Enid Sharratt, Comm PB person and Sue Lowe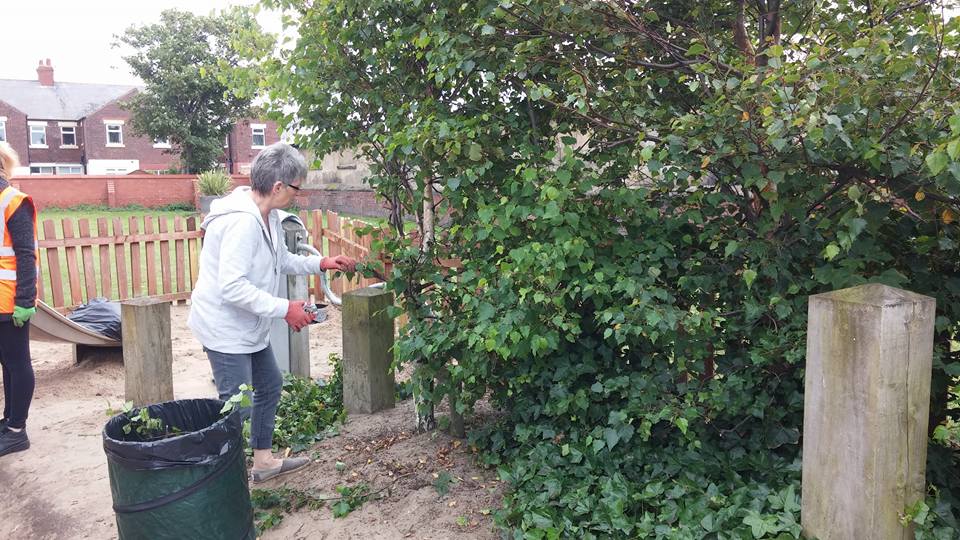 Irene Donavon gardening in the sand area
---
Help from Community Payback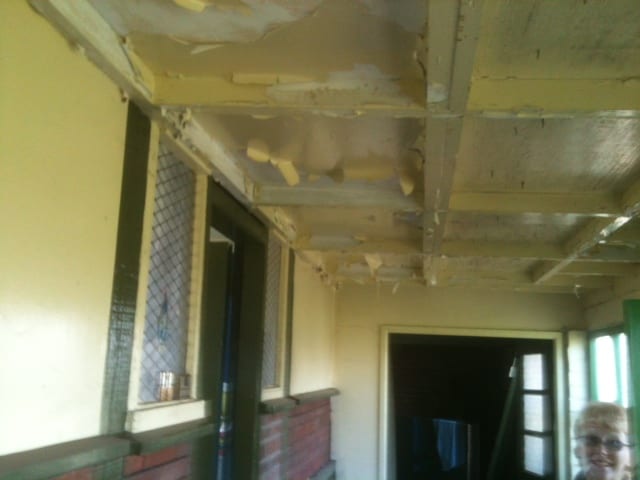 Before (above) and after below) – what a difference a lick of paint can make – and a team of helpers!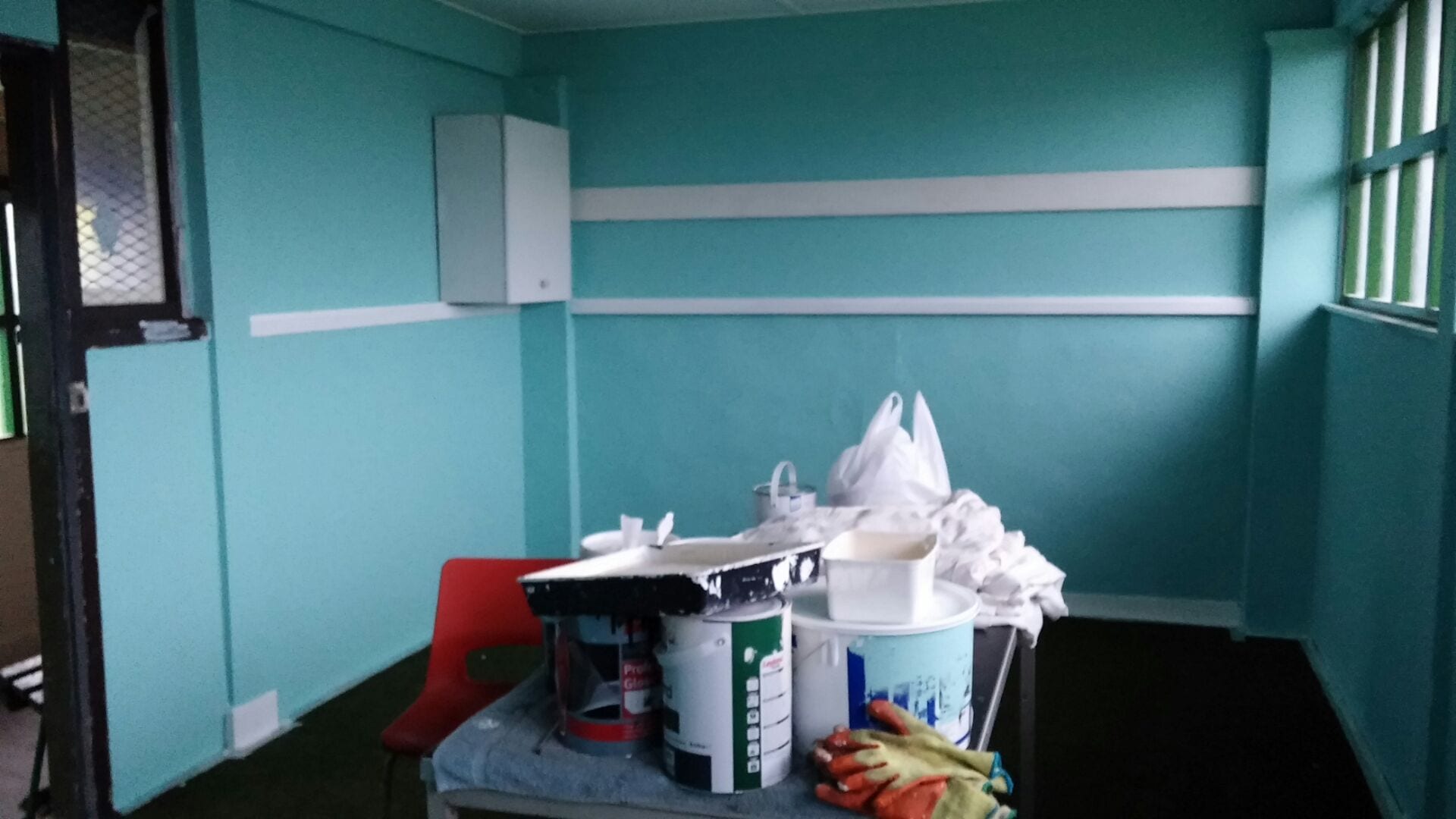 ---
Fun Day in June 2015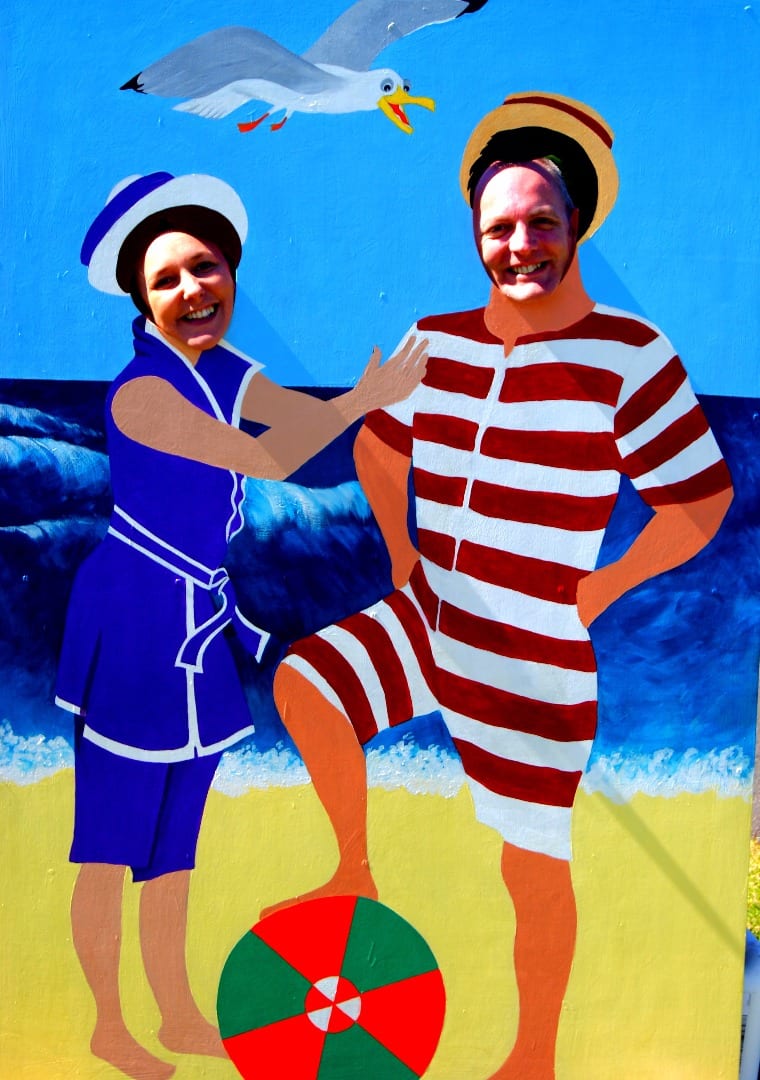 Friends of Highfield Road Park Fun Day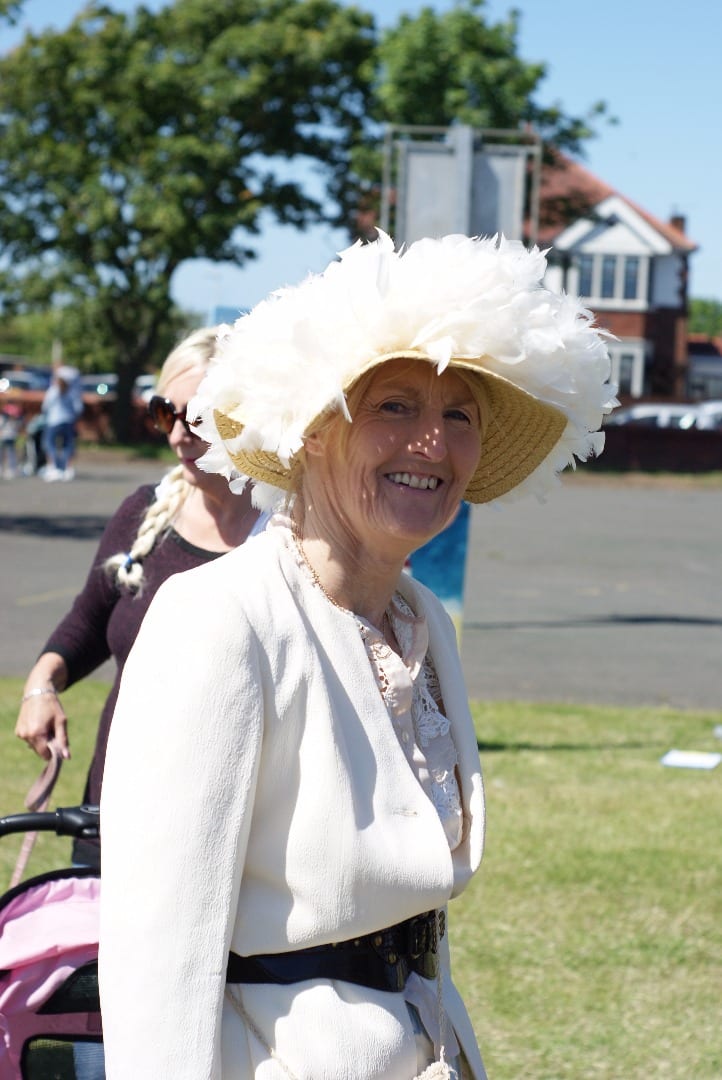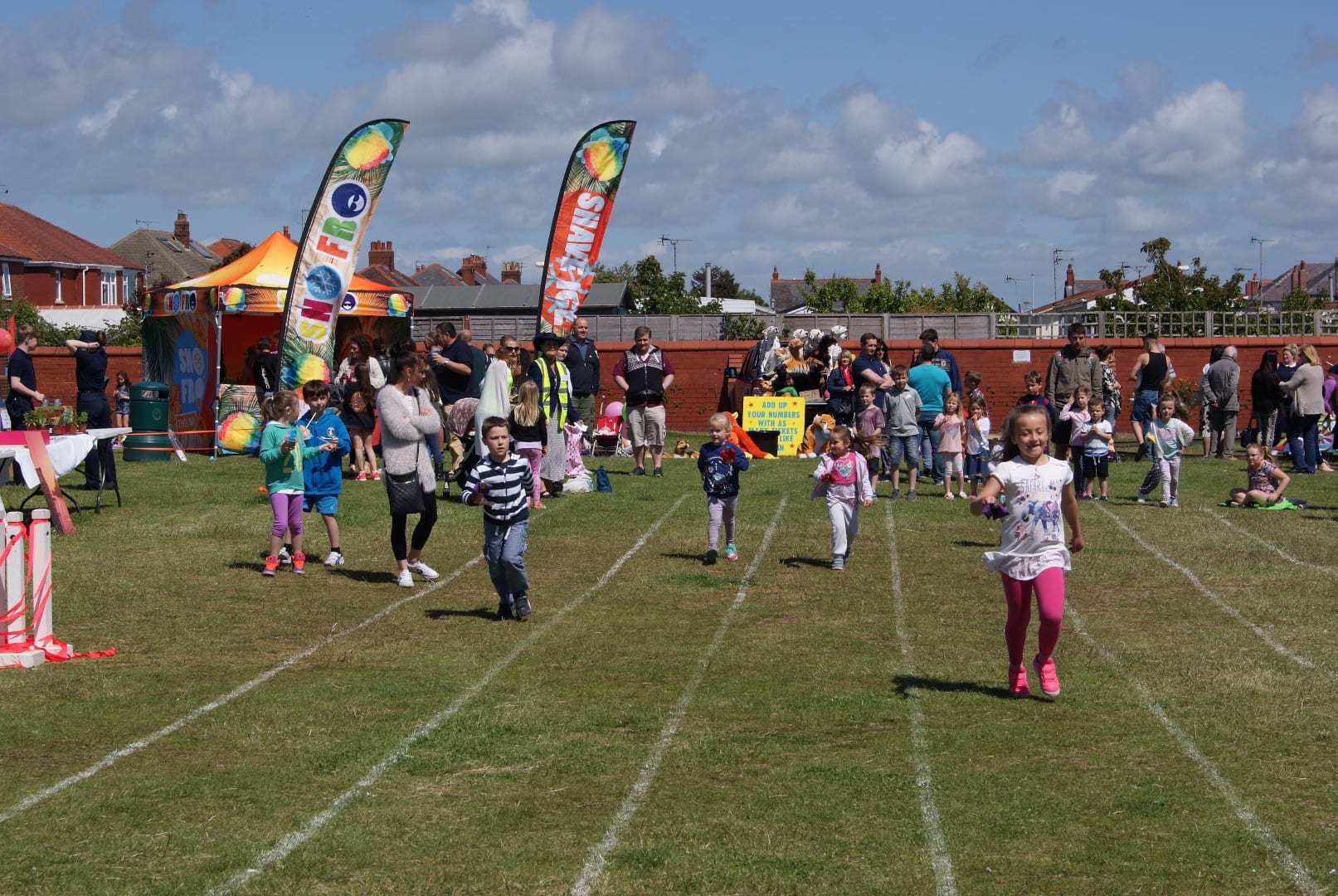 Friends of Highfield Road Park Fun Day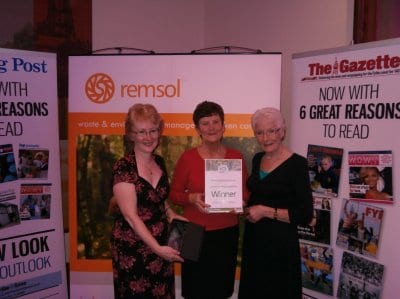 L-R Karen Pennington, Avril Braithwaite and Enid Sharratt
(Friends of Highfield Road Park Committee members.)