The Friends of Louie Horrocks Park have been established since 2006, and they work together and with Blackpool Council to maintain this open space as a good community resource for everyone to enjoy.
……………………………………………………………………………………………………..
A Fun Day for all the family to enjoy and show support for your local park!
The Friends of Louie Horrocks Park on Lytham Road, South Shore is hosting a Summer Fair on the 14th July (Sunday).
An opportunity to have a look at your local park, support the work of the Friends Group and have fun at the same time!
The fun starts at 12 noon and the dog show will start at 1pm.
Dog Show for all breeds, sizes and ages – all welcome!
Origami exhibition and workshops
Bouncy Castle
Balloon Modelling
Bike Coding with the police
Food wagon
Tombola
Donkeys
Stalls
Refreshments
Face painting
… and more!
……………………………………………………………………………………………………..
What's Happening this year at Louie Horrocks Park
Louie Horrocks Park is comming back to life after the winter. Neighboroughod Services from Blackpool Council have put in time pruning the shrubs and cleaning up the borders so it's looking smart and shipshape ready for the coming spring.
Due to cutbacks, the Council won't be able to fund applications for the Green Flag Award this year so the Committee have decided to fund this application themselves and Neighbourhood Services have agreed to support them in the venture.
The local Forum is helping with funding along with the local Ward Councillors to update the name Louie, replace burnt picnic bench tops and the Group are working with Maple Farm to introduce two new trees and some shrubs. There's more work to do such as staining the wooden climbing frame to freshen it up and cover grafitti and the metal railings are due for re painting.
The committee can do some of this work, but extra volunteers are always welcome – you can do as little or as much as you like – so if you live in the area or enjoy using the park why don't you give a little bit back to making it nice? All you need to do is ring 402929 and find out more.
You might have also read in the local press that there's been an incident in the park with dog fouling, so the police are helping to stamp it out and an awareness session is going to be held to educate dog walkers. If you've got a dog, just bag it and bin it. Remember that dog poo can cause many nasty conditions for both dogs and humans.
And finally, a BIG thank you to all the regular users and supporters.
……………………………………………………………………………………………………..
More about the Friends of Louie Horrocks Park
One of their first major achievements was to win the prestigious Green Flag Award which is given to parks and open spaces of the highest order, and with just a quick look at the park you can see why they have won it year after year. At the time of writing this, they were waiting for confirmation that it had been awarded again in 2012.
The Friends Group is properly constituted with a committee and regular volunteers – who are a committed bunch that have done a fabulous job. They have enhanced the shrubbery and planting, provided picnic tables, benches and bins, and recently have planted 40 saplings as part of the Jubilee Woodlands project.
They've created a small childrens playground, and an adventure area for young teenagers. There is also a multi-use football/sports enclosure. Every Tuesday night a mobile out-reach unit comes along to the park and from 6.30pm it's somewhere for young people to go and use computers, join in games and generally hang-out with their friends.
As with all open public spaces, the Friends Group continue with the campaign against dog fouling, and at the park you'll find the brilliant new dog stations. These are an all in one dog fouling disposal unit, with poo bags included – one of the Friends has the key so that they can keep it topped up. So if you are walking a dog in the park there really is no excuse for not clearing up after it.
The Friends Group were also successful in their campaign to see CCTV installed at Louie Horrocks Park, and the images from the camera are sent straight to the police station where anti-social behaviour can be acted on if and when it happens.
If you are interested in joining the Friends of Louie Horrocks Park, new members and volunteers are always welcome to meetings and to help with the events and activities that happen through the year.
You can get in touch with Barbara Hampson, the Secretary, on 01253 341365.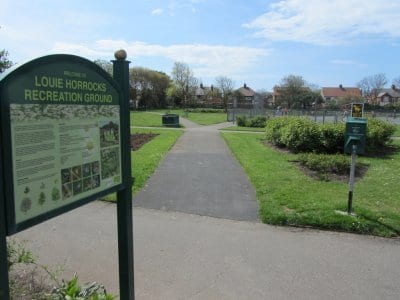 Welcome to Louie Horrocks Park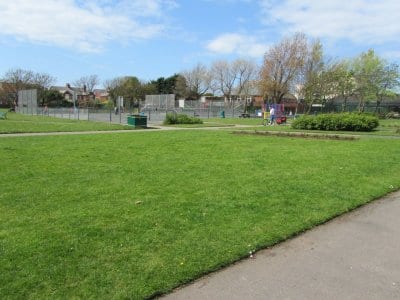 Childrens play areas Louie Horrocks Park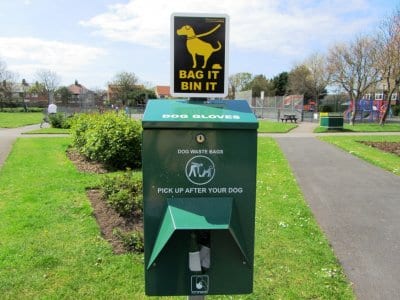 Dog bins Louie Horrocks Park