In this section we're interested in who you're interested in.
It might be the milkman who keeps an eye on the people on his round, or a community stalwart who looks after their patch and campaigns to make it better.
We also want to hear your interesting stories. So if you've got a passion for Blackpool – whether you've lived here for 50 years or five, come here twice a year, or have a desire to move in – then we want to hear from you.
If you love Blackpool, send in your snaps and a tiny bit of information and share your liking of Blackpool with everyone!
Just send your photo – from a day trip, holiday or afternoon out, along with your first name, where you are from, and how long you were here and we'll feature it here on the website.
There's room for all kinds of people – those who have lived here for years, memories from the past, those who moved to Blackpool recently (and why!), and people who work here and live elsewhere.
It's an interesting chance to see what people like about Blackpool – including the jobs they do, why they visit and what they like about the place.
You can get in touch by email – just contact jane@theRabbitPatch.co.uk and tell us your story, and don't forget to send some nice pics too!
Plus, tip us the wink if you know someone who we should contact – we all know someone interesting!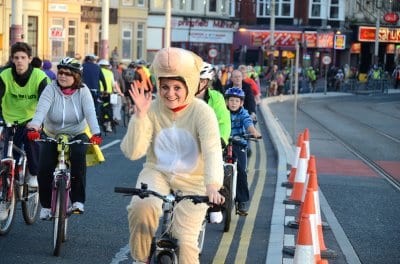 We all love Blackpool, some even dress up to prove it!