Pat Bailey is a local woman who's had a very interesting life, first with a professional career and later through fostering children and writing books – much of while while dogged with illness.
Pat had sent some of her books into Marketing Blackpool, who then passed them on to us to feature them and her story on Live Blackpool.
Pat tells us a little about her life:
I was first diagnosed with malignant cancer in 1988. The hospital said "oops our mistake we have re-run the biopsy of 1982 and it was malignant then."
After this diagnosis, operation and radiation, I would go and sit on the beach at Blackpool and think about the prospect of dying. As a Christian I knew where I was going but it is still an awesome thought as you contemplate a life cut short and the process of death.
I was very much inspired by a comment in an Edith Schaeffer book when it said "Life is too short not to take such risks which in our saner moments we would never consider."
When I was nearly 50 I started to take unimaginable risks such as the delight of fostering children.
In my early 50's I left my Barrister's Chambers in Manchester. Singlehanded, and on a shoestring, I starting a Barrister's Chambers in Preston to be nearer my foster children. I don't think there were many other Heads of Chambers who were lady Barristers. In fact when I was called to the Bar there were only just over a 100 lady Barristers in the whole of the country. I opened other businesses some of which succeeded: other's have been a steep learning curve!!.
Then in December 2008 I started to lose blood daily and in October 2009 the MRI scan said "highly suspicious of endometrial cancer." Many of my relatives had died of cancer including my mother and grandmother. Instead of going through the "I am going to die any minute syndrome," I made a major decision not to accept the treatment offered. I couldn't risk the loss of time and damage to my singing voice the side effects may cause as I had decided to create the "Hymns of Heaven and Comfort. Album One DVD."
Over the years I had been writing a novel "Trouble down the tunnel." Available in book form and on Kindle. It seems to fit in well with my experience at the Bar and with the "Access to Children Course."
Everything I have done has been on a shoestring: a number of serious factors have contributed to this but I have moved on. Here is a golden tip. Don't let the behaviour of others control how you react.
From January 2012 I have been quite poorly. Dropping from 8 stone in October 2011 to 6 stone at the end of April 2012 and 5 3/4 stone from the beginning of August 2012. I have been in continual pain. Sometimes it has been almost unbearable. Eventually towards the end of June 2012 I had to "give in" and resort to paracetamol. Often the pain is still intense. I am often languid. However there is work to be done and I have tried to continue with my projects when possible.
One of the heartbreaks of our life is the effect on children when their parents separate. I remember my Mother picking me up from primary school when I was about 9. She asked me to go with her. She said "I'm leaving your Daddy." Even at that age I realized it was best to have both my parents. So I said "No." Why my Mother ever listened to me I will never know. But she stayed. Thankfully she had a most beautiful nature and was very loving and patient. Thus they stayed together for over 50 years until my Father died.
We were a family which was very much involved in the extended family. We would stay at aunties and uncles. We would often visit and they would visit us. This all seemed to bring a stability to life.
As a young Barrister I was thrust into the knowledge other families weren't like this. Siblings would fall out with each other and take each other to Court. Parents fell out and there were heated battles over who should have the children. This was all an alien world to me. I felt their pain and all I could do was fight their corner.
Quickly I realized these cases shouldn't be in the Court system. There were no winners but everyone lost. Most of all the children lost. The reason was everyone looked at their own pain and hurt. Through my own life's experiences I have discovered many of the principles I advocate in the "Access to Children Course." I put them into practice. In other words they work in life as well as in Children Cases.
My Father had a beautiful voice and during the War years the Army allowed him to sing on All India Radio. He tells more about it in his book "Adventures of a Rebel." I also found his handwritten notes of his various poems. These are in his book "Aroma of a Rebel." He died in 1986. I am sure he would be delighted with a wider audience.
One of my joys in life is singing. As I couldn't afford studio fees I have had to learn to do everything myself and the result was my DVD "Hymns of Heaven and Comfort Album One DVD." I wonder how many will be bringing out their first album at 70?
I'm sure you'll join us in wishing Pat well for the future.
Find out more about Pat Bailey on her website Pesha.com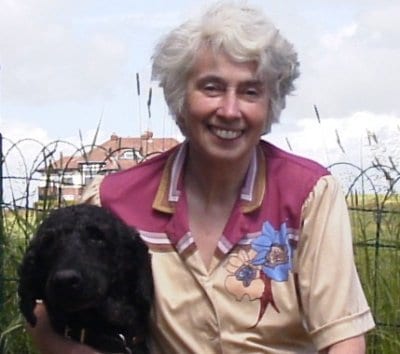 Here are a couple of Pat's fathers poems, taken from the book 'Aroma of a Rebel'.
Taking a Dog a Walk
A lady wrote to the local paper, saying that in taking a friend's dog for a walk in Stanley Park, she was horrified to find the parks department men cutting down trees. Captain Robert Baileys reply was not printed by the Gazette:
My dear Miss Smith I sympathise
To read the awful fact
About the men at Stanley Park
Who wield such ruthless axe.
To take a friend's dog for a walk
In Blackpool's balmy breeze
Arrive at Stanley Park to find
They're cutting down the trees.
But never mind my dear Miss Smith
The thing that matters most
You'll find that to and from the Park
There's always some lamp posts!
Sam's Lying in State
Owd Sam just kicked the bucket
He were laying in state in't front room
All the eighbours, paying respects
Were sitting about in the gloom
Then one of the neighbours consoling
We'll do whatever we can
I've never seen Sam looking better
He was always a good looking man
The widow then stopped her soft crying
With pride her heart starts to swell
We've just had our Wakes week in Blackpool
No wonder he's looking so well!