2017 Cleanliness Campaign
A campaign to make Blackpool the cleanest seaside resort in the UK by 2020 is back in the town centre to remind people to look after their local area.
Published February 2017

Blackpool Town Centre last summer – busy – and no litter
The Keep Blackpool Tidy campaign, which began last year, is aiming to encourage more residents, visitors and businesses to use the bins provided and take pride in keeping the resort clean.
Run between Blackpool Council and environmental charity Keep Britain Tidy, the campaign focuses on reducing litter in the streets and encouraging more people to take up community litter picks.
Since the start of the campaign, extra bins have been installed throughout the town centre, while special litter enforcement officers have handed out over 700 fines to people caught dropping litter on the ground.
As extra visitors come in to the town centre during half term, on Saturday a special Keep Blackpool Tidy trailer helped promote the message to put rubbish away in the bin, as well as encouraging families to become Keep Blackpool Tidy ambassadors and pick up their own litter picking pack.
Cllr Gillian Campbell, Deputy Leader of Blackpool Council, said: "The first year of the campaign has already made changes which should contribute to a cleaner Blackpool.
"The enforcement officers have handed out over 700 fines to people who have been caught dropping litter – predominantly used cigarette butts – on the ground and that £80 fine that they have received should act as a deterrent to stop them doing it again.
"More bins around the town centre should also make it easier for people to throw their rubbish away responsibly but a lot of the onus should also be on members of the public to actively use the bins and not drop litter on the ground. If a bin is full then you are never too far from another one that can be used.
"At the same time, I know a lot of people feel proud of Blackpool and want to make sure that it stays clean and tidy. They can be a big help too, by signing up as a Keep Blackpool Tidy ambassador and carrying out their own community litter picks in their own local neighbourhood.
"Saturday was the first of a number of new initiatives and events being run by the campaign in 2017, so people should continue to keep their eyes out for ways that they can help us Keep Blackpool Tidy."
Of the 704 fines handed out by 3GS since their work began in August, 66% have been paid so far, while others are still being processed or are escalating to prosecution stage.
96% of the fines handed out were for offences involving littering cigarettes, with the vast majority of fines handed out on town centre roads, where the enforcers operate on a daily basis.
For more information on the campaign, or to sign up as a Keep Blackpool Tidy ambassador, visit www.blackpool.gov.uk/tidy
---
Two Blackpool councillors have been using a striking message to stand up against rogue dog owners in South Shore.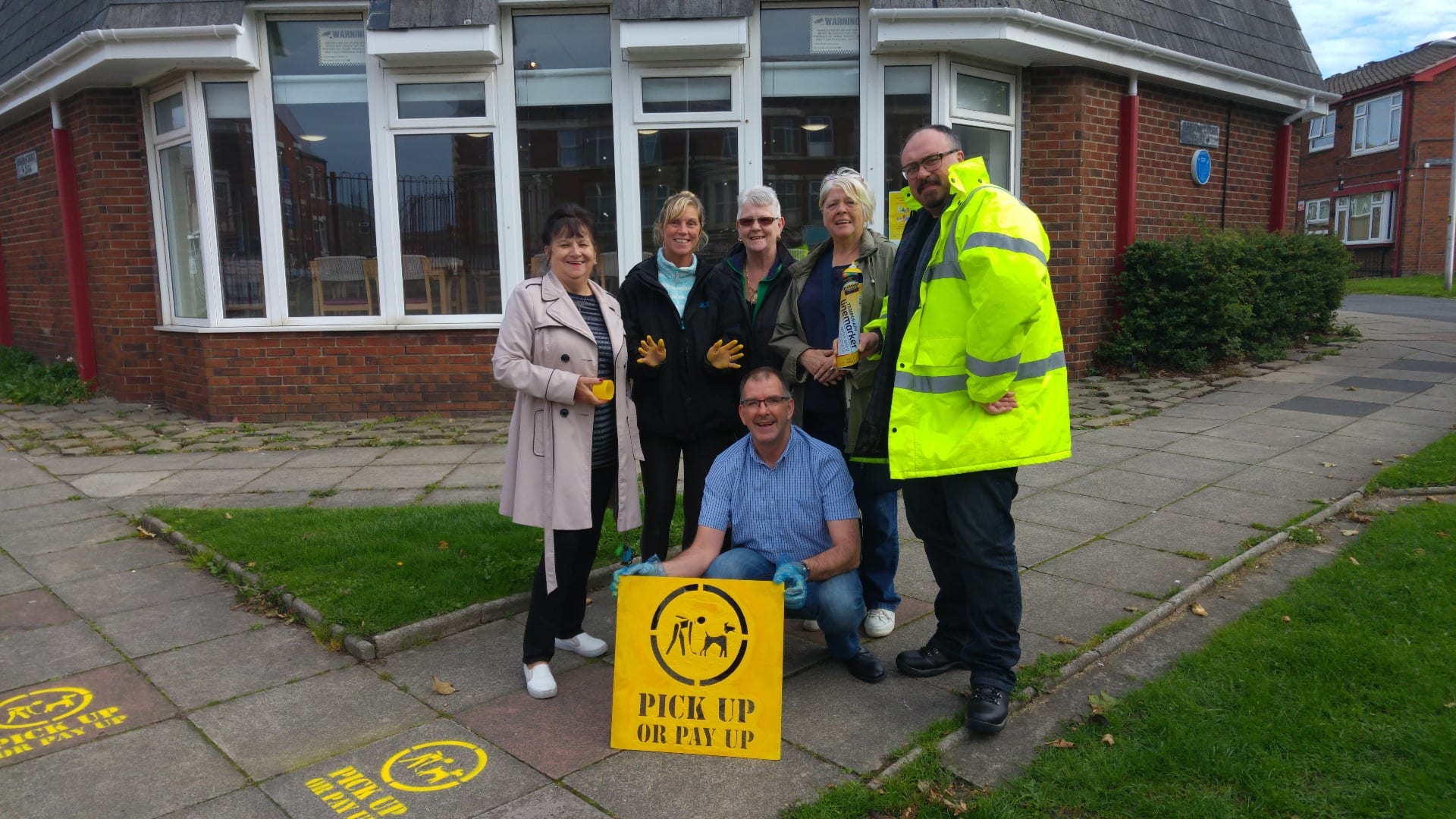 Bloomfield councillors Graham Cain and Jim Hobson (seen above with residents) have been working with the local community to tell dog owners in the neighbourhood to pick up after their pets or face paying an £80 on the spot fine.
And to help the message stick, the two have been using environmentally friendly paint to stencil the message onto the pavement.
The striking yellow paint displays the message 'pick up or pay up' and has been stencilled around the Ibbison Court area just off Central Drive.
Painting of the stencils took place over the weekend along with help from members of the local New Revoe Residents Association.
Cllr Graham Cain, said: "We're keen to help clean up the streets in Bloomfield for families to use safely.
"The council is already cracking down on people who are caught not picking up after their dogs have fouled, in the town centre and promenade area by utilising our enforcement teams. Hopefully, our work around Bloomfield can also help spread the message that failing to pick up after your dog fouls in a public space is not acceptable and that if you are caught then you will be fined.
"A lot of work has taken place to attract more families to the Ibbison Court area, including a new playground and events in the community centre, so we want to make sure that it is kept clean too."
Fellow ward councillor Jim Hobson added: "Dog fouling is one of the biggest complaints we get from members of the community. It is a filthy habit and an emotive issue.
"Hopefully these stencils will stand out and make people think twice before leaving dog poo on the street. If anybody else wants these stencils doing in their local area then they should contact either myself or councillor Cain."
To request stencilling on your road in the Bloomfield area, contact Cllr Jim Hobson or Cllr Graham Cain.
Contact details for both councillors are available at www.blackpool.gov.uk/councillors
---
'No more excuses' for littering
Published September 2016
Blackpool Council Deputy Leader, Cllr Gillian Campbell, has laid down the gauntlet to both visitors and residents to take responsibility for their litter as part of the Keep Blackpool Tidy campaign which aims to make Blackpool the cleanest seaside town in the country by 2020.
Cllr Campbell said "Keeping Blackpool Tidy is essential for the town's future – we have to be an attractive place for people to visit.
"The council has deployed an additional 20 large volume bins up and down the Prom meaning there is now a bin for every single set of access steps between north and south pier as well as an extra ten trade waste bins in litter hotspots.
"We are working with community groups and other local volunteers on clean-up activities too on the beaches, in our parks and elsewhere – and only last week have yet another example with Cllr Luke Taylor launching the Clifton Community Volunteers Club on Mereside this Friday.
"These efforts are already showing results with us receiving the only Blue Flag award in the North West earlier this year, putting our beaches amongst the best in the world – and this is a fantastic advert for Blackpool.
"But we can't on the one hand ask volunteers to give up their valuable time to help clean up their town and on the other hand tolerate people undoing their good work. That's why there are now enforcement teams from 3GS Environmental Solutions who will fine people for littering.
"I can't emphasise enough how important it is that we take responsibility for our actions and keep the town tidy. We need people to use the bins provided, and if the nearest one is full use the next one or take the litter home with you.
"There are no more excuses."
---
A new strategy to reduce litter in Blackpool will see a large scale public campaign and extra enforcement across the town.
Published June 16
Blackpool Council's Executive Committee were asked to consider a strategy to cut down on litter and dog fouling in the resort when they met on Monday 20 June.
The strategy will create a 'Keep Blackpool Tidy' campaign to make Blackpool the UK's cleanest seaside resort by 2020.
The Keep Blackpool Tidy campaign will focus on six strategic objectives to reduce littering, including education and engagement with the local community, as well as promoting the importance of picking up litter to residents and tourists and clamping down on people who ignore the rules.
The campaign will involve stronger enforcement on people who drop litter or dog foul, with a new enforcement team brought in by the Council to get tough on people who don't follow the law.
A one year pilot contract with civil enforcement company 3GS Environmental Enforcement Solutions has also been recommended to the committee and is hoped to reduce the instances of littering in the resort.
The company will provide a more visible presence in the town centre and Promenade, handing out on the spot fines to people who don't obey the rules.
3GS is a proven company with good results in reducing littering and dog fouling in busy areas such as Leeds, Bournemouth and Swansea.
Cllr Gillian Campbell, Deputy Leader of Blackpool Council, said: "Litter and dog fouling is a really emotive issue and barely a day goes by without us receiving a complaint about it.
"With a resort as busy as Blackpool, some litter is to be expected and where possible our staff try to keep the area as clean as we can.
"However with depleting resources it becomes more and more difficult to stay on top of it and we need the public to help us by putting their litter in the bin rather than dropping it on the floor.
"Thankfully, 80% of people in Blackpool do the right thing and take their litter away with them or pick up after their pet, however we are beginning to turn up the heat on those who ignore the rules.
"Littering is not only a crime but it shows a complete disregard to the area where you are living or visiting. In the past, some people would drop litter because they thought they could get away with it, however our new partnership with 3GS will make it much more likely that those people will get caught.
"Our approach to cleaning up the town is not all about enforcement however and we are working with Keep Britain Tidy to make sure that it is as easy as possible for people to put their rubbish away and help us keep Blackpool tidy.
"I know that people feel very strongly about littering and dog fouling and this is a positive move which will hopefully improve the situation considerably."
Back in October 2015, the Council entered an agreement with environmental charity Keep Britain Tidy to explore ways to reduce littering in Blackpool, with a consultation with locals taking place in February.
Hundreds of Blackpool residents were asked for their thoughts on the cleanliness of Blackpool's streets, with many citing cigarette butts and litter, along with dog poo, fast food wrappers and cans of pop as the items most found littered on the ground.
Residents also commented that they would like to see bins emptied more frequently and for more to be made available throughout the town, as well as saying they felt stronger enforcement would deter people from littering.
The contract with 3GS would be cost-neutral, with the company receiving a percentage of the money recouped from paid fines, while any remaining money for the council would be used to support the street cleaning services across the town.
The company's performance would be monitored by the Council in order to make sure that fines handed out were appropriate and fair.
The 3GS enforcement will focus on the town centre and Promenade as part of the twelve-month pilot, however, if successful, it could be extended to other areas of the town.
Both littering and dog fouling are offences that incur on the spot fines of £80.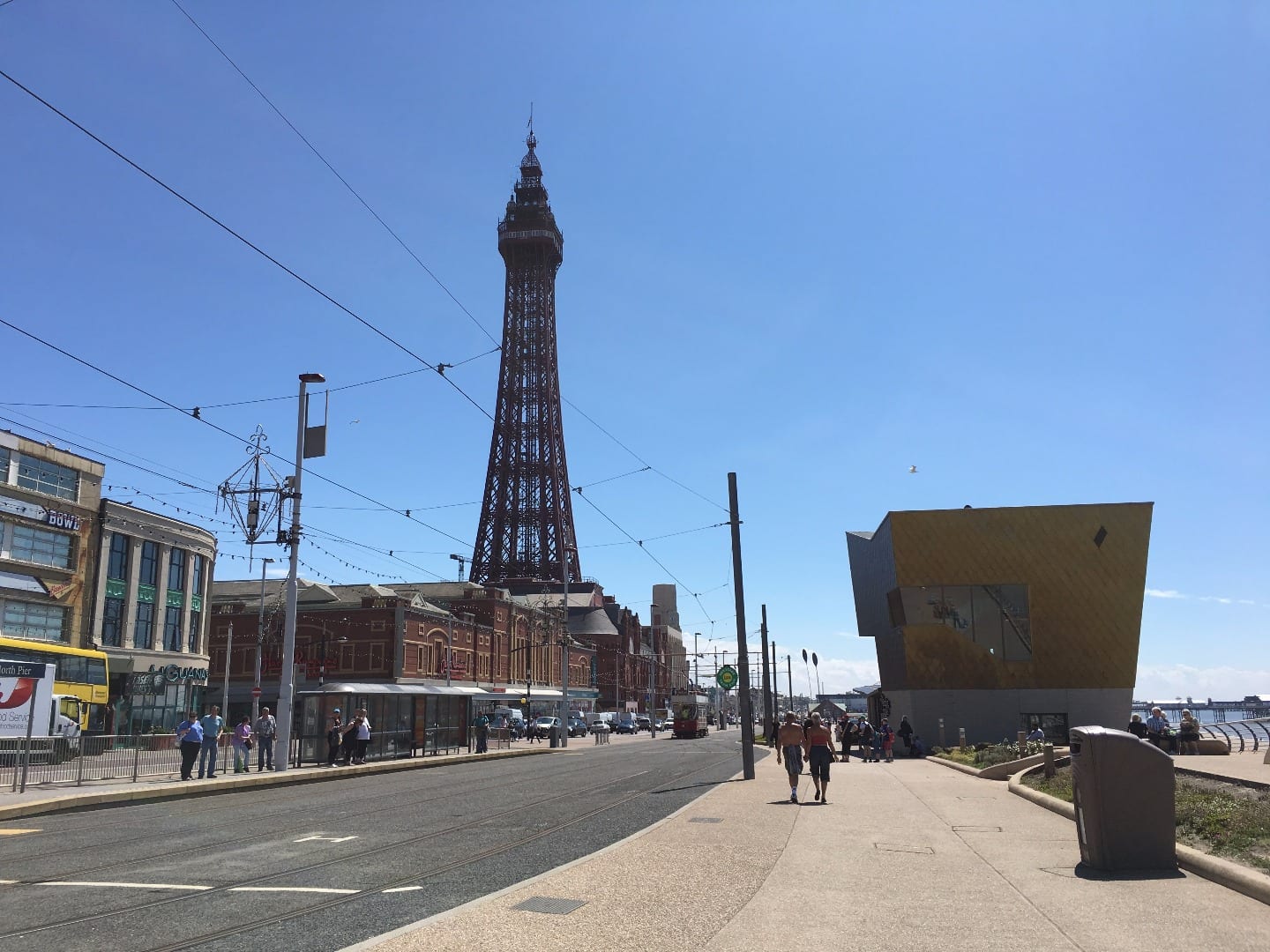 One of the big bins in the foreground of this photo, there are plenty of them on Blackpool promenade.