It's NEW for 2021! This year you can also Ride the Christmas Lights! Enjoy the Illuminations on push-bike or on foot, on a traffic-free promenade. Above photo: Gregg Wolstenholme Photography for VisitBlackpool
It's one of the two most popular Blackpool Illumination events that's coming back for the festive season. Don't forget the Illuminations shine until 3 January this year!
The other BIG new event is New Year's Eve fireworks! The free display will be launched around 5pm on December 31 from the beach in front of The Blackpool Tower. It's a stunning finale to end the year!
Ride the Christmas Lights!
Sunday 5 December from 4-8pm
The annual Ride The Lights event usually takes place on the Tuesday before the big Illuminations Switch-On. This year, for the first time ever, this favourite event will see a repeat performance on Sunday 5 December.
Ride The Christmas Lights gives cyclists of all ages a chance to experience the festive season in Blackpool and ride along a traffic-free promenade beneath the famous Illuminations. It starts at 4pm in the afternoon and finishes at 8pm.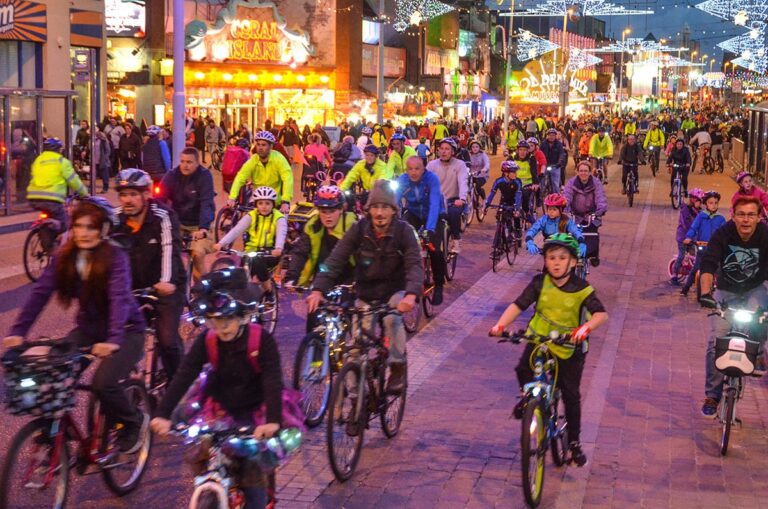 Why don't you get into the festive mood and decorate your bike with colourful lights and lanterns? Trim yourself up too and add to the festive atmosphere!
Christmas in Blackpool
November and December sees the biggest programme of Christmas entertainment that Blackpool has staged in years. It's part of a £1m Council investment to rejuvenate the tourism economy. It's the only place to be this festive season, with fabulous things to enjoy around every corner.
There's the breathtaking festive village at Tower Festival Headland. See simulated snowfalls, cosy log cabins, and a magical forest. Plus festive Illuminations light projection shows and special Santa tram rides.
The Headland will also feature an outdoor winter skating rink, free to use between 19th November and 3rd January.
VisitBlackpool is organising this event. A spokesperson said: "We're delighted to be able to announce two more events to add to what is already a fantastic programme of entertainment over the winter period.
"The run-up to Christmas last year was an extremely difficult and challenging one for so many families due to COVID restrictions and lockdowns. This year, we wanted to create two occasions when people can come together and celebrate.
"By staging both events late afternoon, early evening, we hope it will give the whole family an opportunity to come out and enjoy the best of Blackpool."
Need accommodation for the event?
Choose your next holiday with StayBlackpool and make sure you have a good one!
With something for all tastes and budgets, choosing one of these accredited properties ensures that the accommodation you choose is exactly what you expect.
While you're here…
What do you think? Why don't you join in and leave a comment below?
Have a look at the homepage of the Live Blackpool website for more of the latest updates.
Love the Fylde Coast? Sign up for your weekly email newsletter. Packed full of interesting things it arrives in your inbox all 52 weeks of the year.
Join us on Facebook at our Visit Fylde Coast Facebook Group
Don't forget to follow us on Twitter @visitFyldeCoast