Blackpool Central is the big site in the town centre which was once the Central Railway Station. It's going to see a major £300m redevelopment as a 'Chariots of the Gods' Entertainment Park.
£300m LEISURE DEVELOPMENT REVEALED
Plans for the biggest single investment in Blackpool's tourism industry for more than a century are unveiled today.
The £300m Blackpool Central development will bring world-class visitor attractions to a landmark site on the famous Golden Mile along with new hotels, restaurants, food market, event square, residential apartments and multi-storey parking.
The masterplan for the long-awaited redevelopment is inspired by Chariots Of The Gods, a global publishing phenomenon, written by Swiss author Erich Von Däniken, that explores alien encounters and unsolved mysteries of ancient civilisations.
Chariots Of The Gods will be the main theme for Blackpool Central. Including the anchor attraction – the UK's first "flying theatre", a fully-immersive thrill ride that will create the incredible sensation of human flight.
It's estimated that the development will attract 600,000 additional visitors a year with a combined annual spend of £75m. It will also create around 1,000 new jobs.
New leisure destination at the heart of the resort
The Leader of Blackpool Council, Cllr Simon Blackburn, described the Blackpool Central project as a potential "game changer", creating a unique, first-class leisure destination in the heart of the resort.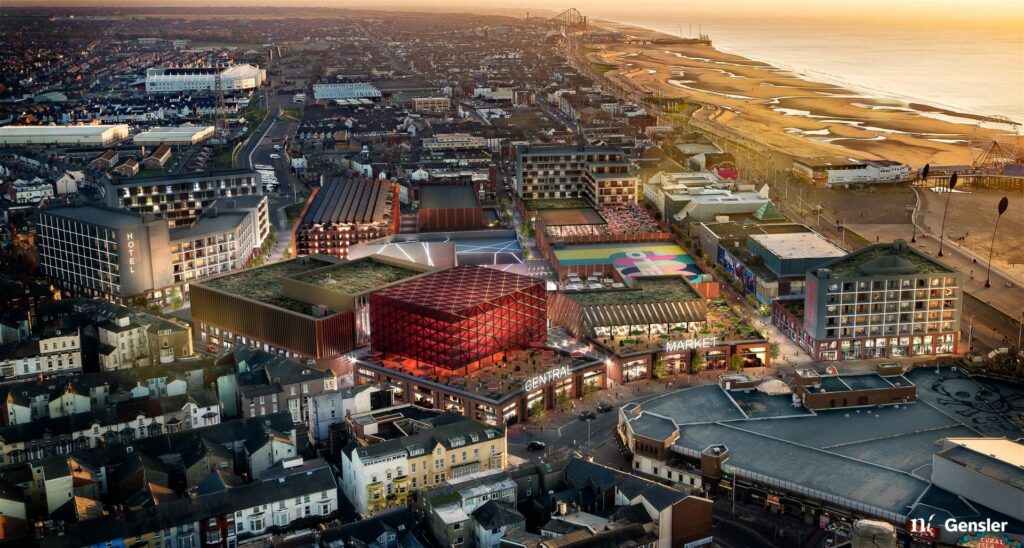 The 17-acre development site, which currently includes one of Blackpool's biggest surface car parks alongside the magistrates' court building and the former police station, was once earmarked as the site of a Vegas-style super-casino.
The Blackpool Central project name relates back to the days when the site housed the resort's main railway station. At its peak, Blackpool Central Station was the busiest in the world. There's more about the history of the site and it's days as a station below.
The project is a collaboration between UK-based development company, Nikal Ltd, and Media Invest Entertainment, which owns the intellectual property rights to Chariots Of The Gods. Blackpool Council is working closely with both parties to help "unlock" the development opportunity which is currently envisaged to be delivered in several phases over an eight to nine-year period, with work starting as early as 2020.
The Blackpool Central Project
The first major phase of the project will incorporate several key components including:
Enabling Work: This will provide a new multi-storey car park with more than 1000 spaces replacing the existing open air car park as well as new coach-drop off facilities.
The UK's first Flying Theatre: An extraordinary attraction that will provide an unparalleled flying sensation. The indoor theatre will be fully immersive with on-board special effects including wind, fog, water and scents, with state-of-the-art projection and surround sound.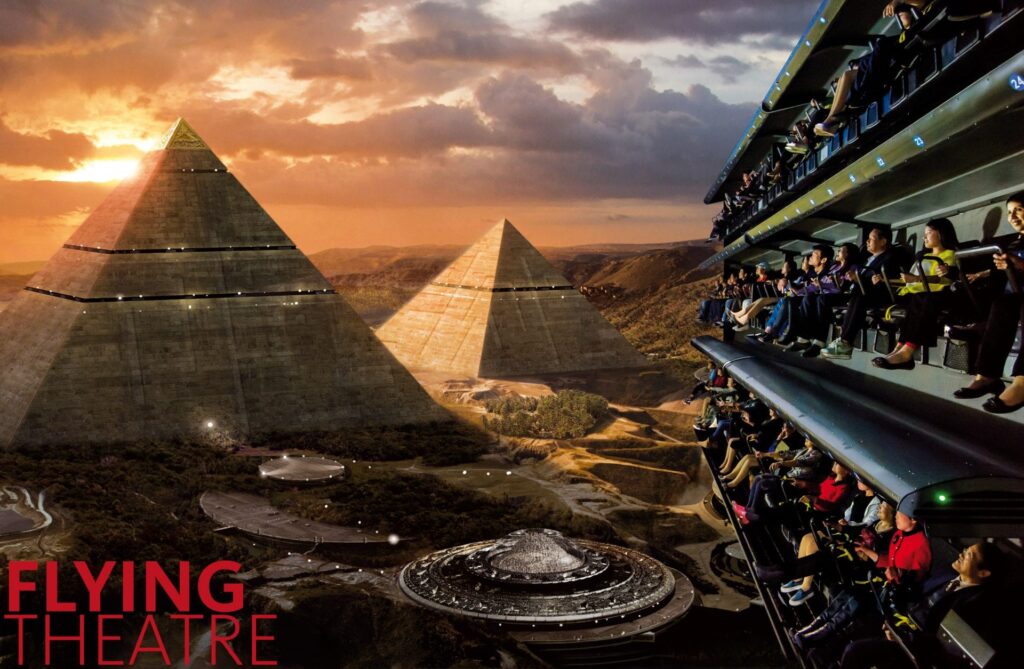 Virtual Reality Experience: The most advanced VR experience on an epic scale with free-roam, multi-player capability, body tracking, and motion simulators for unmatched realism in game-play.
Greatest Mysteries: The world's first multimedia exhibition of its type exploring extra-terrestrial influences on the great ancient civilisations. A fully-immersive educational and entertaining experience created with leading-edge technology.
Adventure Land: Expansive indoor family entertainment centre incorporating a series of physical and mental challenges including free-fall hang gliding, rope courses, adventure trails and interactive climbing walls.
Thrill & Gaming Zone: Fully-themed gaming zone, with thrill and family rides, arcade games, laser tag arena, bounce park and bumper cars.
Alien Diner: Themed bar and event restaurant concept with "roller coaster" service, hourly special effects shows and exploration tours.
First Phase to Open in 2024
This first phase, due to open in Spring 2024, will be complemented by the development of an Artisan Food Hall accommodating up to 30 outlets and an event square. Incorporating a stage and video wall, it will be used to host themed markets, open-air concerts and events. A new 150-bedroom promenade hotel is also planned.
Phase Two will include apartments, further food and drink outlets, a second hotel comprising 250 bedrooms, with additional landscaped public open space.
Future phases to the southern end of the site will include further leisure attractions, residential apartments and a music venue and nightclub.
Once in a Lifetime Opportunity
Cllr Blackburn added: "I am delighted to be able to announce this hugely significant milestone in the redevelopment of the Central Station site. This really is a once-in-a-generation opportunity that has the potential to alter the face of our town.
"Over more than fifty years, many ideas for this site have come and gone. The difference this time is that we have worked very hard with our fantastic partners at Nikal and MIE for almost two years to create a scheme that is not just aspirational, but highly deliverable.
"These new attractions are of ground-breaking international quality and their cutting edge technology will take Blackpool's tourism offer to another level.
"We already have, to my mind, the best amusement park in the UK, in the form of Blackpool Pleasure Beach.  These new attractions will allow thrill-seekers to enjoy their visit even more, will attract new visitors, and encourage existing visitors to stay longer. They will create jobs, regenerate a part of the town that is in need of love and attention, and boost trade.
"This new development, alongside the other investments taking place in the town, represent a game-changer for our visitor economy. We have long stated that a key objective is to create a year-round destination that delivers year-round employment. Blackpool Central will play a major part in that ambition."
A year round attraction
Nick Payne, Managing Director of Nikal, said: "Blackpool Central is a hugely important project for the town and the region and it is an honour to be on board. Place-making and regeneration are the DNA of our business and we thrive on creating dynamic new spaces that inspire, excite and engage.
"It's taken almost two years and a lot of hard work to get to this point. We know that the masterplan fully maximises the site's potential and will deliver a unique and ground-breaking, entertainment destination with global appeal that will revitalise and underpin Blackpool's growth and regeneration."
Norbert Reichart, CEO of Media Invest Entertainment, said: "The unique theme of Chariots Of The Gods will merge entertainment, culture, and history – an enthralling 'Edutainment' experience for the whole family – that can be enjoyed all year round.
"Together with some of the best companies in the industry, we have developed a one-of-a-kind, exciting indoor entertainment concept with truly world-class attractions which will integrate perfectly into Blackpool's pre-existing leisure cluster.
"This well-balanced mix of top attractions for all ages will significantly enhance Blackpool's reputation as one of the UK's top entertainment destinations."
A bright future for Blackpool
Kate Shane, Head of Blackpool Cluster for Merlin Entertainments, said: "We welcome any scale investment that drives further visitation to Blackpool and helps generate greater economic activity for the resort.
"It's good too that we have a clear, well-supported plan for this area. The vision is an exciting prospect and we look forward to working with Nikal and Media Invest Entertainment to incorporate our Madame Tussauds and SEA LIFE Centre in the new development."
Blackpool Central – the story so far
The police station headquarters has already relocated to new premises at Clifton Road, Marton.
Blackpool Council has been in negotiations for some time regarding the site, with officers and councillors travelling to Florida several times for meetings.
In November 2017 the Council Leader and Director of Place attended the IAAPA (International Association of Amusement Parks and Attractions) conference. Held at the Orange County Conference Centre in Orlando, it was the second time they'd attended.
An exclusivity and non-disclosure agreement has been in place with a potential developer regarding the 20 acre site. It's said to be an 'attraction led' indoor area with a themed hotel and retail.
Central Car Park was previously intended as the site for the super-casino and then an indoor snow attraction. In the absence of a major development being forthcoming, it's been used in the interim as a surface car park.
Blackpool Central Railway Station
The plot of development land which stands in such a prime position was once the site of the former Central Railway Station. The addition of various terminus delivering routes to more destinations saw it grow to become the world's busiest railway station by 1911.
We've sourced these historic images from Pinterest. Unfortunately their credits have gone astray so apologies to anyone who owns the originals. Please get in touch and we'll add a photo credit for you.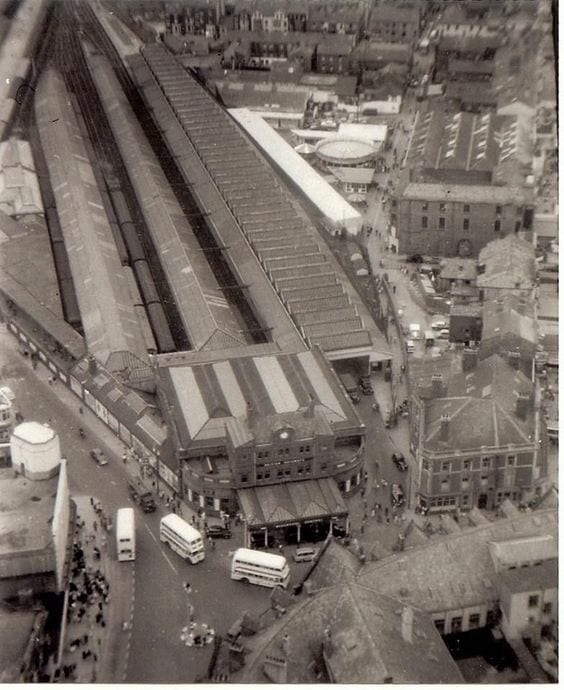 The station opened in 1863 as Hounds Hill (hence the name of our local shopping centre). It's name was changed to Blackpool Central in 1878. It was once a huge place with 14 platforms, where everyone arrived for holidays and day trips.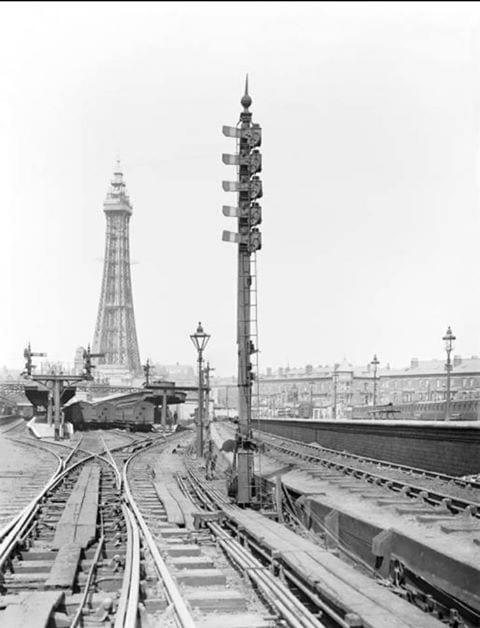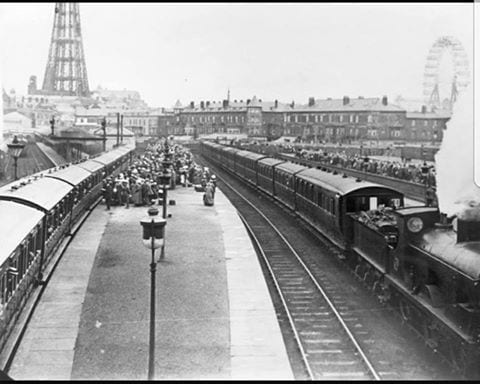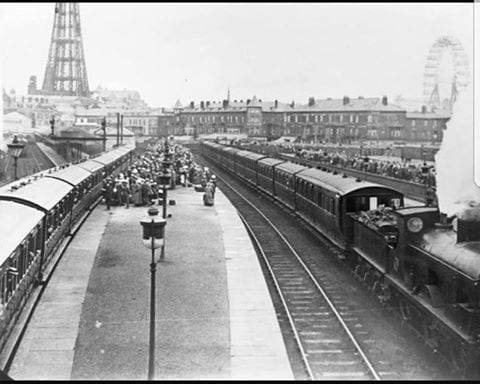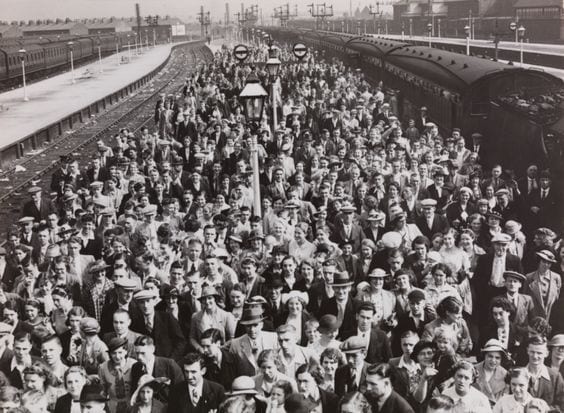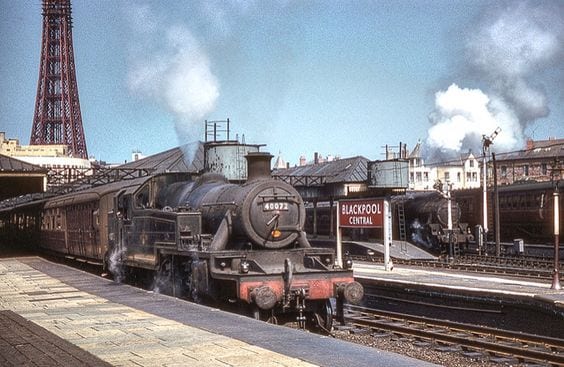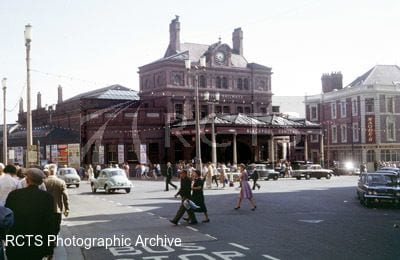 The Closure of Blackpool Central Railway Station
It just managed to see it's centenary before it was to close in 1964. The Beeching Cuts had indicated that Blackpool North should close but the then council lobbied for Central Station to go instead. Blackpool Council bought the site for future redevelopment – it's been some time coming! The direct Marton line finally closed in 1965.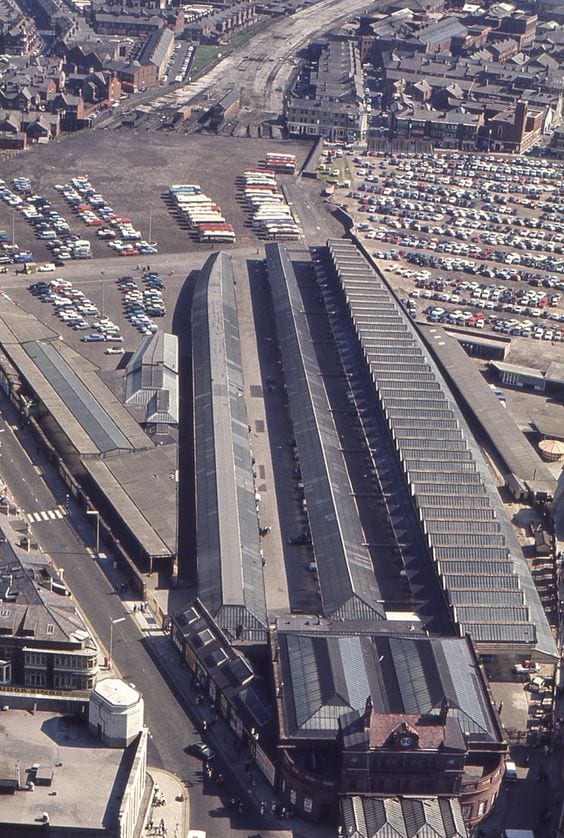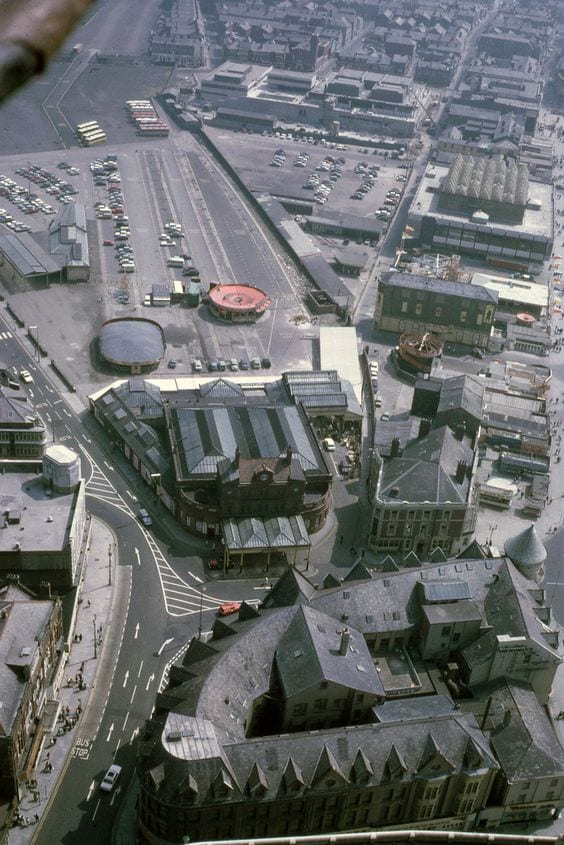 All of the station buildings were finally demolished in 1973. At that point the whole site became wasteland with all the associated bridges and embankments and railway paraphernalia.
Welcome to Yeadon Way
In the 1980s the derelict bed of the railway lines was made into Yeadon Way, creating easy access from the centre of Blackpool to the M55 and motorway network. For many years Central Car Park was the site of the Blackpool Illuminations switch on event.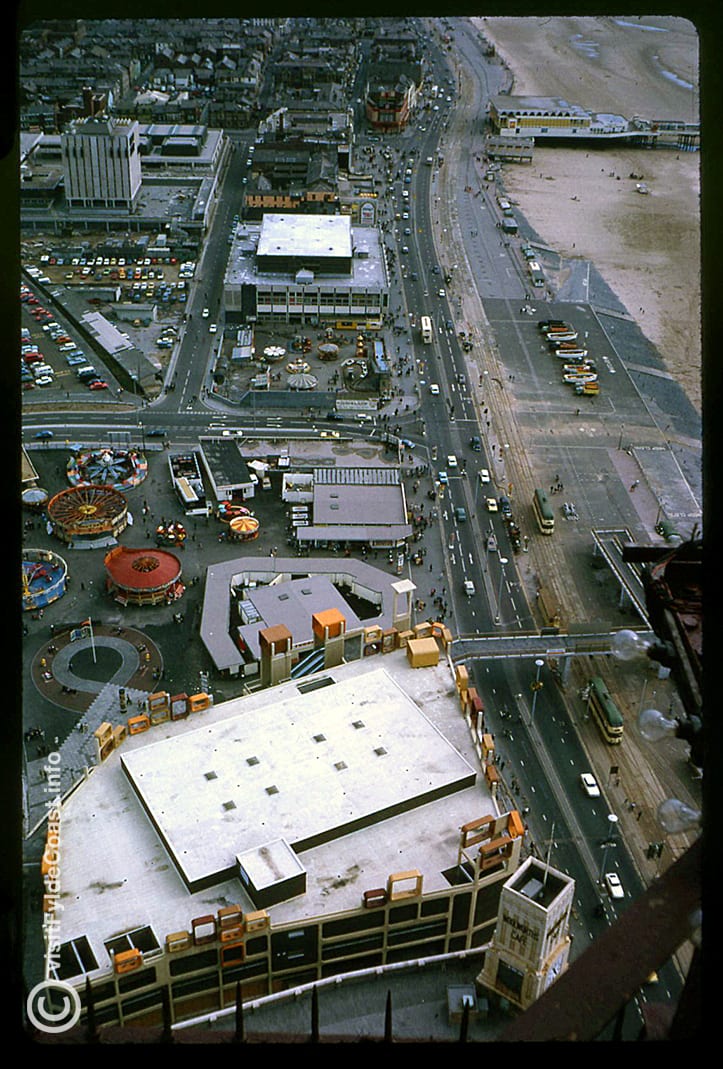 Wikipedia tells us that the very outer wall of the car park is the last visible remnant of the 1900 building and that traces of the platforms can be seen in the car park. We'll have to go and investigate!
Do you remember the Victorian public toilets at Central Car Park? Tiled in regulation green and white they were always immaculately clean and staffed by a lady in an overall. The block of toilets was demolished and replaced with Danfo cubicles in 2009.
While you're here…
Have a look at the Live Blackpool website homepage for more of the latest updates.
Love the Fylde Coast? Sign up for our weekly email newsletter. It's packed full of interesting things and will arrive in your inbox all 52 weeks of the year.
Join us on Facebook at our Visit Fylde Coast Facebook Group
Don't forget to follow us on Twitter @visitFyldeCoast