How do you prefer to travel? Do you like to go under your own steam in a car or maybe by train? Or are you one of the many, many people who enjoys a coach holiday in Blackpool? There are loads of reasons why coach holidays are great. All you need to do is sit back and enjoy your break – safe in the knowledge that everything's being done for you.
It's the UK's favourite seaside resort and many millions of people have enjoyed coach holidays in Blackpool over the years. For many people, the holiday atmosphere starts the moment they get on the coach and begin their journey to Blackpool.
Many operators offer discounted coach tours to Blackpool so there are sure to be tours from the town where you live. It's one of the U.K.'s number one coach tour destinations and more than 10 million visitors come here by coach each year.
Many of Blackpool's larger guesthouses and hotels have been welcoming party bookings for as long as they have been open. With in-house entertainment and licensed bars, the hotel is often the social focus of your whole coach holiday. Smaller hotels and guesthouses often work together to cater for larger groups. The choice available to party organisers is getting bigger and better all the time.
And don't forget that coach holidays are far from a modern invention! Read on for some fascinating snippets from years gone by.
Reasons to enjoy an Inclusive Coach Holiday in Blackpool
Providing you don't suffer from travel sickness, modern coaches are a great way to enjoy a superb value break. These inclusive holidays cater for everything you need – travel, accommodation and entertainment.
There are lots of reasons why you might book coach holidays in Blackpool. It might be for the promenade, beaches and places to go walking. It might be for the entertainment, shows and attractions.
Blackpool is a great central hub to get a Cleveleys, Fleetwood, Lytham St Annes, and even Cumbria in the Lake District. Many coach operators will include trips to these places in your holiday.
Blackpool also enjoys one of the best transport systems found in any of the UK seaside resorts. Buses, trams and trains run from north to south along the Fylde Coast.
We're sure that you can think of loads more reasons why you enjoy your coach holiday in Blackpool. Here are a few of the reasons we can think of. Why don't you add yours in the comments?
Door to door travel
Don't have to manhandle your own luggage!
No driving so you can sit back and enjoy all the views
Make friends among the other passengers
Enjoy a great rate for your trip – usually a much better price than you'd pay if you booked your own room
Entertainment in the hotel is often included for coach passengers
Coach holidays often benefit from local trips and sightseeing included in the package
How to book
Do you already know someone who enjoys coach holidays in Blackpool? The best choices usually come through personal recommendation, so start by asking around.
A number of national firms offer coach holidays to popular destinations like Blackpool. A quick online search for 'coach holiday in Blackpool' will give you plenty of ideas.
The other thing you can do is take a note of the coaches that you see while you're here. You'll probably recognise some names from your own hometown. Keep an eye out in your local newspapers and check with travel agents and coach companies to see what they offer.
Coach Trips
Would you prefer to travel by coach and organise your own holiday? Or maybe just visit for the day? National Express Coaches operate to and from the resort's heart throughout the year.
They arrive and depart at Blackpool Central Coach Station. Find it in a really handy spot at Central Car Park, opposite the rear entrance of Coral Island.
Get more details and check travel availability at National Express.
More information about getting to Blackpool in other ways
Book a Break
Don't forget, if you are booking direct, choose your next holiday with StayBlackpool and make sure you have a good one!
With something for all tastes and budgets, choosing one of these accredited properties ensures that the accommodation you choose is exactly what you expect.
With all StayBlackpool members being awarded a national star rating or Blackpool Approved accreditation, we know you'll go home having experienced the best Blackpool has to offer.
StayBlackpool is the independent association for Blackpool hotels and guest houses.
Once you're here…
Your coach tour provider will no doubt show you the delights of nearby towns of Cleveleys, Fleetwood, Lytham and St Annes.
But if you'd like to go anywhere else during your stay, there are plenty of ways to get around
By service bus – catch many of them on the promenade or at the bus hub in the town centre. In one convenient block you can catch buses to most of the Fylde Coast.
By tram – the famous Blackpool trams travel between Squires Gate and Fleetwood. What better way to travel and see the sights!
Service buses and trams are operated by Blackpool Transport.
Back in the Olden Days…
As you sit back in your luxurious 52 seater coach and put your feet up to enjoy the ride, you forget that transport has ever been any other way.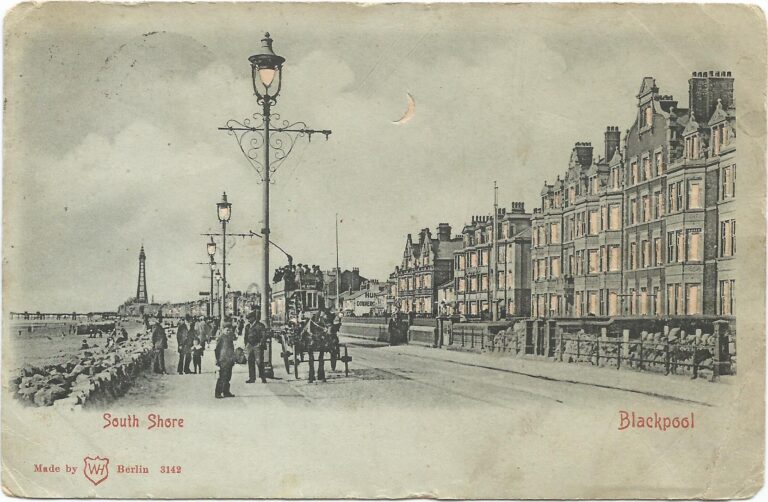 But of course people have been travelling by coach for hundreds of years. The difference being that for most of that time they were pulled by horses! Before trains, cars and motorways, people travelled by horse drawn coach. Look around and you can still see the evidence around you today. Many of the old pubs and hotels of the Fylde Coast were originally coach houses.
A day to get to the coast!
It was 1782 when Stagecoaches began running to Blackpool from Halifax! It took a whopping 12 hours to make the trip.
On 9 June 1783 Pickfords of Pointon began the first direct coach from the Royal Oak at Market Street in Manchester, to Blackpool. The journey cost 14 shillings, including a meal stop at the Black Bull in Preston. It took ten and a half hours
The original Clifton Arms Hotel in Lytham opened at Clifton Street in 1796 and was originally a coaching inn, until the railway arrived in 1863. The centre part of the hotel remains today, as Stringer's shop and the Fascination store.
In 1816 the Fylde Union Stage Coach from Preston began a daily service to Blackpool via Whitegate Lane. Taking three hours it was the first public coach service. At this time people were still travelling in any way they could – some even walking 40 miles from Manchester!
The first Poulton railway station opened in 1840. In 1841 horse drawn coaches began to take passengers from there to Blackpool hotels.
If you're interested in the past why don't you delve into Nick Moore's fascinating History of Blackpool to find out all kinds of things about the area, going back to the year dot!
While you're here…
What do you think? Why don't you join in and leave a comment below?
Have a look at the homepage of the Live Blackpool website or more of the latest updates.
Love the Fylde Coast? Sign up for our weekly email newsletter. Packed full of interesting things it arrives in your inbox all 52 weeks of the year.
Join us on Facebook at our Visit Fylde Coast Facebook Group
Don't forget to follow us on Twitter @visitFyldeCoast