The site of Queens Park Flats in Layton, Blackpool, has been transformed through redevelopment with new homes. It was once the site of the only high rise tower blocks on the Blackpool skyline.
New Homes at Queens Park
In 2011, the decision was made to demolish the notorious Queens Park estate to make way for a new, attractive safe neighbourhood.
The £22 Million transformation is now complete. It's changed an area blighted with anti- social behaviour and a high turnover of residents to a vibrant new neighbourhood.
Not a pleasant place to live…
While the imposing tower blocks offered impressive views, they had social and environmental issues that gave the estate a bad name.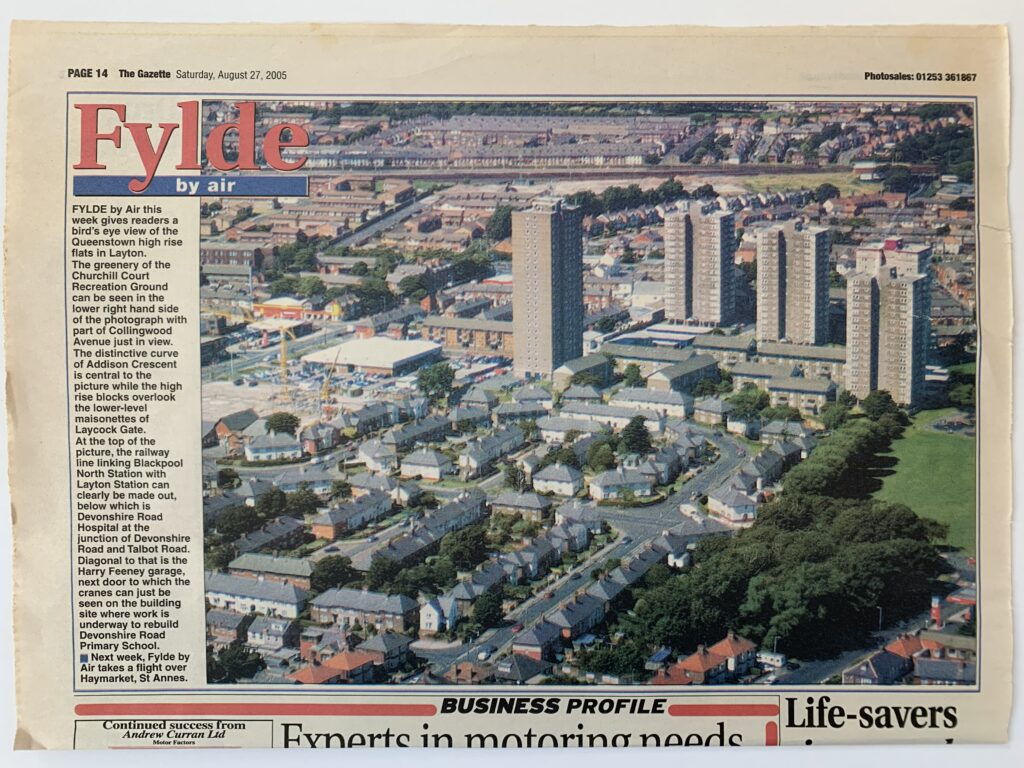 Residents of the high rise flats regularly complained of draughty properties, damp, and anti-social behaviour. The estate often made front page news following criminal activity. The turnover rate of 25%, compared to the council's house average of 13.5%. According to a Status Survey, satisfaction levels in terms of overall quality of home, general condition of property, the neighbourhood as a place to live and value for money for rent were the lowest in Blackpool. The design and layout of the estate resulted in considerable security costs, leading to high service charges for residents.
Demolish and rebuild
In 2011, following extensive consultation with local residents it was decided that the whole estate would be demolished. Knocking it down in two phases would make way for 191 new Council apartments and family homes.
It was extremely challenging to deliver the re-development. Existing residents had to be taken into account, five tower blocks demolished in a tight space, and an entirely new layout to be created around significant existing services infrastructure.
The second phase began with the explosive demolition of the three remaining tower blocks, watched by thousands of local residents. There's more about that below.
The estate is now made up of 191 flats and family homes and a brand new playground. Turnover now averages at 5% a year and every property is occupied.
Demolition of Queens Park Flats
Elizabeth Court, Churchill Court and Walter Robinson Court were demolished with controlled explosion at 10am on Sunday 31 July 2016.
Two blocks had previously been dismantled piece by piece.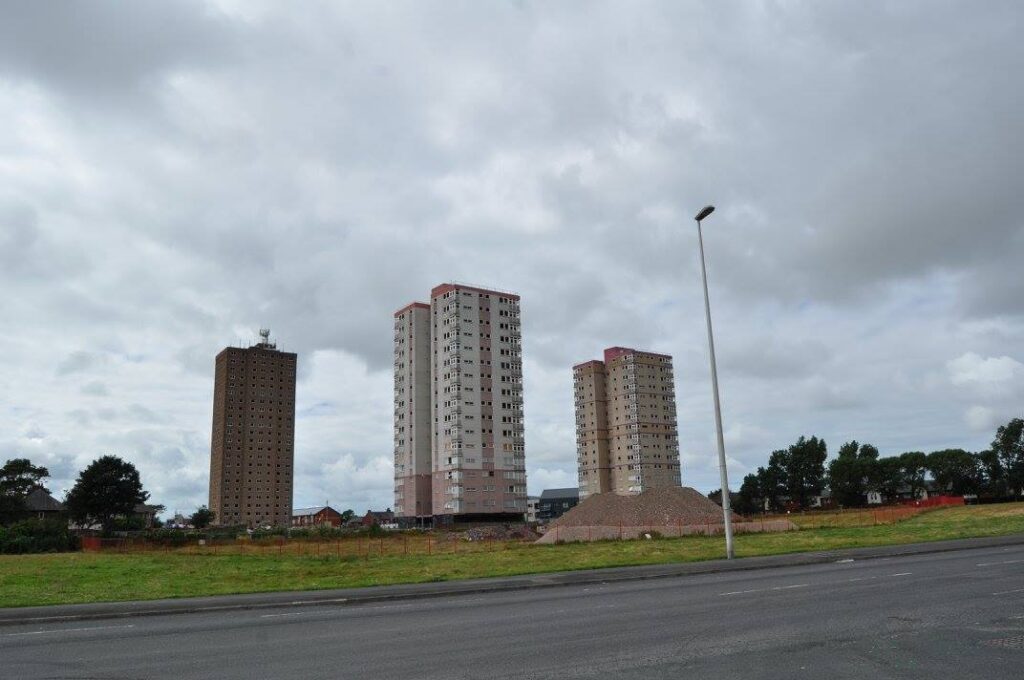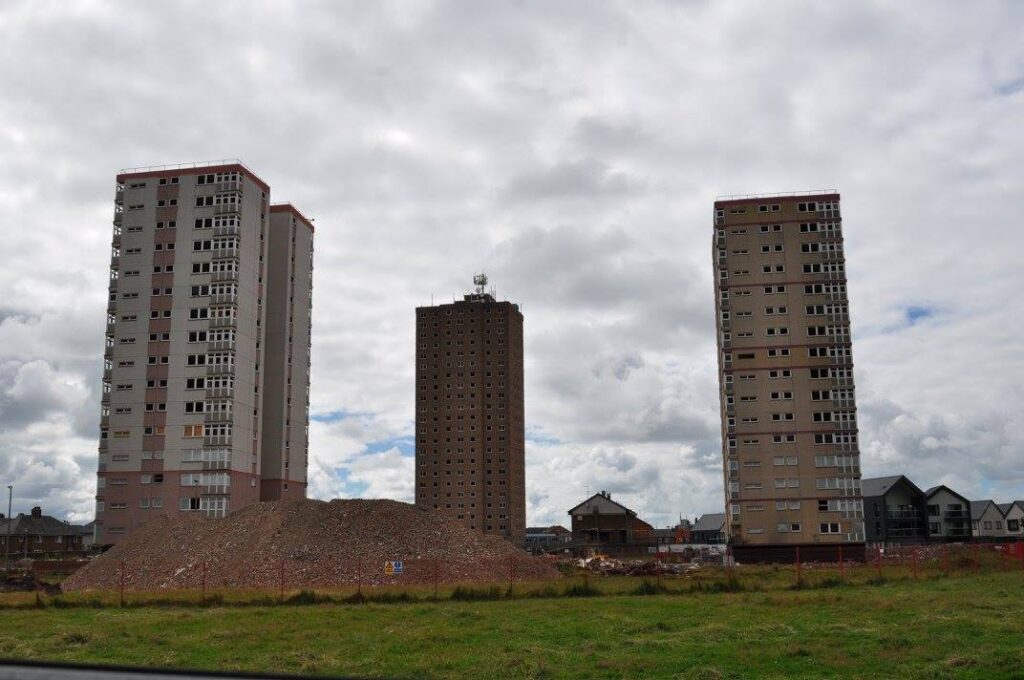 Thanks to Visit Fylde Coast contributor Juliette Gregson for photos from demolition day.
The Aftermath
And what do you get when you demolish a tower block?
A big heap of rubbish and a lot of dust!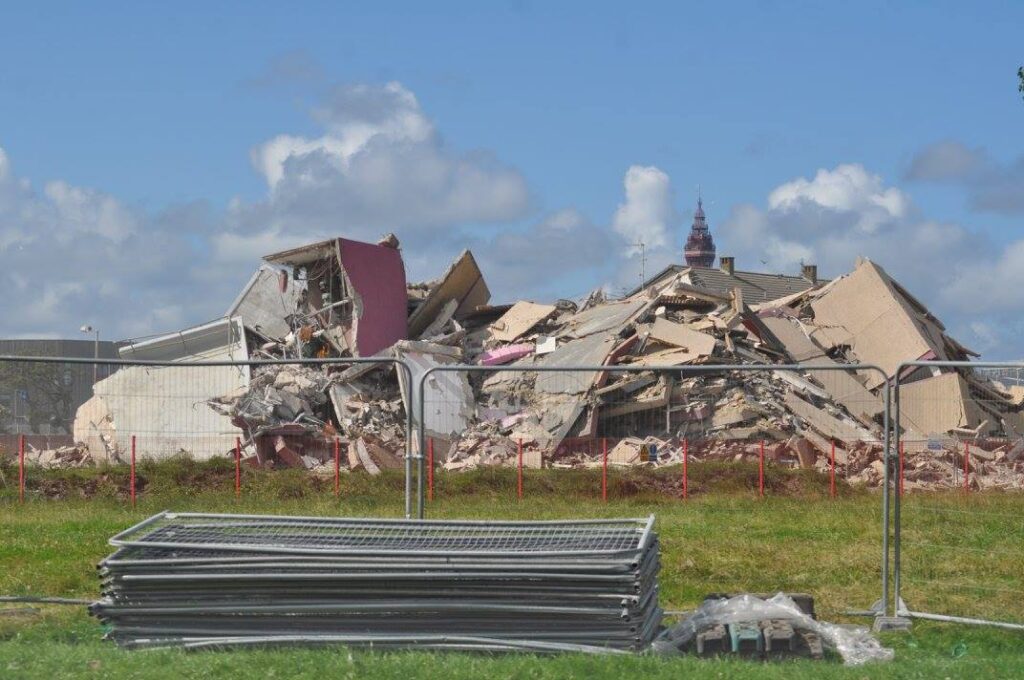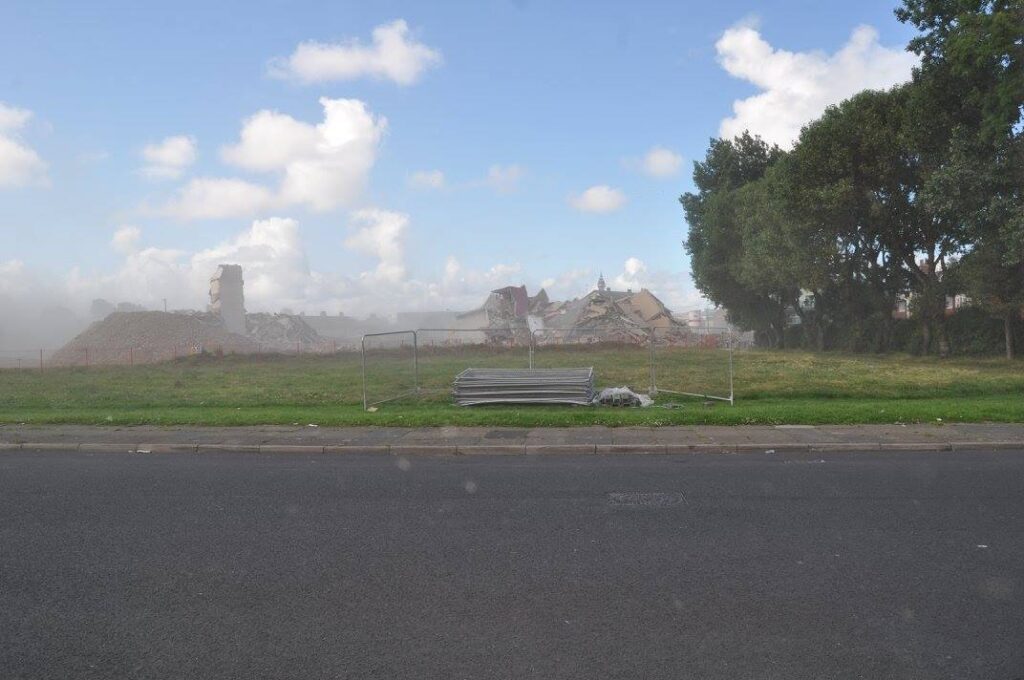 A big exclusion zone was in place for the duration of the demolition work. It was matched by a big crowd of people who gathered to watch this historic event and take photos and video of it happening.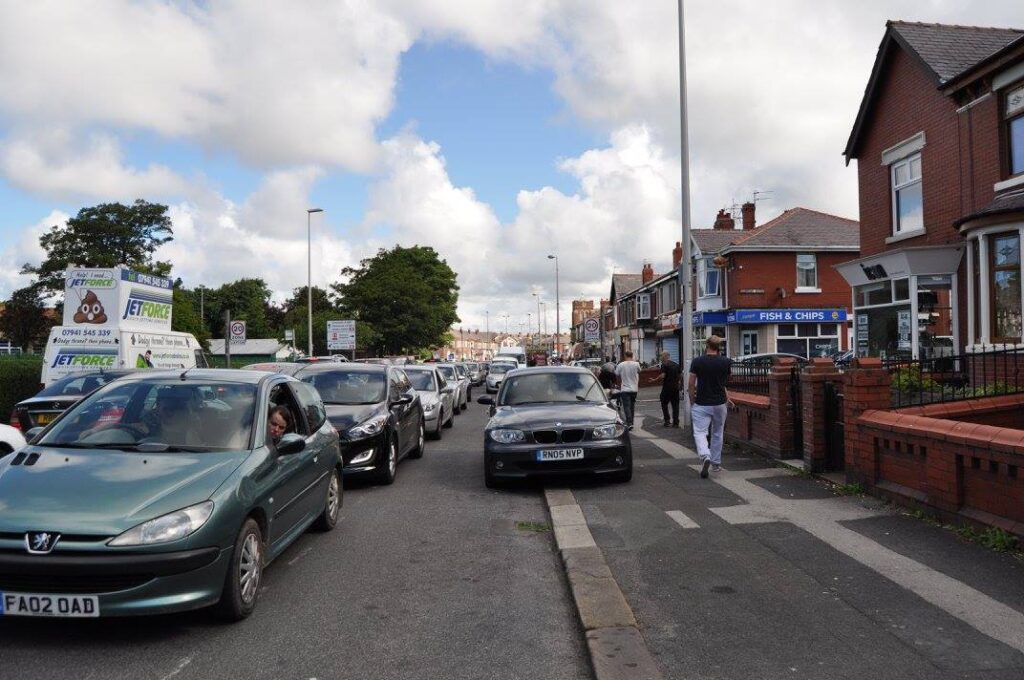 This video of the explosion and huge dust storm is by Walk on the Wild Side –
Two 17-storey concrete tower blocks, Charles Court and Ashworth Court, had already been demolished bit by bit in 2014.
Watch this fascinating time-lapse video of their demolition by contractors PP O'Connor Ltd.
More about Queens Park Flats
Queens Park isn't far from Blackpool seafront. For many years the five distinctive tower blocks formed a landmark on the Blackpool skyline.
495 flats were built in the 1960's, in the five high rise blocks and 12 maisonette buildings. The next photo was taken in 2015 from the roof of Sainsbury's car park in Blackpool.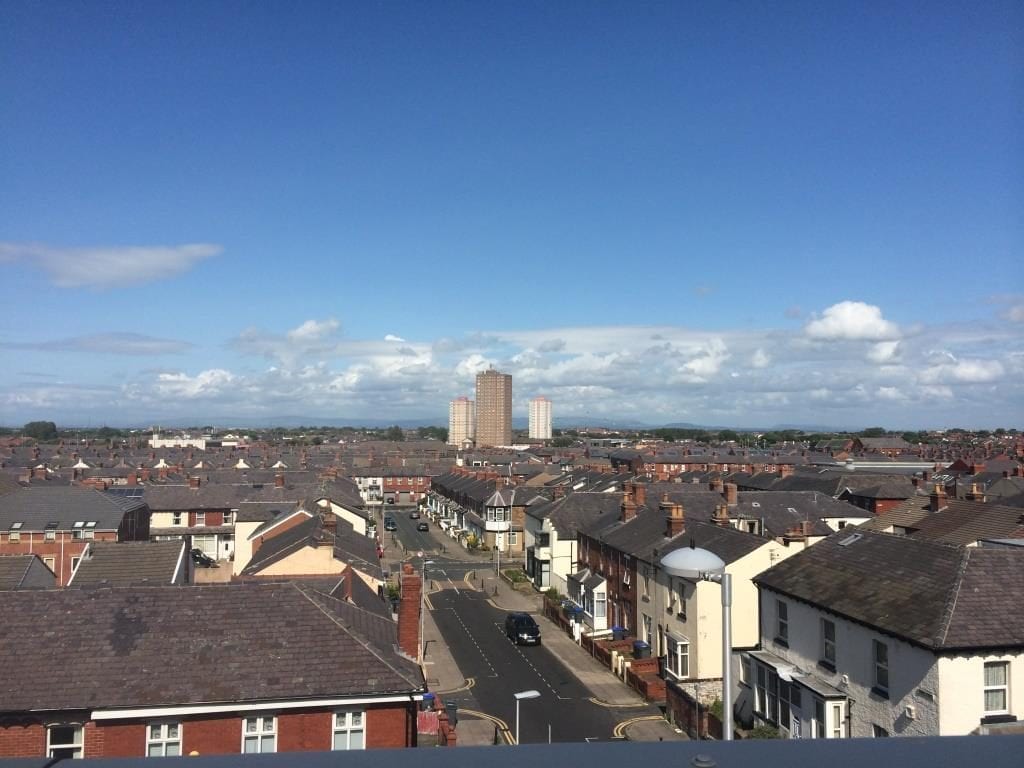 Juliette Gregson documented the flats before their demolition began.