Festival House is one of only a few buildings on the seaward side of the tramway. It's home to the Wedding Chapel, Tourist Information Centre and the Beach House bar and restaurant. We went to take a look around inside in February 2023 –
Enjoyed this video? Why don't you subscribe to our Visit Fylde Coast YouTube channel – make sure you don't miss out!
Festival House
de Rijke Marsh Morgan designed the purpose built, sparkly building, opened by HRH Prince Edward.
You can see the structure of the building – it's internally visible. Inside you can see lots of cross-laminated timber, making walls, beams, cantilevers, floors and stair treads. It's as versatile as concrete but more sustainable and pleasant to live with.
Next time you pass take a look at the exterior bricks. Have you noticed that they twinkle? That's because made there are glinting fragments of recycled glass thrown into the concrete mix. Made by a company called Lignacite they're both sustainable and pretty.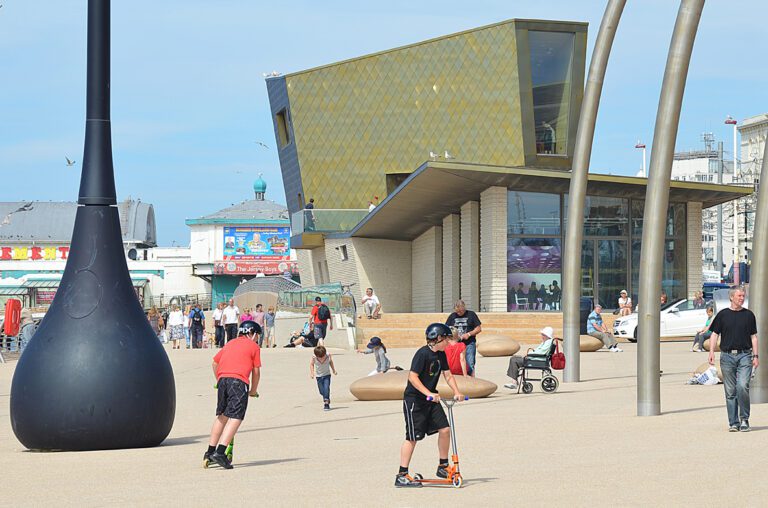 Ten Years of Blackpool Wedding Chapel
On 12 January 2012 the sun set on a spectacular day in Blackpool for Kelly Goudie and Simon Garrick. They were first to tie the knot in Festival House, Blackpool's new register office.
The building is designed and orientated to wow wedding parties. First, guests go through the lobby with a window on to the sea. Next a lift to the first floor and a waiting space with a balcony with wider views. The main room is high and angular with the feel of a church, focussing on an altar-like table and THAT view.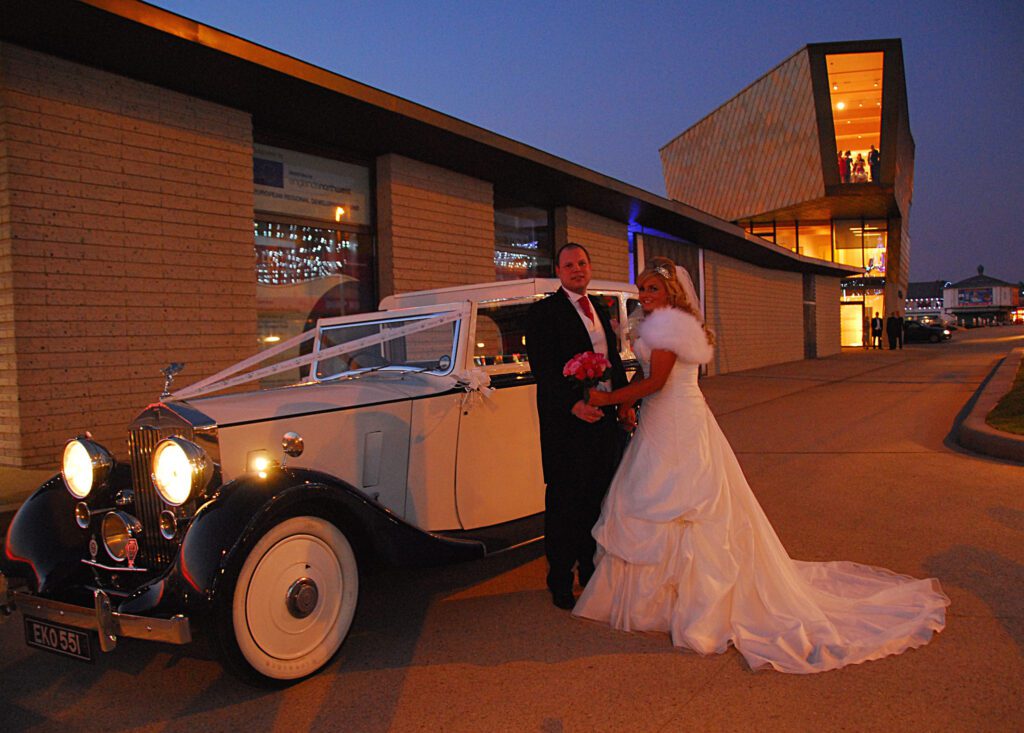 Mr and Mrs Garrick are now part of Blackpool's history. They exchanged their vows and shared their first kiss as husband and wife in the Tower View Room. The first couple to look out across the Promenade to the world-famous Blackpool Tower.
10 years later, almost 5000 couples have tied the knot in the Wedding Chapel at Festival House. Its popularity continues to increase every year.
The eye-catching gold clad venue on the Promenade offers couples the chance to get married with a backdrop of Blackpool Tower. Or couples can book the Sea View Room for smaller ceremonies of up to 12 people.
It's a unique venue for a register office. It always wows couples when they look around.
Changing Wedding Legislation
Legislation surrounding weddings has changed a number of times during the last ten years.
Evening ceremonies are now available and really popular. Of course evening slots mean that couples can get married with the Illuminations as the backdrop.
In 2013 The Marriage (Same Sex Couples) Act was passed. Now all couples can choose a civil partnership or marriage ceremony. This was such an important step for equality and couples took advantage of it the very first day the legislation changed.
At the start of 2022, 350 weddings are already booked in for this year! Many couples have had to reschedule ceremonies postponed due to the covid pandemic so it's going to be a busier year than ever.
Happy anniversary Kelly and Simon and thank you for being the first couple ten years ago.
Tourist Information Centre
Blackpool's Tourist Information Centre is a place to find out all kinds of information about the resort.
Pick up leaflets or buy show and attraction tickets. Ask about trams and transport. Get local, knowledgeable advice! Pop in and have a chat with the friendly team and ask them anything that you want to know.
While you're there you can also browse a range of products on sale. All locally themed, many made by small local businesses.
Got a question? Ring Blackpool Tourist Information Centre on 01253 478222. It's open every day from 9am to 5pm.
Beach House bar and restaurant
The Beach House is the bistro, bar and restaurant at the southern end of Festival House. Here you can enjoy lunch, evening dinner or a drink and light snack.
Eat in the main restaurant and conservatory style space, enjoying the drink of your choice from the wide menu of choices.
While you're here…
Go to the homepage of the Live Blackpool website for the latest updates.
Love the Fylde Coast? Sign up for your email newsletter. Packed full of interesting things it arrives in your inbox all 52 weeks of the year.
Join us on Facebook at our Visit Fylde Coast Facebook Group and follow us on Twitter @visitFyldeCoast
Plus hundreds of videos to watch on our YouTube channel – from all over the Fylde Coast!
Booking a stay? Pick a safe, clean and legal place to stay, at the very best price. Book with the Visit Fylde Coast and StayBlackpool guide.