New plans have been submitted for Southbeach Streetfood, which could see Flagstaff Gardens (opp The Sandcastle Waterpark) transformed! Images from LancsLive
Southbeach Streetfood – transforming a run-down space
The new complex, built from 18 shipping containers, would sell street food and provide outdoor seating along with live music in the central space.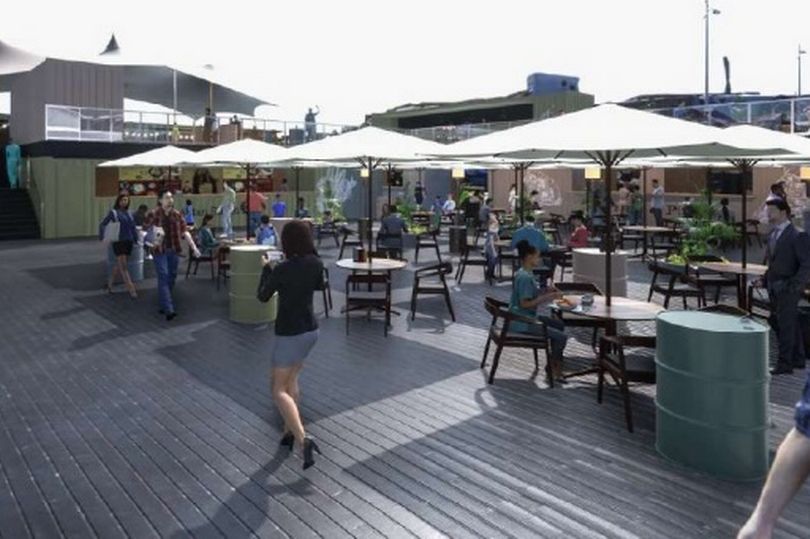 The intention is for the family-friendly venue to offer a range of international options from the street food stalls. They'll be "catering for all ages and food tastes including vegan, vegetarian, low-calorie and those with food allergies and intolerances". The applicant argues that such an option has become common in big UK cities but is largely missing from Blackpool's current offering.
If the plans are successful, Flagstaff Gardens could become a dining destination, transforming a run-down and neglected part of Blackpool's seafront.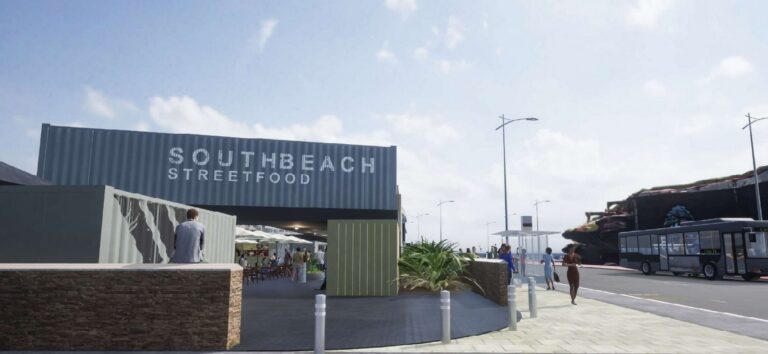 The site was previously home to Carnesky's Ghost Train attraction. It moved there after a stint between 2009-11 in the Olympia at Winter Gardens. However, since it closed the prominent sea-front site has been standing empty.
Creating Local Jobs
The firm behind the application is Southbeach Streetfood UK Ltd. They say it will create jobs, boost the local economy and make better use of a "currently vacant and visually unattractive parcel of land".
The directors have past experience of collaboration with Blackpool and the Fylde College. They hope to recruit with the help of the college and offer an exciting career path for local students. It's also an exciting opportunity for new industry recruits to gain experience and develop the streetfood experience as a whole.
They say "We expect to be able to offer year-round employment where staff are retained even when the venue closes for the winter period. The aim is to provide fair and considerate employment. It is not our intention to utilise so-called zero-hour contracts for any staff."
Streetfood in an ethical way
The application states: "The ethosis to deliver high quality, authentic streetfood in an ethical, considerate, and sustainable way."
They also aim to show eco-credentials with LED lighting, energy efficient appliances, menus designed to minimise food waste and recyclable containers.
While you're here…
Have a look at the homepage of the Live Blackpool website for more of the latest updates.
Love the Fylde Coast? Sign up for your weekly email newsletter. Packed full of interesting things it arrives in your inbox all 52 weeks of the year.
Join us on Facebook at our Visit Fylde Coast Facebook Group and follow us on Twitter @visitFyldeCoast
Plus hundreds of videos to watch on our YouTube channel – from all over the Fylde Coast!
Booking a stay? Pick a safe, clean and legal place to stay, at the very best price. Book with the Visit Fylde Coast and StayBlackpool guide.