One of Blackpool's RNLI volunteer crew members has achieved an impressive feat by completing a continuous three way swim across the Gulf of Corryvreckan in Scotland. Meet Richard Williams – RNLI fundraiser with world's first.
Third largest whirlpool in the world
The Corryvreckan is the third largest whirlpool in the world and is 600 feet deep. Swimming across the Corryvreckan once is not for the faint hearted! But Richard booked his place in history by swimming across three times. It's a distance of about 4,500 metres in fast moving water!
From an early age, Richard has always enjoyed swimming and began competing at local club level. He successfully progressed to junior and senior level representing GB on an international level. He's spent most of his working life as a Beach Patrol Officer and is the current manager of Blackpool Beach Patrol.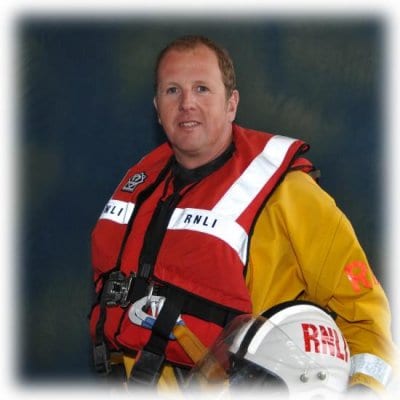 Richard Williams
Richard has also been an RNLI volunteer Crew Member for nearly 15 years. As a professional lifesaver Richard was well aware of the Corryvreckan risks. To prepare he was swimming 20,000 metres week in the pool. And training in open water, in both Lake Windermere and in the sea off Blackpool.
Despite all of his training and preparations, conditions on the day were tricky. The sea temperature was just 11°C – slightly colder than Richard had hoped for. This meant hypothermia was a very real possibility and controlling his breathing and remaining calm was a priority. Richard arranged for Swimtrek to provide safety boat coverage during the record attempt.
Richard said 'Trying to control your breathing and start swimming in the Atlantic Ocean 6 miles from the mainland in 11°C temperatures isn't easy. Especially with sea monsters running through the back of your mind!!
'I've got a background in competitive swimming and have done plenty of research. So I knew the key elements of attempting a three way crossing were speed, endurance and fitness. Plus technique, timing and mentally holding it together. I'm really proud that I managed to pull all of those elements together on the day and achieve a world first.'
Swim to Alcatraz
For most people this impressive feat would be enough. However, Richard raised the bar and set up another swim challenge. He plans to swim across San Francisco Bay to Alcatraz touch the Rock and return to the mainland. It's a distance of 2.5 miles.
The Ex GB International Freestyle swimmer will attempt to replicate the escape attempted by the only two inmates recorded to have escaped from Alcatraz by swimming. However they were never seen again! Tidal currents are treacherous, together with 14 different shark species (including the Great White). Richard is hoping to raise money for the RNLI in Blackpool.
He's volunteered with the charity for nearly two decades and is only too aware of the need to raise funds. 'The RNLI is an incredible charity, our lifeboat station in Blackpool is crewed entirely by volunteers. To keep our volunteers safe we need to constantly update our safety equipment and train our volunteer crews. I'm hoping to raise a substantial amount of money so that we can carry on saving lives at sea.'
Blackpool RNLI Lifeboat Operations Manager was Keith Horrocks MBE. He said 'We are all really proud of what Richard has achieved. It's not everyday that one of our volunteers achieves a world first. We're all really looking forward to hearing about his next adventure. And we're really grateful that he's going to such great lengths to raise money for the station. Like all of our volunteers he already gives an awful lot of time and effort to the RNLI. So swimming to Alcatraz is really going above and beyond.'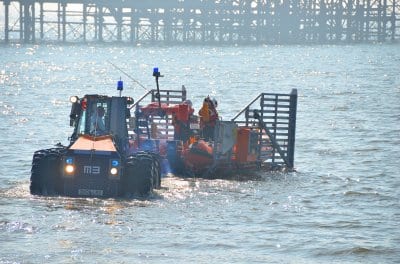 Putting the Lifeboat to sea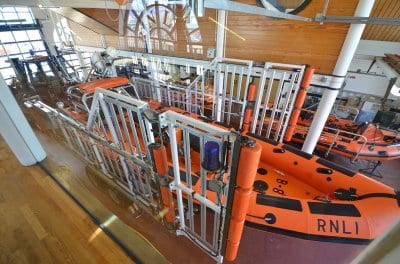 Blackpool RNLI Lifeboat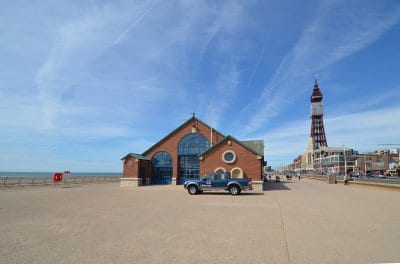 Blackpool Lifeboat Station
While you're here…
Have a look at the homepage of the Live Blackpool website for more of the latest updates.
Love the Fylde Coast? Sign up for your weekly email newsletter. Packed full of interesting things it arrives in your inbox all 52 weeks of the year.
Join us on Facebook at our Visit Fylde Coast Facebook Group and follow us on Twitter @visitFyldeCoast
Plus hundreds of videos to watch on our YouTube channel – from all over the Fylde Coast!
Booking a stay? Pick a safe, clean and legal place to stay, at the very best price. Book with the Visit Fylde Coast and StayBlackpool guide.