You can't miss Bispham. Heading north along Blackpool promenade, past the Illuminations tableaux, the tram stop has 'Bispham' written on it in big letters! Turn right here at Red Bank Road (known as Bispham) and at the next small roundabout you'll find Bispham Village.
Did you know? The name 'Bispham' comes from the 'ham' or village of the Biscop family of the 7th Century.
The chemists behind Bispham Post Office on Red Bank Road was called Biscopham for some years.
Take a Look at Bispham and Bispham Village
Past North Pier, Gynn Square and Uncle Tom's Cabin, the tramway carries on to Cleveleys and beyond to Fleetwood.
Bispham tram stop marks the end of the illuminations and tableaux. It's also where you drive under the big illuminated arch across the road, wishing you a good journey home.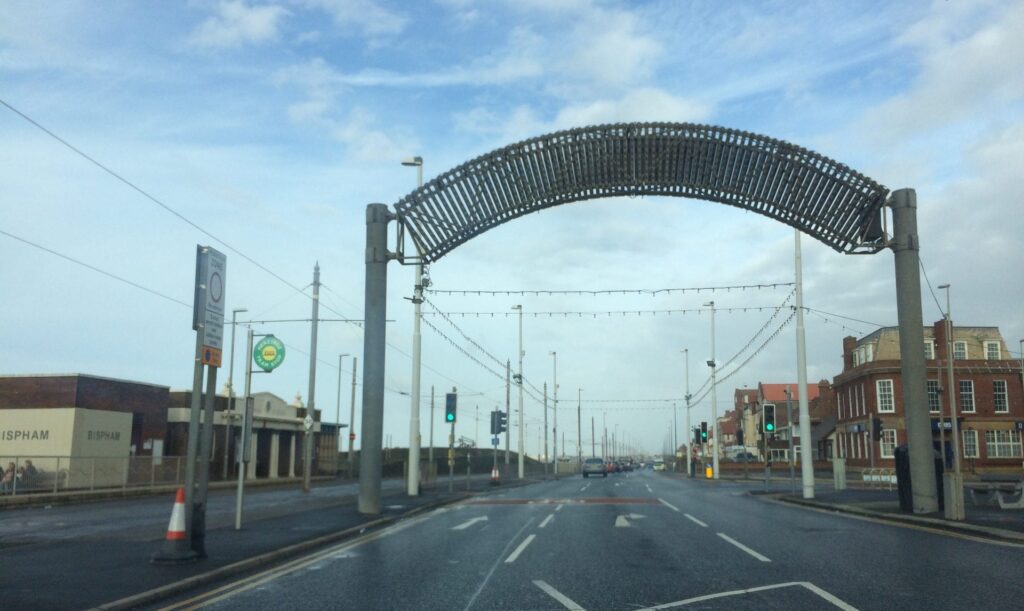 The tram stop is at a T Junction – heading inland here is Red Bank Road.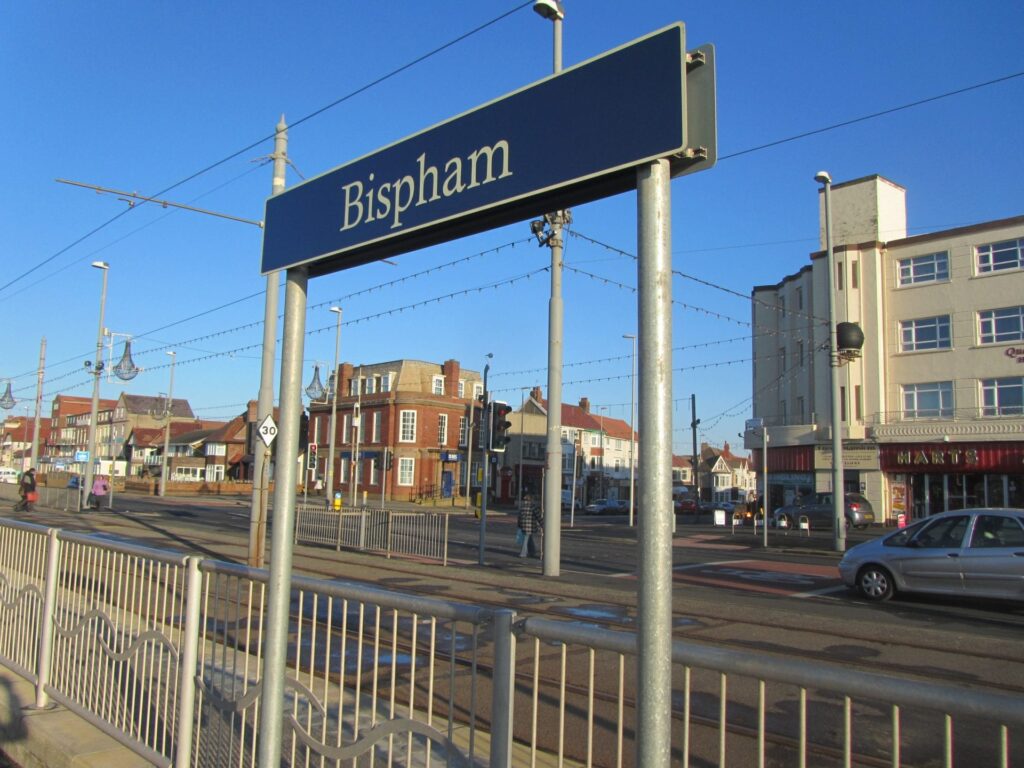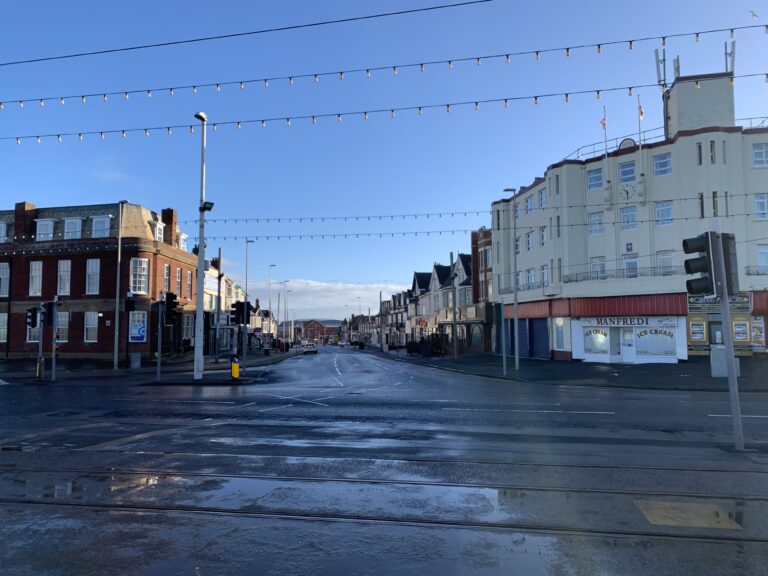 Red Bank Road, Bispham
This main road takes you inland from the main promenade to the roundabout at Bispham Village.
Did you know? It's called Red Bank Road because of the red tinted boulder clay of the seafront cliffs?
There are all kinds of local shops here. We went for a walk on a cold and frosty morning in January 2021. The country is in lockdown because of the coronavirus pandemic. That's why there are so many closed shops and it's so very quiet.
Enjoyed this video? Why don't you subscribe to our Visit Fylde Coast YouTube channel – make sure you don't miss out!
Against the promenade you'll find amusements, fish and chips and the feeling of a seaside resort. It's an important stop-off and feeding point for the thousands of visitors to the Blackpool Illuminations!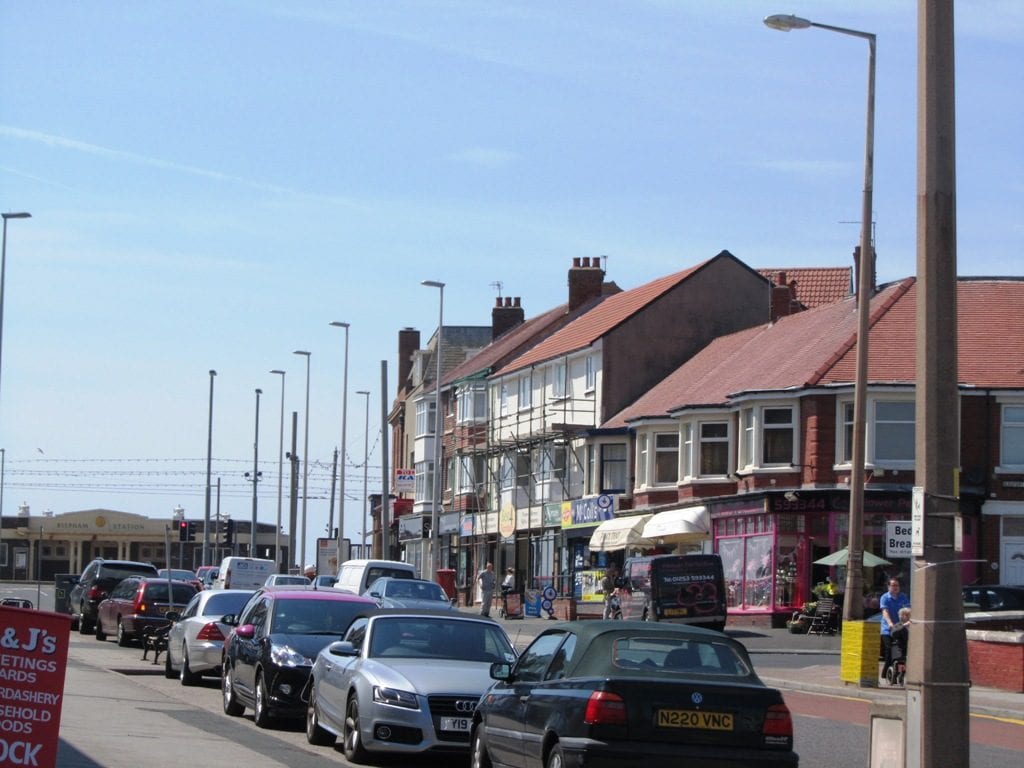 Just past the junction are the type of shops that you'd get on any local high street. Most of them are small independent retailers. There's a florists, convenience store, wedding dress shop, beauty parlours, value stores, restaurants, and a pet shop. Continue along Red Bank Road to find a pharmacy, carpet shops, opticians, a tile shop, hairdressers, quality menswear and more besides.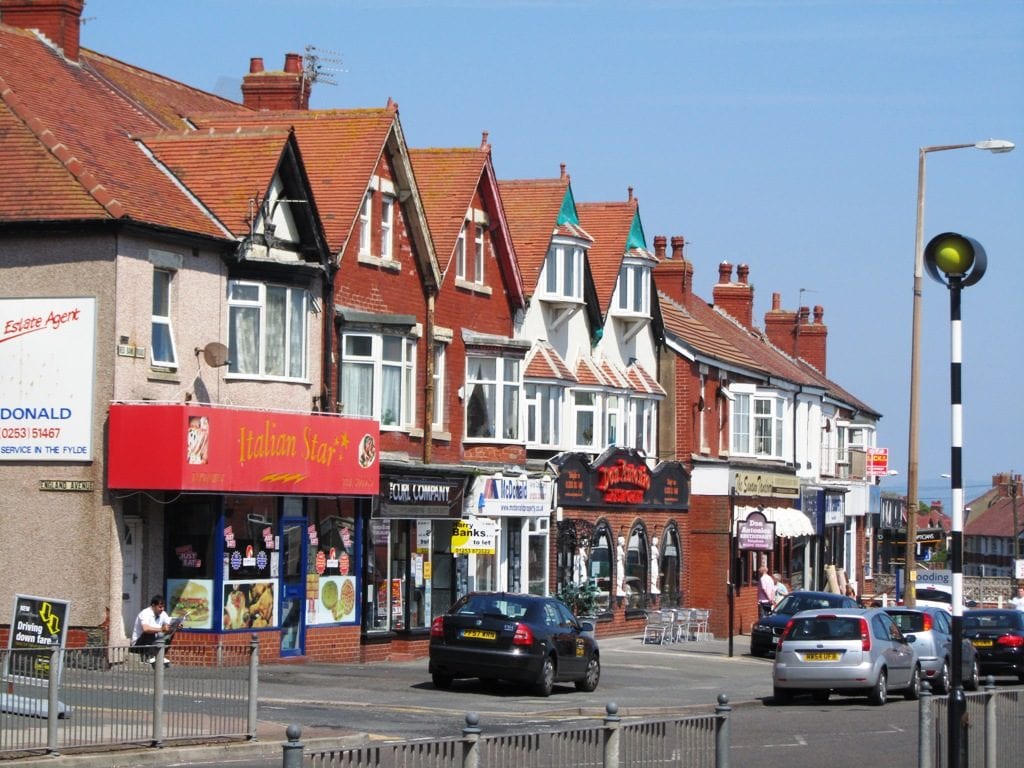 It's a wide pavement and there's free on street parking, both on the main road and nearby side streets.
A little further along Red Bank Road is the smaller of Blackpool's two Sainsbury's supermarkets. It has a large customers car park and shop entrances off Red Bank Road and to the rear of the store.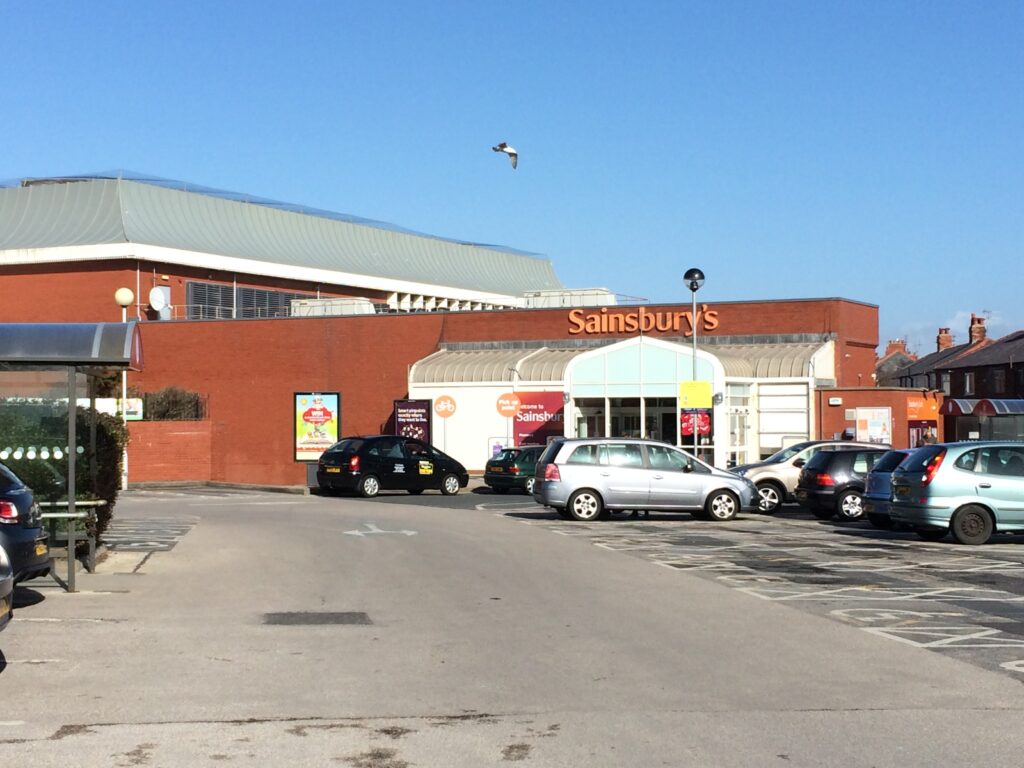 The Tramway and Red Bank Road
The history of the Blackpool tramway is another long and complicated story in itself.
However, Bispham does feature quite prominently in it. It's where the Blackpool and Fleetwood Tramroad Company opened on 30 July 1885, operating from their Bispham Depot.
The tramway depot was at the site of what's now the Sainsbury's supermarket. From there, the company operated their 10 trams, which carried one and a half million passengers between June 1898 and June 1899. They travelled from Blackpool station via Gynn Square to Fleetwood Ferry.
Red Bank Road opened in 1911, formed from the cutting for the tramline between the seafront and Bispham depot. It had previously been known as Town Lane.
The tramsheds at Red Bank Road closed on 27 October 1963 and an Alpic Supermarket was first built there.
Bispham Roundabout
Continue travelling inland along Red Bank Road, past the fire station on your left, and the shops give way to houses. The next landmark you come to is Bispham roundabout. That confusing little double junction!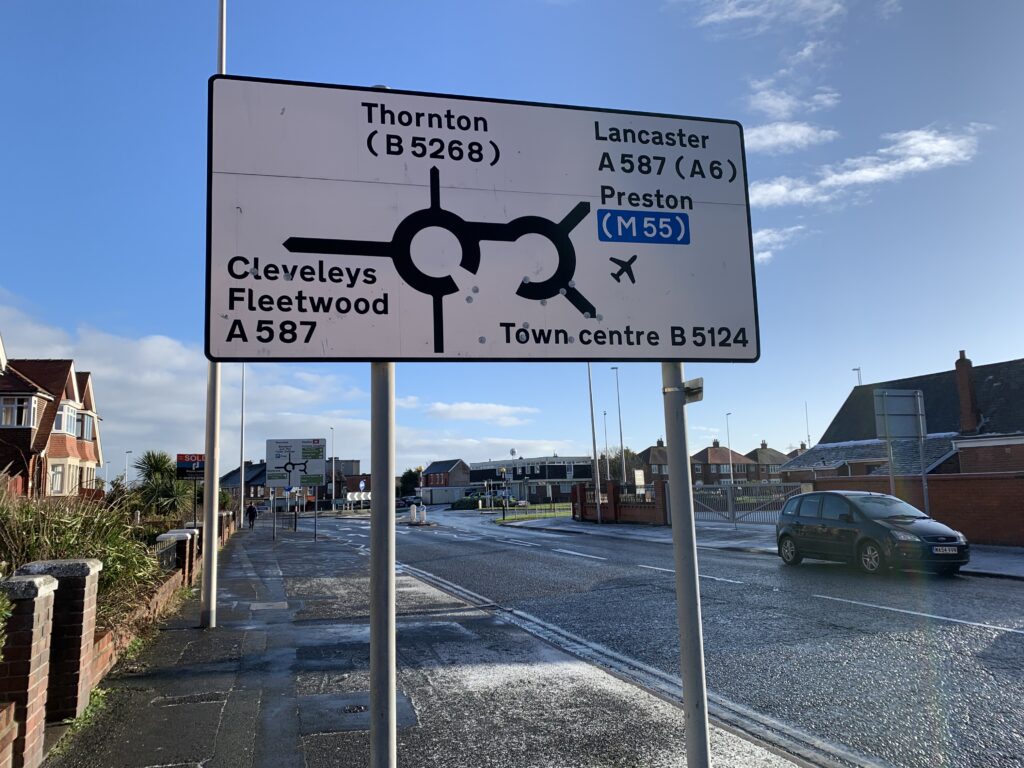 Did you know? Five Ways Roundabout, as it's also known, has been there since 1924?
Five Ways Garage was also built then. The current roundabout opened on 17 May 1947. (Don't forget to say happy birthday to it!)
Bispham Village
Just beyond the roundabout at the junction with Devonshire Road is Bispham Village.
Bispham Village is an excellent spot for local people, with a mixture of high street names and yet more independent stores. They're all in very close walking distance of each other.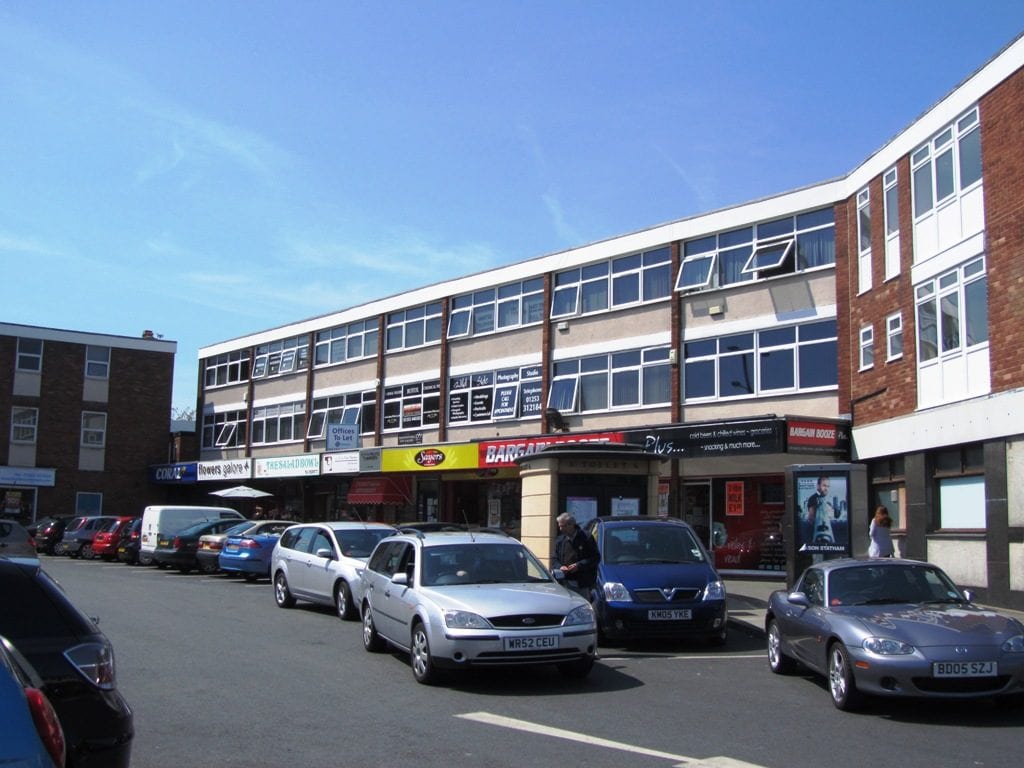 Like most of these small satellite shopping areas along the Fylde Coast, there's plenty of free parking and good public transport. Here's our walk-around video, filmed on that same frosty morning in January 2021 –
Enjoyed this video? Why don't you subscribe to our Visit Fylde Coast YouTube channel – make sure you don't miss out!
In the village you'll find a couple of small supermarkets, post office, opticians, Bispham Market, a pharmacy, restaurants and fish and chip shop, banks, bakery – plus the public toilets!
Do you live at the northern end of Blackpool? Next time you need a little bit of something, why don't you pop into Bispham? Support the local shops, and pick up your shopping from there.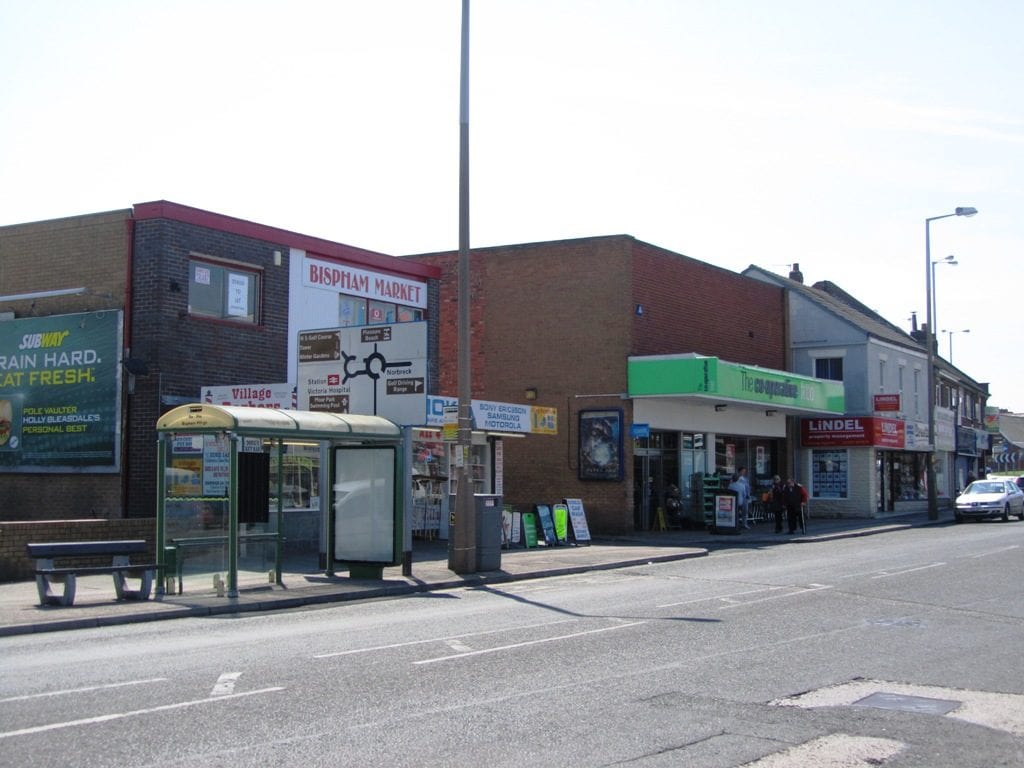 Improvements at Bispham
Bispham Village had an upgrade over the autumn and winter of 2018/19 to create a more modern and safe environment for pedestrians and shoppers.
Blackpool Council consulted with a mix of residents and businesses. Then the village was improved with:
Raised crossing and narrow points in the roads, making them easier to cross
Reduced speed limits, from 30mph to 20mph
Repaved and resurfaced footpaths and roads
New bus shelters, benches, planting, bins, bollards and more
The current number of car parking spaces is the same and still free of charge.
Bus stops and taxi ranks are the same as before.
Work is focussed on stretches of Blackpool Road, Redbank Road, Ingthorpe Avenue and All Hallows Road.
History of Bispham Village
Did you know that Bispham is one of the oldest settlements here on the Fylde Coast? In fact Blackpool, Bispham and Norbreck was the largest settlement in Amounderness.
No, we didn't either, until we started researching it, with the help of Nick Moore's History of Blackpool and the Fylde Coast.
Way back in 1137 the Shrewsbury monks were granted a Charter of protection of their lands in Bispham from King David 1 of Scotland.
All Saints (or All Hallows) Church is believed to have been on site from the 11th Century. And until 1821 it was the only church serving Blackpool. It's considered to be the 'Mother Church' of Blackpool.
Then in 1650, Bispham Endowed School is built at the site of what's now Bispham roundabout.
The Poor Rate Assessment of 1706 showed that there were three dozen farmers in the area.
In 1832, people came to Bispham and Blackpool to escape cholera.
Fascinating that there's so much history in the area, going back such a long way. We had no idea until we started researching to make the new videos for this page.
There's a lovely little cottage in the village, with a date stone above the door for 1820. Imagine what Bispham would have been like back then…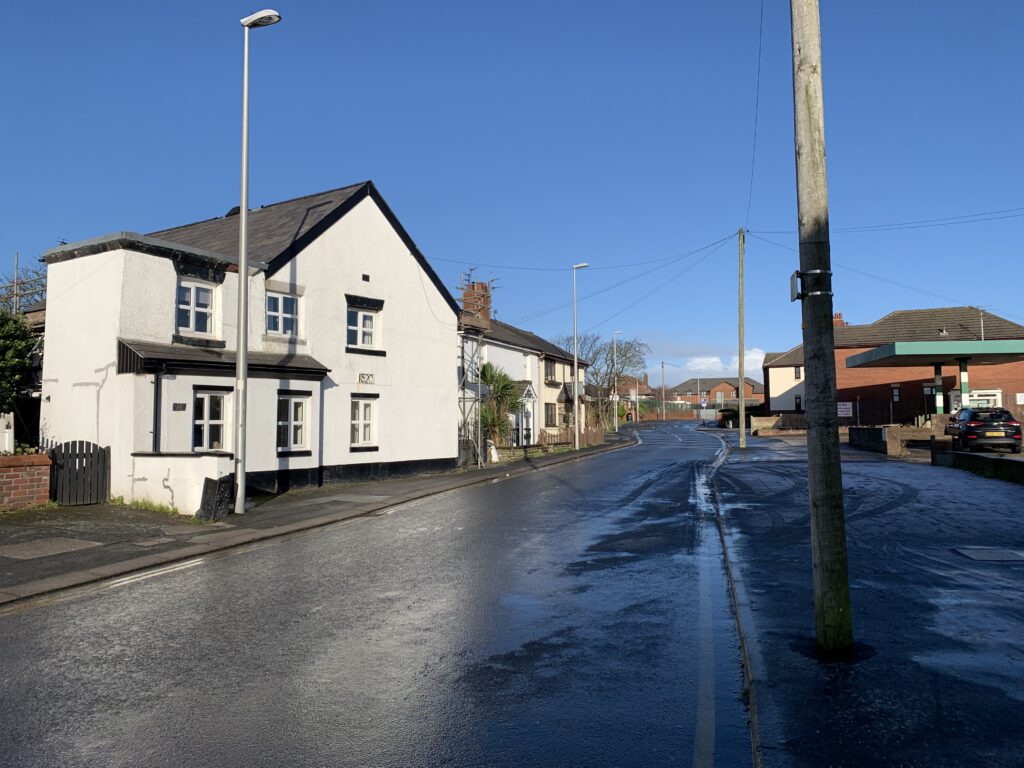 While you're here…
Have a look at the homepage of the Live Blackpool website for more of the latest updates.
Love the Fylde Coast? Sign up for your weekly email newsletter. Packed full of interesting things it arrives in your inbox all 52 weeks of the year.
Join us on Facebook at our Visit Fylde Coast Facebook Group
Don't forget to follow us on Twitter @visitFyldeCoast