The Blackpool World Firework Championships take place over four brilliant FREE Friday nights in September. It's just one of the events during the Blackpool Illuminations season.
Blackpool World Fireworks Championships
Fridays 6, 13, 20, 27 September 2019
The Illuminations light up the promenade, and Fireworks light up the sky. See the most amazing displays synched to music, from some of the most talented fireworks technicians in the world.
This FREE annual event is organised by Visit Blackpool (the official tourism department at Blackpool Council).
6 September: Estonia, Pyrocom
13 September: Canada, Orion Fireworks
20 September: Ukraine, Dance of Fire
27 September: Celebratory display and winners announcement from Titanium Fireworks.
And the 2019 winner is…
At the final event, Ukraine beat off international competition from Estonia and last year's winners, Canada, to take the coveted title.
Dance of Fire won the annual World Fireworks Championship in Blackpool. The display impressed everyone with amazing pyrotechnical expertise and synchronization of fireworks to music.
The company is an industry leader, taking part in firework events in France, Monaco, Germany, Italy, Malta, Croatia, Madeira, and Canada. They also contribute to the development of pyrotechnic technologies, and have a large fleet of equipment for all scales of firework shows.
A Fantastic Free Night Out
It's a great time to enjoy the best that Blackpool's got to offer. If you live close by you can make a day of it. Or have a look at some places to stay and enjoy a weekend break.
There's so much to see and do. Why don't you check out our long list of things to do on the Fylde Coast? Whatever the weather, you're sure of a great time.
Enjoy a stroll in the warm evening air before the autumn weather sets in. Eat a bag of chips with your fingers – they taste so much better like that.
Where to watch the Fireworks
Fireworks are fired over the sea from North Pier. There's a perfect viewing arena at Tower Festival Headland on the promenade. Watch Blackpool World Firework Championships 2019 from anywhere along the seafront and from north to south. You'll be able to see them!
Get fantastic views from anywhere on Blackpool seafront. Enjoy a full gallery of photos on our own Blackpool Illuminations website.
Enjoy the Lights
The Blackpool World Firework Championship takes place at the beginning of Blackpool Illuminations season. In a two for one experience, you can enjoy the Lights too.
Share your Photos of the Blackpool World Firework Championships
We want to see your photos of the Blackpool World Firework Championships! Email yours to jane@theRabbitPatch.co.uk and we'll share the best ones. Take a look at the ones you've sent in –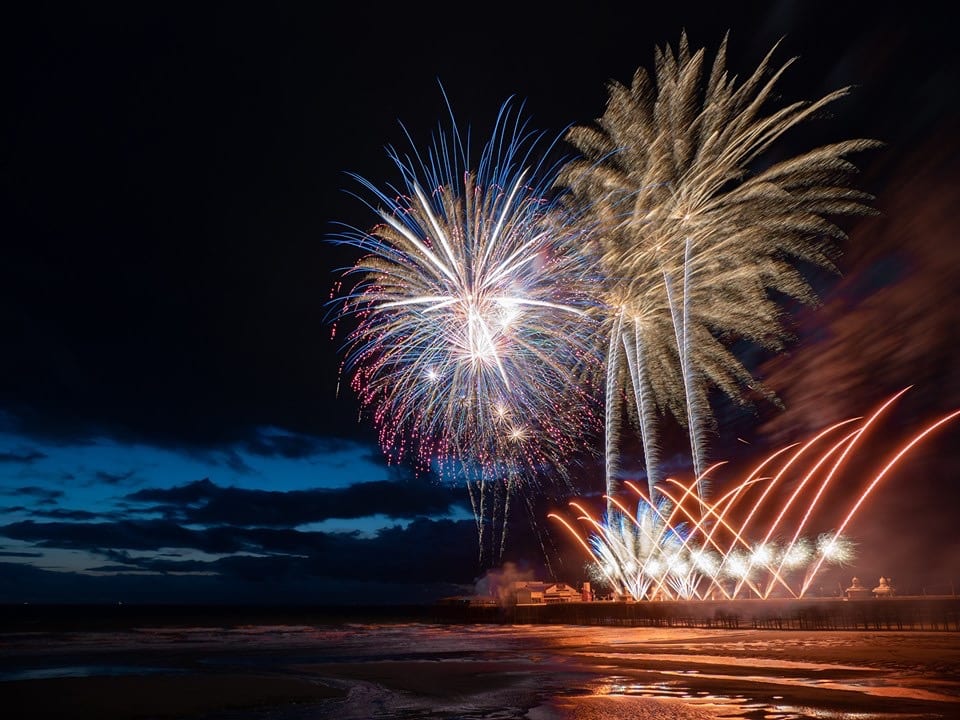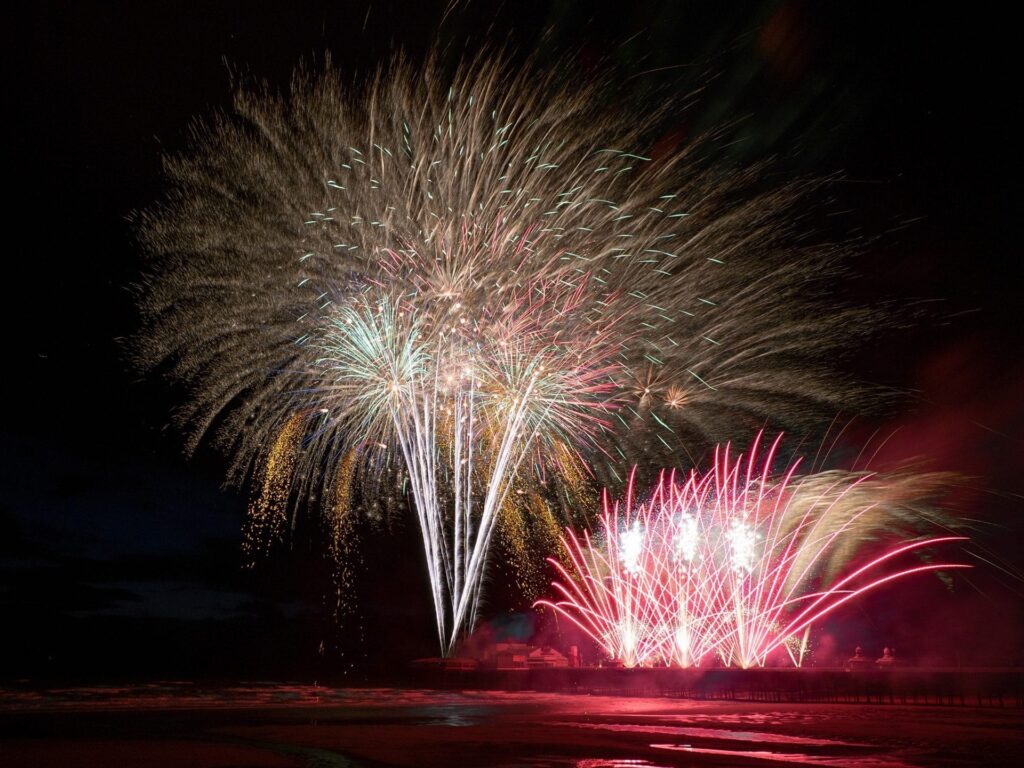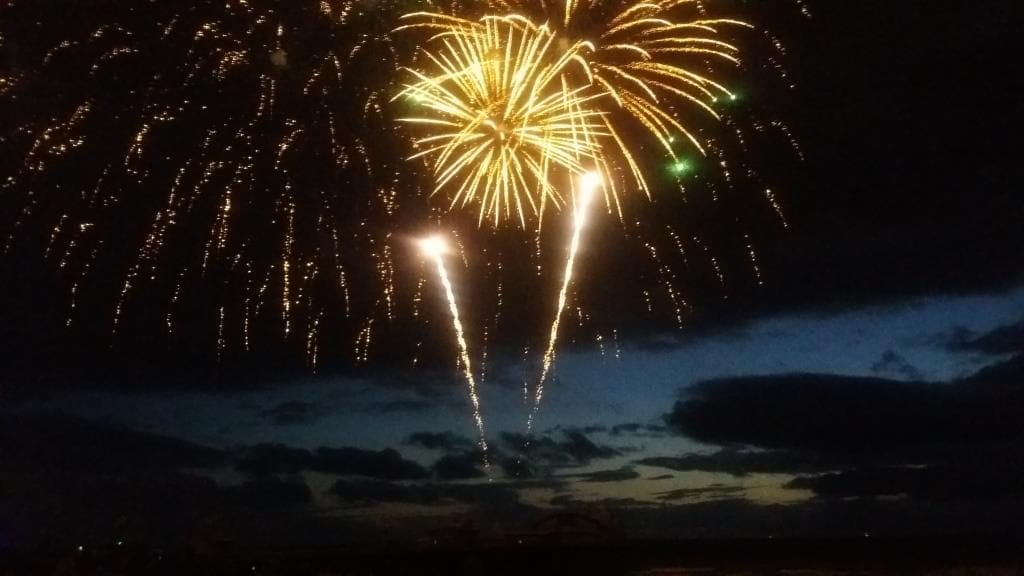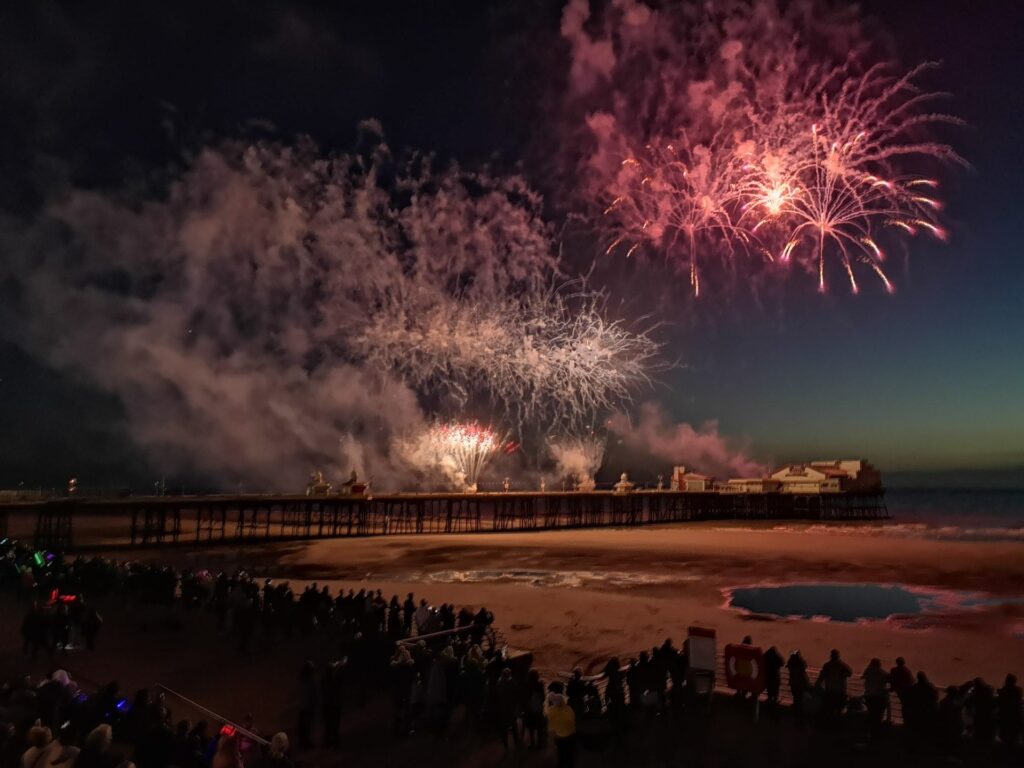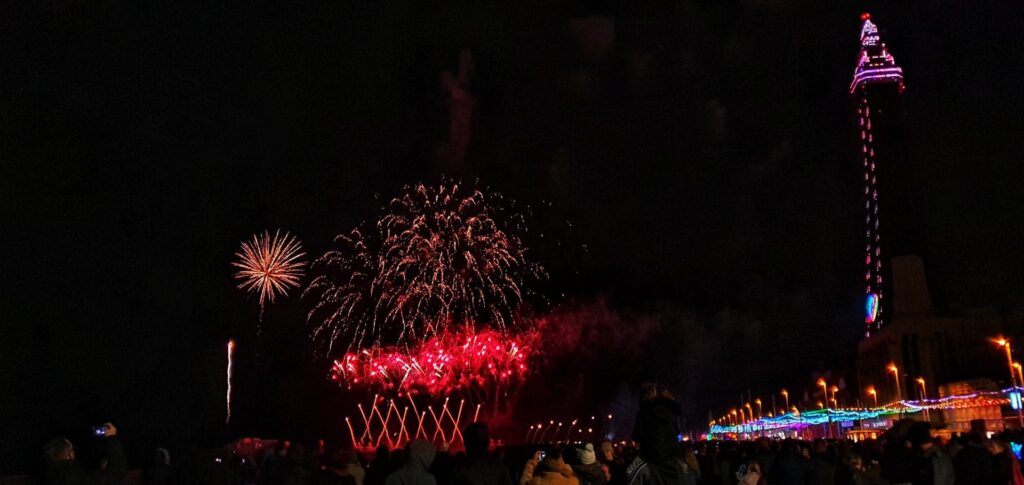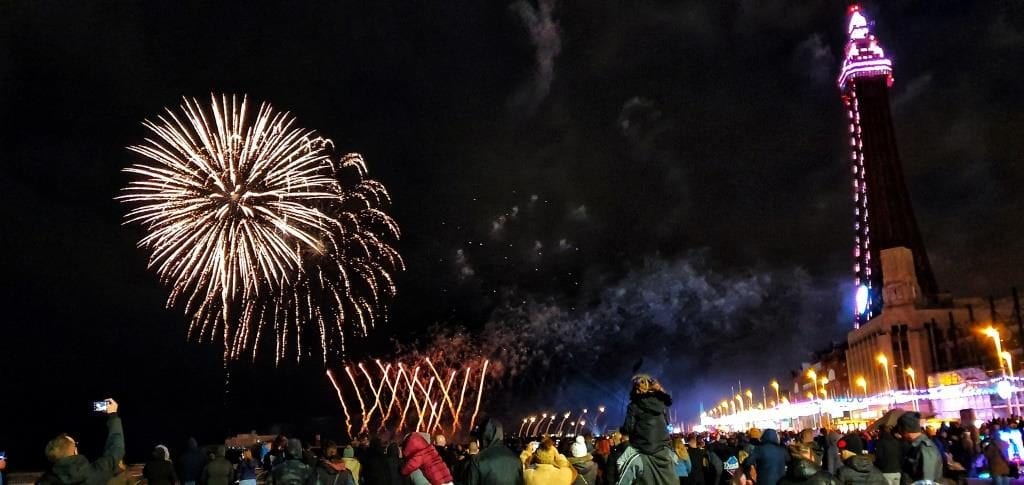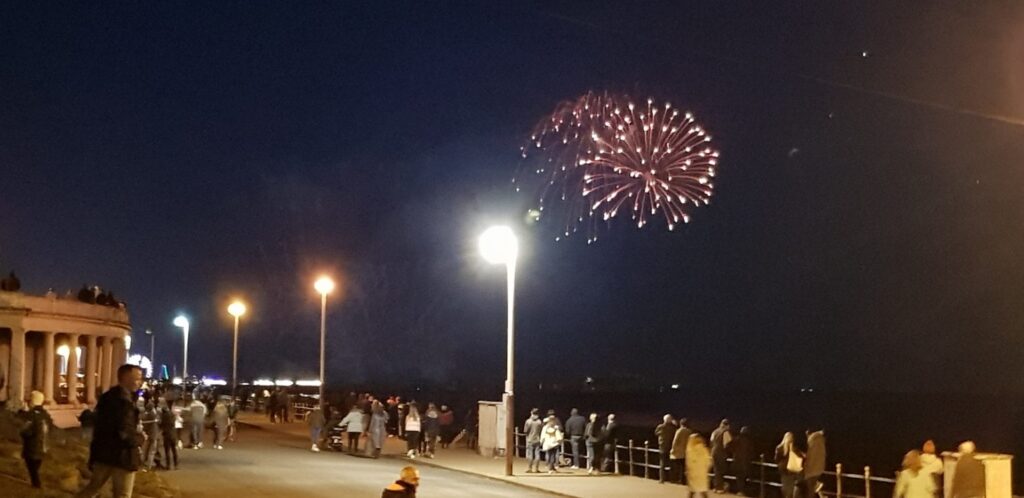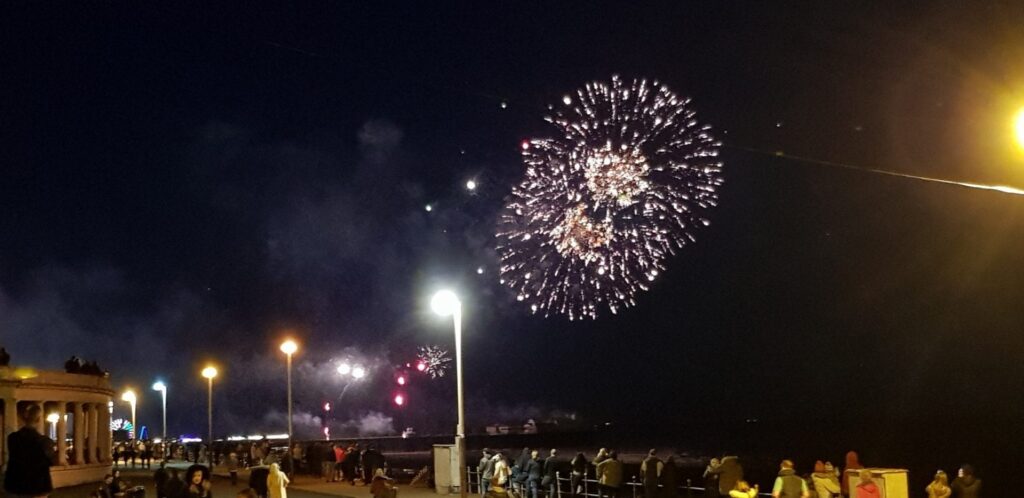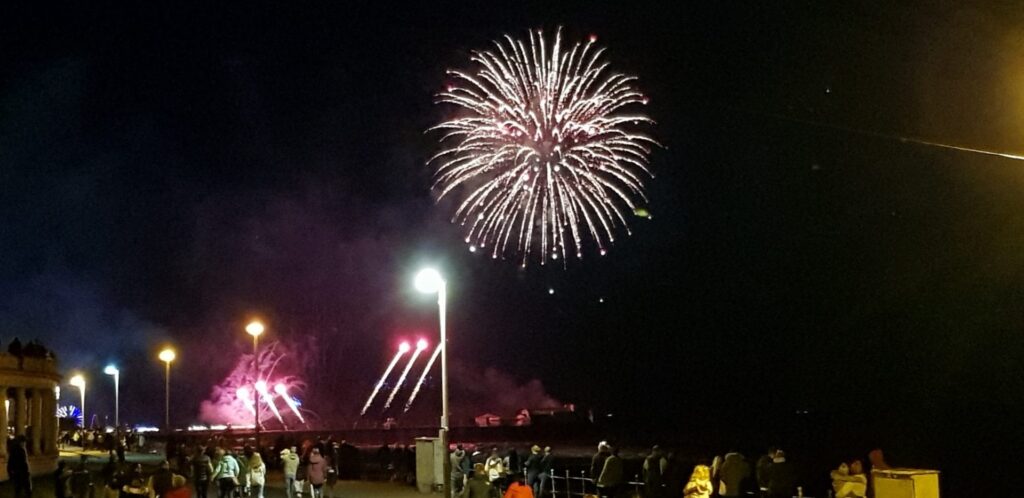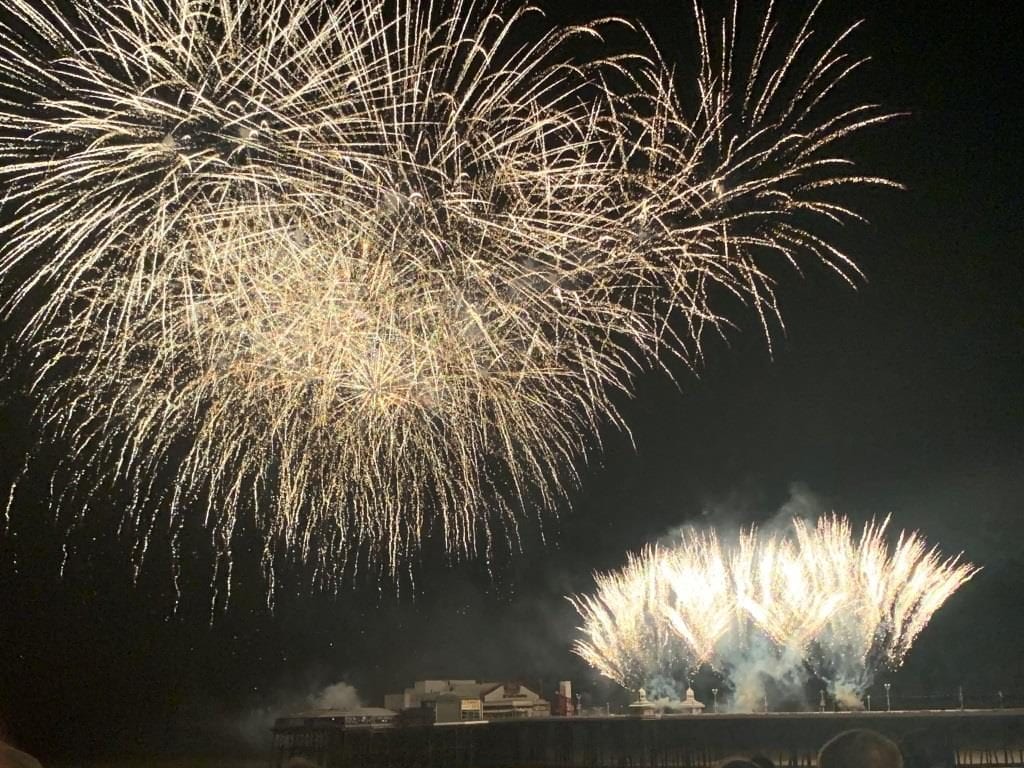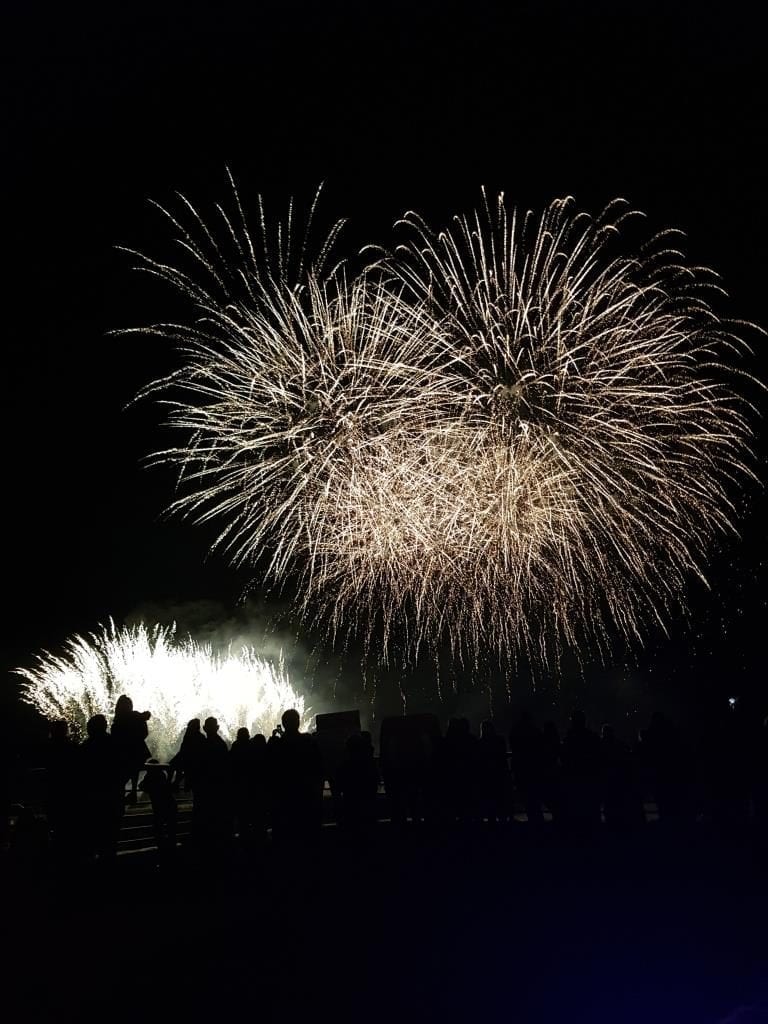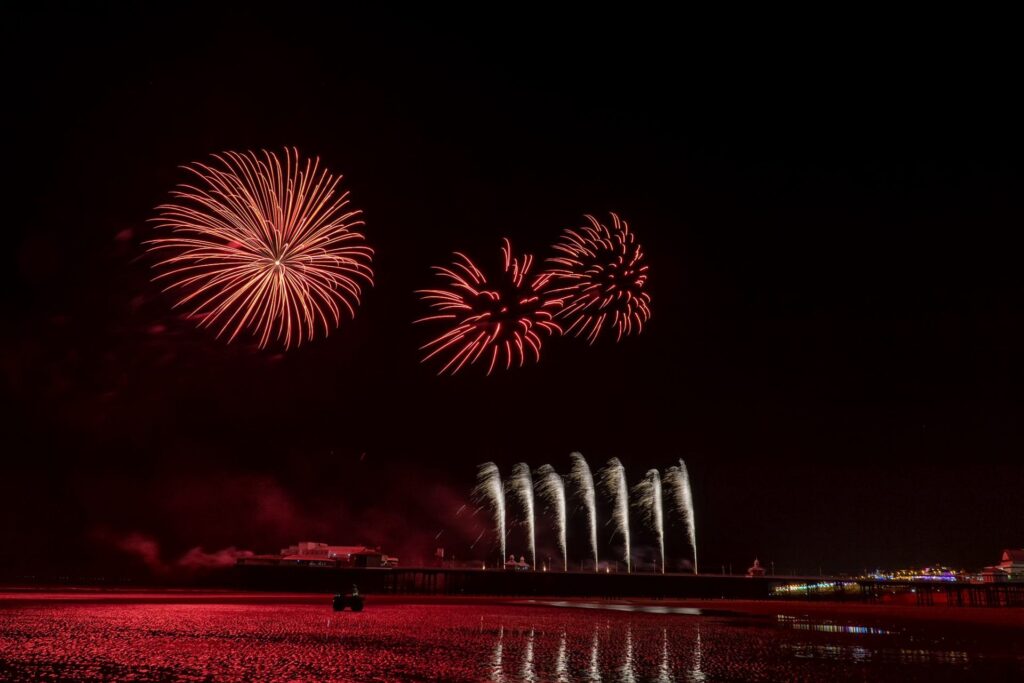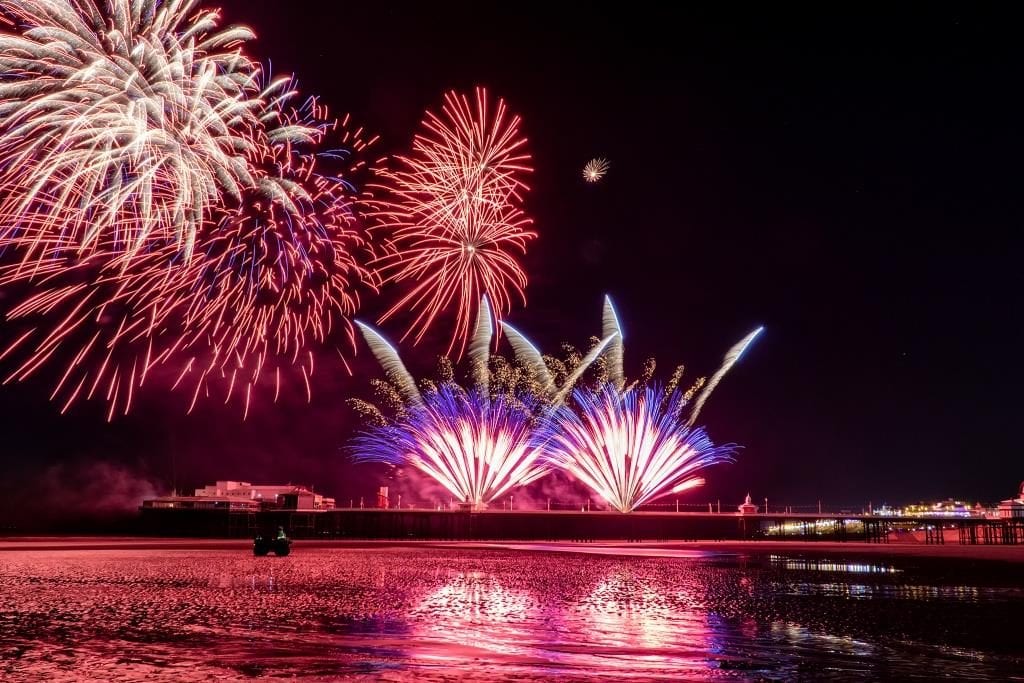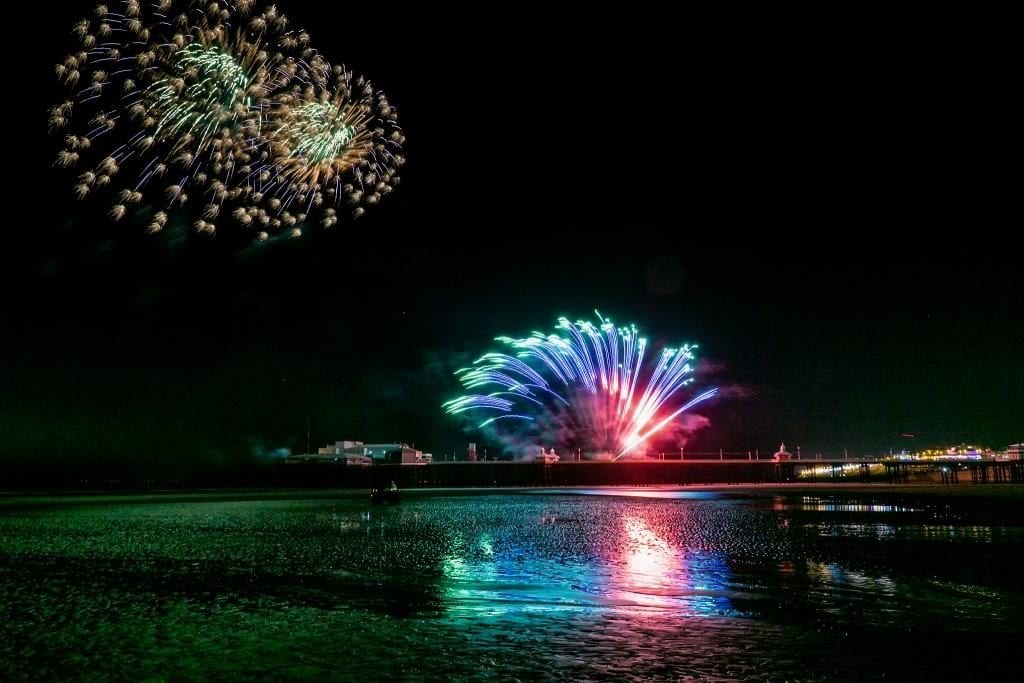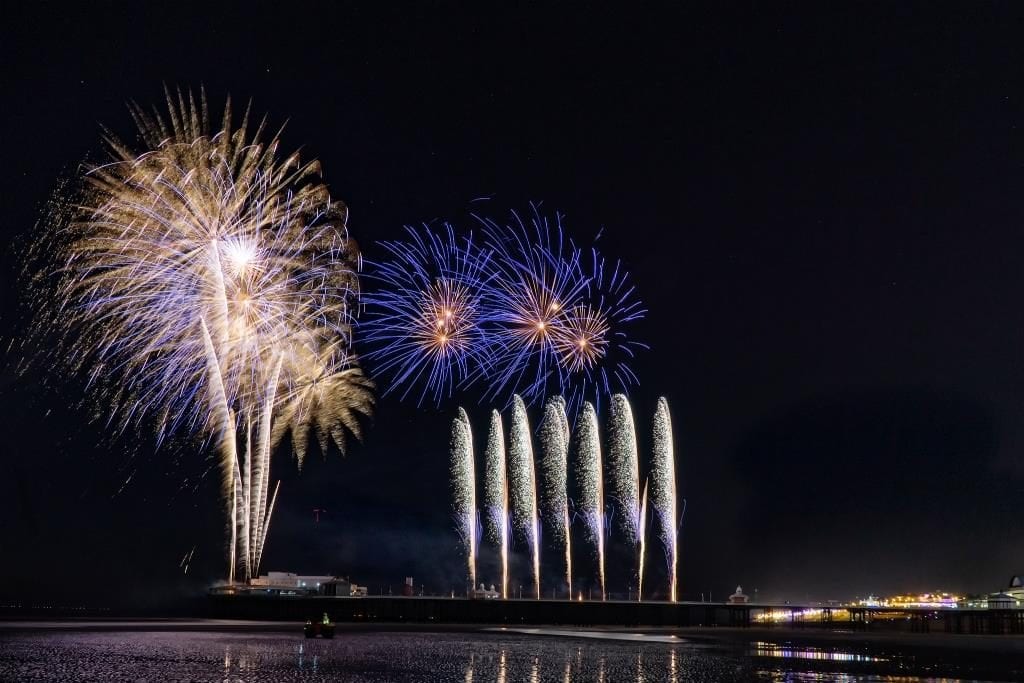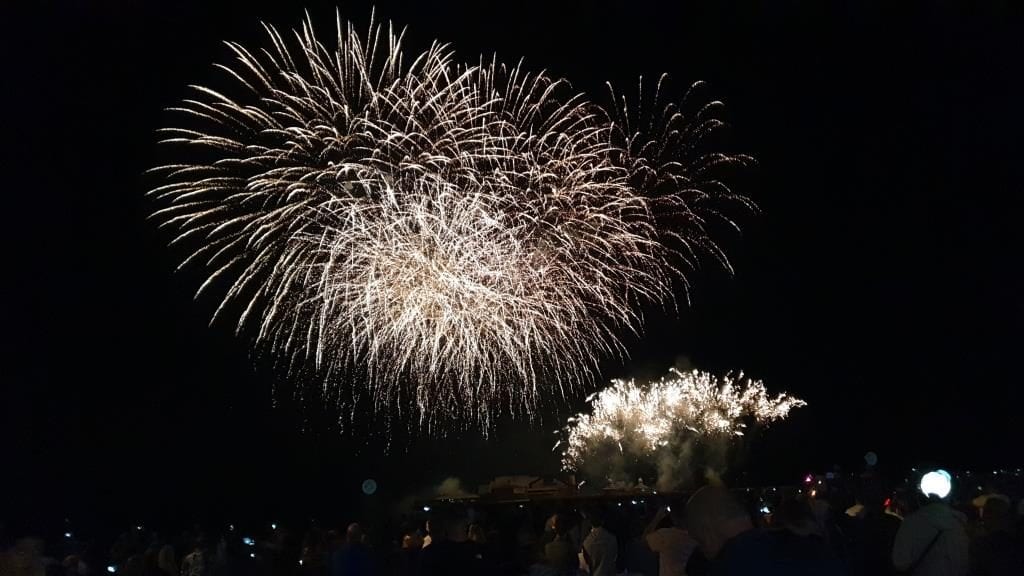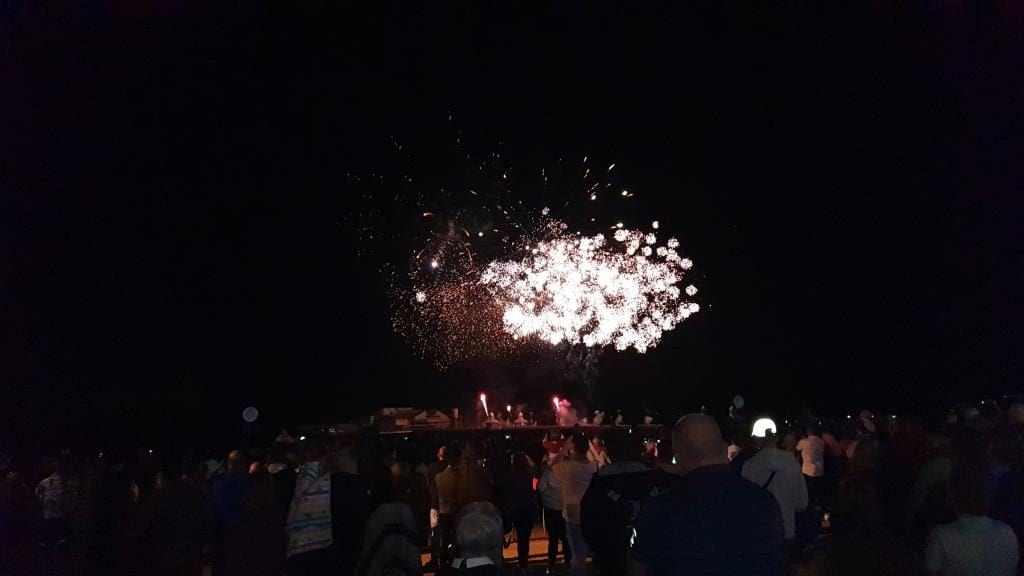 Russell Taylor had a great time shooting the fireworks display for the first time during week 3. They're not an easy subject to capture and we're sure you'll agree that Russell has done a great job!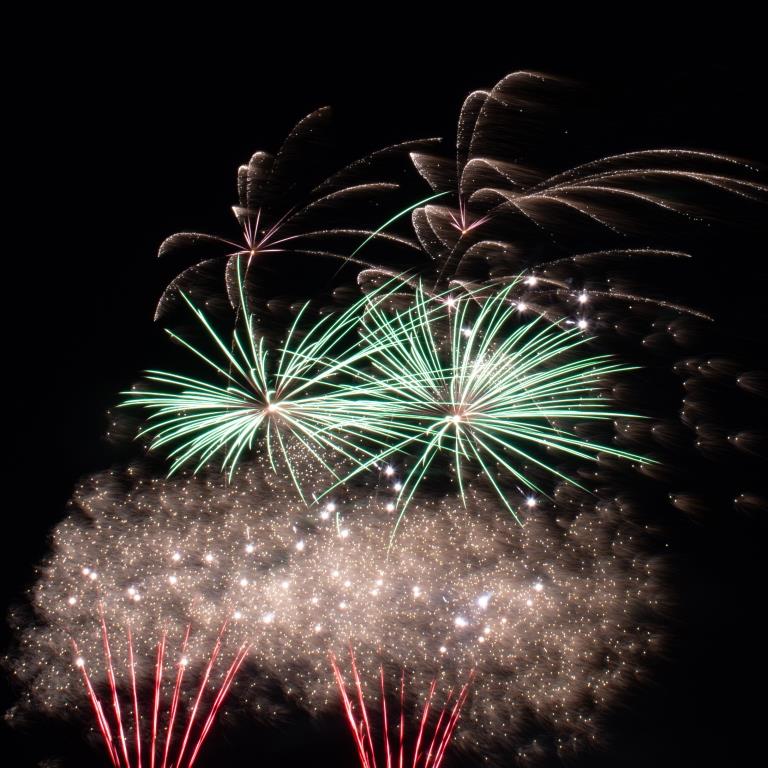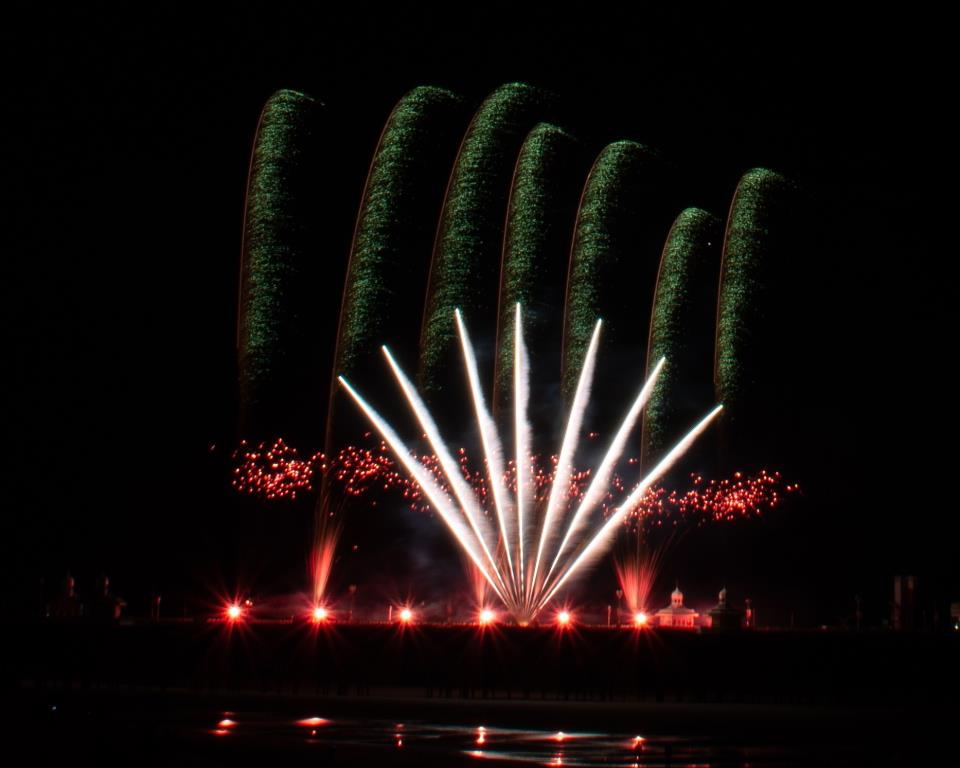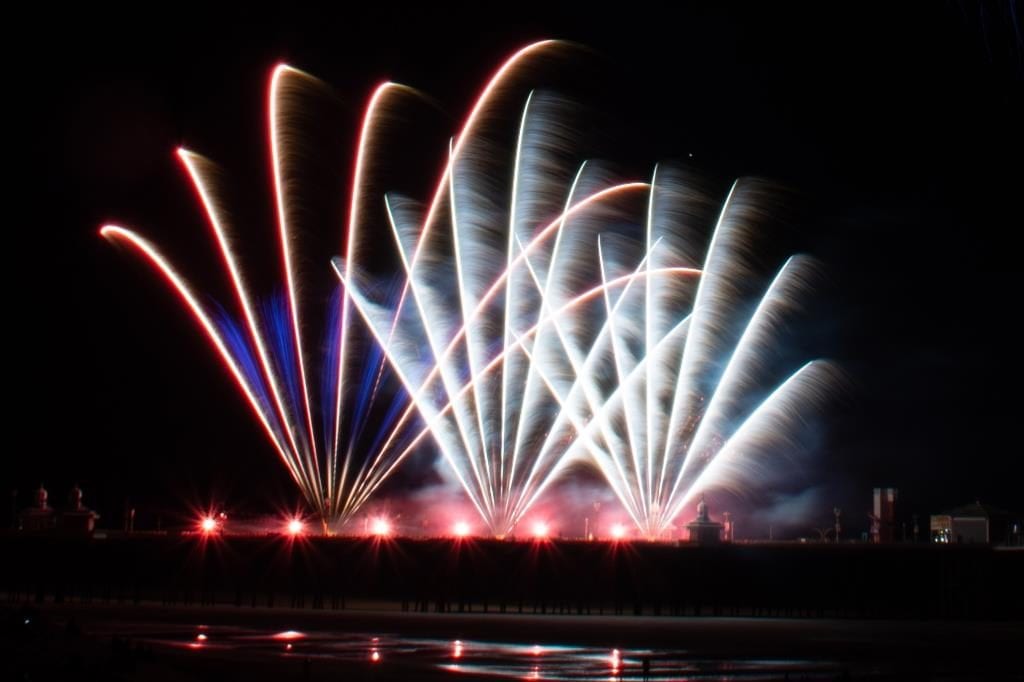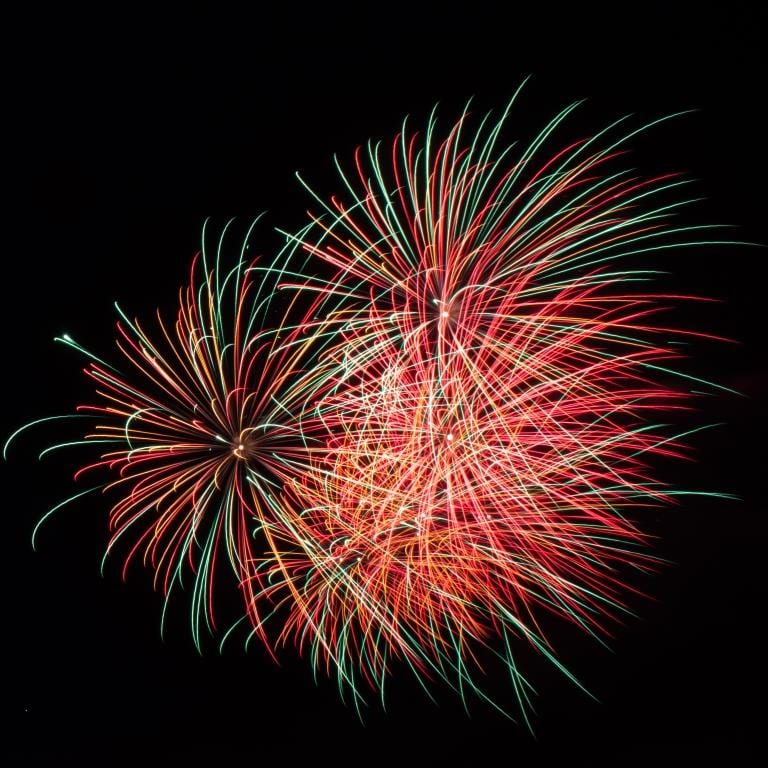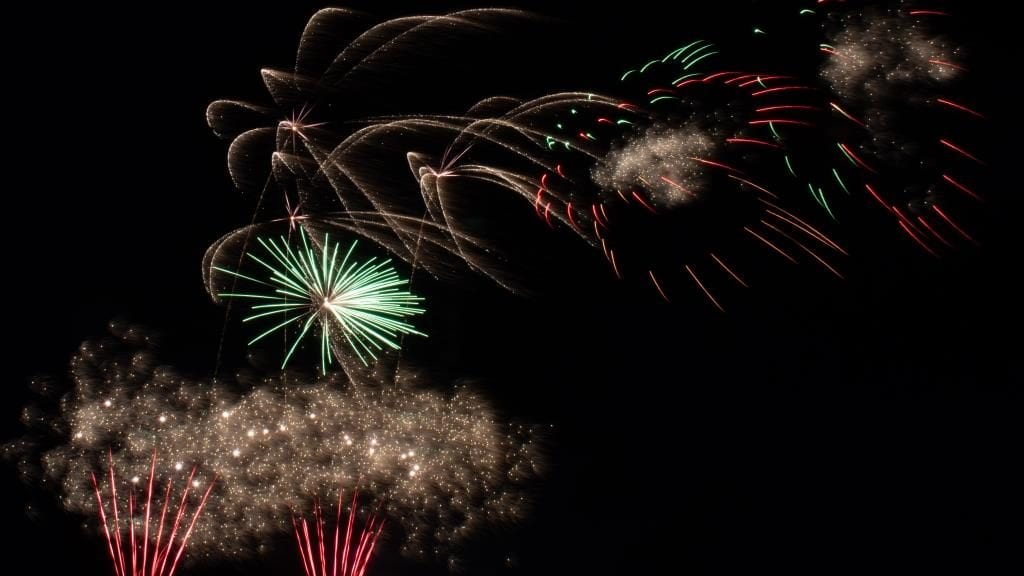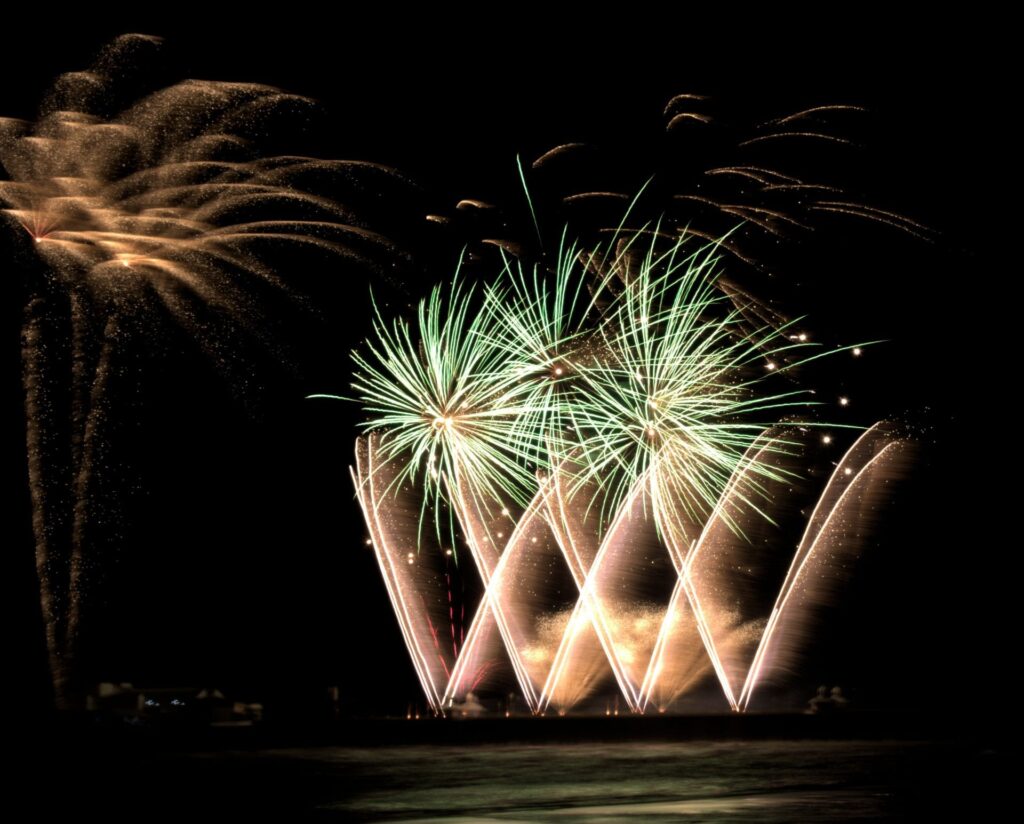 And Pat Morley sent in some more amazing photos of the final week of the 2019 World Firework Championships Blackpool.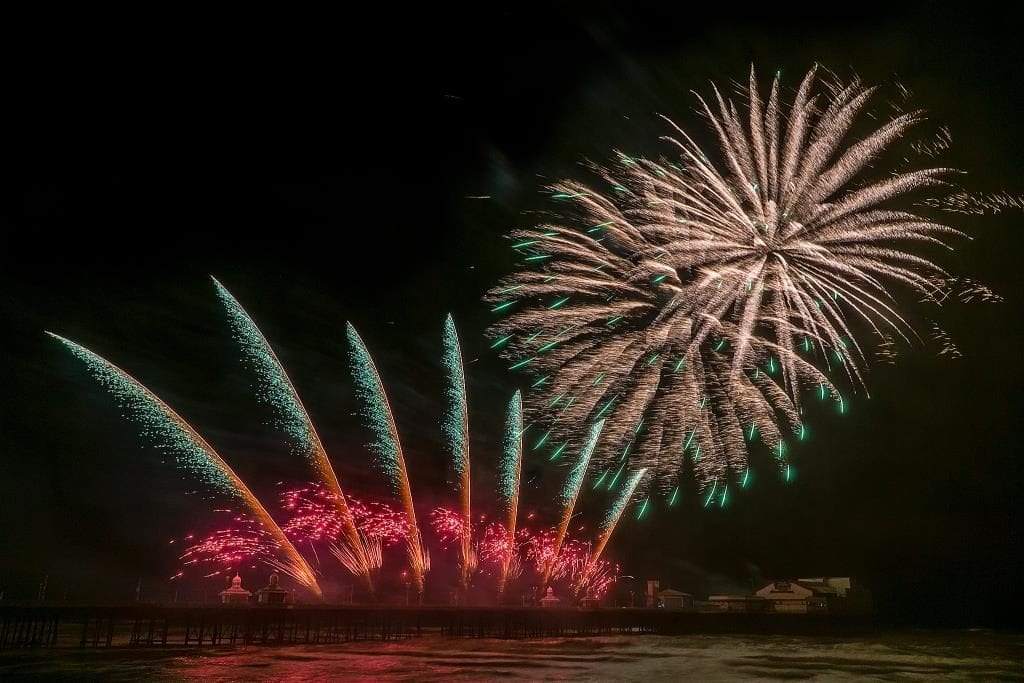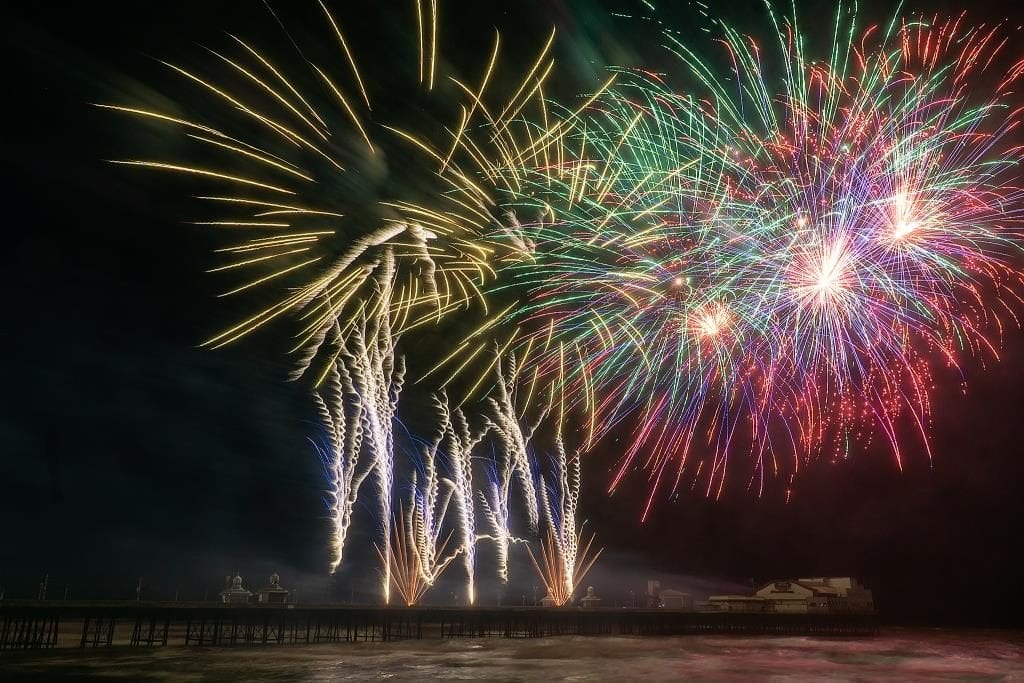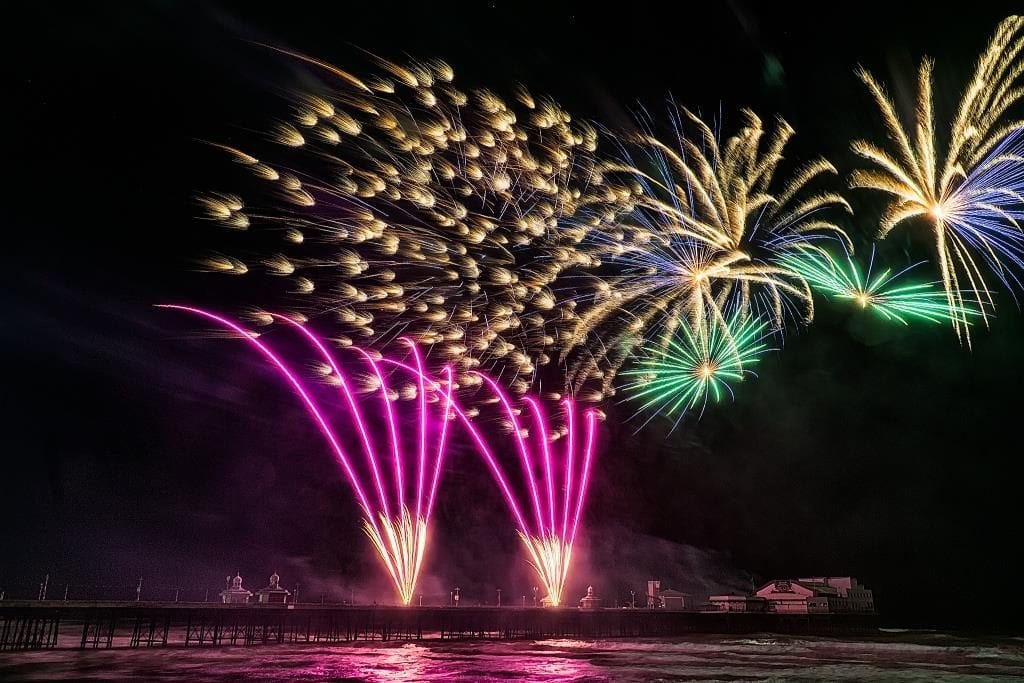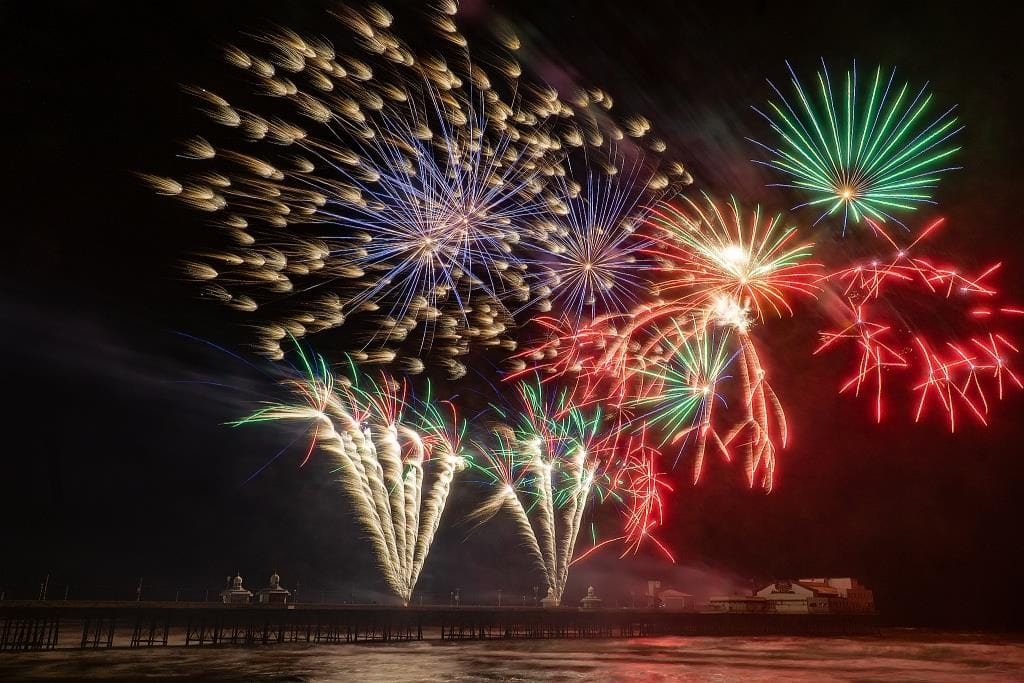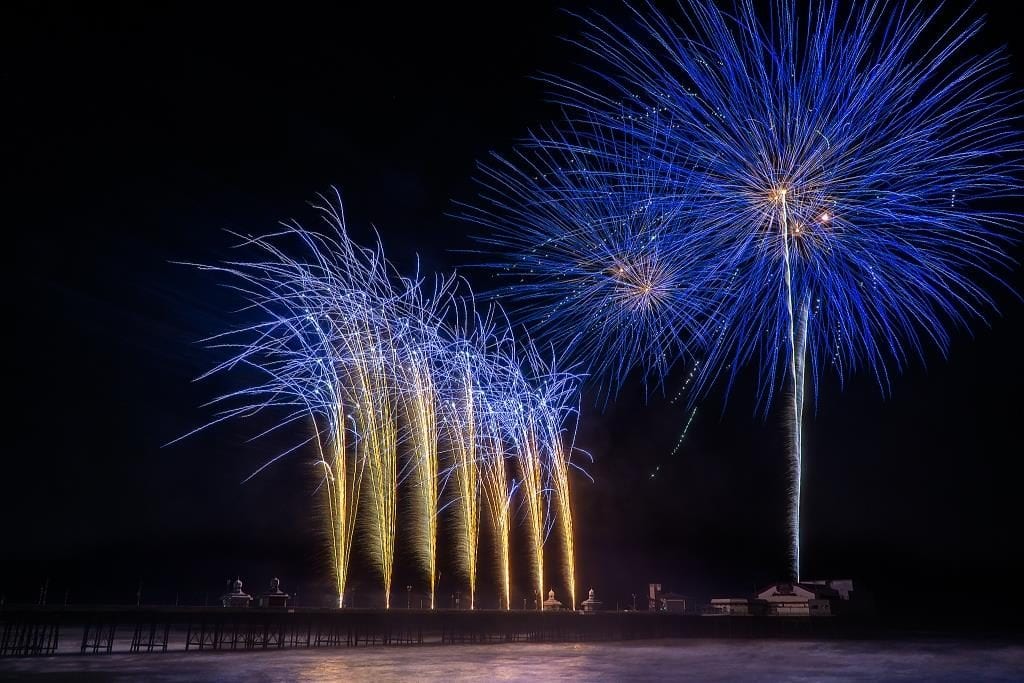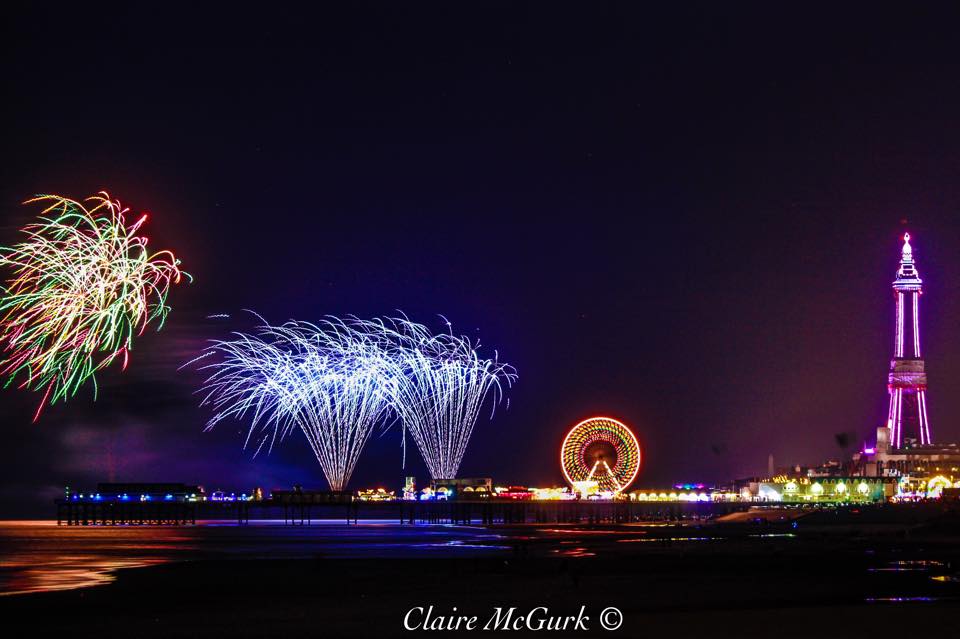 Have a look at photo galleries from the Blackpool Illuminations season here.
Travelling Time
Please allow extra time for travel when you come to this event. It's very popular and there may be traffic delays when you arrive and leave afterwards.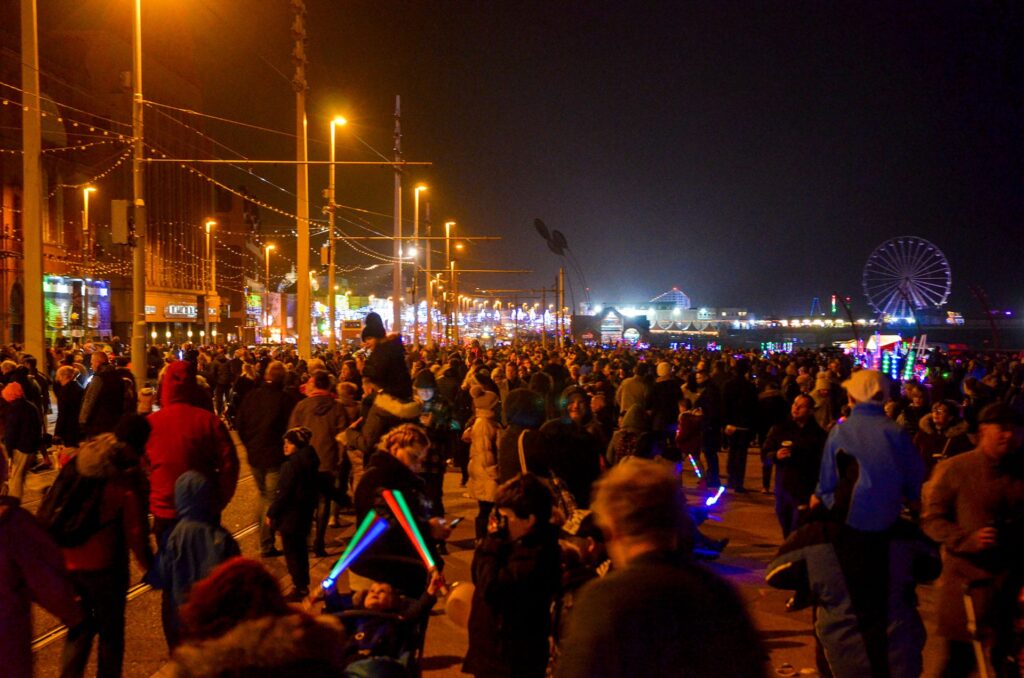 For ease of travelling, use the car parks at the south and north of resort. Make your way to central Blackpool on foot or with public transport. Buses and the tramway will get you there and there's also the railway too.
Plan your journey with the handy GoEuro app that will get you from door to door. Find out about local public transport.
Don't forget…
The Winner of Blackpool World Firework Championships 2018 is…
It's a transatlantic triumph as Canada wins the World Fireworks title for the second time in four years!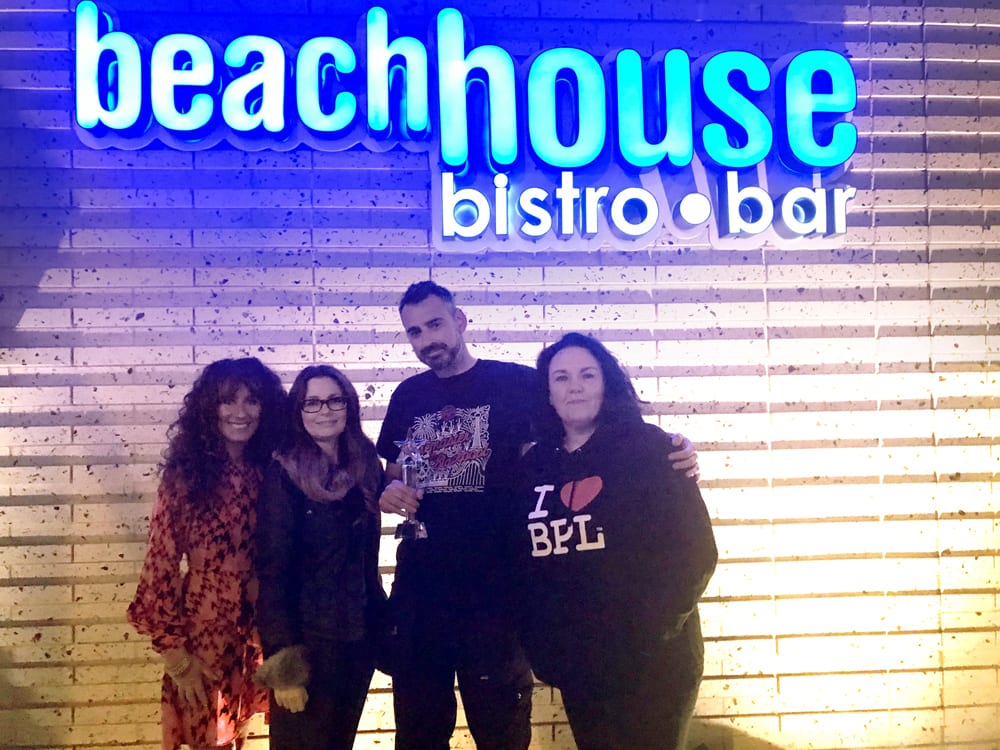 Firemaster Productions saw off competition from teams from France and Romania. Theirs was a spectacular display during the third heat. The Canadian team has produced world-class displays for over 10 years. They won the title on their last appearance in Blackpool in 2014.
The winner was chosen by a panel of judges. They included Cllr Campbell; Peter Sedgwick, owner of Blackpool's piers; and Cheryl Tchobanian, owner of the Beach House Bar and Bistro.
World Firework Championships 2017
South Africa were winners of the 2017 World Firework Championships in Blackpool.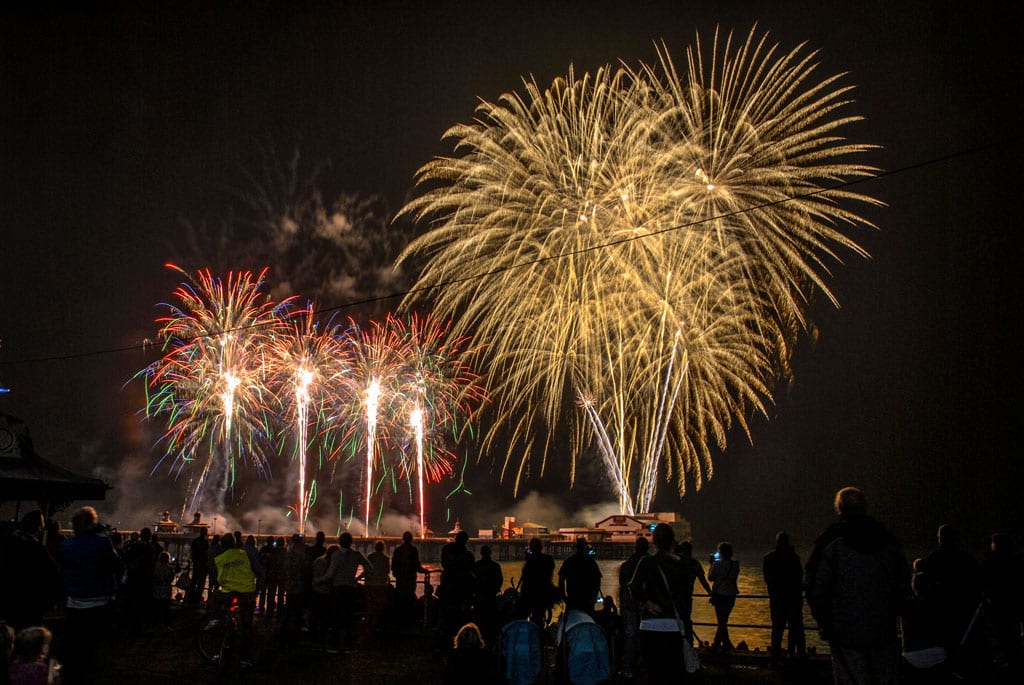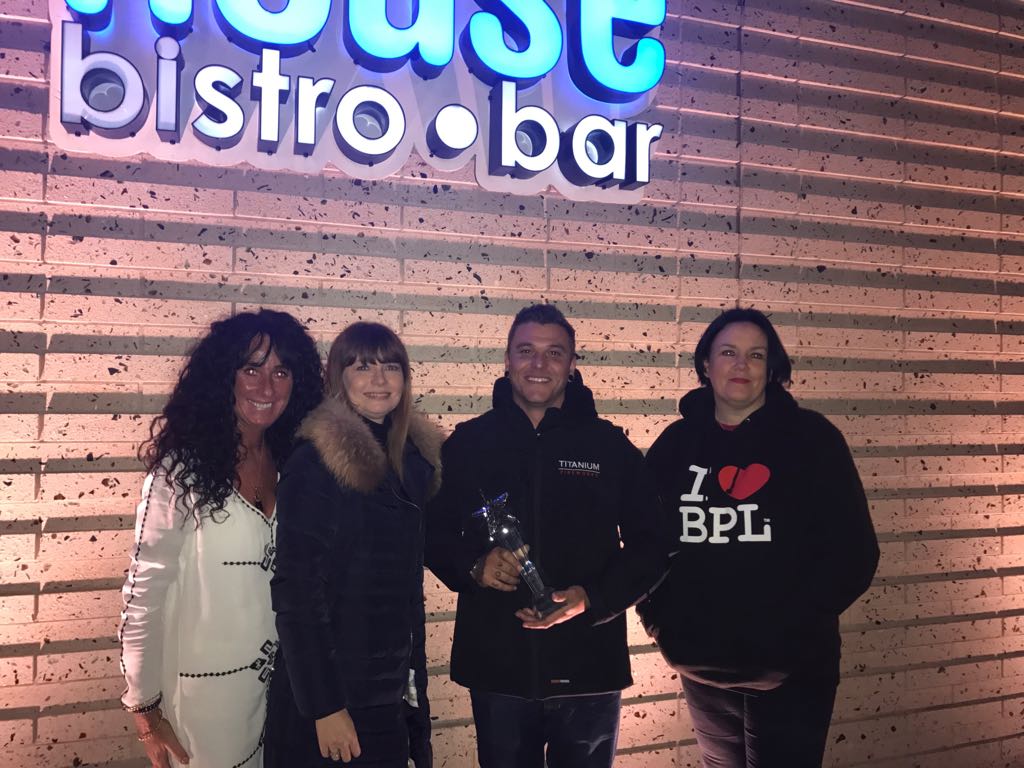 Fireworks for Africa saw off competition from Poland and France with their spectacular display during week three of the 2017 event. The team's success was announced on 29 September. The UK's favourite pyrotechnic team, Titanium, put on a spectacular show to close the competition.
Founded in 1996, Fireworks for Africa has steadily grown with the demand for quality fireworks and pyrotechnics shows. They're based in Johannesburg, South Africa.
World Firework Championships 2016
A team of master blasters from the USA scooped first prize at Blackpool World Fireworks Championships 2016. The USA competed with Australia and Slovakia and the UK's Titanium Fireworks provided the celebration finale again.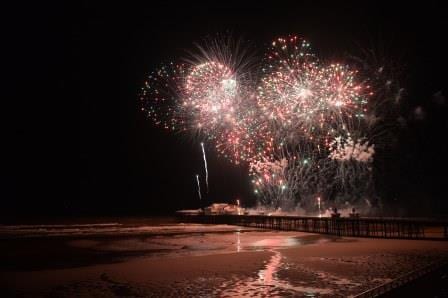 2015 World Firework Championships
Canada were crowned fireworks champions for second year running in 2015. They competed with China and France in the 2015 championships here in Blackpool.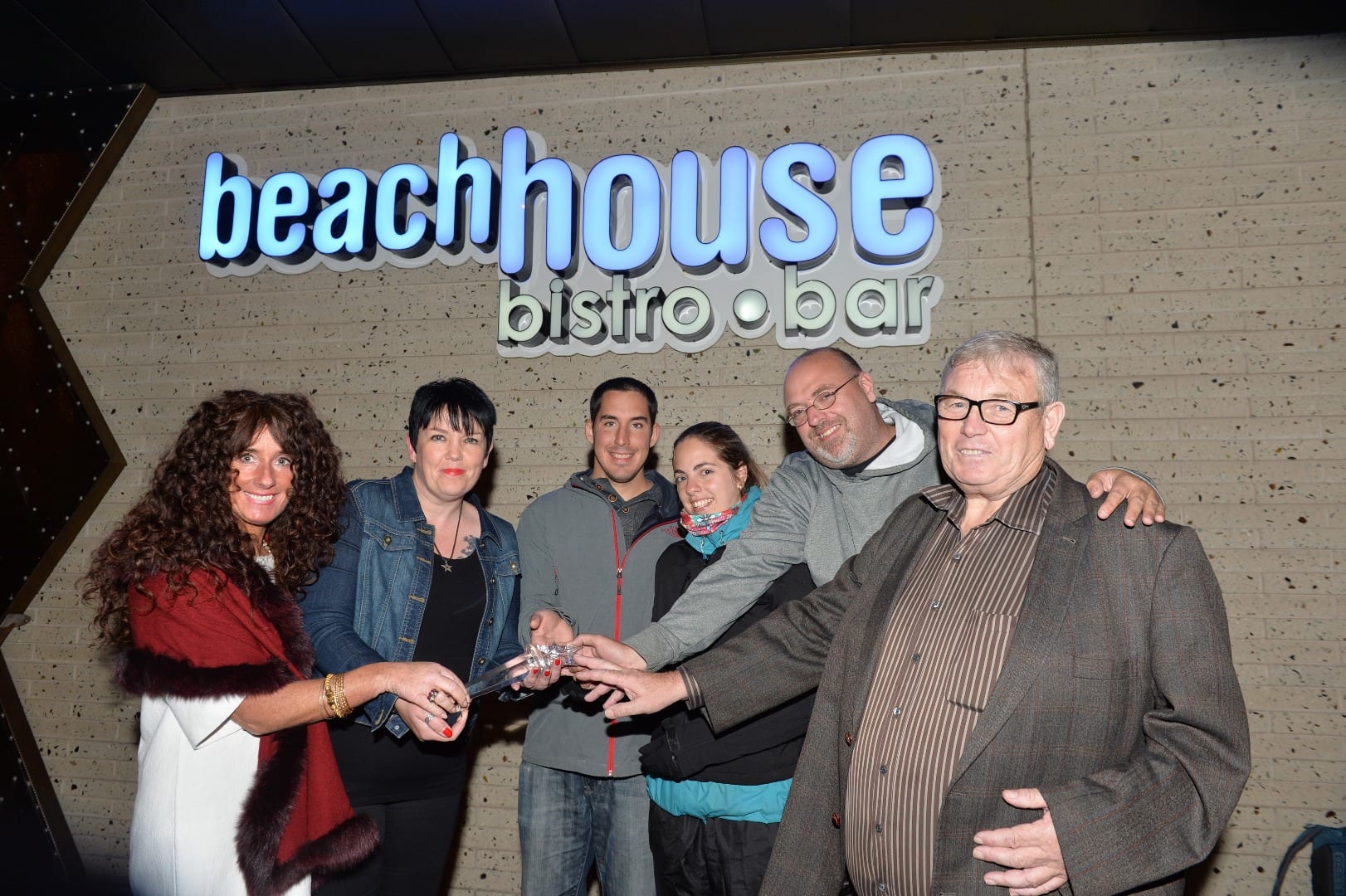 Canada Crowned World Fireworks Championship Winners for 2014
Canadian master blasters Firemaster Productions were the winners of Blackpool's World Fireworks Championships in 2014.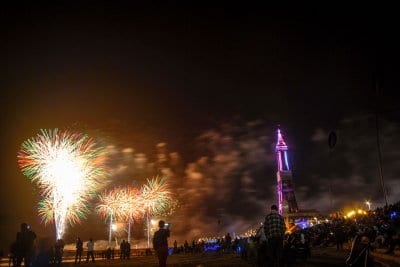 World Firework Championships 2013
Thousands of people enjoyed amazing displays at the annual festival. Competitors from Ireland, France and China battled it out to be named the winner. Great British pyrotechnic experts Titanium rounded off the annual spectacle. The French team were crowned the winners.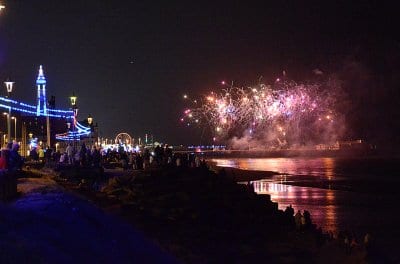 While you're here…
Have a look at the homepage of the Live Blackpool website for more of the latest updates.
Love the Fylde Coast? Sign up for your weekly email newsletter. Packed full of interesting things it arrives in your inbox all 52 weeks of the year.
Join us on Facebook at our Visit Fylde Coast Facebook Group
Don't forget to follow us on Twitter @visitFyldeCoast