Enjoy Blackpool's biggest and best bonfire and fireworks at Blackpool Cricket Club this year. Plus fairground and refreshments and fun for all the family.
Bonfire and Fireworks at Blackpool Cricket Club
Saturday 5 November 2022 – gates open at 5pm
BLACKPOOL'S BIGGEST BONFIRE & FIREWORKS DISPLAY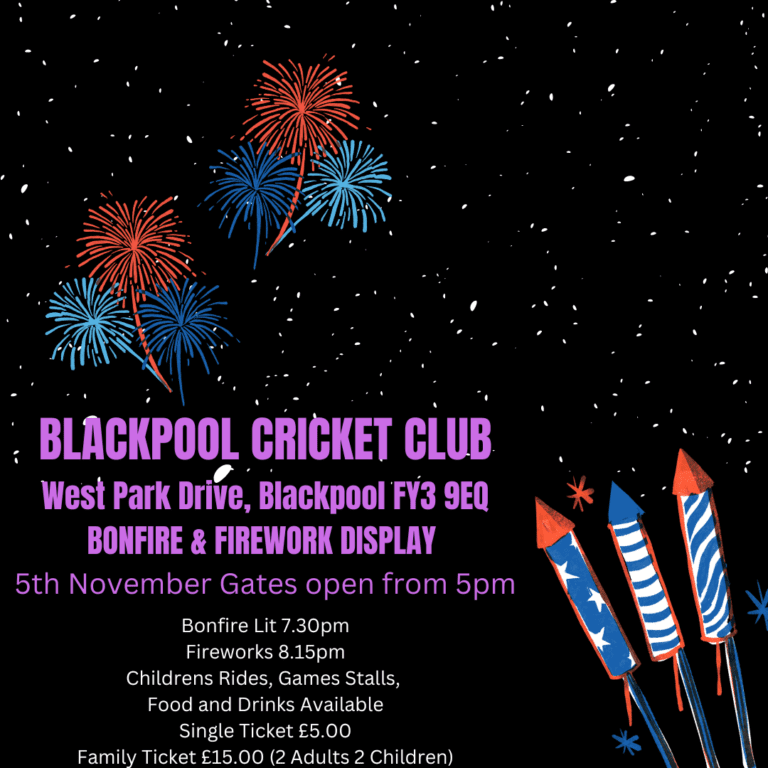 There'll be a whole host of family-friendly entertainment with music, outdoor funfair, bouncy castle and other exciting activities!
The gates will open from 5pm on the night and there's a wide range of food and drinks available for all the family, throughout the evening, including tea, coffee and hot chocolate.
The huge bonfire will be lit at around 7.30pm

Fireworks extravaganza will start at approximately 8.15pm.
PAY AT THE GATE ON THE NIGHT
Tickets on the gate – there are no advance sales.
Adults and children £5 (under 5's free)
Family £15 – 2 adults and 2 children
More information on their own website here
BONFIRE WOOD – IMPORTANT INFORMATION
Bonfire wood is NOT required this year.
ALL YOUR FAVOURITE FYLDE COAST FIREWORKS AND BONFIRES
Find dates and details for other Fylde Coast Fireworks and Bonfires events here
While you're here…
Go to the homepage of the Live Blackpool website for the latest updates.
Love the Fylde Coast? Sign up for your email newsletter. Packed full of interesting things it arrives in your inbox all 52 weeks of the year.
Join us on Facebook at our Visit Fylde Coast Facebook Group and follow us on Twitter @visitFyldeCoast
Plus hundreds of videos to watch on our YouTube channel – from all over the Fylde Coast!
Booking a stay? Pick a safe, clean and legal place to stay, at the very best price. Book with the Visit Fylde Coast and StayBlackpool guide.