We'd heard great things about Bentleys Fish and Chips so in the summer of 2023 we went to investigate, and we weren't disappointed!
Bentleys Fish and Chips
LOADS of you suggested that we go and check out Bentleys Fish and Chips at Blackpool South Shore – so we did! It gets our award for Blackpool's BEST Fish and Chips at that end of the town. It's family owned and run and the fish and chips are DELICIOUS!
Find it at – 131 Bond Street, Blackpool,
Open hours vary throughout the season, but generally Wednesday to Sunday from 12 noon. CLOSED during January and February.
This traditional chippy is slightly off the main area but near the Pleasure Beach and very easy to find. With the Velvet Coaster on your left, walk a short distance inland along Withnell Road and Bentleys is on your right where it meets Bond Street.
Enjoyed this video? Why don't you subscribe to our Visit Fylde Coast YouTube channel – make sure you don't miss out!
Indoors or Outdoors
As you'd expect there's a standard take-away counter against the frying range.
There's also an eat-in fish and chip cafe attached with seating for about 20 people. Plus picnic tables and benches outside on the corner plot.
Disabled Access
There's a ramp providing level access to the front of the store, so is fully accessible for those with mobility requirements. Bathroom facilities are located on the ground floor.
Overall
As you can see from the video, we visited on a boiling hot summer's day. The food was freshly cooked to order and piping hot. Having asked for a small portion the quantity of food was just right and it didn't take long for it all to disappear!
White fish with a crispy batter and fluffy chips, served with a generous portion of peas. Not greasy and no funny after taste – and didn't leave indigestion behind afterwards!
Overall impressions are excellent, and we will be returning again. It certainly enters the Visit Fylde Coast list of go-to places to eat in Blackpool.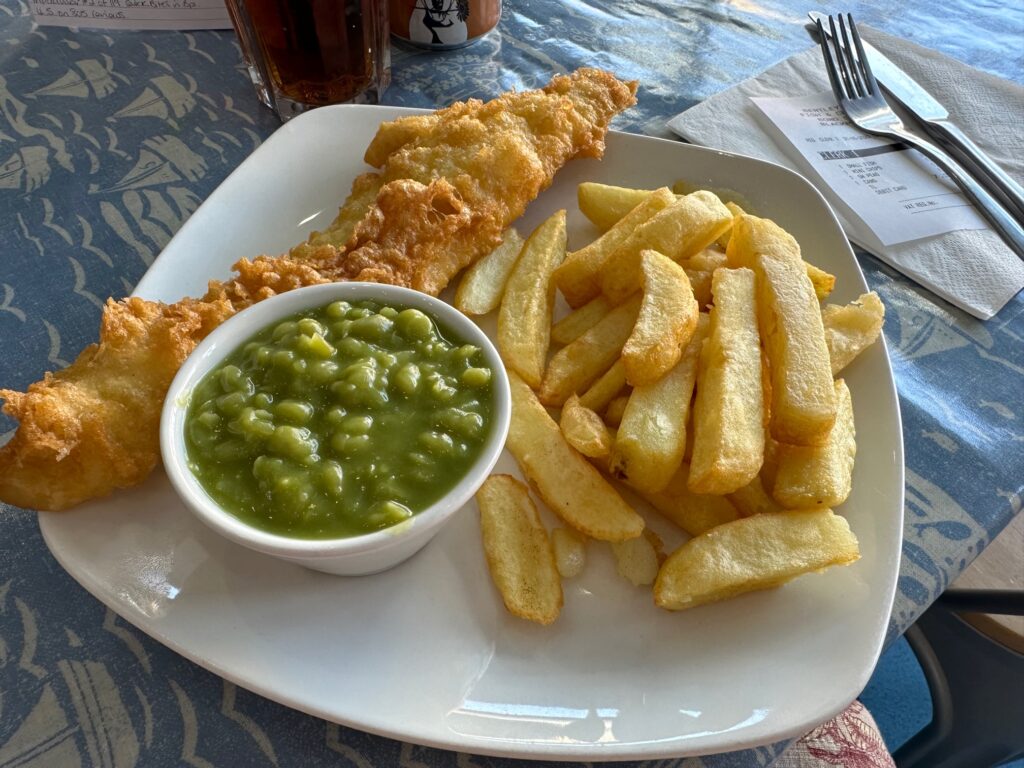 While you're here…
Go to the homepage of the Live Blackpool website for the latest updates.
Love the Fylde Coast? Sign up for your email newsletter. Packed full of interesting things it arrives in your inbox all 52 weeks of the year.
Join us on Facebook at our Visit Fylde Coast Facebook Group and follow us on Twitter @visitFyldeCoast
Plus hundreds of videos to watch on our YouTube channel – from all over the Fylde Coast!
Booking a stay? Pick a safe, clean and legal place to stay, at the very best price. Book with the Visit Fylde Coast and StayBlackpool guide.