Looking for somewhere to stay for your next break? We've done the legwork so you don't have to. Here's our guide to hotels in Blackpool – Hornby Road.
If you enjoy the friendly homeliness of a small independent hotel or guest house, you'll love your stay in one of the hotels at Hornby Road. It's a stone's throw from the town centre, just off Central Drive, opposite the big Car Park (pictured above)
Where is Hornby Road?
Hornby Road is one of the old, long streets of Blackpool town centre.
It links to Central Drive at the seaward end, soon cutting across Coronation Street. At Park Road it passes Blackpool and the Fylde College School of Arts before heading even further inland to meet Whitegate Drive. A little further East is Stanley Park.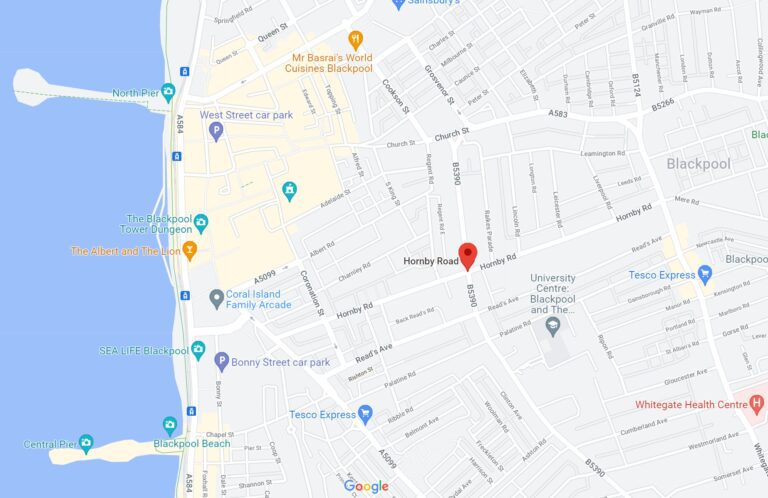 Hotels in Blackpool – Hornby Road
Choose from a wide variety of accommodation at Hornby Road. These are all small, independent hotels, guest houses, bed and breakfast and apartments. You'll get a home-from-home welcome.

We went to have a look in September 2021. Sadly the weather wasn't the kindest, but it's all part of the Blackpool charm!
Enjoyed this video? Why don't you subscribe to our Visit Fylde Coast YouTube channel – make sure you don't miss out!
Hotel guests can take advantage of limited free parking at the individual holiday properties. There's plenty of nearby parking at Central Car Park. And there's even a handy car park on Hornby Road itself.
Hornby Road is a really handy place to stay.
Blackpool Transport operate Fylde Coast service buses and trams. Why not buy a pass then you can enjoy unlimited travel during your stay.
The town centre is just a few minutes walk away
It's close to the seafront, Central Pier, Coral Island and the attractions on the promenade.
The Blackpool Tower, Winter Gardens, theatres, bars and shops of central Blackpool are really close by.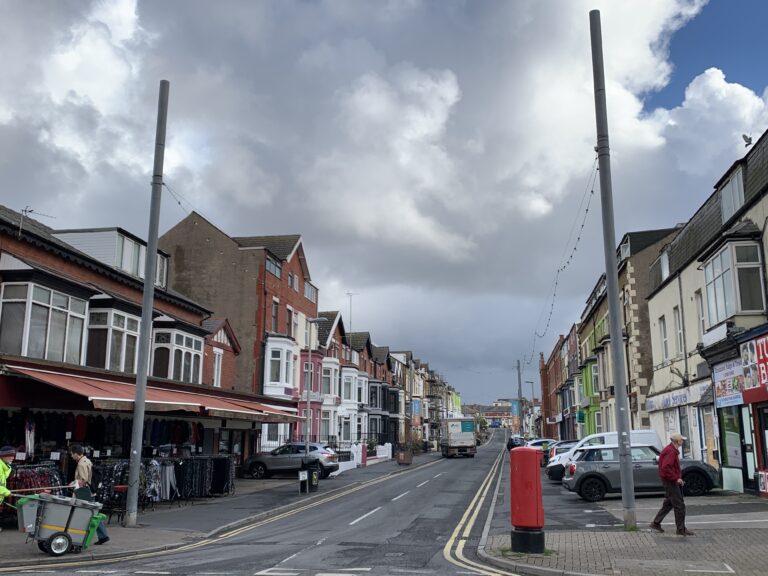 Book with StayBlackpool
Book direct for the best price – and show your support for Fylde Coast tourism providers. Browse and choose StayBlackpool Accommodation – for a holiday place that's clean, safe & legal.
StayBlackpool is the independent association for Blackpool hotels and guest houses.
And with something for all tastes and budgets, choosing one of these accredited properties ensures that the accommodation you choose is exactly what you expect.
All StayBlackpool members are rated with Visit Britain, the AA or Blackpool Approved schemes. You can be assured that where you stay is clean, safe and legal.

More about Hornby Road
We said it was one of the original Blackpool roads, but even we were surprised to learn that it dates back to 1873! It's named after the Hornby family who once owned Raikes Hall.
Raikes Hall was the original, large and very popular Blackpool entertainment complex. You'd once have found it between Church Street, Whitegate Drive and Hornby Road. The Hornby family had bought the land in 1802, then bought the hall in 1820. They remained there until 1859 when Daniel Hornby left.
But as you know, Blackpool's motto is 'Progress'. As the seafront attractions grew in popularity, Raikes Hall couldn't compete and by the early 1900's it had closed.
Did you know? Here's a bit of random trivia: the Hornby ladies introduced Blackpool's first fitted carpets!
Who knows, two tree preservation orders may be connected to the days of Raikes Hall. On 28 November 1973 the tree at 143 Hornby Road was first granted protection. Then on 6 April 1998 the second protection order was applied to the tree at 121/123 Hornby Road.
Do you have any idea why these trees were protected? If you do, please leave a comment below!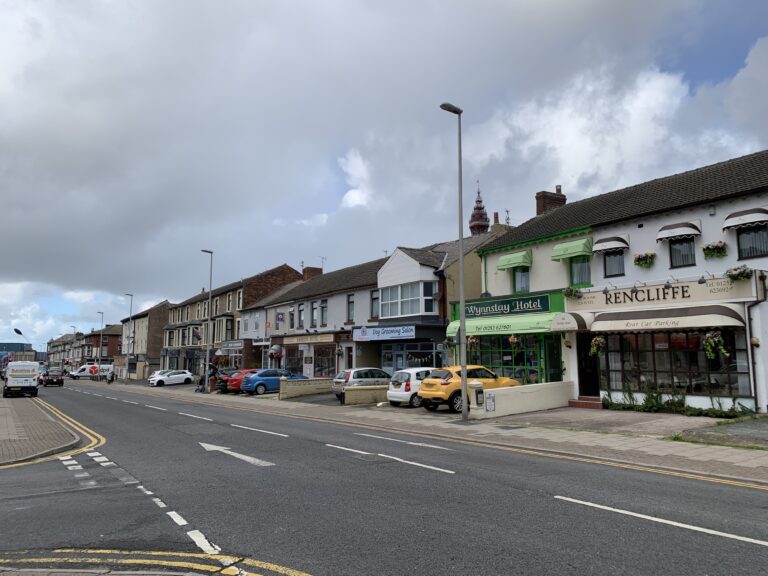 Arrival Point for Polish Air Force
After Dunkirk, Blackpool became an administrative headquarters for the Polish air force, and manning depot for Polish air crew before they went for training or service.
New arrivals went to the Goodwood Hotel at Hornby Road and the White Eagle Club at number 175 became an officers club. It's not the HQ of engineering company CTS Group, and called Eagle House.
MANY THANKS to Nick Moore and his fascinating History of Blackpool for historical information used in this article. You can read it in full here.
Memories of Hornby Road
Des Gardner got in touch after seeing this article. He said "I just watched the video and it bought back a few memories. Mum and Dad used to take me there. I can't remember all the hotels but one was the Casablanca and the other was the Hornby. Amongst my fathers old pictures was this advert card from the Hornby. Do you think the prices have changed?"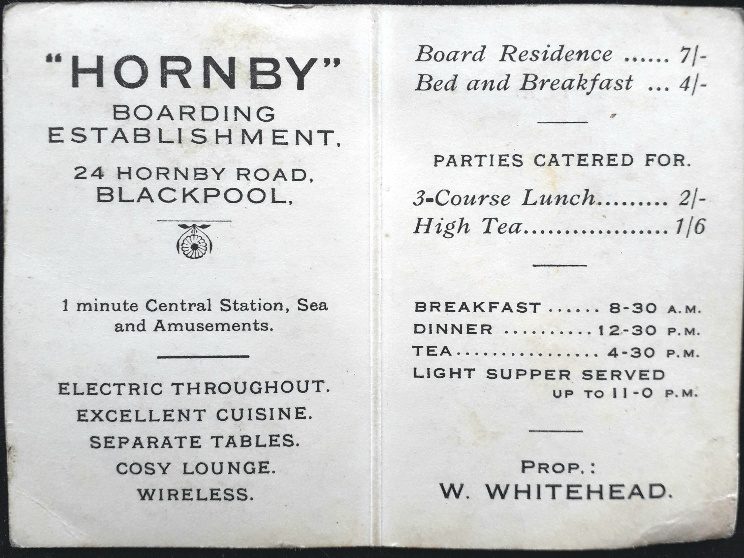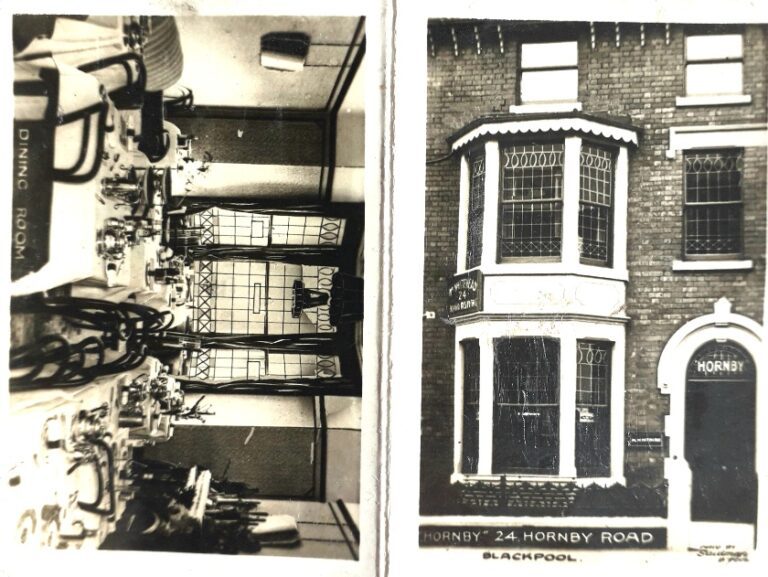 There's more to Hornby Road…
Margaret Harrison also got in touch after we'd first published this page. She says "Thank you for your walk up Hornby Road.
"We were taking bets as to whether you would cross the junction at Park Road. You didn't let us down because people never do cross and walk the second half of Hornby Road. (To be fair it was awful, wet weather or I would have done!)
"We were always amazed that even hoteliers on lower part of Hornby Road never realised there were any more establishments after the junction with Park Road.
"Between August 1987 and Jan 2019 we used to live and work at 131 Hornby Road. It was called the Ash Lodge – then new owners renamed it Fox Lodge. Ash Lodge was opposite 136 Hornby Road and was built in the 1890's. It was on the corner of the then Raikes Hall Parks and Gardens complex.
"Your vague 'over there' for Raikes Hall also amused us!
"The Park Road college campus was built in the 1960's on the site of 97 Reads Avenue. It was knocked down after the air crash of the Botha Defiant on 27 August 1941."
While you're here…
What do you think? Why don't you join in and leave a comment below?
Have a look at the homepage of the Live Blackpool website for more of the latest updates.
Love the Fylde Coast? Sign up for your weekly email newsletter. Packed full of interesting things it arrives in your inbox all 52 weeks of the year.
Join us on Facebook at our Visit Fylde Coast Facebook Group
Don't forget to follow us on Twitter @visitFyldeCoast