In 2015 when booking your holiday, look out for the 'Blackpool Approved' scheme and this new logo.
It's accredited by VisitEngland and ensures that a property is "legal, safe and clean", meets all requirements with regard to health and safety, and also demonstrates good customer practice.
It doesn't give an indication of a property's quality or facilities, it allows you to be assured that the accommodation is a correctly registered and properly-run business.
From the accommodation provider's perspective, the scheme allows them to become part of a recognised accreditation standard at much less cost and with little intrusion, and requires only a short visit from a trained assessor
The introduction of the scheme means that accommodation providers who achieve the accreditation will be able to appear in a designated "entry level" section on the VisitBlackpool website and others which promote star rated accommodation, participate in a wide variety of marketing campaigns and the annual Destination Guide.
Until now, websites like ours, StayBlackpool, VisitBlackpool, Visit Lancashire and such like have only included star-rated accommodation approved by VisitEngland and/or the AA.
In Blackpool, there will be three ways in which accommodation can get the Blackpool Approved entry-level accreditation:
1. StayBlackpool, the hotel association which represents only nationally accredited accommodation businesses in Blackpool, will have its own VisitEngland approved assessors.
2. Yes Hotels, an independent association, will also have VisitEngland approved assessors
3. By applying directly to Quality In Tourism for a local assessment to be carried out.
Assessments/visits will be carried out annually and assessors will check websites on a regular basis to ensure guests are not being misled. Accreditation in the Blackpool Approved scheme will cost about a third of the full national schemes.
Cllr Graham Cain, Cabinet Member for Tourism and Leisure, said: "We have not changed our position in that our preferred route is for accommodation businesses in Blackpool to secure the star rating standards approved by VisitEngland and the AA.
"Those star ratings are very important in that they give the customer a clear indication of the quality that they are buying into.
"We hope the entry level scheme will prove a platform for hoteliers who don't currently have a national accreditation rating to get on the ladder and start to reap the benefits of working with VisitBlackpool and VisitEngland.
"By introducing this scheme, it means that we can give an assurance to visitors that the accommodation they are considering is either a nationally accredited business, or at least has an entry level accreditation that says it is safe, clean and legally compliant."
Claire Smith from StayBlackpool, said: "StayBlackpool is delighted to be working together with VisitEngland and VisitBlackpool on the introduction of a new nationally accredited entry level scheme for visitor accommodation in the town.
"This means that a visitor staying in a "Blackpool Approved" property will be ensured it is "legal, safe and clean," correctly registered and properly run.
"Improved engagement with more accommodation providers means increased partnership working which will absolutely strengthen the Blackpool accommodation offer."
Tony Urmson, of Yes Hotels, said: "This is a fantastic opportunity to change public opinion about the stereotype of Blackpool accommodation.
"Yes Hotels is delighted to be offering the new Blackpool Approved Entry Level Accreditation Scheme.
"Another way accommodation providers can reassure their visitors, that the hotel or holiday flats they are staying in is Legal, Safe and Clean and making their visit to Blackpool an enjoyable one."
And Pam Foden, from VisitEngland, said: "We are delighted to support Blackpool Council and its partner trade associations as they encourage more accommodation providers to seek an accreditation.
"We hope it will provide a helpful stepping stone to joining VisitEngland's star ratings scheme to enjoy all the additional benefits that come with it."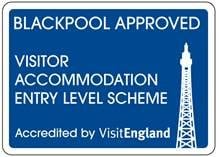 Blackpool Approved – Visitor Accommodation Entry Level Scheme