Little Marton Windmill is the only remaining mill in Blackpool. It's also the landmark near the M55 motorway and the big Tesco in Blackpool.
It's a familiar landmark which tells many a holiday maker that they're almost at the seaside. This was the main road into Blackpool long before Yeadon Way was built. Today we know it as the A583 – Preston New Road.
Find Little Marton Windmill at Preston New Road, Blackpool, FY4 4XQ
Join the Friends of Little Marton Windmill on Facebook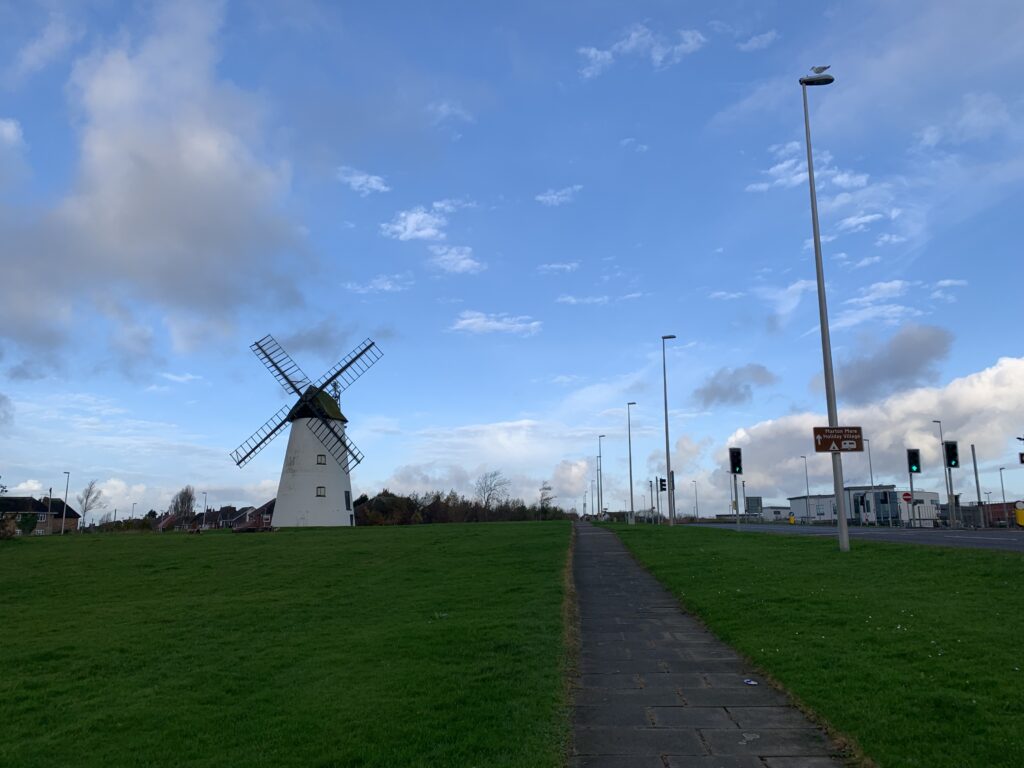 More about Little Marton Windmill
This is a flat and windy landscape which would once have been littered with windmills.
Little Marton Windmill is the last one in Blackpool and one of three good examples which still stand on the Fylde Coast. The other two notable ones are Marsh Mill and Lytham Windmills.
We went to take a look at it from the outside, in November 2020 –
Enjoyed this video? Why don't you subscribe to our Visit Fylde Coast YouTube channel – make sure you don't miss out!
Little Marton Mill is a 'gristmill', used to grind grain (corn) into flour, which it did until 1928. 'Grist' is grain which has been separated from the chaff.
Todays mill was built on the site of an even earlier windmill – in 1838 by millwright Richard Blezard. He built it for Nancy, who was a widow of John Whalley.
Another miller called Cornelius Bagot later worked the mill, before it finally stopped working.
In 1937 after Bagot had restored it, he gave it to the Allen Clarke Memorial Fund. Allen Clarke was a local teacher, writer and windmill enthusiast.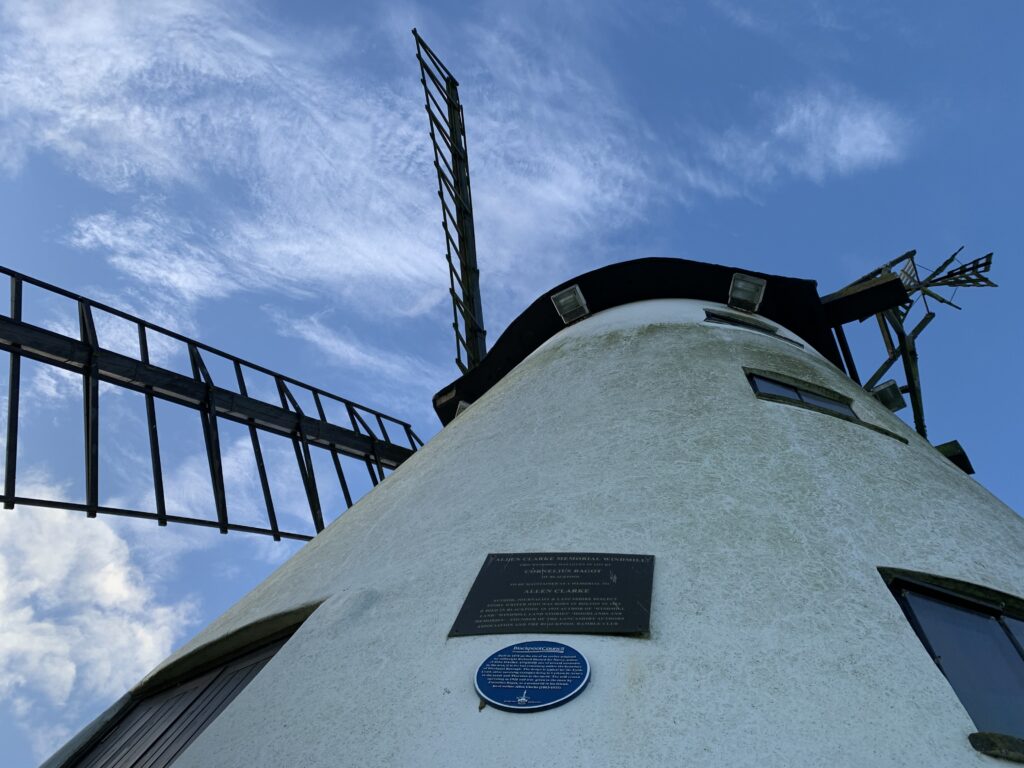 Shirley Matthews got in touch with us. Her grandfather was Charles Allen Clarke, who famously coined the phrase and wrote the book 'Windmill Land'.
Join Allen Clarke's Windmill Land on Facebook
Shirley also kindly sent some photos to share, of Little Marton Mill through the ages –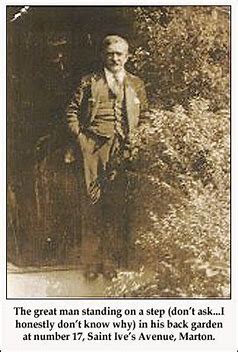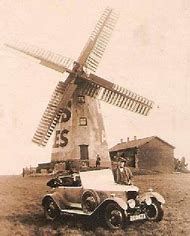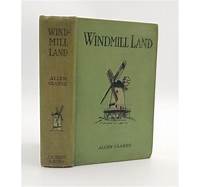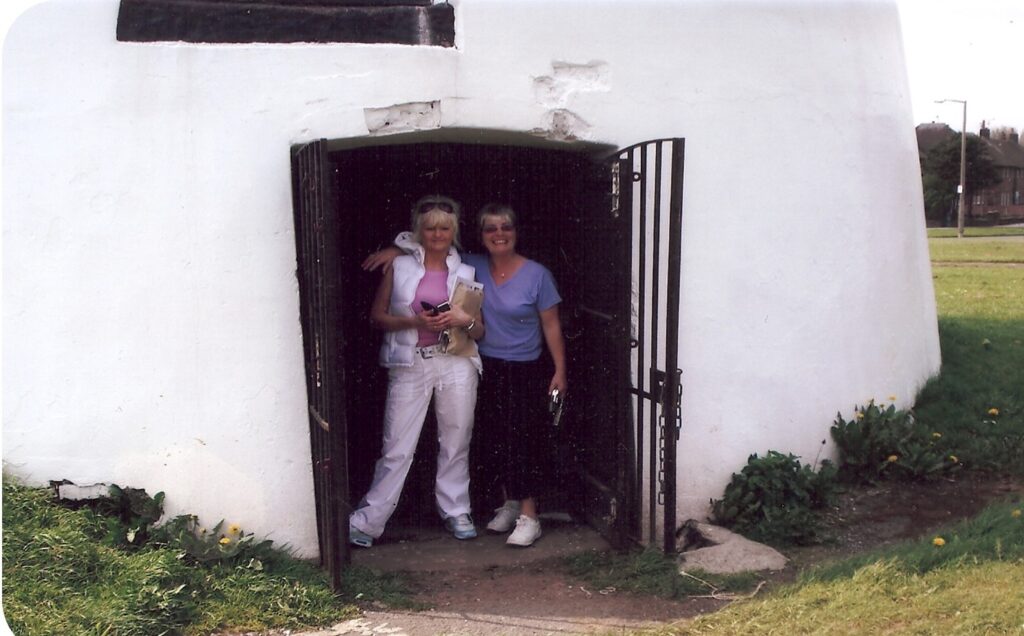 Listed Building
As you'd expect, a heritage building as old as this one, has recognition for its age and importance.
English Heritage designate it as Grade II listed in 1983.
£88,000 is spent on a thorough renovation project a few years afterwards, in 1987.
And on Sunday 1 March 2015 a blue plaque is unveiled. It celebrates the civic importance of the Mill.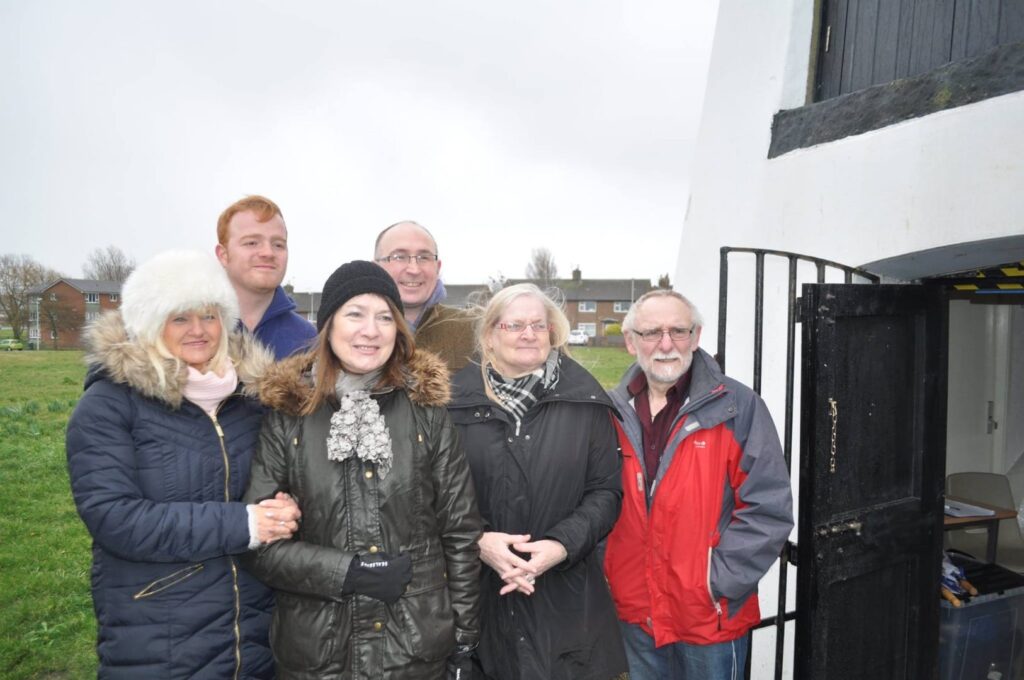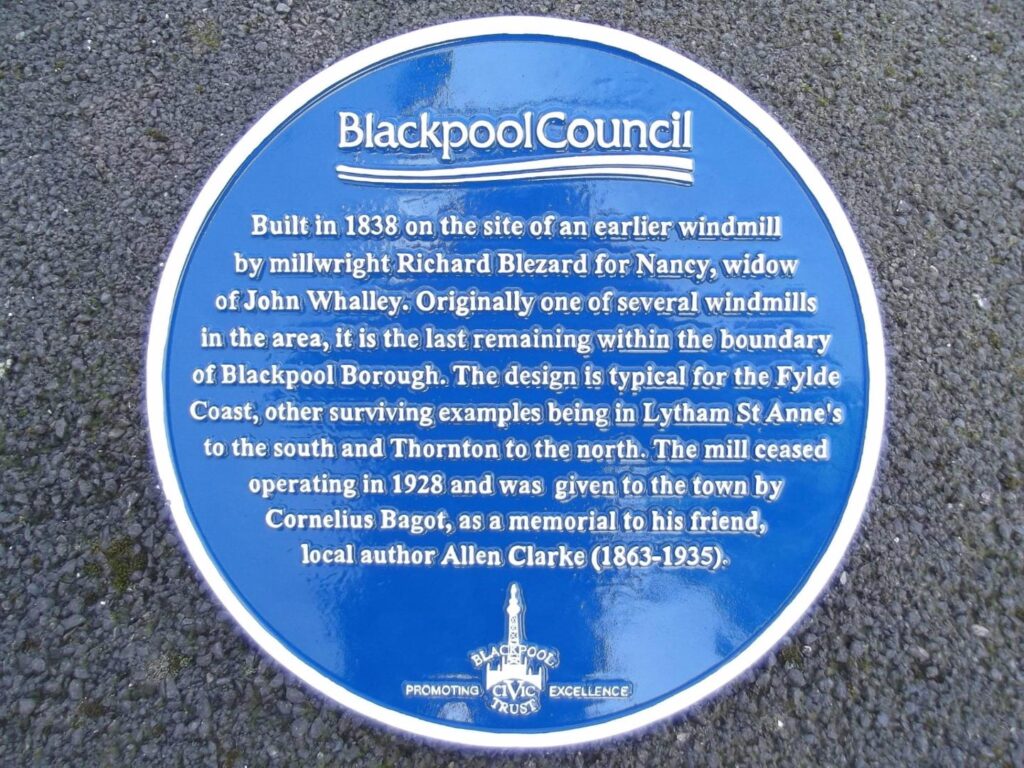 See the blue plaque on the side of the mill. The inscription on it reads:
"Originally one of several windmills in the area, it is the last remaining within the boundary of Blackpool Borough. The design is typical for the Fylde Coast, other surviving examples being in Lytham St Annes to the south and Thornton to the North. The mill ceased operating in 1928 and was given to the town by Cornelius Bagot, as a memorial to his friend, local author Allen Clarke (1863-1935)"
Friends of Little Marton Mill
The Friends of Little Marton Windmill is an independent group of local volunteers. They promote knowledge of the mill, its place in local history, and awareness of the extensive windmill heritage of the Fylde Coast.
The Friends run open days and exhibitions at the mill. Why don't you go along to one? You can see inside this fascinating building and some of the original machinery. Heritage displays are normally in place from spring until late autumn.
Open Days
Marvel at the inside of this building which is over 200 years old. See the displays which take you back to its past.
There's a small admission fee which helps with the maintenance and upkeep of this piece of local history.
The Friends of Little Marton Windmill can also open the mill for private group visits and school tours. Please contact them to make arrangements.
Public Open Days in 2023
All open days commence at 11.00am and close at 16.00pm Last entry 15.30pm Entry charge £2.00 per adult, including tea or coffee. Under 16s must be accompanied and supervised . Children under 12 admitted free
9 April – Easter Sunday
30 April
14 May – National Mills Weekend
28 May
25 June
30 July
27 August
17 September – National Heritage Weekend
1 October – final opening of 2023 (one week later than usual due to proximity of Heritage Weekend)
Find the Friends of Little Marton Windmill on Facebook and Visit the mills own website here
You can find these and many more things to do in the Visit Fylde Coast Events Calendar.
Investment in the Exhibitions
In April 2021, Blackpool based company RP Tyson Construction presented a cheque for £1,400 to The Friends of Little Marton Windmill to support the group's promotion of the historic structure.
RP Tyson have built 75 new homes for rent through Blackpool Coastal Housing at nearby Troutbeck Crescent. As part of the construction contract, RP Tyson Construction committed to setting up the Troutbeck Community Fund to support projects and causes on the Mereside Estate.
The funding will be used to purchase technology for multi-purposes. Including presentations to visitors on open days as well as a system to protect exhibition materials.
Anne Allen is Chair of the Friends of Little Marton Windmill. She said "As we come out of COVID restrictions we look forward to welcoming visitors back to the Little Marton Windmill soon. The funding from Tyson Construction will enable us to buy essential kit that we need so that we can showcase the windmill in the best possible way."
Living Artwork at Little Marton Windmill
Published October 2014
LeftCoast, in partnership with Avant Gardening and artist Rebecca Chesney, created a giant living artwork in the green space around Little Marton Windmill.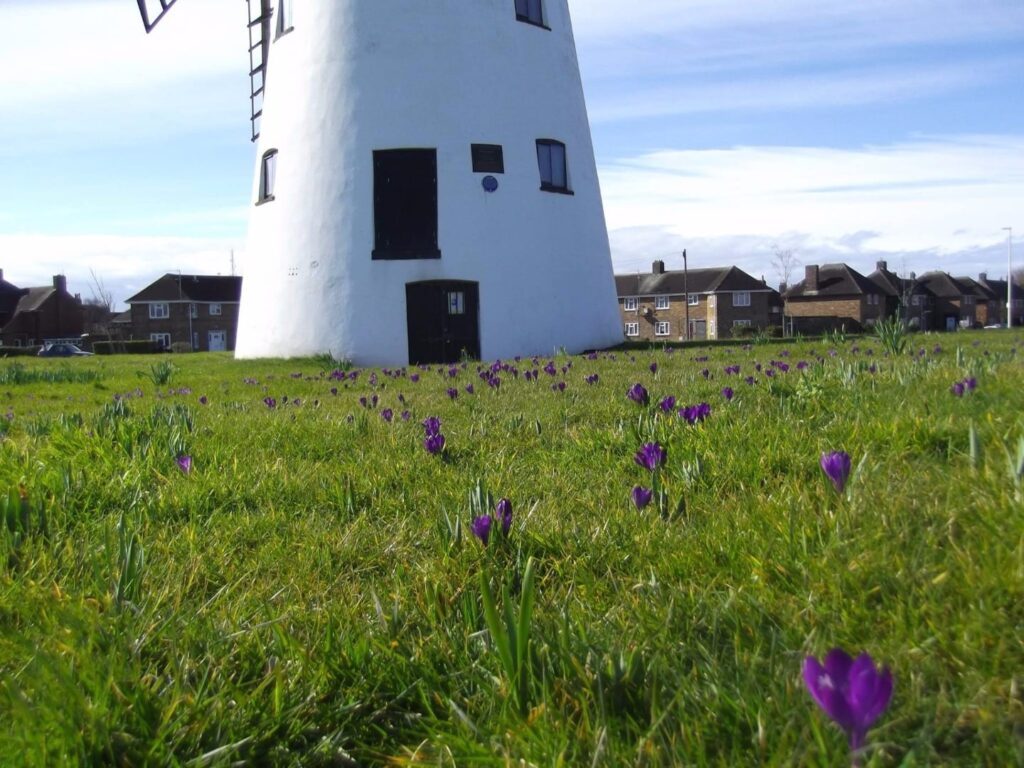 Residents and businesses rolled up their sleeves to plant 100,000 crocuses to create the ambitious installation.
They create a stunning living artwork that can be enjoyed by local residents. It also brightens Preston New Road and the route into Blackpool for visitors.
The crocus field has flowered each year from Spring 2015. It's the perfect habitat for wildlife and bees, and a torrent of colour around the mill.
Anything to add?
Would you like to add anything to this page about Little Marton Windmill?
Please get in touch if you've got photos to share, or leave a comment below. Full credit given, just email jane@theRabbitPatch.co.uk
While you're here…
Go to the homepage of the Live Blackpool website for the latest updates.
Love the Fylde Coast? Sign up for your email newsletter. Packed full of interesting things it arrives in your inbox all 52 weeks of the year.
Join us on Facebook at our Visit Fylde Coast Facebook Group and follow us on Twitter @visitFyldeCoast
Plus hundreds of videos to watch on our YouTube channel – from all over the Fylde Coast!
Booking a stay? Pick a safe, clean and legal place to stay, at the very best price. Book with the Visit Fylde Coast and StayBlackpool guide.