The development of Blackpool Enterprise Zone is progressing apace. It's an industrial-led, mixed use employment site, incorporating Blackpool Airport.
New £6m Common Edge Sports Village opens!
A new £6m sports village has opened in Blackpool, completing the first phase of development at Blackpool Airport Enterprise Zone. The Common Edge Community Sports Village includes 14 new grass football pitches, along with a full sized 3G football pitch, sports pavilion with changing rooms and community space, plus a grass rugby pitch and training area.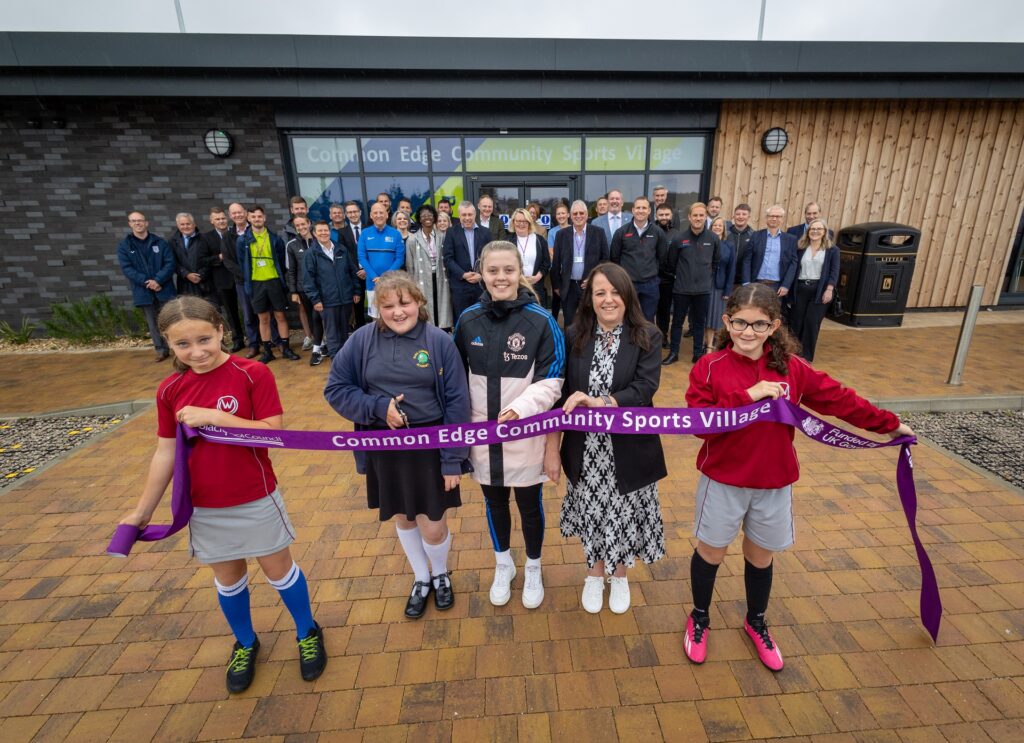 The new facilities were officially opened by Manchester United defender Jess Simpson before the finals of the Blackpool Primary School Games, with 80 girls from 8 schools competing on the 3G pitch for the first time.
The seven 11 v 11 football pitches are complemented by five seven-a-side and two nine-a-side pitches. A full sized 3G all-weather pitch is available with access directly from the new changing rooms. Grass for a new floodlit rugby pitch and training area is growing ready to use later in the year.
The new sports pavilion also includes six changing rooms, two officials' rooms, two kitchens and a large community room. A 194-space car park with sustainable drainage and new access road to the sports village has also been completed as part of the works.
Creating Facilities and Jobs
The sports village has been developed as phase one of the Blackpool Airport Enterprise Zone, and improving the community sports facilities allows 10.5 hectares of land to be unlocked for commercial development.
Cllr Mark Smith, Cabinet Member for Levelling Up (Place) at Blackpool Council, said: "This is the first completed phase of our investment into the Blackpool Airport Enterprise Zone by providing a high-quality community facility that people of all ages will enjoy for years to come.
"Equally, it allows us to move forward with our plans to attract new businesses on to the Enterprise Zone, and in turn create hundreds more quality jobs that local people can benefit from as we work to make Blackpool better."
Work to build a new access road connecting Common Edge Road to Amy Johnson Way through the unlocked land is hoped to start later this year, creating access to for 235,000 sq ft of development plots which will become available for growing or relocating businesses.
The commercial units will help the Enterprise Zone to achieve its targets of creating 3,000 new, quality jobs for local people and spark £300m of private sector investment in the town.
Support to build a new access road to the sports village, as well as the new access road to Amy Johnson Way, has been provided through a £7.5m grant from HM Government Town Fund, while £250,000 of funding for the construction of the sports pavilion was granted by Football Foundation.
Construction began in autumn 2021 to deliver phase two of the development.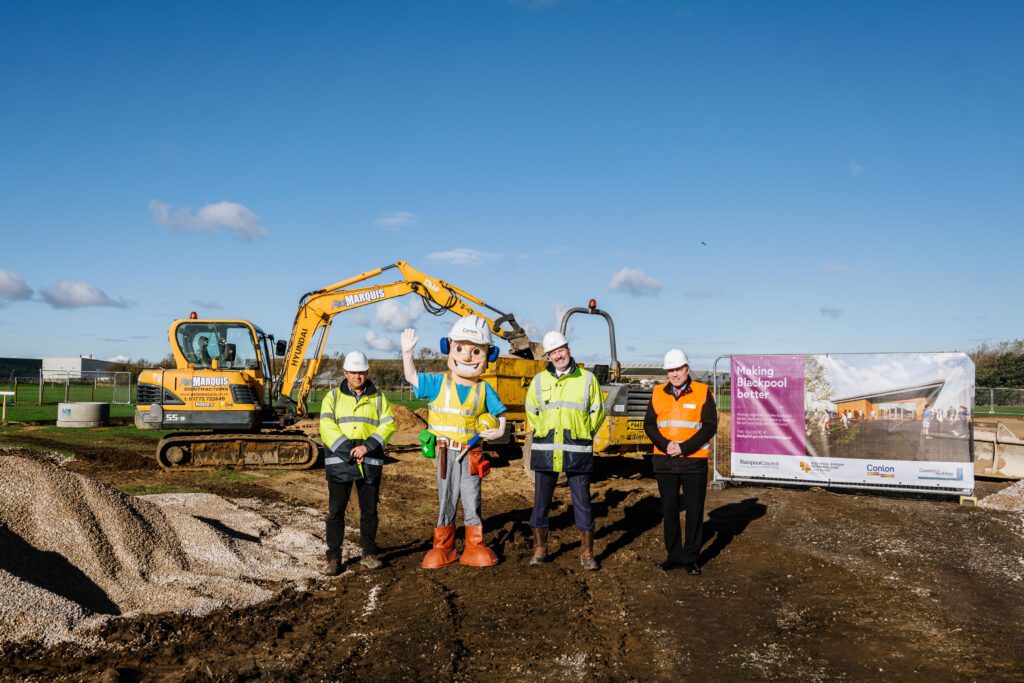 What and Where is Blackpool Enterprise Zone?
It's one of the four enterprise zones in Lancashire that make up the Lancashire Advanced Manufacturing and Energy Cluster. A dynamic, world-class investment destination.
Blackpool Airport Enterprise Zone is a 144 hectare site off Squires Gate Lane. It includes the business park around the back of the retail estate at Morrison's supermarket. Plus the existing Category 3 airport and surrounding commercial areas. The Aldi supermarket chain is on site with a floor space of 1,740 sq m employing around 40 people.

Hillhouse Technology Enterprise Zone is Blackpool's sister site located in Thornton Cleveleys.
A range of commercial premises are already on the site, along with a range of plots for development. Prospective occupiers can take advantage of land sales, design and build and units for rent.
Target sectors include:
the energy industry,
aviation,
advanced engineering and manufacturing sector,
food and drink manufacturing,
digital, technology and creative sectors.
Blackpool Airport
Blackpool Council has been successful in its bid for expert help and support with the future development of Blackpool Airport. Support will come from the Airfield Development Advisory Fund.
Report Sets out the Future Business Plan for Blackpool Airport
Aviation industry experts produced a comprehensive report. It set out the best opportunities to revive and secure the future of Blackpool Airport.
The report was produced by leading airport and aviation consultant, York Aviation. It made a number of recommendations for investment in infrastructure, operations and management of the airport. These will ensure it remains a key transport asset for the North West.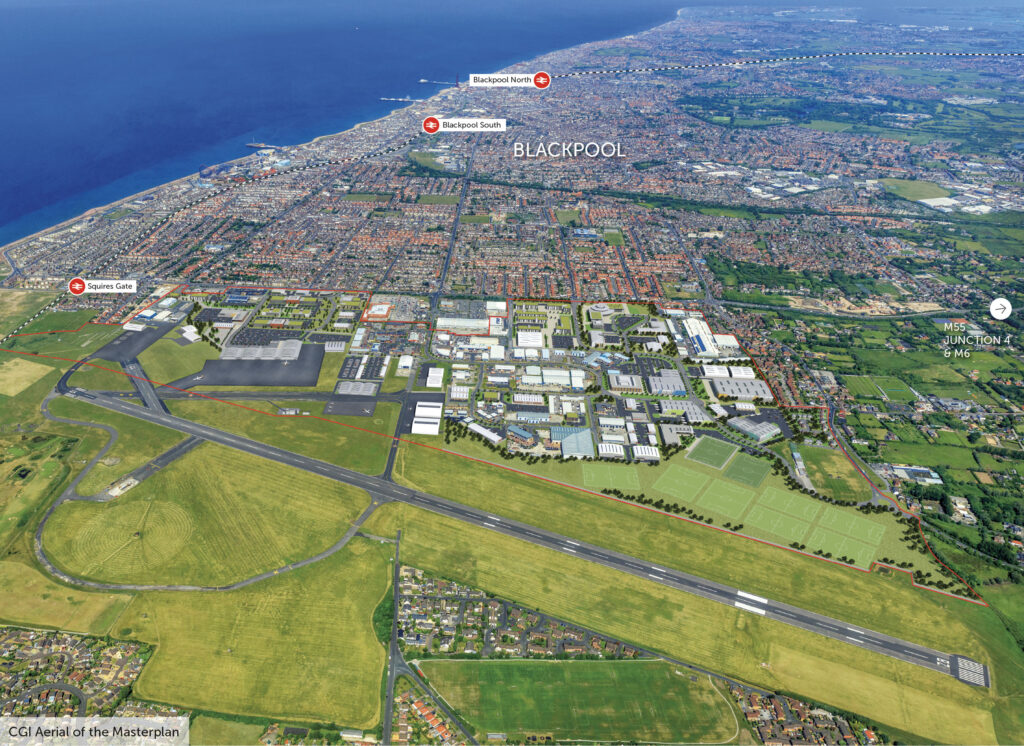 Blackpool Council bought the airport from Balfour Beatty in 2017 to ensure the Squires Gate operation remained open for business.
The 144 hectare Blackpool Airport Enterprise Zone (EZ) came into existence in April 2016.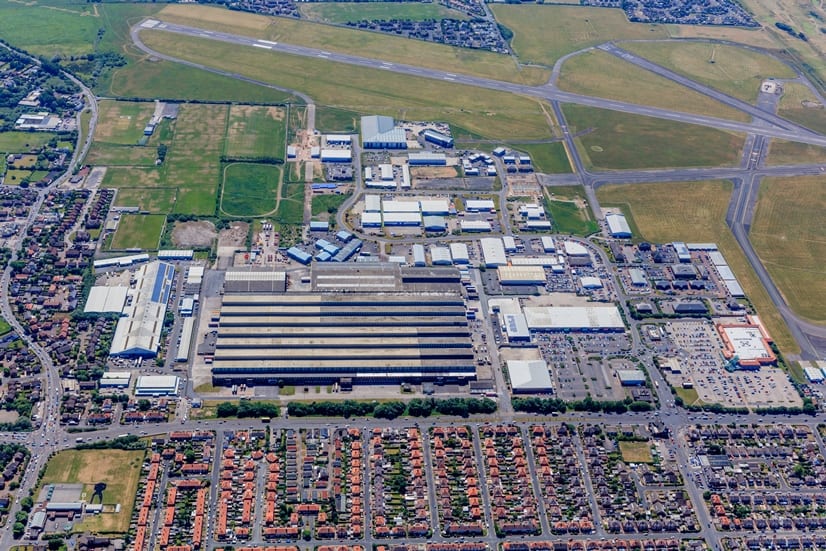 Two wholly-owned Council companies now look after Blackpool Airport:
Squires Gate Operations Ltd (SGAOL) look after airport operations
Blackpool Airport Properties Ltd (BAPL) look after the airport's land and property on the 400-acre site
Airport Masterplan
A detailed business plan helps to map out the long-term future for the airport. It's intended that the plan will:
Safeguard jobs and create new job opportunities
Identify improvements in infrastructure
Establish the airport's market, areas of business growth and new revenue streams
Identify and develop new business aviation opportunities
Support the release of development land for the wider Blackpool Airport Enterprise Zone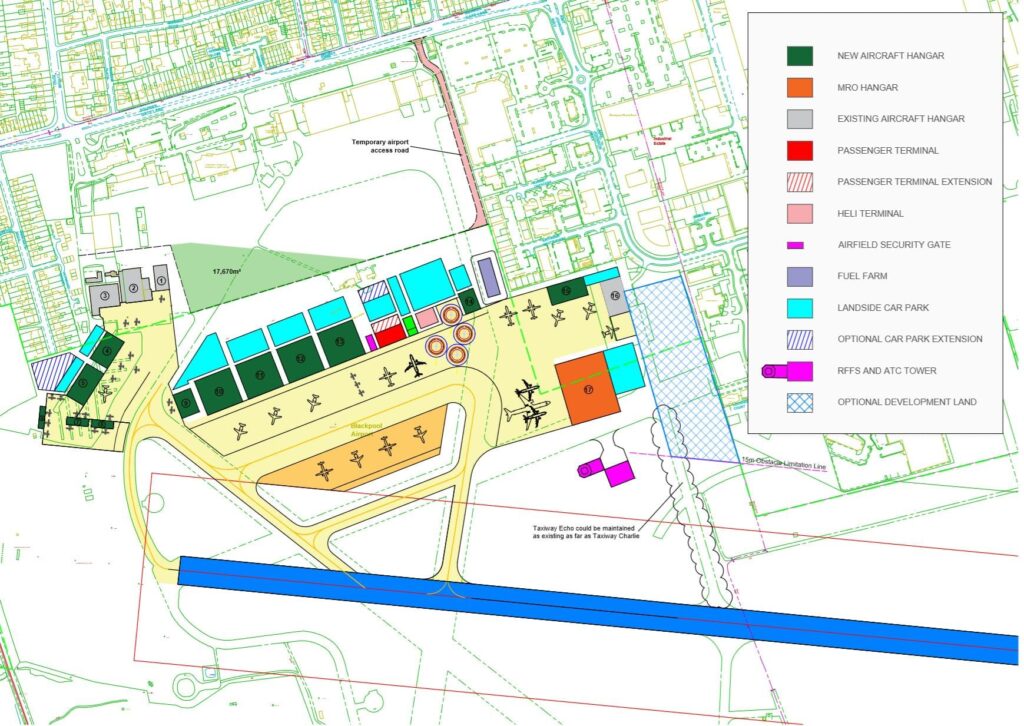 York Aviation identified the main opportunities for future growth potential as:
Growth of existing areas of core business, particularly general aviation activity and flying tuition
Continuation of the contract for helicopter offshore operations
Creation of further opportunities for corporate and executive aviation activity, providing additional revenue for the airport
Opportunities to attract substantial aircraft maintenance repair and operational activity. With a main focus on smaller executive jet-type aircraft, bringing rent, movement and fuel income
Replacing old hangars with new build hangars, located closer to the runway to increase capacity and income
Opening up attractive development land fronting Squires Gate Lane
Development of an on-site café with airside views
Commercial Air Traffic
York Aviation also analysed the market to assess the viability of commercial air services being reintroduced at the airport.
The high levels of investment in new terminal facilities, security, operational equipment and staffing would far outweigh the income generated. It could see an annual seven figure financial loss.
It's estimated that around 1.5m passengers would be needed each year to justify the level of investment required. But, historically, maximum passenger numbers at Blackpool Airport peaked at 700,000 a year.
The reintroduction of passenger flights to the Isle of Man, Dublin and Belfast would need careful consideration and financial scrutiny. Given the increased costs of staffing and operational requirements they would need.
At this stage, it is clear that the reintroduction of commercial flights is not financially viable. Operation of smaller services such as flights to the Isle of Man, Dublin and Belfast, would break even at best. To maintain an operational airport in Blackpool it's critical that the financial reality is heeded.
The Airport is a key element of the Blackpool Airport Enterprise Zone strategy and development to which £28.8m is allocated. That includes £3.45m towards the initial activity of relocating and replacing older aircraft hangars, providing new apron and a new offshore helicopter terminal.
Development of Blackpool Enterprise Zone
Blackpool Council is driving forward the site development to achieve the vision of making Blackpool Airport Enterprise Zone a premier business location in the North West.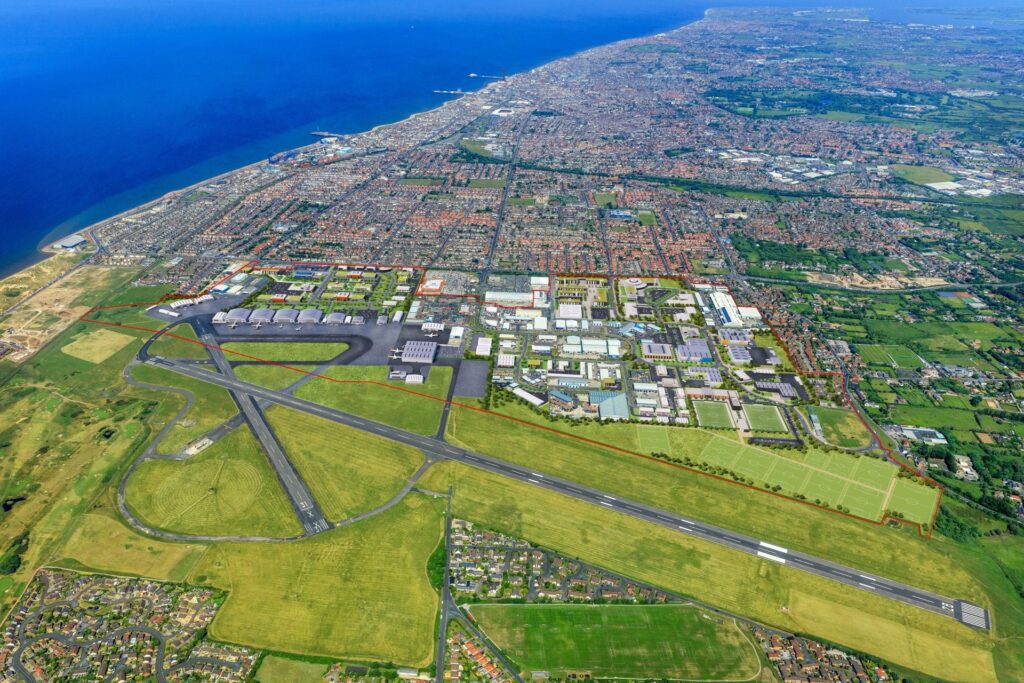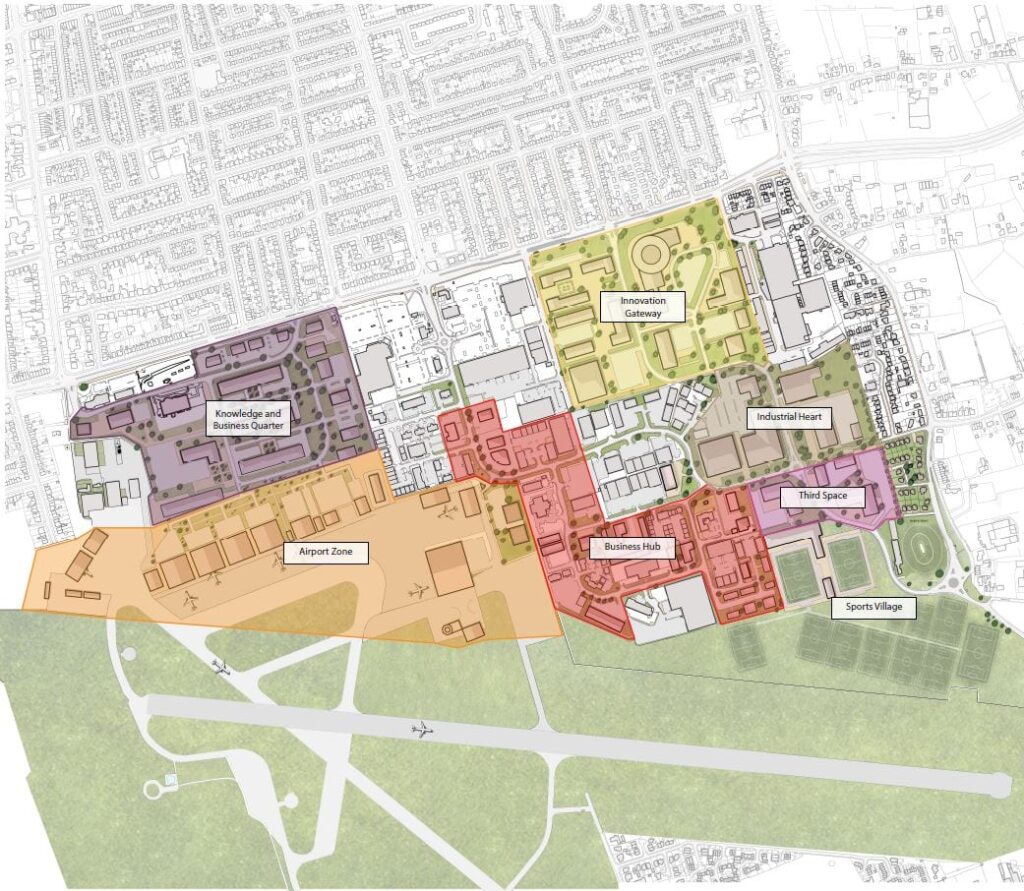 The Enterprise Zone is part of a wider £1 billion + regeneration programme for Blackpool. It's already playing a critical part in attracting the inward investment needed for Blackpool's future development. The focus is on broadening and improving the commercial property offer available on the Fylde Coast.
New Road at Blackpool Enterprise Zone
Blackpool Enterprise Zone development started with a transport assessment for a new road.
Cllr Mark Smith (below left) is Cabinet Member for Regeneration, Enterprise and Job Creation. He joined Rob Green, Head of Enterprise Zones at Blackpool Council to mark the start of the first phase of redevelopment.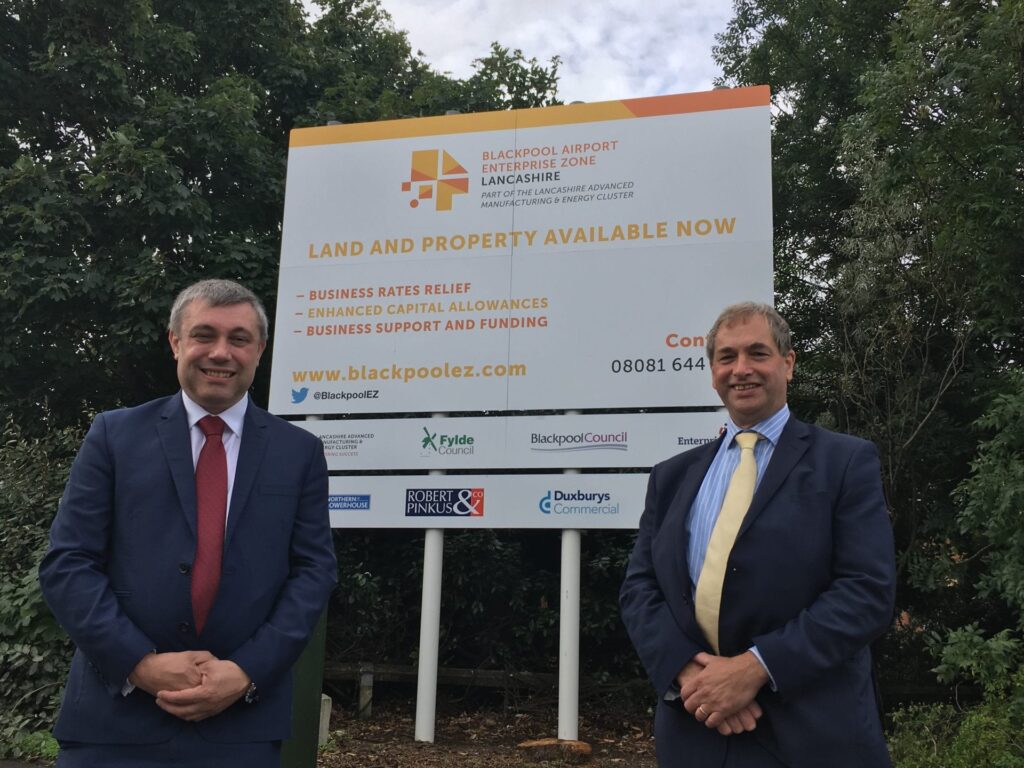 Phase 1 plans include a new eastern access road and re-modelling of the adjacent Common Edge Road Playing Fields. Work on the creation of 12 new sports pitches is already underway and will be ready for the 2021 Autumn football season. A planning application has been submitted for new changing rooms and additional facilities.
The new eastern road will provide a much needed second access point to the Enterprise Zone. It will help to ease congestion during peak commuter hours in the local area and surrounding feeder routes.
Unlocking development land
The new eastern access road will allow Blackpool Council, the accountable body for the Enterprise Zone, to unlock development land.
Essential infrastructure will help to help secure early investment in the site, kick start development, build momentum and reinforce market confidence.
Over the next two decades the 144 hectare site will help to transform the Blackpool and Fylde Coasts economic base. Over £300m private investment will attract up to 5,000 new jobs, supported by new infrastructure. 140 new businesses are expected on site by 2030 to develop, convert or re-purpose 260,000 sqm of floor space.
The Enterprise Zone team now are taking all enquiries for available property and land on Freephone 0808 1644922 or register interest at https://blackpoolez.com/contacts/
Lancashire Advanced Manufacturing and Energy Cluster
Blackpool and the Fylde College Lancashire Energy Headquarters is a £9.8m flagship development. It's backed by £6.2m of Growth Deal funding and provides a high standard training facility. It delivers the full range of technical and professional education required by the energy industry. With a particular focus on the green and renewables sectors.
The Blackpool Airport and Hillhouse Technology Enterprise Zone sites are part of the wider Lancashire Advanced Manufacturing and Energy Cluster (LAMEC). It also includes the Samlesbury Aerospace Enterprise Zone and the Warton Aviation Enterprise Zone.
The EZ Cluster has the potential to generate 10,000 new high value jobs over its lifetime. This will make sure that Lancashire builds on its position as one of the UK's leading centres of excellence.
Business rate relief is available to incoming companies to the EZ. They can also benefit from Enhanced Capital Allowances for investment in new fixed plant and machinery.
Find out more about Blackpool Enterprise Zone here
Blackpool Enterprise Zone's first anniversary
Published April 2017
A year in and the Enterprise Zone has already attracted 28 new companies, hosting 450 new jobs in the area. It's expected to add an extra 2,500 jobs over the next 24 years.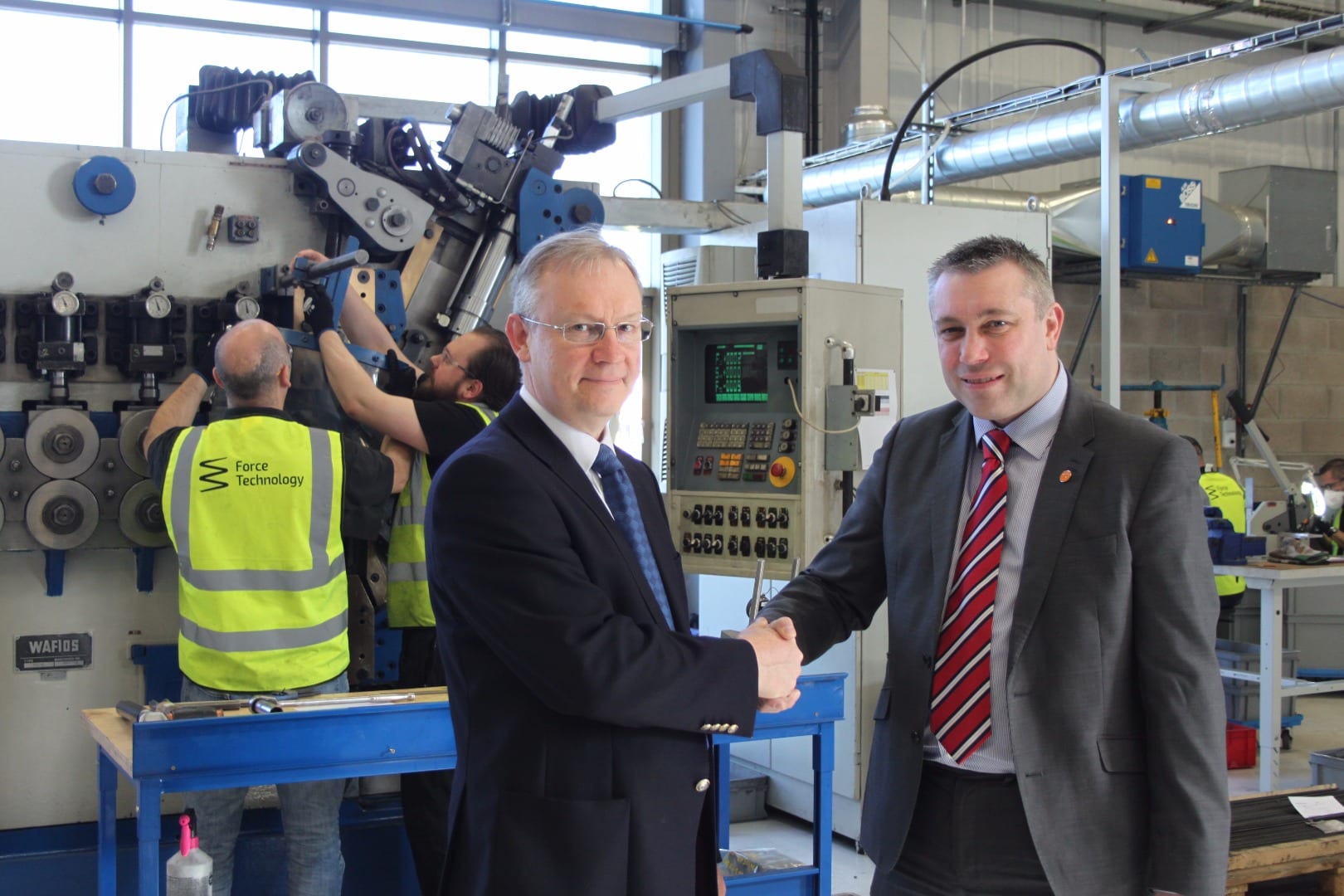 (L-R) Steve Williams, MD, Force Technology with Cllr Mark Smith, Blackpool Council's Cabinet Member for Business and Economic Development.
Companies operating in the business park cover diverse industry sectors. They range from manufacturers and energy consultancies to accountants and a publishing house.
Engineering firm Force Technology was the first private business to be officially welcomed to the Enterprise Zone last year. The company specialises in high precision spring applications for the automotive, transport and shipping industry.
Steve Williams is Managing Director, Force Technology. He said: "We made the right choice basing our company in Blackpool's Enterprise Zone.
"When we moved in to our premises there were only three of us. Now we have grown to 17 staff. By next year we predict that Force Technology will be employing over 30 staff.
"Many factors that have helped deliver this success. The location is ideal with easy access to the transport network. Our premises never fail to impress our customers many of whom are internationally based.
"The support from the Blackpool, Fylde and Wyre Economic Development Company has been top class. We would highly recommend businesses to locate in Blackpool. It's a winner."
Find out More
Blackpool Enterprise Zone www.blackpoolez.com
Hillhouse Enterprise Zone www.hillhouseez.com
While you're here…
Have a look at the homepage of the Live Blackpool website homepage for more of the latest updates.
Love the Fylde Coast? Sign up for your weekly email newsletter. Packed full of interesting things it arrives in your inbox all 52 weeks of the year.
Join us on Facebook at our Visit Fylde Coast Facebook Group
Don't forget to follow us on Twitter @visitFyldeCoast