The Heritage Trams are as much a part of the Blackpool seaside experience as the Piers and seaside rock. Still running today, they are both an attraction in their own right and a form of transport from one end of the promenade to the other.
Blackpool Heritage Tram Tours
A dedicated team of volunteers keep the fleet of vehicles both restored and operating along Blackpool seafront.
Throughout the year a Heritage Tram service runs at weekends. The regular timetable is enhanced with a regular programme of special events.
History of the Heritage Trams
The Blackpool Electric Tramway Company opened their service on 29 September 1885, originally running from Cocker Street to South Shore. A little later, the Blackpool and Fleetwood tramroad opened a line between Blackpool and Fleetwood, which operated until 1920.
[arve url="https://www.youtube.com/embed/ctSWBvyzSIs" title="Blackpool Promenade in 1900″ description="Blackpool Promenade in 1900″ /]
Then in 1920, Blackpool Corporation took over the whole tramroad. It included eight miles of track and three depots, two in Fleetwood and one in Bispham. The small Bold Street Depot in Fleetwood was closed and a loop constructed at Fleetwood Ferry. Blackpool Corporation also gained all 41 trams from the tramroad.
The Blackpool tramway has operated ever since and is the last surviving first-generation tramway in the UK.
Tramway Upgrade
Many, many years later, following a four year, £100m upgrade, on 3 April 2012 the brand new Flexcity Bombardier trams were launched.
Their very first passenger journey along the Fylde Coast marked the start of a brand new era of passenger transport for residents and visitors. They were introduced because the old tram cars didn't comply with modern access rules for disabled passengers.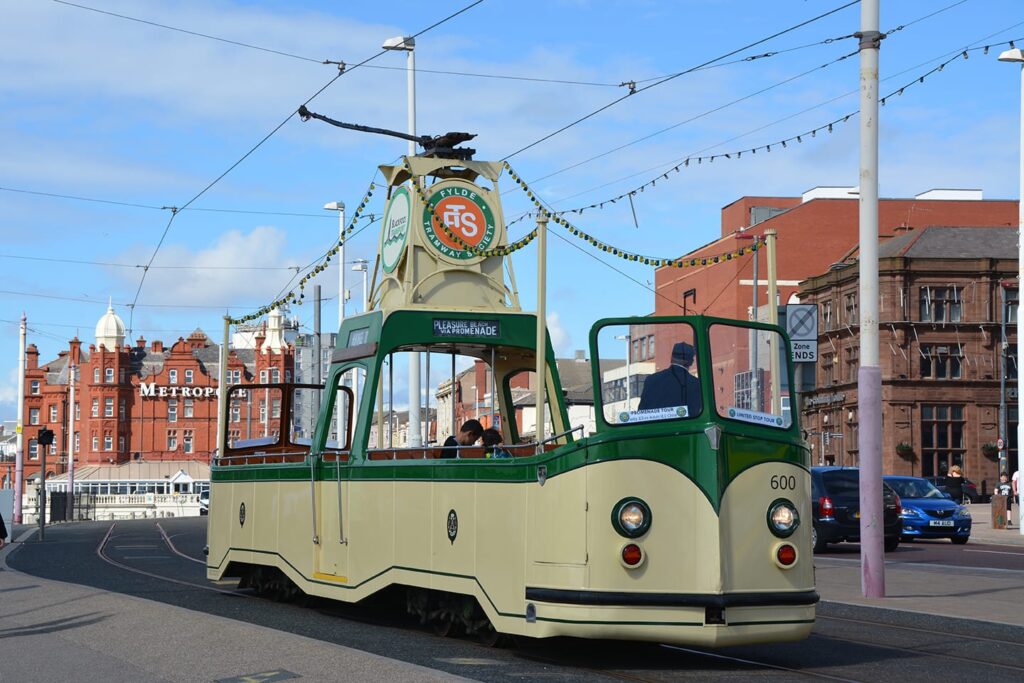 Marvellous as the new trams are, the Heritage Trams are loved by all – a quintessential image of Blackpool. For some they are a reminder of childhood, while others hold a strong interest and fascination for the engineering expertise which created them.
History of Heritage Tram Car Box 40
It was on loan to Blackpool for more than 20 years, then it went back home. On 4 March 2019 the Heritage Tram team bid a fond farewell to Blackpool & Fleetwood "Box" car 40.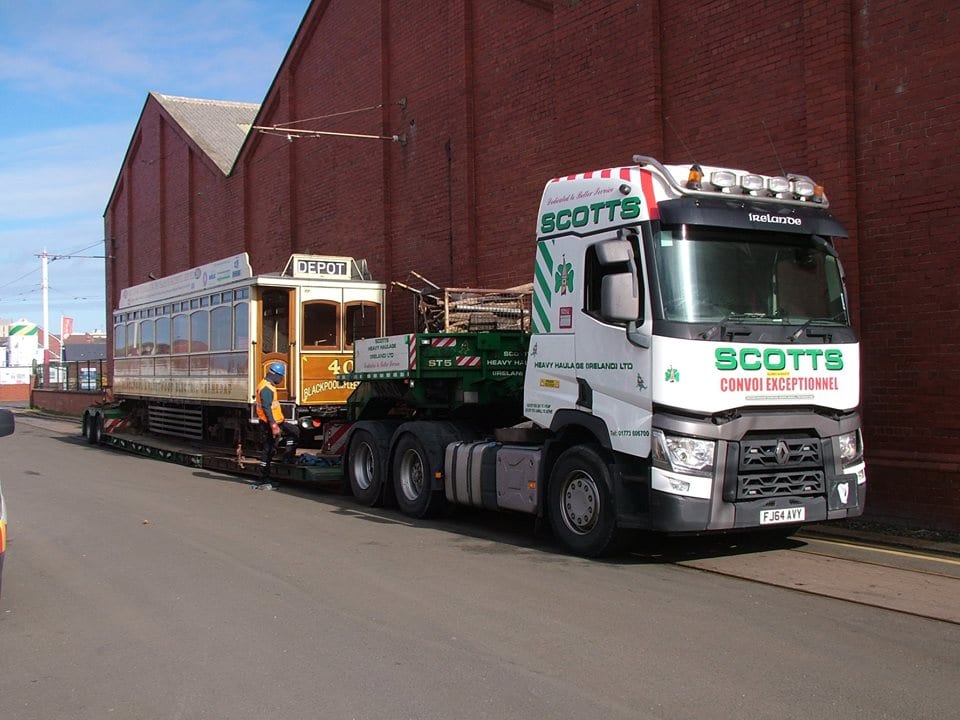 It's been on loan to Blackpool Transport from the National Tramway Museum at Crich for over 20 years.
Box Car 40 has been an important part of the Heritage Fleet, since the formation of Blackpool Heritage Tram Tours in 2012. It's always looked very at home on the Promenade and its native Tramroad – for which it was built in 1914.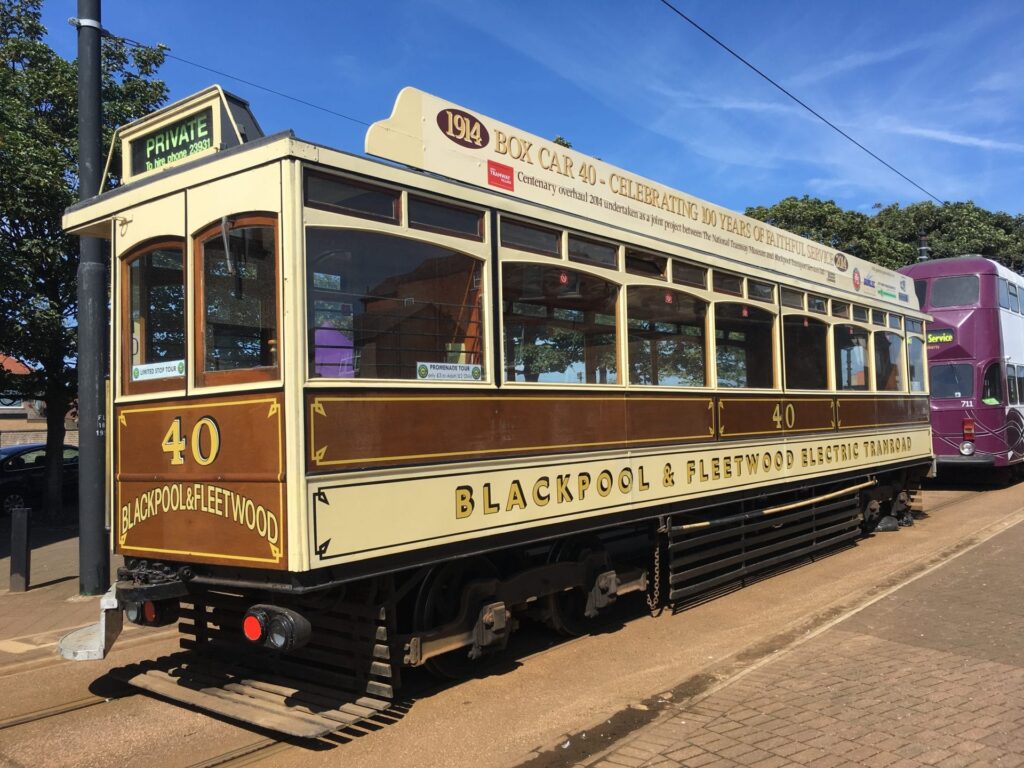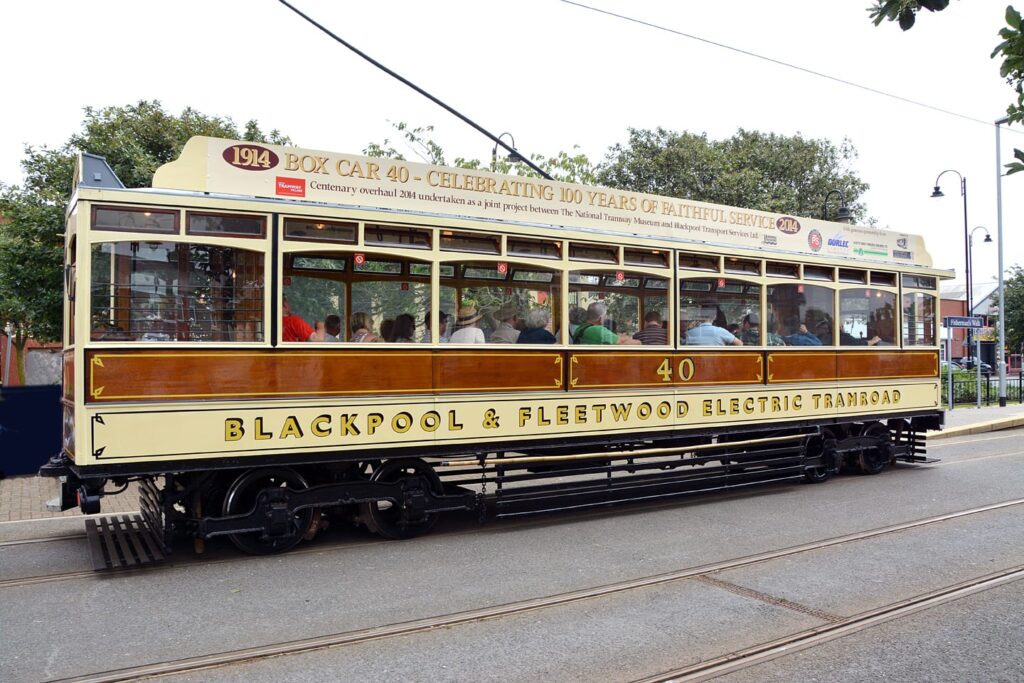 However, its time in Blackpool sadly came to an end. Box Car 40 made a visit to the Beamish Museum in Durham before returning to Crich later in 2019 and becoming a permanent part of their collection.
Looking After Box Car 40 in Blackpool
It was overhauled in 2014, and 40 was treated to further remedial work to arrest deterioration and to preserve a smart appearance for this popular tram.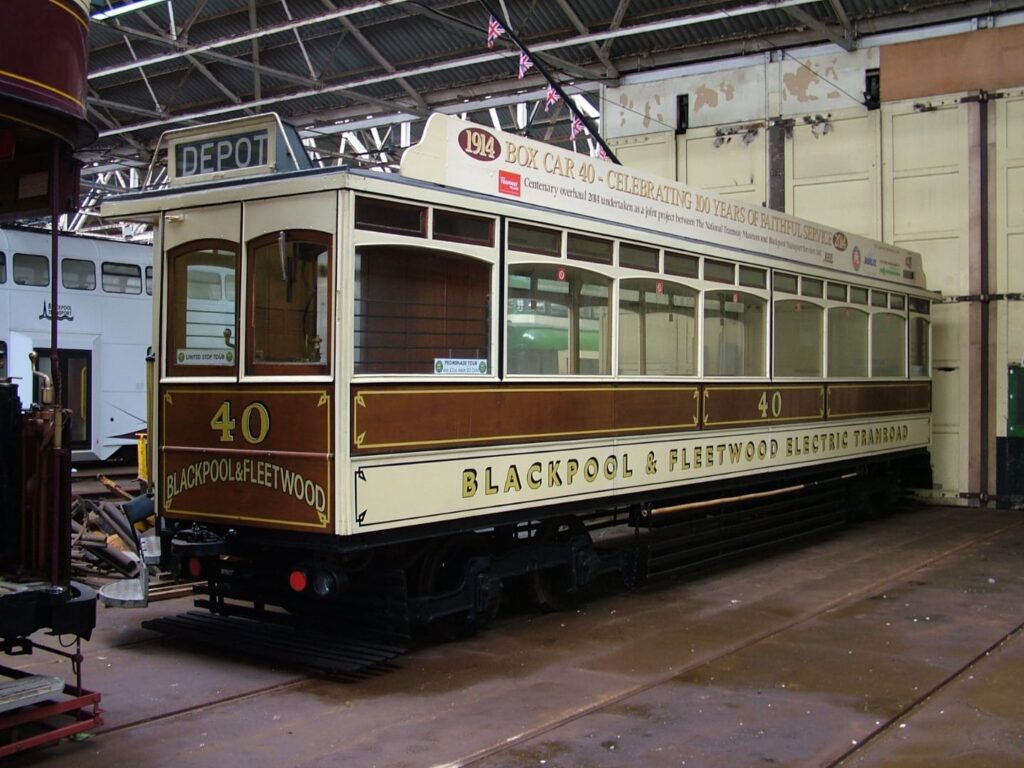 The floor was repainted throughout – that task was undertaken by volunteers from Blackpool Civic Trust.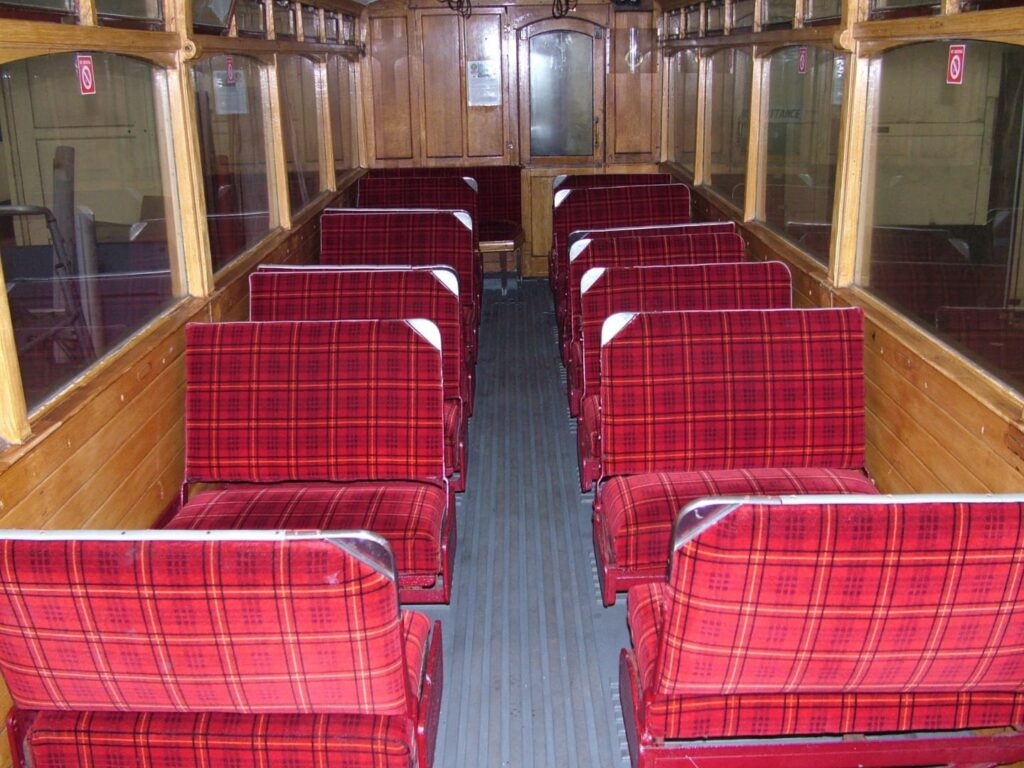 The Preston McGuire bogies were steam cleaned and repainted by the dedicated staff at Heritage Trams.
All brass work has received a good polish thanks to Fleet Presentation Coordinator, Bradley Jones and his team.
New historical tramcar information sheets are now installed (see below for transcription).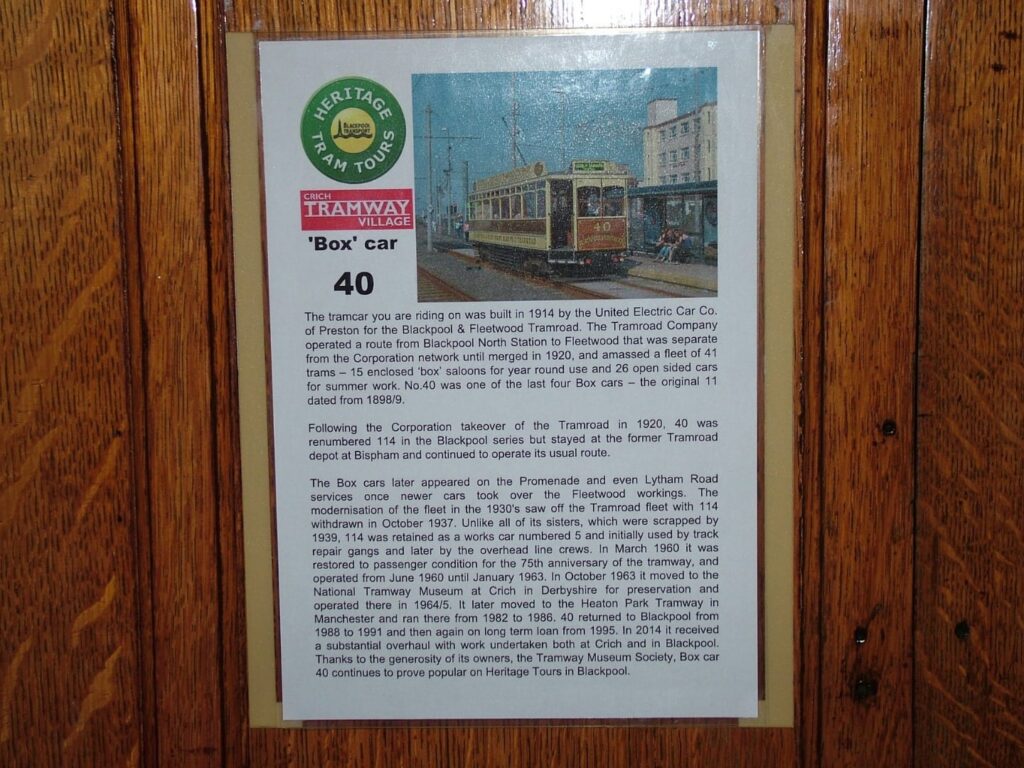 These provide a brief history of the tram and acknowledge the co-operation and great relationship of Blackpool Heritage Trams with the Tramway Museum Society. They are the owners of Box 40, and their generosity allowed the tram to remain in Blackpool for so long.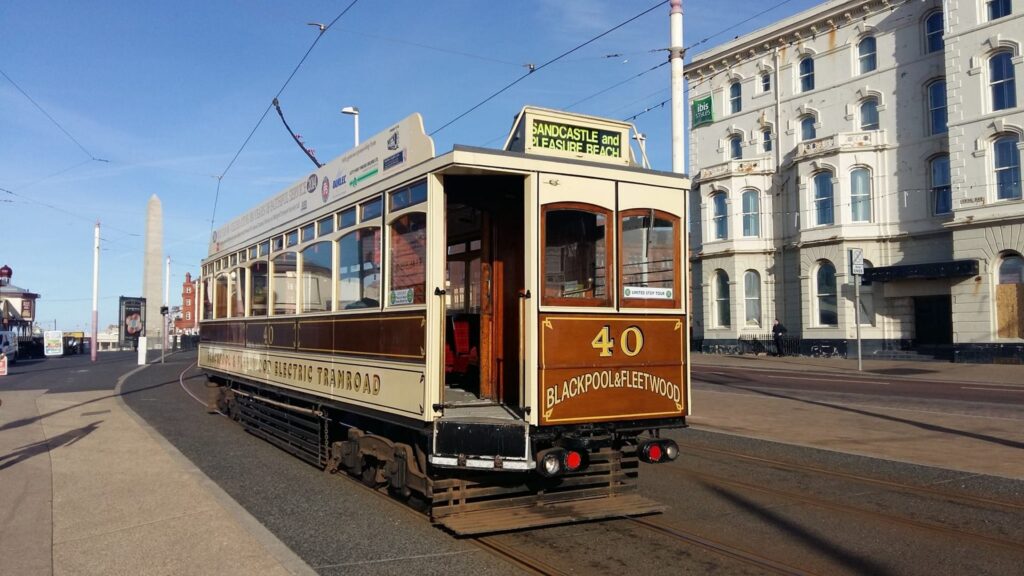 The History of Heritage Tram Box Car 40
Box Car 40 was built in 1914 by the United Electric Car Co of Preston, for the Blackpool & Fleetwood Tramroad.
The Tramroad Company operated a route from Blackpool North Station to Fleetwood. It was separate from the Corporation Network until they merged in 1920, and amassed a fleet of 41 trams.
15 were enclosed 'box' saloons for year round use and 26 open sided cars for summer work. No 40 was one of the last four Box cars. The original 11 dated from 1898/9.
Following the Corporation takeover of the Tramroad in 1920, 40 was renumbered 114 in the Blackpool series. But it stayed at the former Tramroad depot at Bispham and continued to operate its usual route.
The Box Cars later appeared on the Promenade and even on Lytham Road once newer cars took over the Fleetwood route. The modernisation of the fleet in the 1930's saw off the Tramroad fleet. 114 was later withdrawn in October 1937.
Escaping the Scrapyard
Unlike all of its sisters, which were scrapped by 1939, 114 was retained as a works car. It was numbered 5 and initially used by track repair gangs and later by the overhead line crews.
In March 1960 it was restored to passenger condition for the 75th anniversary of the tramway. It operated again from June 1960 until January 1963.
In October 1963 it moved to the National Tramway Museum at Crich in Derbyshire for preservation and operated there in 1964/5.
It later moved to the Heaton Park Tramway in Manchester and ran there from 1982 to 1986.
Tramcar 40 Back in Blackpool
40 returned to Blackpool from 1988 to 1991. It was back again on long term loan from 1995.
In 2014 it received a substantial overhaul with work undertaken both at Crich and in Blackpool. Its owners are the Tramway Museum Society.
Tram Car No 31
Visit Fylde Coast contributor and transport enthusiast Barrie C Woods snapped Tram Car No 31 in April 2016. It was back in Blackpool for a short while, from it's long term loan to Beamish.
It was swapped over with the Standard No. 147 'Michael Airey', which went to operate at Beamish instead.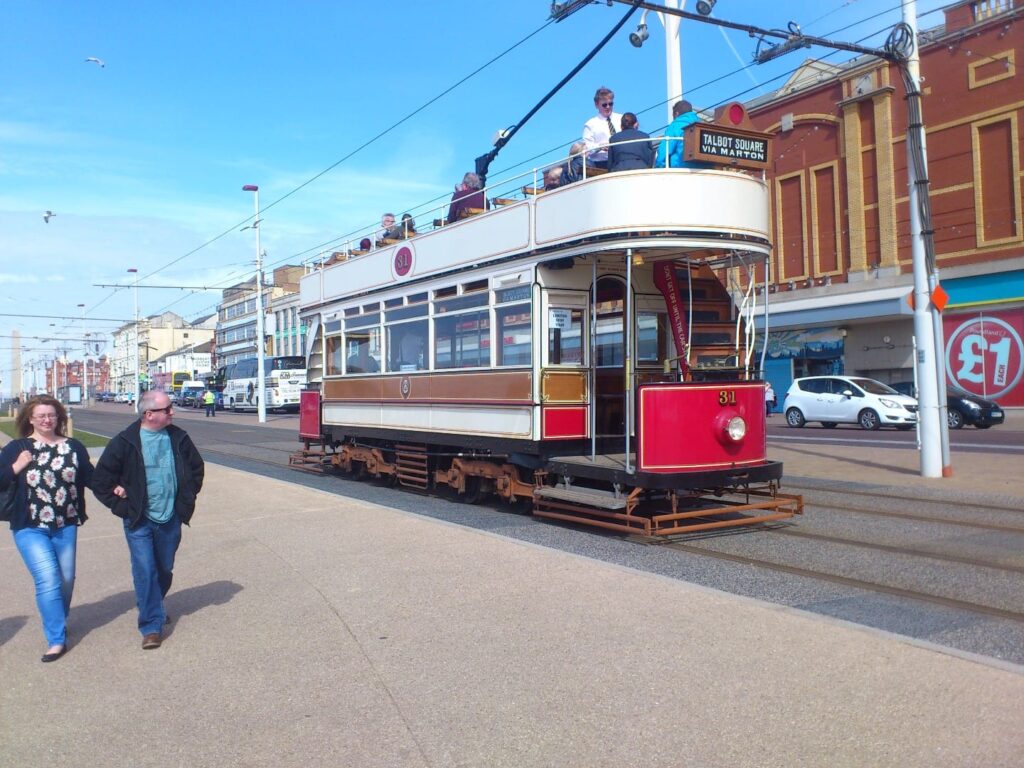 No. 31 was built by the Midland Railway Carriage & Wagon Co. Ltd in 1901 as an open-top 4-wheeler. It was rebuilt in 1918, lengthened and had two 4-wheel bogies fitted under it. A roof was added in 1928, then in 1934 it was relegated to the engineering department and the roof removed to give access to overhead line work.
It was renumbered No.4. Then later in the 1960s a further renumbering saw it emerge as No. 754. Later it was fully restored to its 1918 condition. It's been on long term loan, operating at Beamish since 1984 with the exception of the Blackpool tram centenary in 1998. Afterwards it returned to the north-east museum.
Question for Heritage Tram Enthusiasts
Here's a question for all you local transport and history enthusiasts from Barre C Woods. He says: "This is the cafe in the Bonny Street Market and it looks awfully like a vintage tram or railway carriage, or is it just done for effect? If it is a tram then which one?"
If you've got any ideas please leave a comment at the foot of this article.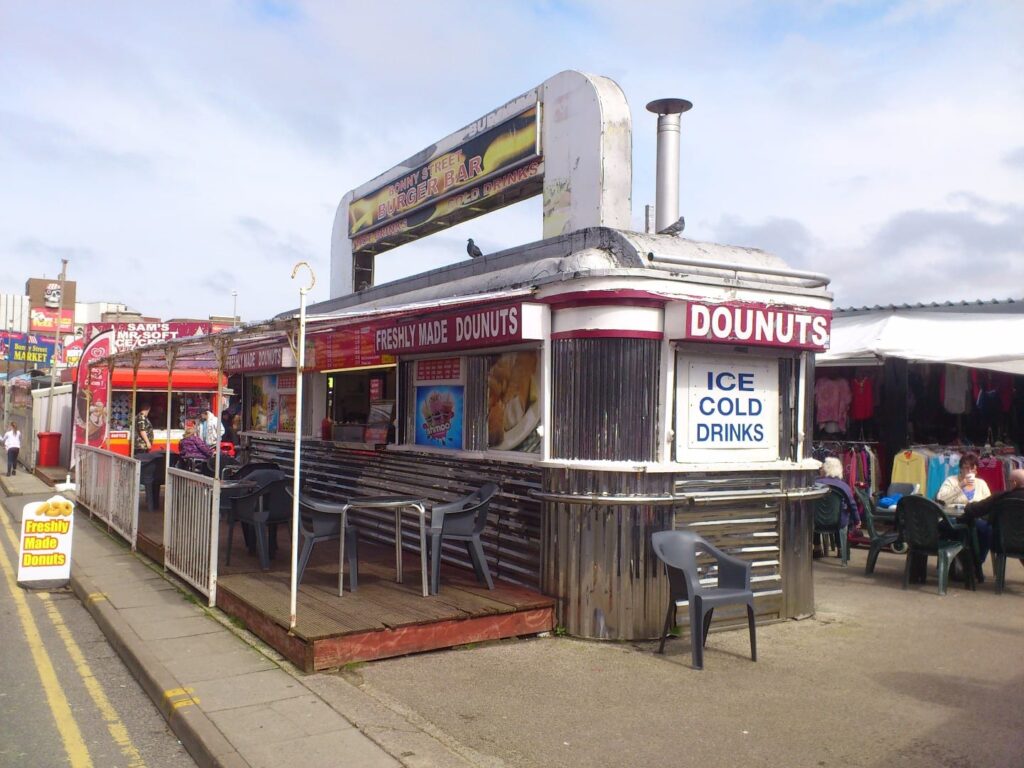 Interesting Links
There's more about the history of Blackpool (in brief!) here
Read Nick Moores history of Blackpool – it's the most comprehensive guide of EVERYTHING to do with the history of Blackpool
Join Blackpool's Past – the Original Facebook Group
While you're here…
Have a look at the homepage of the Live Blackpool website for more of the latest updates.
Love the Fylde Coast? Sign up for your weekly email newsletter. Packed full of interesting things it arrives in your inbox all 52 weeks of the year.
Join us on Facebook at our Visit Fylde Coast Facebook Group
Don't forget to follow us on Twitter @visitFyldeCoast