Have you seen the Morecambe & Wise statue in the Winter Gardens, Blackpool? In 2016 it's unveiling celebrated the comedy double-acts 75th anniversary.
Morecambe and Wise are comedy classics, favourites of their time. Eric and Ernie performed in Blackpool more than 1,000 times in their career, first appearing on stage together in 1941.
During their years in Blackpool, the pair entertained hundreds of thousands of people. They played at seven theatres and six summer seasons, also enjoying a starring role in the 1955 Royal Variety Performance at the Winter Gardens.
You can see it on permanent display in the spectacular domed entrance to the Winter Gardens. Have you seen it there and had your photo taken with it? Why don't you share it in our Visit Fylde Coast Facebook Group?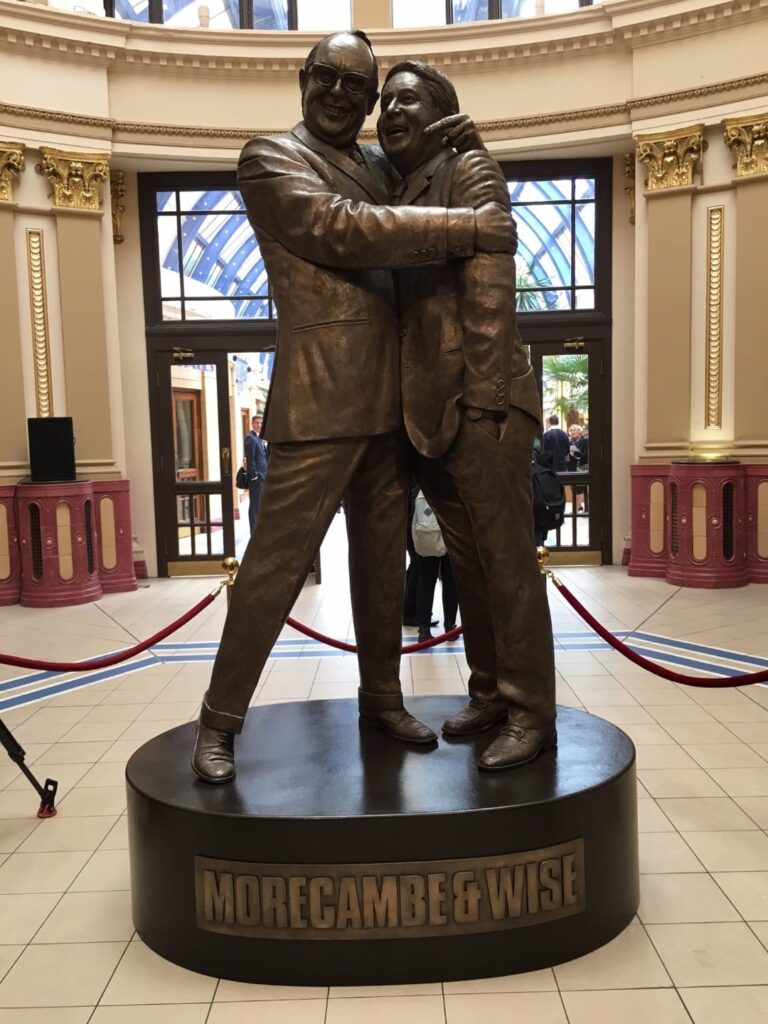 Making the Morecambe & Wise Statue
Blackpool's Winter Gardens is a fitting home for the first ever statue celebrating the nation's favourite comedy double act. The unveiling took place on 14 October 2016. But before that could happen, there was a lot of hard work!
Fundraising
First, the Morecambe & Wise 75 Committee was formed, to coordinate the project and its progress. They also had to raise the £75,000 required to make the bronze – which was all raised through donations.
Any surplus funds were donated to the Tony Jo – Cancer Appeal at Blackpool Hospital and to Blackpool Carers UK.
The Morecambe & Wise 75 Committee included: John Barnett MBE, Elaine Smith MBE, Charlie Cairoli, Tony Jo, Jim Cadman.
Sculpted by Graham Ibbeson
Barnsley based sculptor Graham Ibbeson made these two lifelike figures. He also created the Eric Morecambe statue, just up the road at Morecambe seafront. Unveiled in 1999 by the Queen it adorns the promenade in the comedian's hometown. Graham's statue of Ernie was later unveiled in 2010 in Morley, West Yorkshire.
He said: "It's been an absolute honour and a privilege for me to bring Morecambe and Wise – two of my all-time heroes – together again with this new statue, which I'm incredibly proud of.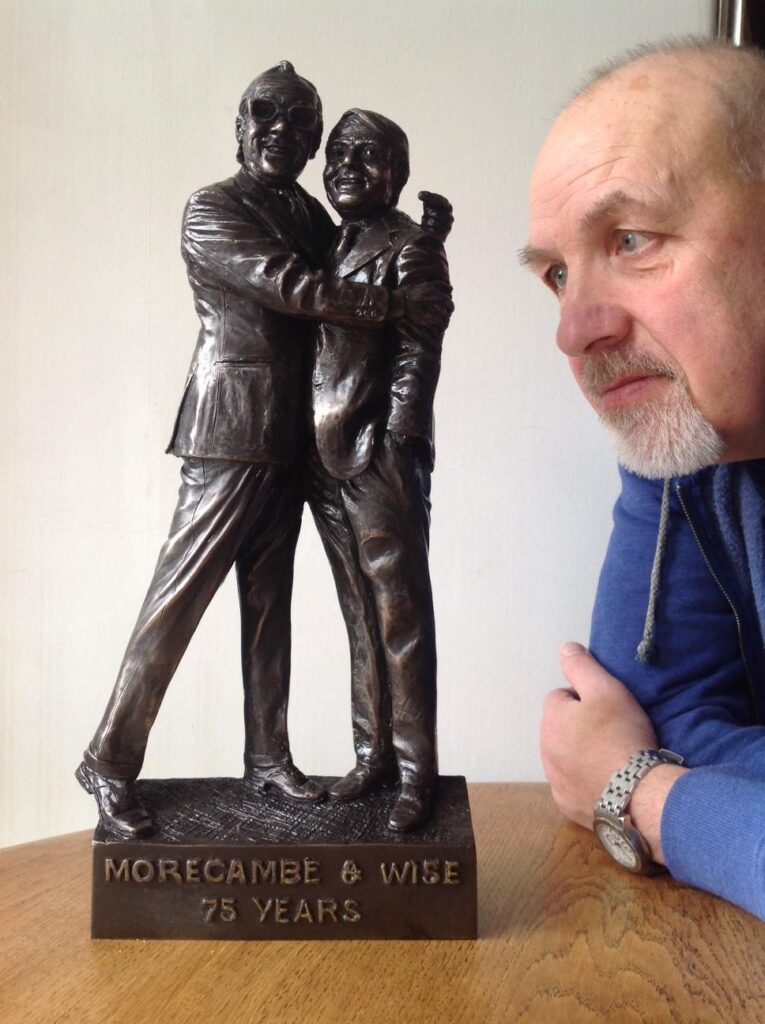 "Eric and Ernie were able to bring the nation together through their genius and laughter. This statue celebrates them as they should be, a double act which Britain and the world took to their hearts."
Graham said "I'm delighted to have brought the boys back together so the nation can see them as they should be – Eric and Ernie alongside one another.
"Morecambe and Wise are the greatest double act to have ever graced British TV screens and both Eric and Ernie's families agree their spiritual home is Blackpool.
"Their families have been involved right through the process and love the statue, which means an awful lot. I feel sure it will become a hugely popular and much-loved attraction in Blackpool for generations to come."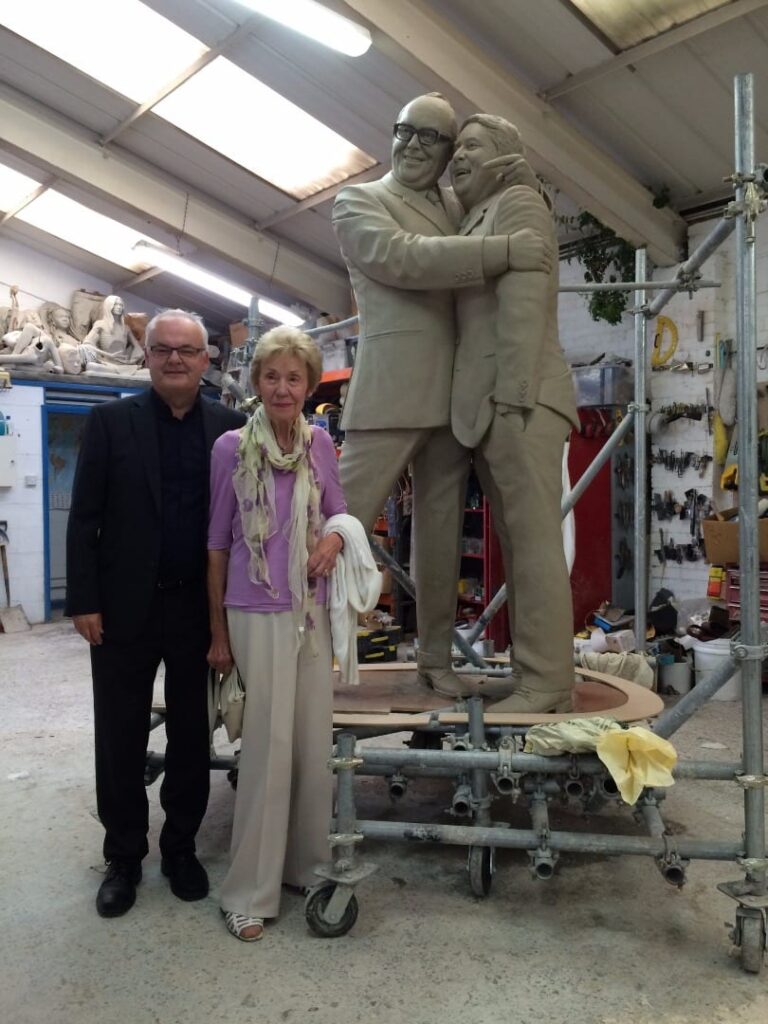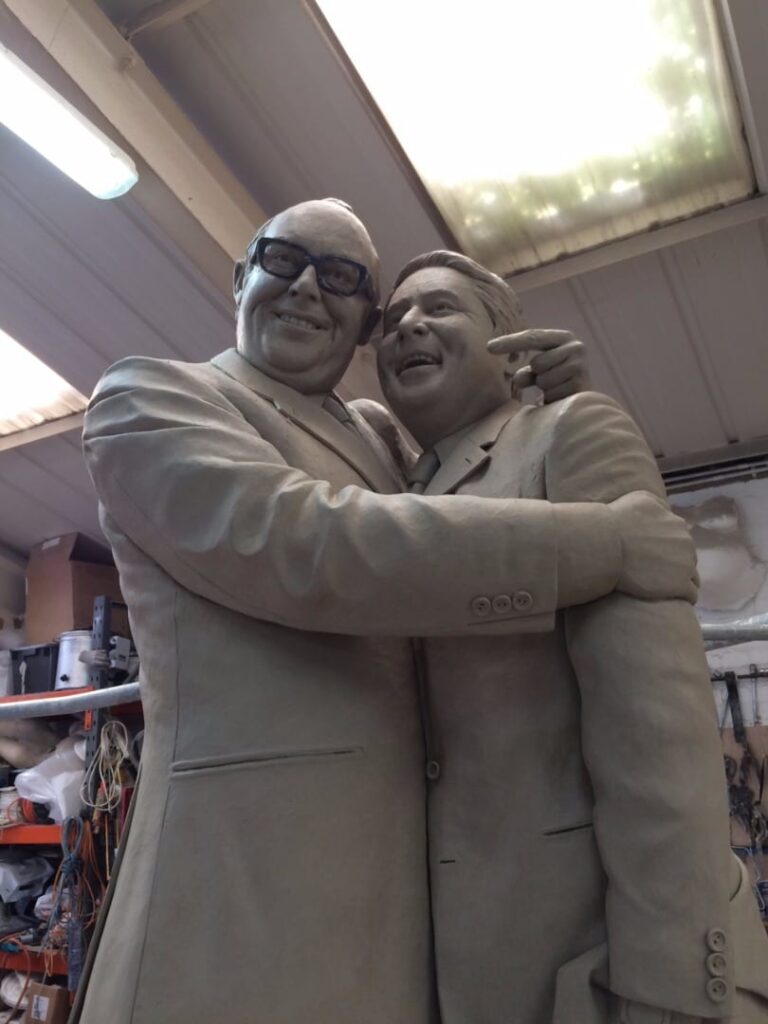 The Grand Reveal
The grand reveal of the stunning 8ft tall bronze was carried out by Eric Morecambe and Ernie Wise's families, in front of hundreds of adoring fans. Visit Fylde Coast was lucky enough to be at the event, take photos and have a chat with the sculptor himself.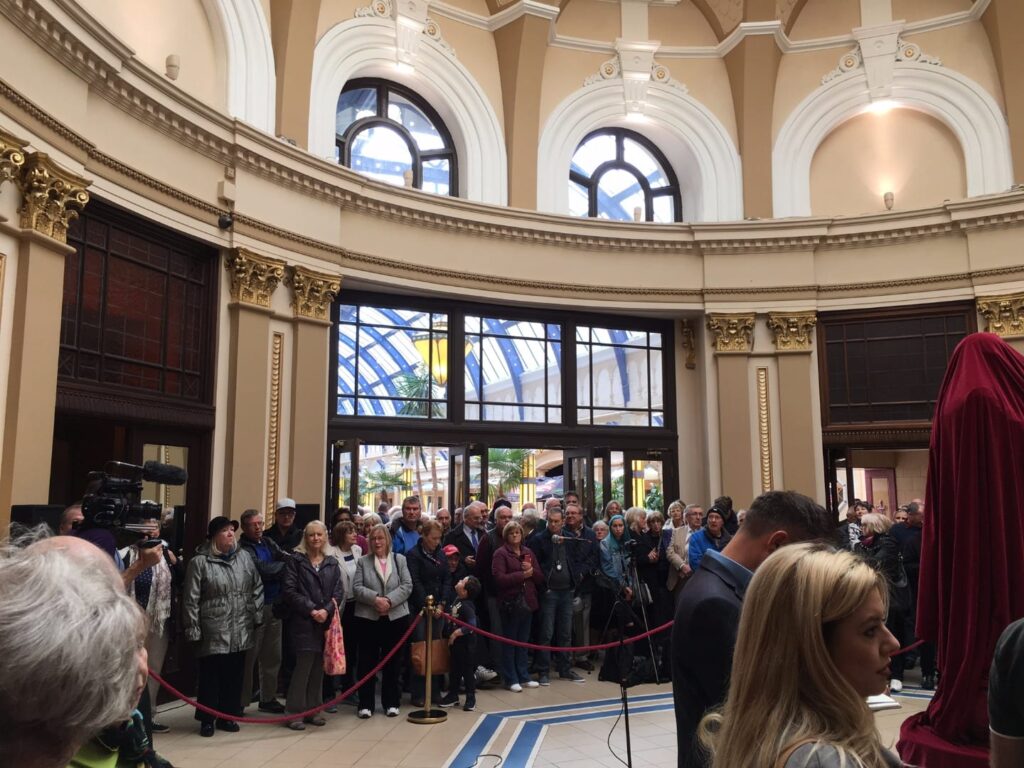 Eldest son Gary and daughter Gail joined Eric's widow Joan. A representative came along for Ernie's widow Doreen. Joan said: "The statue is simply wonderful, Graham has really captured Eric and Ernie to perfection.
"For it to be unveiled here in Blackpool, where I personally have so many happy memories of Eric and Ernie and our families together down the years, is very fitting. This has been a really special day which I will remember forever."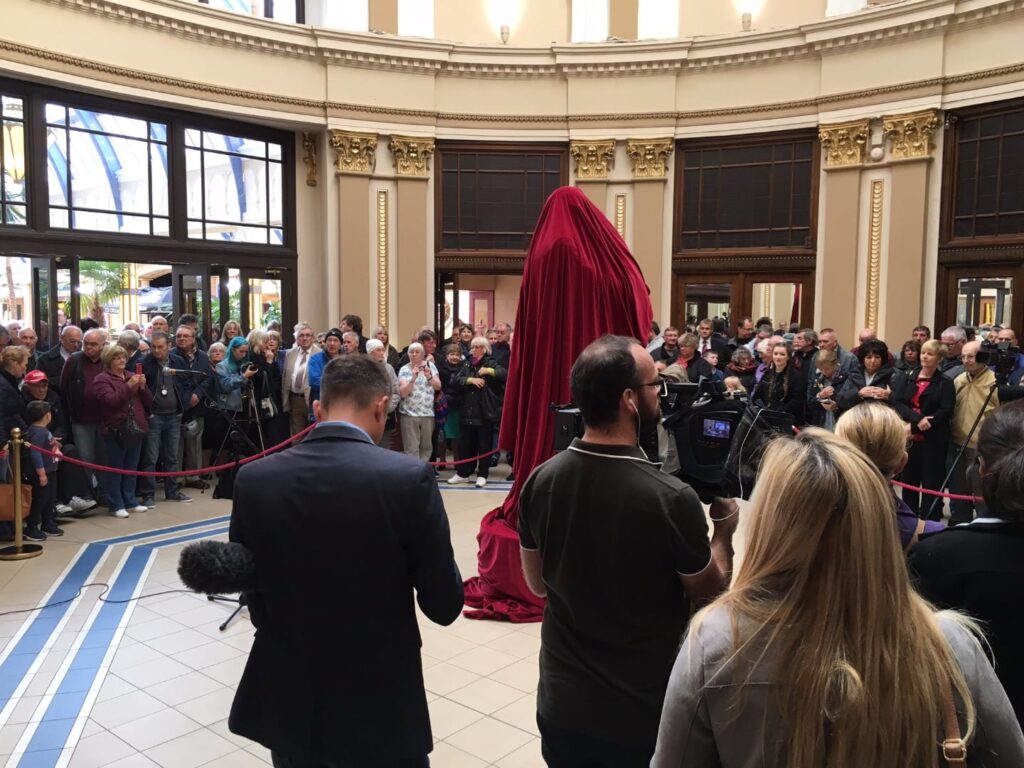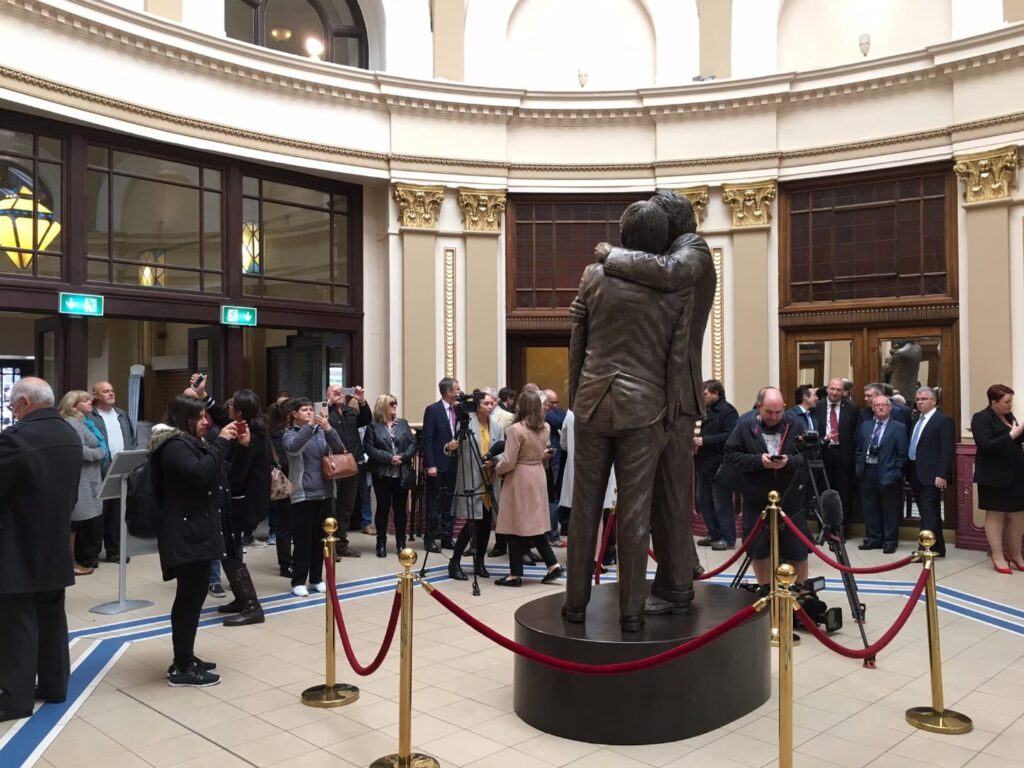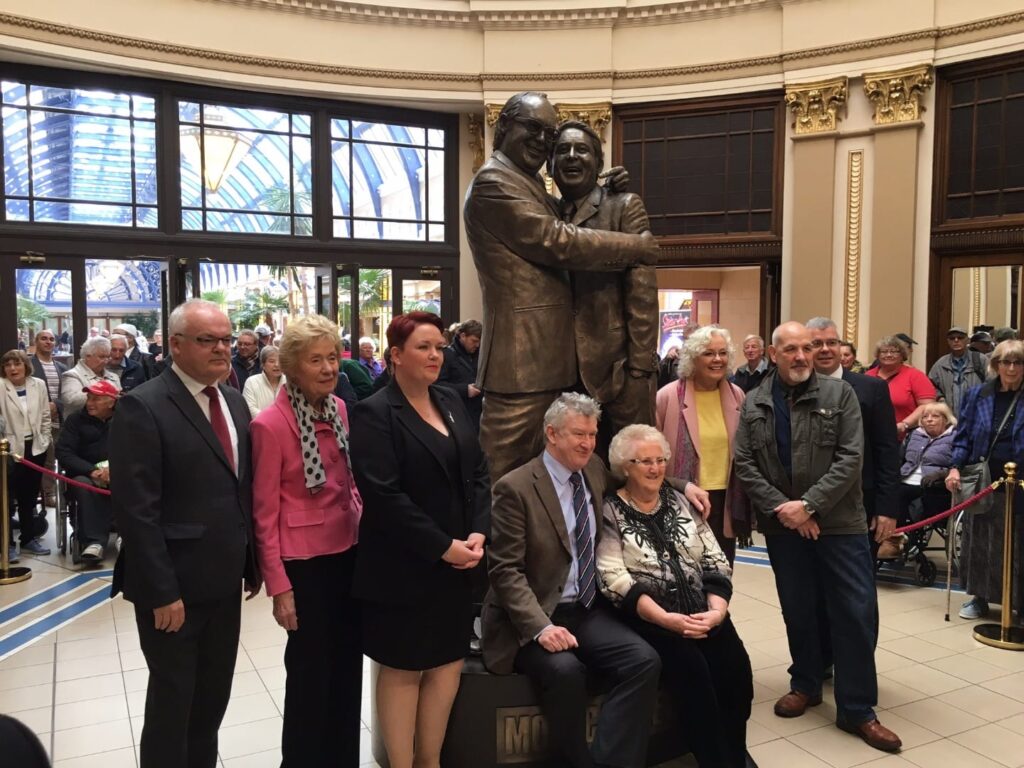 Gary Morecambe added: "Blackpool was Eric and Ernie's spiritual home. Their careers really took off here, and to see them together again in this wonderful tribute is fantastic.
"Graham is a brilliant artist and the likeness to my father and Ernie is stunning. I'm sure fans of Eric and Ernie, indeed everyone who sees it, will get a big thrill out of it.
"I think my father would have been gobsmacked by the whole idea of a statue. The fact it is here in Blackpool would have been a huge thing for both Eric and Ernie. It's a town they had so much success in and affection for."
While you're here…
Go to the homepage of the Live Blackpool website for the latest updates.
Love the Fylde Coast? Sign up for your email newsletter. Packed full of interesting things it arrives in your inbox all 52 weeks of the year.
Join us on Facebook at our Visit Fylde Coast Facebook Group and follow us on Twitter @visitFyldeCoast
Plus hundreds of videos to watch on our YouTube channel – from all over the Fylde Coast!
Booking a stay? Pick a safe, clean and legal place to stay, at the very best price. Book with the Visit Fylde Coast and StayBlackpool guide.