You'll know it as a white landmark on the prom. But do you know just how long Roberts' Oyster Rooms has been trading in Blackpool?
We went for a look around the outside of the building back in February 2021 when the world was still sorely affected by the Covid-19 pandemic. It's an interesting story – come and take a look…
Enjoyed this video? Why don't you subscribe to our Visit Fylde Coast YouTube channel – make sure you don't miss out!
Roberts' Oyster Rooms Back in the Day
Today, it sells all manner of seaside and beach goods. And of course a wide selection of fresh shellfish! But this well-known establishment actually dates as far back as 1831 – practically the beginning of Blackpool itself!
Campbell's Cottage was on Dig Street (now called West Street). John Roberts of Preston had the cottage demolished for the purpose of building Blackpool's most famous oyster bar, back in 1876. This large, three storey square building must have been quite impressive at the time.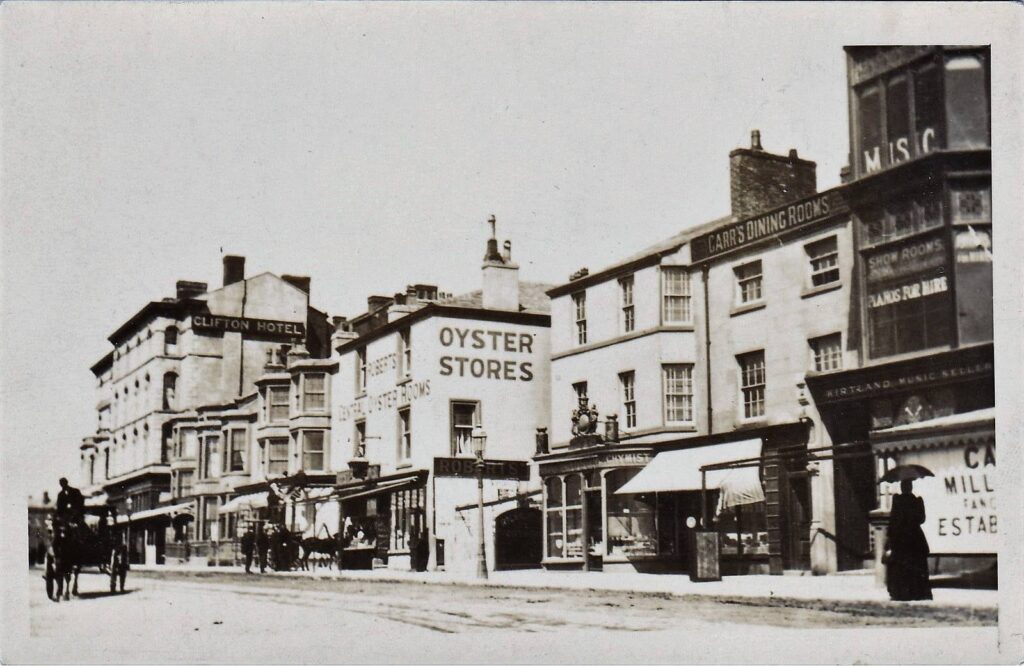 Those first customers could buy seven oysters for a shilling. Most oysters were shipped in to Britain from America and stored, before sale, in beds off Knott End. How amazing to think that such sophisticated trade was being carried out all that time ago.
The Victorian wood-paneled "rooms" behind the bar offered a seafood meal for the working man, washed down with a pint collected from the Mitre public house just round the corner. They could even take their own 'black velvet' – stout and champagne – to drink them down with.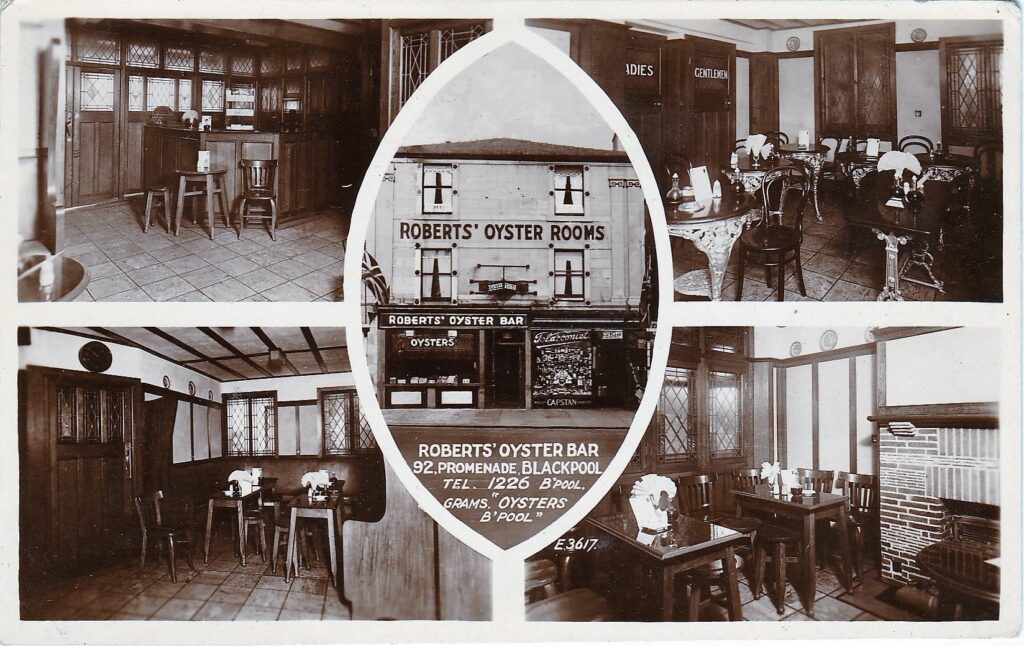 The Popularity of Seafood
Did you know? In 1877 the town's biggest oyster rooms were C Whitehead and Company's Oyster Saloon.
Roberts soon opened another bar at 1 West Street, renaming the original one as 'Roberts Central Oyster Rooms'. That's long closed and only the original business is still running today.
Seafood was a big thing at coastal resorts and by 1911, E Little's Oyster Rooms had opened next door, in direct competition.
The original Roberts' Oyster Bar is now number 90 the Promenade. A building is locally listed and a Blue Plaque was awarded by Blackpool Civic Trust. It was on display at the north side of the building for many years, until it went missing.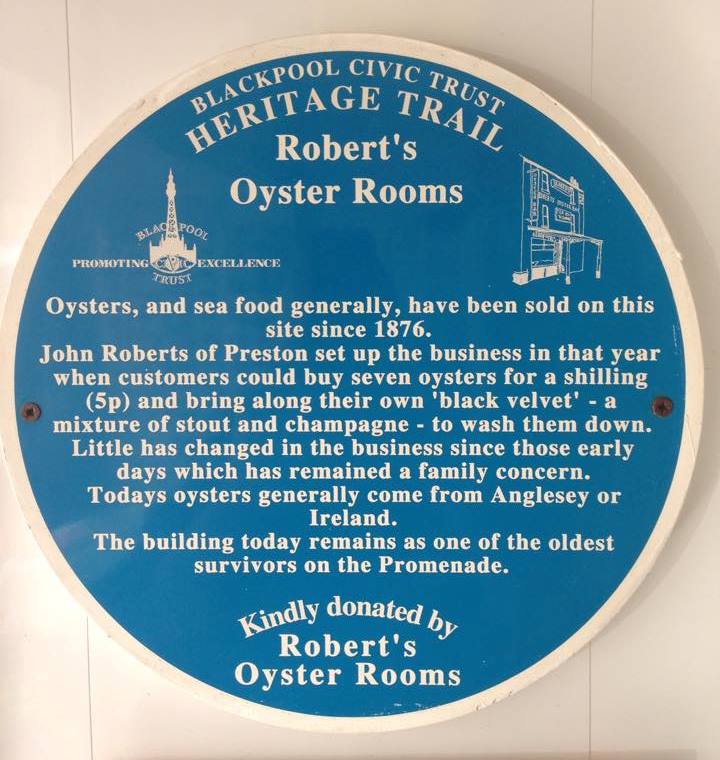 And as late at 1963, Michael Marley was still selling oysters from a barrow on the beach!
We all know that 'She sells seashells on the sea shore…'. Well, today, Roberts' is a similar tongue-twister – it's a shopfront shellfish stall (try saying that without stuttering!) Here, you can buy all manner of seaside snacks – oysters on the shell, plus little trays of cockles, mussels, whelks, winkles and prawns.
While you're here…
What do you think? Why don't you join in and leave a comment below? And have a look at the homepage of the Live Blackpool website for more of the latest updates.
Love the Fylde Coast? Sign up for your weekly email newsletter. Packed full of interesting things it arrives in your inbox all 52 weeks of the year.
Join us on Facebook at our Visit Fylde Coast Facebook Group and follow us on Twitter @visitFyldeCoast
Plus hundreds of videos to watch on our YouTube channel – from all over the Fylde Coast!
Booking a stay? Pick a safe, clean and legal place to stay, at the very best price. Book with the Visit Fylde Coast and StayBlackpool guide.