There are many claims to fame in this seaside town, but you perhaps didn't know this one. From Swallow Sidecars to Jaguar Cars – started in Blackpool in what's now a small hotel…
Swallow Sidecars to Jaguar Cars – Started in Blackpool!
In 1891 William Walmsley was born at 23 King Edward Avenue, what's now the Berwick Hotel. He went on to start what's now an international car brand, from humble origins here in Blackpool. Take a look…
It's a fascinating bit of local history, there's even a Blue Plaque on the door to mark the importance of the location.
When Swallow Sidecars Began
William Walmsley made aluminium sidecars in the garage behind his home in King Edward Avenue. As luck would have it, his prospective business partner William (Bill) Lyons didn't live far away, at 26 Oxford Road. William Walmsley would "test drive" his sidecars down the alley at the back of his house, and in 1922 he and William Lyons became friends with a common interest in things mechanical.
Born on 4 Sept 1901, William Lyons was a bit younger than William Walmsley. He'd attended Poulton-le-Fylde Grammar School and Arnold School, then worked at Crossley's Motors, designing chassis for army vehicles.
Lyons wrote in April 1961: 'One day I saw a very smart combination as we used to call them (a motorcycle and sidecar) standing in a garage not far away. I got into conversation with the owner who told me he'd made it himself. In fact he was making another one for a friend… Our garages being close together, we naturally had many conversations.'
Walmsley had learnt the basic principles of coachbuilding from the horse-drawn coat carts and railway wagon bodies that were made 'in-house' by the family firm. His flash of inspiration was to apply those skills to the design and construction of a sidecar. It was to go with his ex-War Department Triumph motorcycle. They were quite revolutionary in that they were formed from aluminium, rather than the wicker basket style which were popular at the time.
Lyons bought one of William Walmsleys sidecars for his own Norton motorcycle – and this turned out to be a match made in heaven! Lyons saw a potential business opportunity in manufacturing the sidecars, but Walmsley wasn't keen – he just wanted to keep it as a hobby.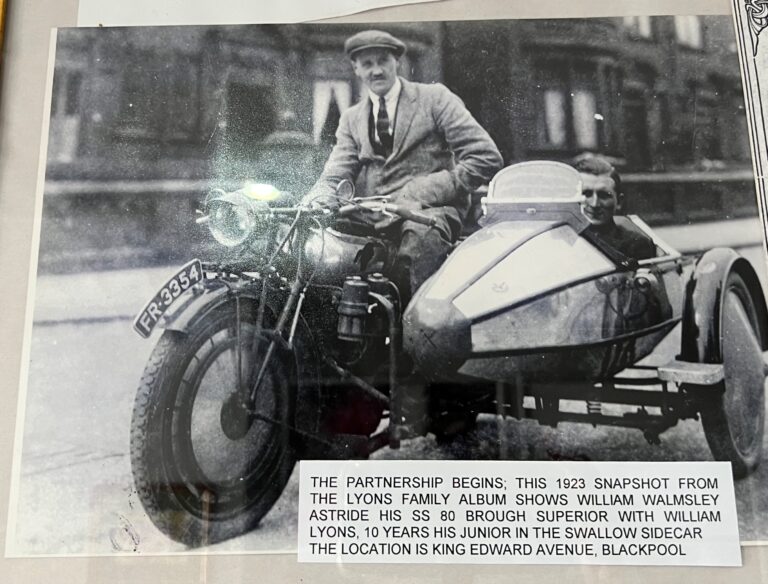 Did you know? William Walmsley's 'Ot-as-Ell', the uniquely aerodynamic sidecar, made waves in the automotive industry for it's sheer efficiency.
Starting Out
On 7 April 1921 the sidecar design was officially registered. Even without advertising, orders came in regularly, outstripping Walmsley's leisurely production rate of one a week.
Having put 'persistent pressure' on Walmsley's father, the decision was made in the kitchen of 23 King Edward Avenue to form the Swallow Sidecar Company – and start serious production. The two Williams had an overdraft of £1000, guaranteed to the extent of £500 each by the two fathers.
If he wasn't convinced on the commercial potential before he was now, realising it had the makings of a real business.
They went into business on 11 September 1922, when William and Bill formed the Swallow Sidecar Company. It opened with eight employees in premises on the first and second floors of 5 Bloomfield Road, Blackpool.
The business quickly grew, converting ex-army motorcycles for civilian use and making sidecars. Soon, two more factory buildings were acquired, at Woodfield Road and John Street in Blackpool.
The Growth of the Business
In a rapidly changing world, the business did well and sales steamed ahead. Soon, they'd outgrown these premises and needed to expand again. Walmsley's dad came to their rescue, selling his coal business to raise the capital to buy works at 41 Cocker Street. They moved into the building in November 1926, renting from his dad at £35 a year.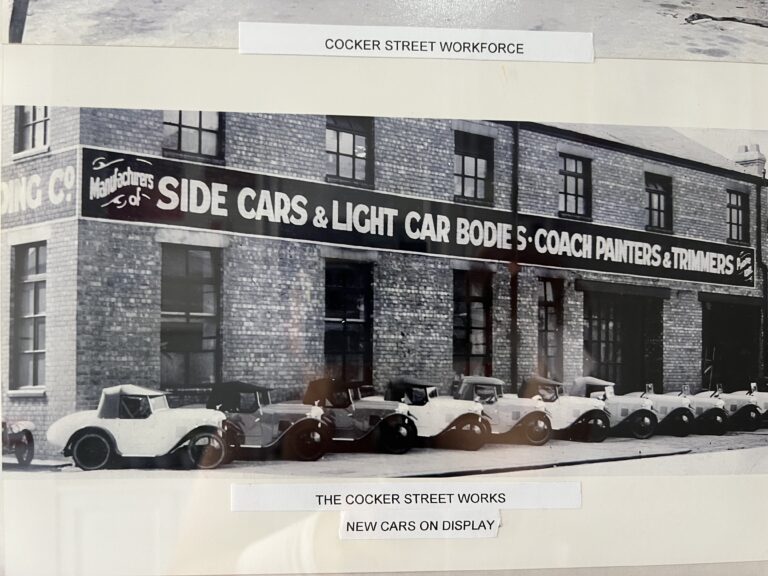 Over the first few years it gradually grew and William Lyons saw an opportunity to develop the business from sidecars to building small cars, the first being the Austin Seven Swallow.
1927 saw a slight change in the company name to the Swallow Sidecar and Coachbuilding Company. They went into the coachwork business, making Blackpool's first locally made Austin Seven Swallow – a two seater 747cc vehicle. They set up a factory on Bloomfield Road (Central Bowling Club premises). Subsequently that moved to a bigger factory on Cocker Street (now named William Lyons House). It's said that their first showroom was on Squires Gate Lane, currently a car wash just over the bridge near the railway station.
This is where their fortunes really took a turn. Soon, the business had an order for 500 of these small cars – but the Cocker Street factory could only make two a day! The Cocker Street building is now a homeless shelter – but it does have plaques acknowledging its history.
Becoming Jaguar Cars
As you'll know, Coventry is the centre of Britain's car making industry, so it made sense for them to relocate there. They'd also reached a point where they were finding it difficult to recruit enough skilled labour in Blackpool. 500 of their Swallows were made there there, then the move was made to a larger factory in Coventry in 1928.
However, their 'SS' logo didn't go down too well in the years around World War Two. Hence the change of name in 1945 – to Jaguar Cars – with the Jaguar SS named after the Seven Swallow.
William Lyons headed up the company until his retirement.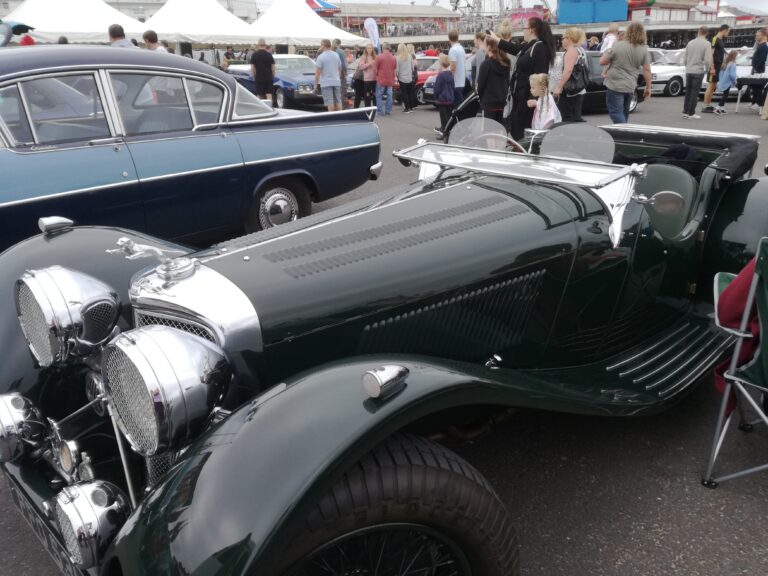 Many thanks…
To Heather at the Berwick Hotel at King Edward Avenue for her help with some of the information and photos used in this piece. Inside the hotel is this fascinating montage of pictures and information about the part the building played in the automotive industry.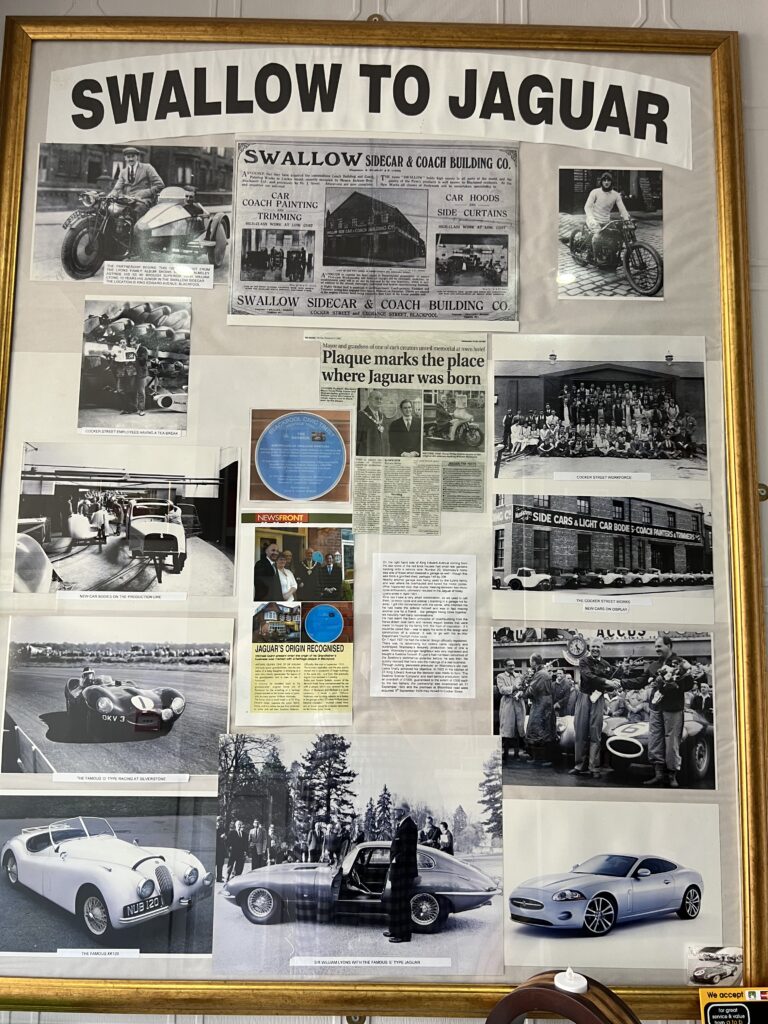 Also to Howard Bentley, member of the Jaguar Enthusiasts Club. He provided some of the detail for this article and this great selection of photos: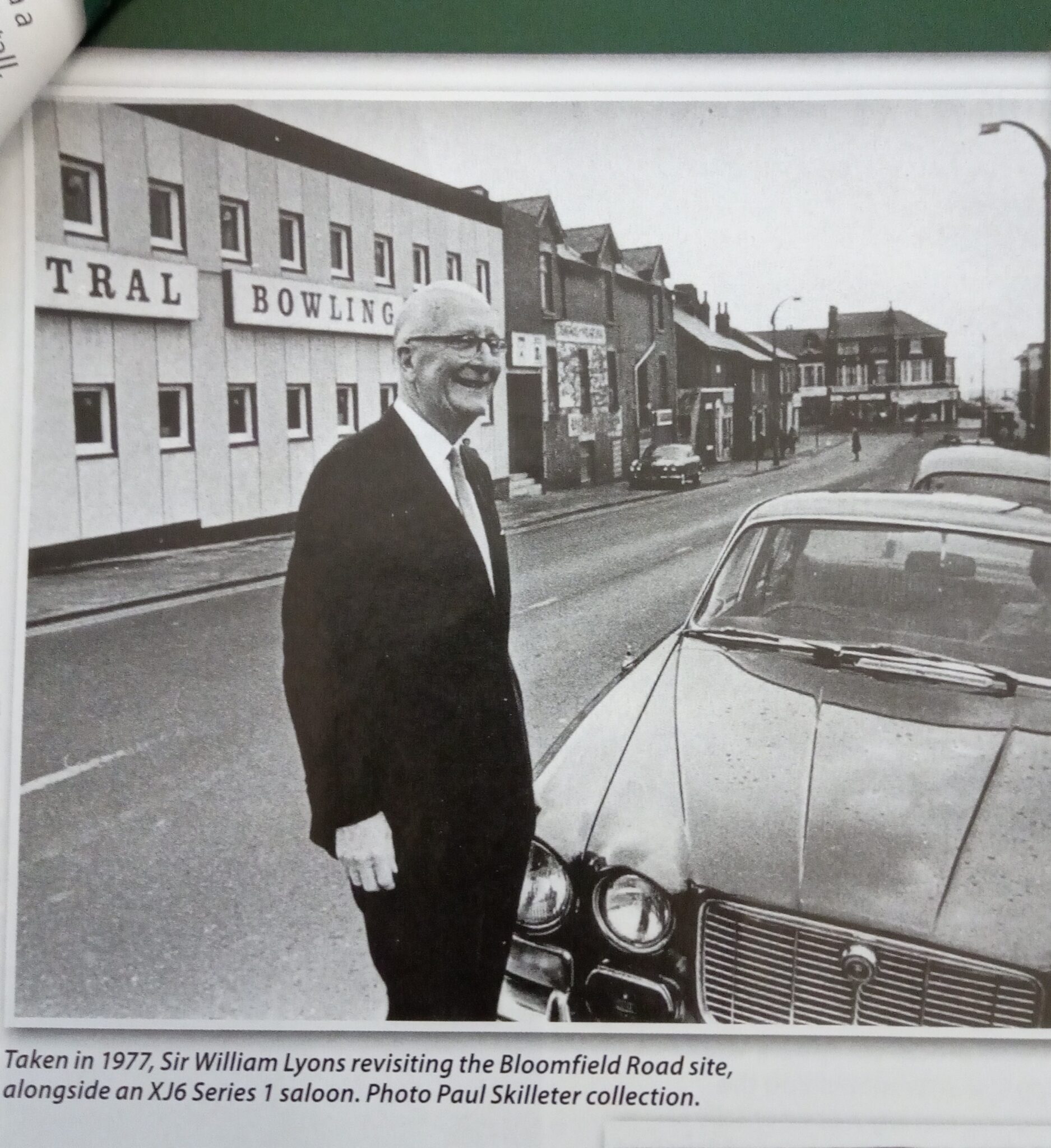 And MANY THANKS once again to Nick Moore and his fascinating History of Blackpool for some of the historical information used in this piece. You can read it here.
There's a lot more detail about this story on the Jaguar Heritage Trust website.
Interested in the wider area and King Edward Avenue? Watch this video, filmed in 2022, walking from the promenade and seafront gardens all the way to the Berwick Hotel.
Looking for somewhere to stay?
Book your stay with the Visit Fylde Coast and StayBlackpool accommodation guide. Know that you'll have a great place to stay with a choice of Trusted accommodation.
All the properties listed on the Visit Fylde Coast websites by StayBlackpool are annually inspected. This means that you can book with confidence, safe in the knowledge of a great stay, somewhere that's safe, clean and legal, at the very best price.
Bookings from these sites are also ultra-low or zero commission. This means that more of the money from your booking helps to support the local economy.
Search for Accommodation
Accommodation you can trust from StayBlackpool
While you're here…
Have a look at the homepage of the Live Blackpool website for more of the latest updates.
Love the Fylde Coast? Sign up for your email newsletter. Packed full of interesting things it arrives in your inbox all 52 weeks of the year.
Join us on Facebook at our Visit Fylde Coast Facebook Group and follow us on Twitter @visitFyldeCoast
Plus hundreds of videos to watch on our YouTube channel – from all over the Fylde Coast!
Booking a stay? Pick a safe, clean and legal place to stay, at the very best price. Book with the Visit Fylde Coast and StayBlackpool guide.