Looking for somewhere to stay for your next break? We've done the legwork so you don't have to. Here's our guide to hotels in Blackpool – King Edward Avenue at North Shore. You'll get a home-from-home welcome at the mainly small, independent hotels, guest houses, bed and breakfast and apartments. Pictured above: StayBlackpool members the Beachcliffe Holiday Apartments.
Where is King Edward Avenue?
It's not far from Gynn Square at Blackpool's North Shore, where Queen's Promenade begins. King Edward Avenue is opposite the north end of the Jubilee Gardens seafront park at the promenade. The seafront here is known as the cliffs, and a bit further north at the boating pool is the Cabin Lift – a handy landmark!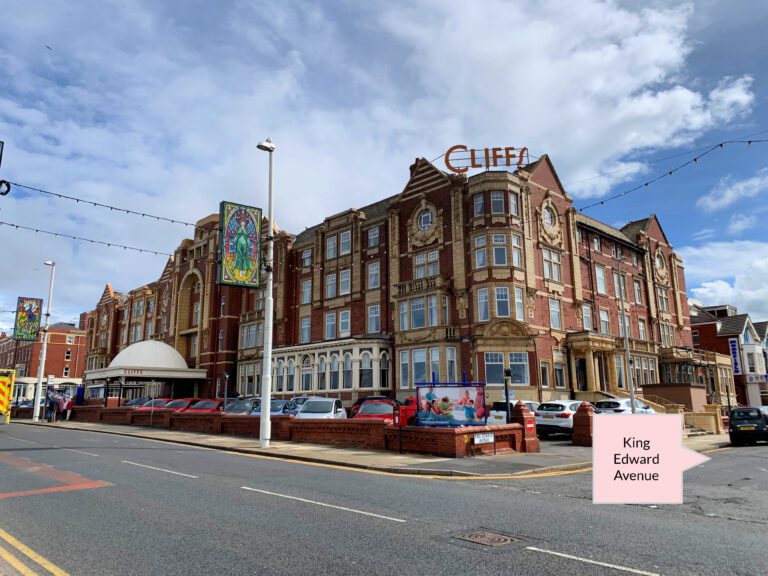 Holiday guests can take advantage of free parking at the individual holiday properties. There's also plenty of nearby parking at Gynn Square Pay and Display car park.
King Edward Avenue is between two big landmark Blackpool hotels – the Savoy and the Cliffs to the north. Here's a Google map showing which area this page covers. Click on the map to explore.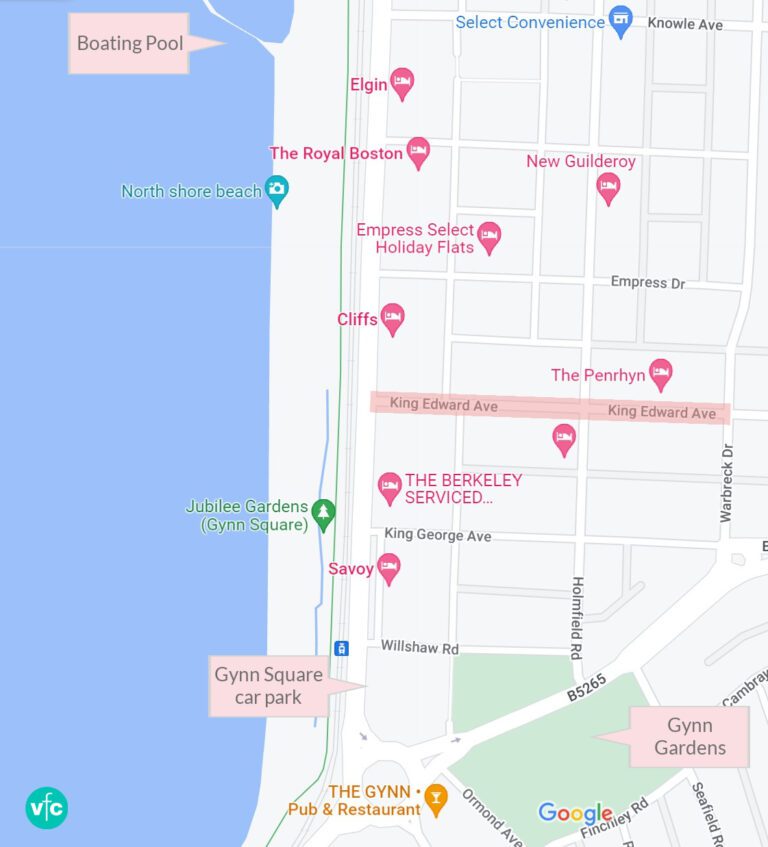 Blackpool Transport operate Fylde Coast service buses and trams. Why not buy a pass then you can enjoy unlimited travel during your stay. There are handy tram stops all along the route and there's one almost at the end of the street.
Not far from the town centre, enjoy a stroll or use public transport.
Enjoy peace and quiet during your stay but the bright lights of central Blackpool are close on hand.
We went to have a look –
Book with StayBlackpool
Book direct for the best price – and show your support for Fylde Coast tourism providers. Browse and choose StayBlackpool Accommodation – for a holiday place that's clean, safe & legal.
StayBlackpool is the independent association for Blackpool hotels and guest houses. With something for all tastes and budgets, choosing one of these accredited properties ensures that the accommodation you choose is exactly what you expect.
All StayBlackpool members are rated with Visit Britain, the AA or Blackpool Approved schemes. Know that where you stay is clean, safe and legal.
Search for Accommodation
Accommodation you can trust from StayBlackpool
More about King Edward Avenue
At first sight this might look like any other street of Blackpool holiday accommodation. But we bet that you didn't know there's an impressive bit of history here, hidden in plain sight here!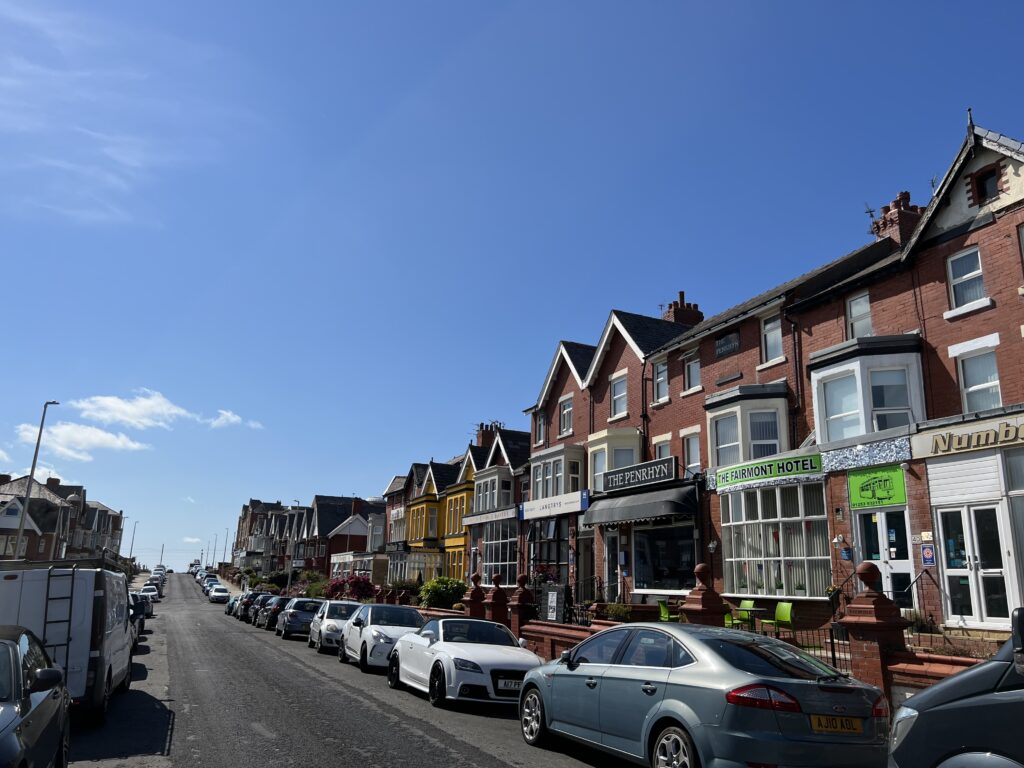 King Edward Avenue is yet another one of those streets that date back to the beginning of Blackpool. You can tell that because the long, straight road is part of the neat grid of streets that form the towns backbone.
But it was only in 1910 when the promenade was built between the Gynn and King Edward Avenue. And, completed in 1911, the sea defences were built without any sheet piles to support them. The boulder clay here was just too dense for any piles to be put in.
It was a few years later, between 1917 and 1919 when the next section of seawall between King Edward Avenue and Red Bank Road at Bispham was built. The 100ft high cliffs here posed a big problem to engineers of the time. In the end they settled on a 12ft thick concrete wall, sunk 7ft into the boulder clay. Old tram rails were used in construction and many surface water outlets were included.
Before the seawalls and highway were built, visitors to Uncle Tom's Cabin had to either hire a carriage or walk from Gynn Square!
King Edward Avenue's Claim to Fame!
At the eastern end of King Edward Avenue, almost at the corner with Warbreck Drive, is an impressive bit of history! It's where William Walmsley was born in 1891 and where he started Swallow Sidecars. Later to become better known as Jaguar cars – it's now the Berwick Hotel.
Choose from a wide variety of accommodation at King Edward Avenue. Some of Blackpool's oldest are here. There are also small, independent hotels, guest houses, bed and breakfast and apartments. You'll get a home-from-home welcome.

While you're here…
Have a look at the homepage of the Live Blackpool website for more of the latest updates.
Love the Fylde Coast? Sign up for your weekly email newsletter. Packed full of interesting things it arrives in your inbox all 52 weeks of the year.
Join us on Facebook at our Visit Fylde Coast Facebook Group and follow us on Twitter @visitFyldeCoast
Plus hundreds of videos to watch on our YouTube channel – from all over the Fylde Coast!
Booking a stay? Pick a safe, clean and legal place to stay, at the very best price. Book with the Visit Fylde Coast and StayBlackpool guide.