If you love Blackpool you're probably familiar with Uncle Tom's Cabin. It's near to the Cabin Lift on the seafront at Blackpool North Shore. It's now one of the popular Ma Kelly's chain, and a place where you can enjoy a drink and live entertainment.
But did you know that there's been an Uncle Tom's Cabin in roughly the same spot since the mid 1800's? Making it one of your favourite seaside resorts oldest attractions!
Uncle Tom's Cabin Today
On 11 August 2017, Uncle Tom's Cabin reopened as Ma Kellys Showboat, where you can enjoy a world of live entertainment. On Thursday, Friday and Saturday nights, Uncle Tom's Cabin comes to life with host Reece Oliver and the Showboat Showgirls.
During good weather you can also enjoy music and liver entertainment outdoors. Bask in the sunshine with a drink of your choice and enjoy the seafront views. Seven days a week – weather permitting!
And Uncle Tom's Sports Bar is open 7 days a week and 365 days a year. Watch all your favourite sports on 42 HD screens – including live sports. Plus a free jukebox, darts and pool.
How Uncle Tom's Cabin Began
We went to take a look at the location in March 2021. It's quieter than usual because Covid lockdown was still in place –
Enjoyed this video? Why don't you subscribe to our Visit Fylde Coast YouTube channel – make sure you don't miss out!
Way, way back in time, from about 1810, gypsies started to camp on the cliffs at North Shore. You might know that the Pleasure Beach began with a gypsy camp and the famous Sarah Boswell? Well Sarah's fame was previously well known here at the cliffs at North Shore. Sadly though, the cliffs were prone to erosion and falling into the sea. Which is why the gypsies moved to South Shore in 1885.
In 1850 a hut was built at the landward side of the cliff path. Here, a Margaret Parkinson sold sweetmeats, nuts and ginger beer. With Sarah Boswell telling fortunes and the bracing sea air, it became a popular spot to visit. Soon, it was even known as 'Little London'.
Margaret's husband Thomas also owned three cottages north of the Gynn. Taking advantage of the opportunity to make some money he developed them into a refreshment house. He was known as Old Tom…
In 1852, American author Harriet Beecher Stowe published 'Uncle Tom's Cabin, or, Life Among the Lowly'. In two volumes, the anti-slavery novel was the second best selling book of the 19th century, following the Bible. A million copies were sold in Great Britain and it's credited with laying the groundwork for the American Civil War.
You can see how 'Old Tom' capitalised on the popularity of the book, and his refreshment house became known as Uncle Tom's Cabin!
Blackpool's First Centre of Amusements
Old Tom realised he was onto a good thing, and soon began to hire entertainers for his venture. There were musicians and dancing on the grass. A wooden dance floor, drinks license and sideshow attractions all added to the appeal. By 1861 it was Blackpool's first centre of amusements – and inspired others to soon follow!
In 1871, local carpenter James Daniels carved a wooden Uncle Tom from the story and mounted it on the roof of the assembly room.
And by 1880 and '81 Uncle Tom's was running an 18 week season of entertainment, artists and music!
Poor Foundations for Uncle Tom's Cabin
By the mid to late 1800's, trade is doing incredibly well at Uncle Tom's. But, incredibly, there wasn't a proper road to it! From north of the Gynn people had to either pay for a carriage or walk the rest of the way.
An even bigger problem is those eroding cliffs.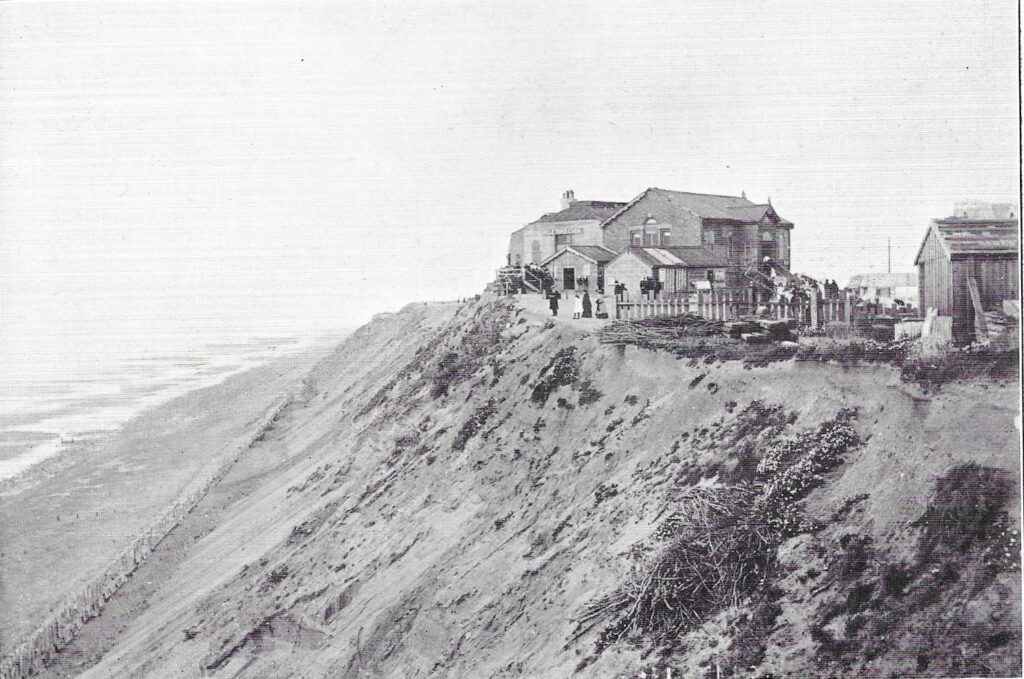 In 1890 the tide and weather set off some quite bad erosion, leading to about 40 yards of the cliff falling into the sea. The smoking room at Uncle Tom's slipped into the sea in June 1901.
In 1902 there was another serious landslip and in 1903 the figurehead came down.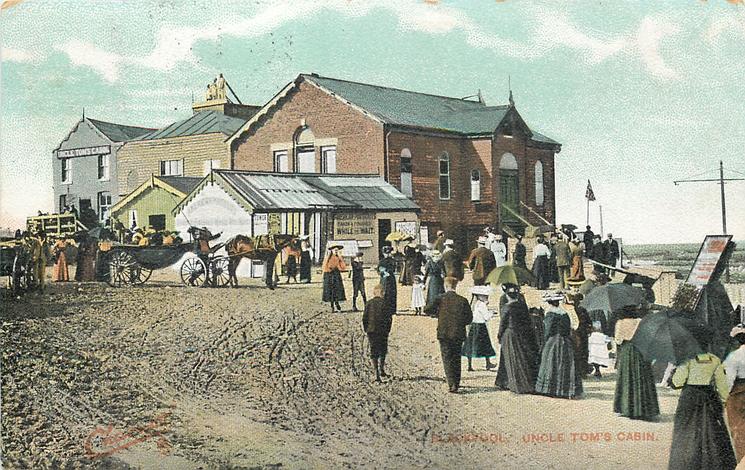 Sadly, on 4 October 1907 Uncle Tom's was forced to close and a lot of it collapsed into the sea. On 14 January 1908 what was left of the original building was finally demolished. The first site was roughly where the boating pool and cabin lift is today.
This marks the point when it moved to what's now Queen's Promenade, and where it still trades today!
While you're here…
What do you think? Why don't you join in and leave a comment below?
Have a look at the Live Blackpool website homepage for more of the latest updates.
Love the Fylde Coast? Sign up for your weekly email newsletter. Packed full of interesting things it arrives in your inbox all 52 weeks of the year.
Join us on Facebook at our Visit Fylde Coast Facebook Group
Don't forget to follow us on Twitter @visitFyldeCoast