Looking for somewhere to stay for your next break? We've done the legwork so you don't have to. Here's our guide to hotels in Blackpool – Queen's Promenade at North Shore.
Where is Queen's Promenade at North Shore?
It's official name is the A584 Queen's Promenade but we've also said 'North Shore' so you know where we mean! All the seafront is called 'Promenade', from Gynn Square to beyond the Pleasure Beach. And we don't think it's clear! Queen's Promenade is all the way from Gynn roundabout to the tramway intersection near Anchorsholme Park at Cleveleys.
Anyway, call it Queen's Promenade or North Shore, this bit of Blackpool seafront just north of Gynn Square is a great place to stay! On the tramway with plenty of stops nearby, it's handy for the town centre and attractions.
At one end is the attractive Gynn Square with gardens and the annual illuminations feature on the roundabout. Head north along the seafront, passing Jubilee Gardens and the Cliff Lift and you'll come to the casino.
Here's a Google map showing which area this page covers. Click on the map to explore.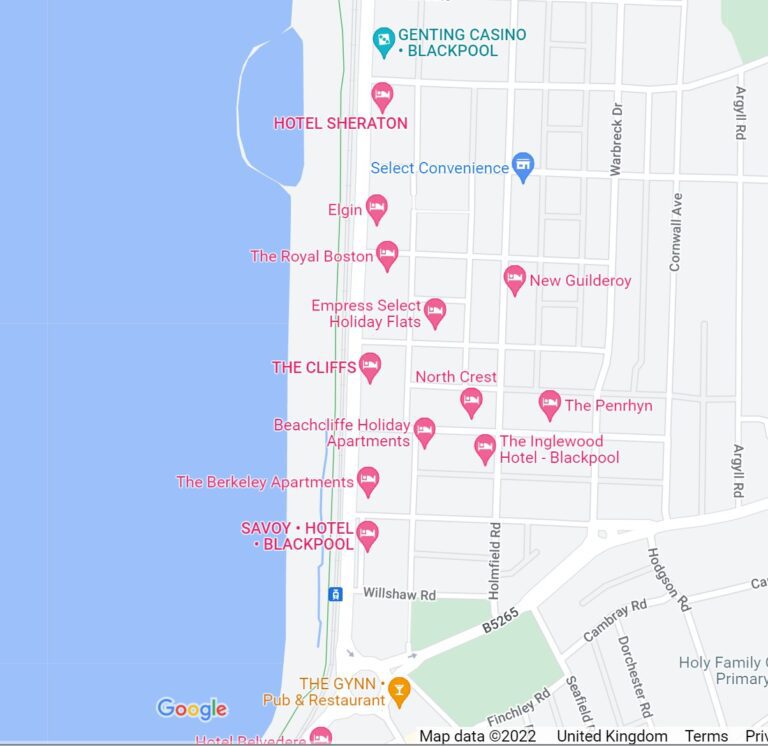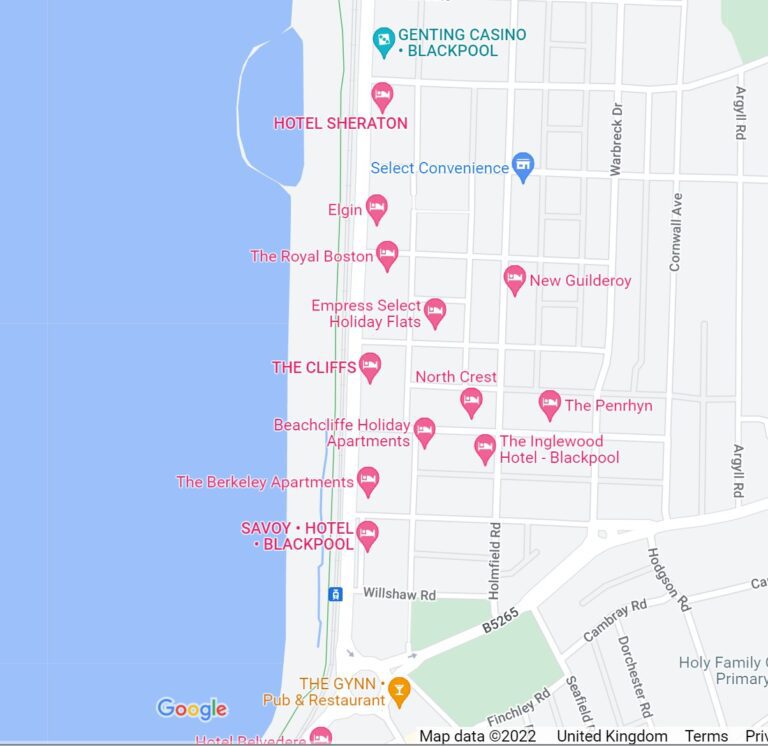 Hotels in Blackpool – Queen's Promenade at North Shore
Choose from a wide variety of accommodation at Blackpool Promenade. Some of Blackpool's oldest and finest hotels are here. There are also small, independent hotels, guest houses, bed and breakfast and apartments. You'll get a home-from-home welcome.

We went to have a look –
Enjoyed this video? Why don't you subscribe to our Visit Fylde Coast YouTube channel – make sure you don't miss out!
Hotel guests can take advantage of limited free parking at the individual holiday properties. There's plenty of nearby parking at Gynn Square Pay and Display car park.
North Shore is a handy place to stay. With glorious views overlooking the Irish Sea, you'll see the very best of the sunsets.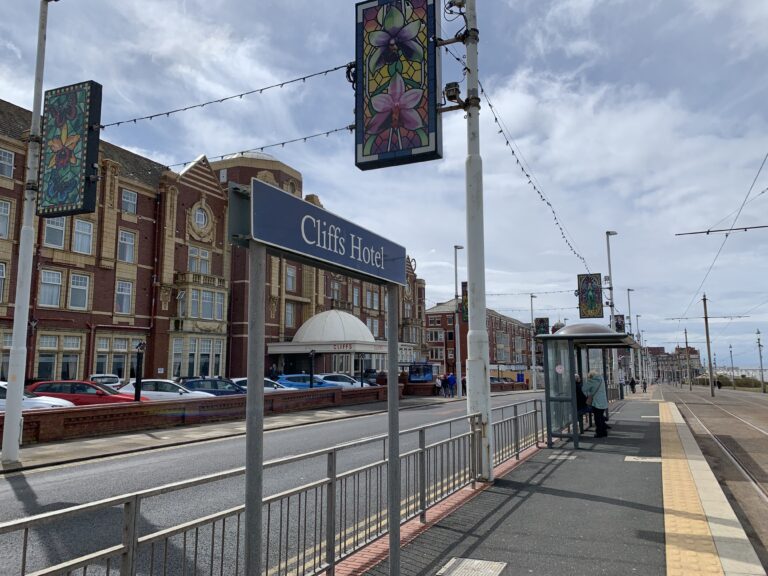 Blackpool Transport operate Fylde Coast service buses and trams. Why not buy a pass then you can enjoy unlimited travel during your stay. There are handy tram stops all along the route.
Not far from the town centre, enjoy a stroll or use public transport.
At the highest spot on the promenade, the views here are amazing. See all the way to Cleveleys and enjoy the sunsets.
The Blackpool Tower, Winter Gardens, theatres, bars and shops of central Blackpool aren't far away.
Book with StayBlackpool
Book direct for the best price – and show your support for Fylde Coast tourism providers. Browse and choose StayBlackpool Accommodation – for a holiday place that's clean, safe & legal.
StayBlackpool is the independent association for Blackpool hotels and guest houses.
And with something for all tastes and budgets, choosing one of these accredited properties ensures that the accommodation you choose is exactly what you expect.
All StayBlackpool members are rated with Visit Britain, the AA or Blackpool Approved schemes. Know that where you stay is clean, safe and legal.

More about Queen's Promenade
After years of difficulties and complaints, the Blackpool Parade Act for Promenade Development passed through Parliament in 1865. It gave the Council control of the whole seafront, to build sea defences and improve it. The Queen's Promenade end of it dates back to the late 1890's/early 1900's.
Local Landmarks
Gynn Square was redesigned just over 100 years ago. In 1921 roads were reconfigured so the promenade and Fleetwood tramways could be joined.
Just before you reach the Casino, you won't miss the Cliff Lift and Boating Pool. Once the site of days out in the sun, the boating pool is now a go-kart track. Sadly the Cliff Lift no longer works, but it's a familiar sight on the skyline.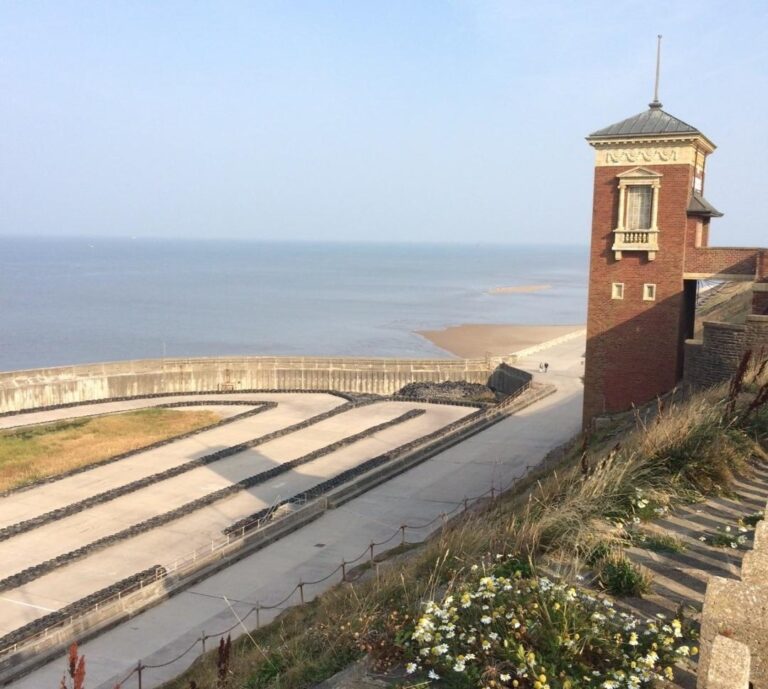 In 1906 Arthur Townley built the Castle at Blackpool North Shore for his wife – unfortunately she stayed in France! The couple occupied the house for a mere 9 months during 1929.
During World War 1 it housed Belgian refugees – otherwise the Castle stayed empty until it was auctioned off in 1935. From 1946 it was a Picnic Centre for the National Federation of Old People's Associations. Next the Castle was the home of Blackpool and Fylde Motor Club, becoming the Castle Casino in 1965. With various identities since then it's now the Genting Club.
Gardens and Hotels
This is a very pleasant area of Blackpool seafront. There are plenty of large Victorian hotels and open green spaces.
Gardens occupy most of the area around the roundabout at Gynn Square. Continue heading north along the seafront and you'll enjoy the large, slightly sunken Jubilee Gardens. Beautifully maintained by volunteers, enjoy their work and the lawns and borders. It even boasts a waterfall!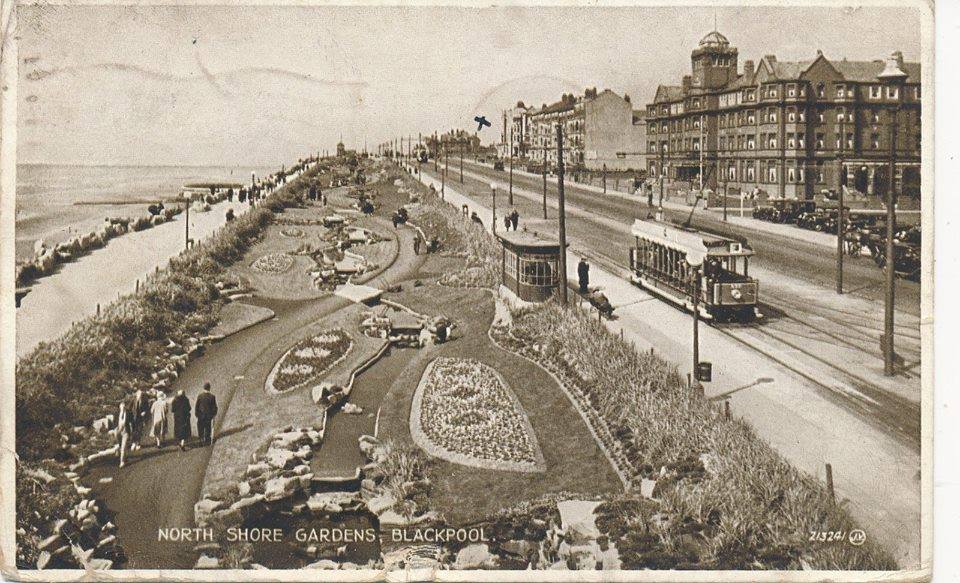 The large, impressive hotels of Queens Promenade overlook Jubilee Gardens and of course the view over the sea. Most of them date back to the late 1800's and early 1900's.
Now called the Maples Hotel, what was originally the Mount Hotel was the first to be built on Queen's Promenade. The Berkeley Hotel followed soon after and the Philadelphia Hotel in 1933.
But it wasn't until 1932 that Queen's Promenade was extended from Norbreck to Anchorsholme.
MANY THANKS to Nick Moore and his fascinating History of Blackpool for historical information used in this article. You can read it in full here.
Memories of Queen's Promenade
Many of our readers have old treasures and collections of postcards, brochures and receipts. Have you got any old literature relating to Queen's Promenade? If you have please email it to jane@theRabbitPatch.co.uk and we'll include it here. Full credit given of course.
While you're here…
What do you think? Why don't you join in and leave a comment below?
Have a look at the homepage of the Live Blackpool website for more of the latest updates.
Love the Fylde Coast? Sign up for your weekly email newsletter. Packed full of interesting things it arrives in your inbox all 52 weeks of the year.
Join us on Facebook at our Visit Fylde Coast Facebook Group and follow us on Twitter @visitFyldeCoast
Plus hundreds of videos to watch on our YouTube channel – from all over the Fylde Coast!
Booking a stay? Pick a safe, clean and legal place to stay, at the very best price. Book with the Visit Fylde Coast and StayBlackpool guide.