Find Anchorsholme Park between the seafront and main highway/tramway at the northernmost end of Blackpool seafront.
As you head north towards Blackpool's boundary with Cleveleys you pass a vintage tram stop (and public toilets) at Little Bispham. From here the coast road (Princes Way) splits from the main highway adjacent to the tramway (Queen's Promenade). The park is the green area in between.
The address and postcode for the park is Anchorsholme Lane West, Thornton Cleveleys, FY5 1LY. It's directly opposite Anchorsholme Lane Tram stop, on the line between Blackpool and Cleveleys/Fleetwood.
The New Look Anchorsholme Park
After being closed for several years, the official opening day of the park was Monday 20 July 2020, after completion of United Utilities' £80 million waste water project. With the safety fencing down, it's accessible once again to residents and visitors.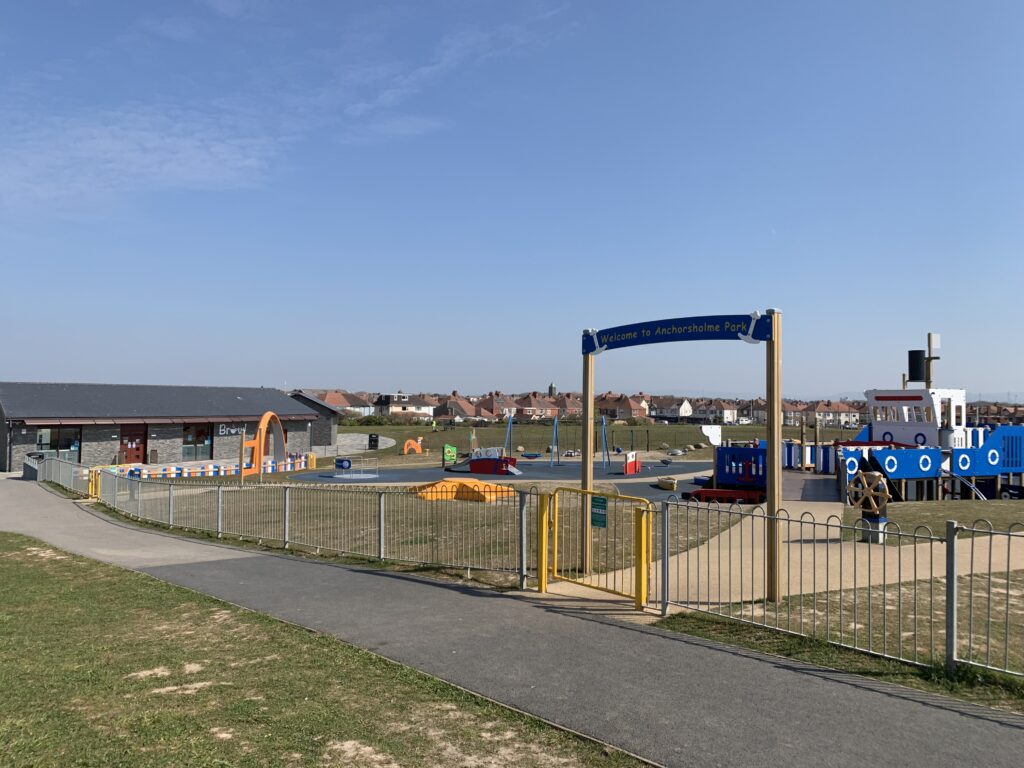 Working closely with Blackpool Council parks team, ward councillors and the Friends of the Park, United Utilities' investment has seen the green space beside the sea at Anchorsholme Park significantly enhanced.
There's a new café, outdoor seating areas, sports areas, music and a performing arts space for events and activities. The new playground is fully inclusive for all children.
Visit Fylde Coast went along to the opening on Monday 20 July 2020. An amazing park but what a shame that the sun didn't manage to shine for the event! This video is from the opening event, including information about the new sewage related works and much more –
Enjoyed this video? Why don't you subscribe to our Visit Fylde Coast YouTube channel – make sure you don't miss out!
We've been back again, on a sunny day twelve months later. Things are bedding in and more work has been done on the public amenities. Incredibly, at the time of making this film, a crew were making Andor, a Star Wars spin-off, on the promenade directly opposite!
Amazing Park, amazing facilities
Cllr Paul Galley and Cllr Tony Williams are the local Ward Councillors. They said: "After so much hard work by so many we're delighted that we can now enjoy the park and its amazing facilities. Including an incredible play area, great cafe and in time (as lock down allows) the use of the sports areas and amphitheatre. Anchorsholme once more has a park that can be used and enjoyed by all the community. It's a feature we can all be proud of."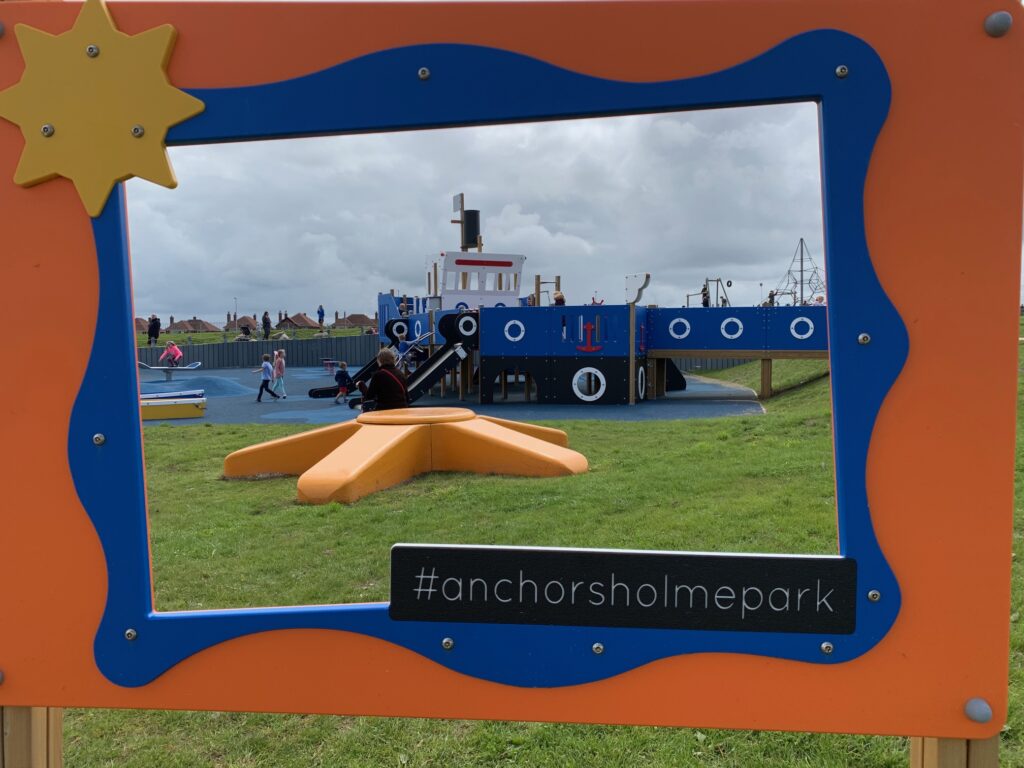 The redevelopment of the park was a key community project. United Utilities' has upgraded the sewer network in the town so less wastewater escapes into the Irish Sea when it rains heavily. Work includes a huge new underground tank and pumping station under the park. Plus laying a new, longer outfall pipe to carry wastewater further out to sea, away from where people swim.
Steve Wong from United Utilities said: "We are immensely proud of the work we have done, both below and above ground. We're leaving behind a completely revamped park for everyone to enjoy."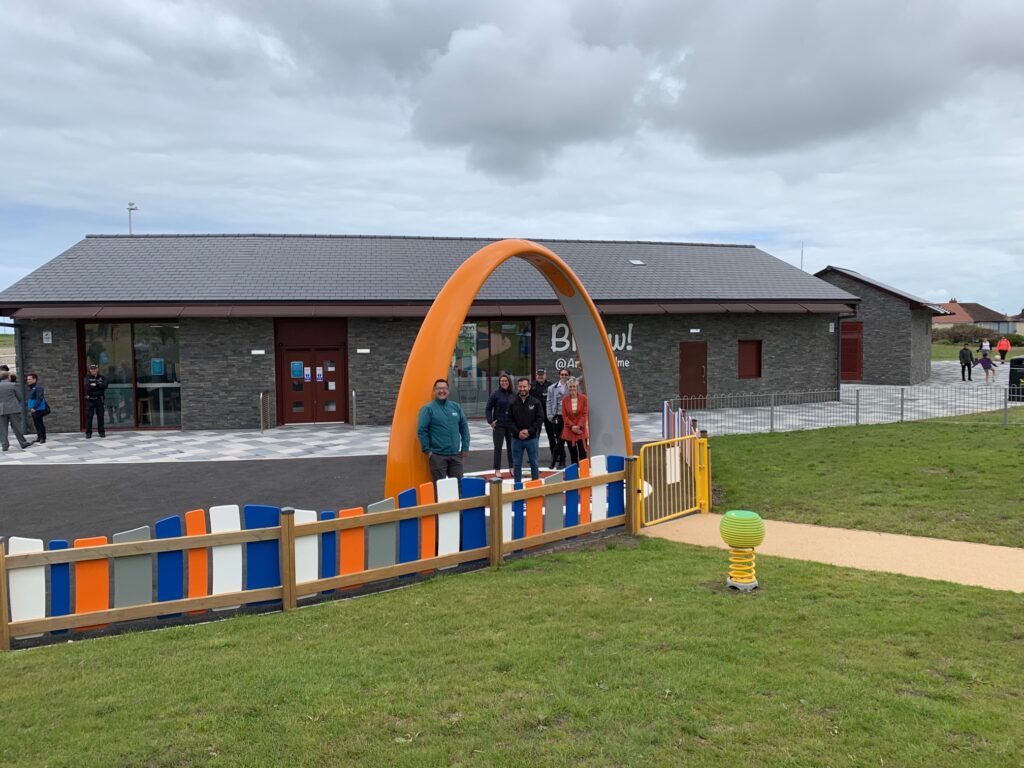 The official community open day for the park was cancelled because of the pandemic. However, both Blackpool Council and United Utilities are committed to delivering a fantastic community event at some time in the future.
Brew Cafe at Anchorsholme Park
The new Brew café is operated by Blackpool Catering Services. Enjoy a variety of snacks, food, drink and ice-creams in the sit-in cafe or to take-away.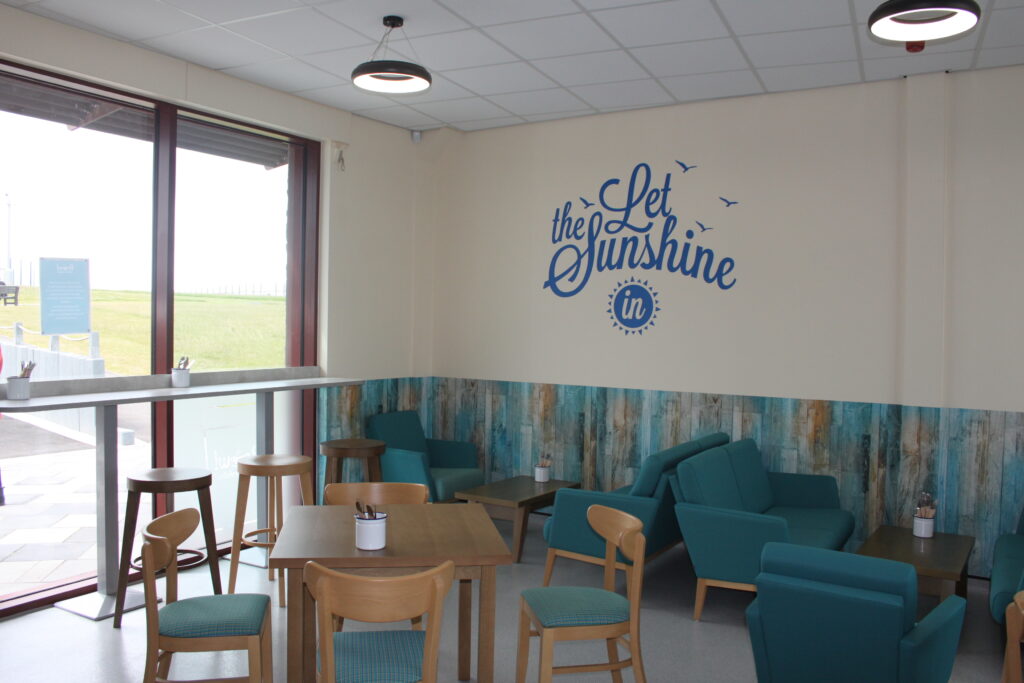 Cafe opening times are:
Mon-Fri: 09.30-17.30 Mid March – Mid October
Mon-Fri: 10.00-15.00 Mid October – Mid March
Weekends: 09.30-18.30 March – October
New Playground at Anchorsholme Park
While the construction works were taking place, Blackpool Council worked with the local community to establish the plans for a new park, including the new café, multi-use games area and improved open space. Blackpool Council and United Utilities funded the playground budget of £240,000.
The new play area aims to be an fully inclusive, accessible place where all children can play, explore and have fun. It's designed to engage youngsters with special needs and disabilities.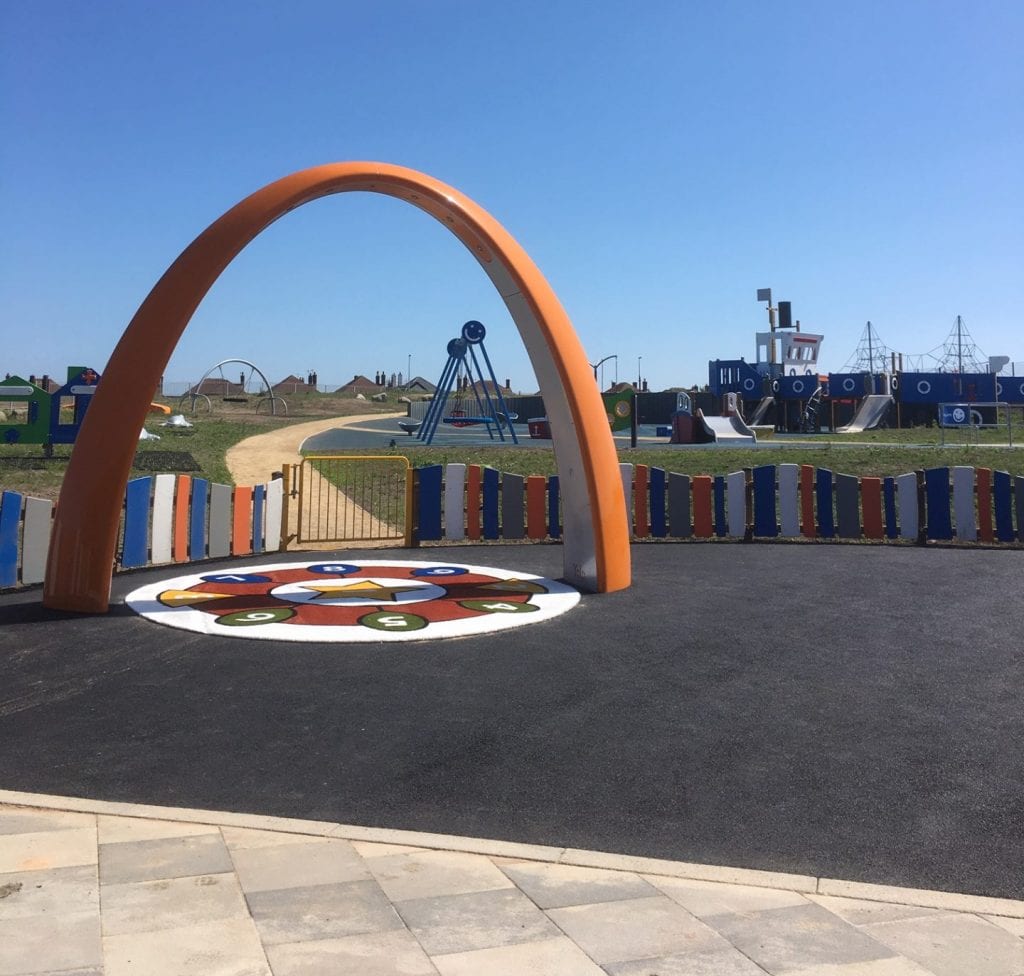 The team is also working towards the park becoming an approved PiPA (Planning Inclusive Play Areas) park. This means inclusivity is designed into all elements of the play area including:
wheelchair access,
quiet sensory spaces and equipment
with special adaptations that make play more accessible to all.
Friends of Anchorsholme Park
There are lots of opportunities for volunteering and get togethers, with the Friends of Anchorsholme Park. If you want to make a difference and have great fun at the same time, get involved!
Re-opening of Anchorsholme Bowling Club
The new Bowling Club in Anchorsholme Park opened in October 2017 with a special event to mark the occasion.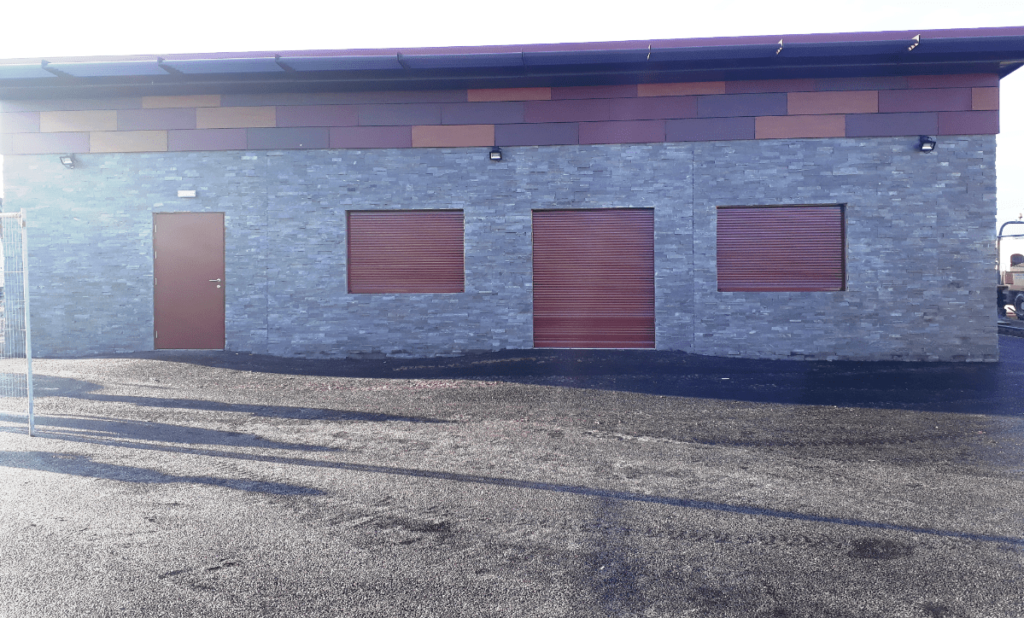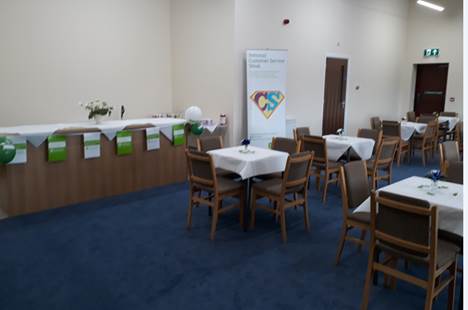 Members of the Club dealt with some challenges during the construction work which was taking place very close to the club at Anchorsholme Park.
There's so much to offer at the new venue. It's a great area for outdoor bowls, plus indoor Bowls, whist and dominoes during bad weather. There's a new kitchen facility, toilets and a large indoor space.
The club has many social events and there's a great sense of community support and a friendly, welcoming atmosphere.
It's suitable for anyone with a disability and the club welcome people to come along and see the new building, and meet new friends.
The site team worked very closely with the club members to create the luxury new home for them. It's a big improvement on their old club house (below).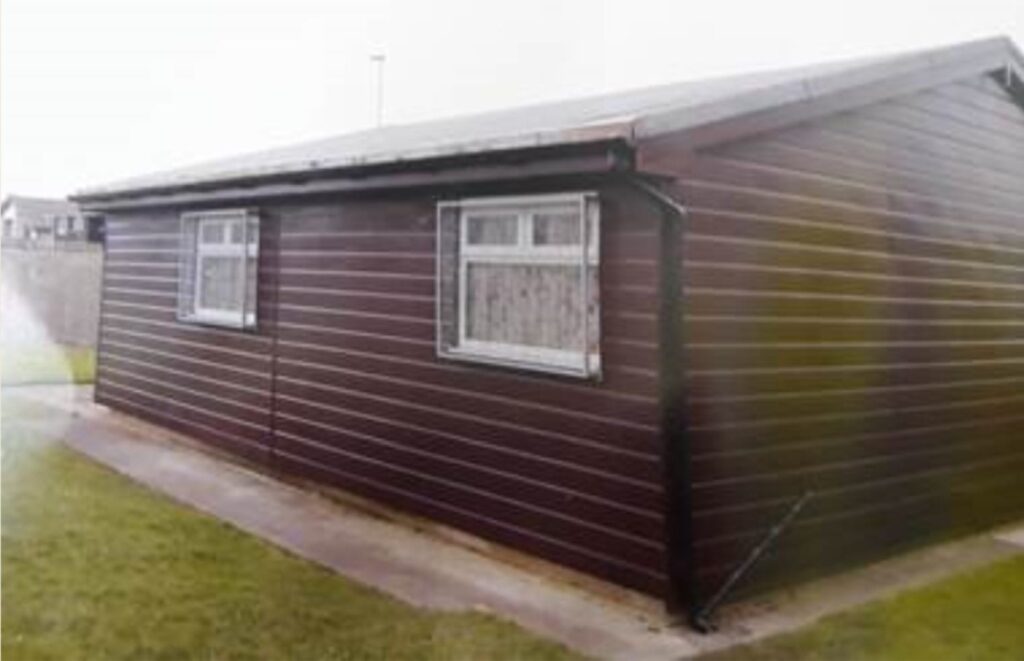 How and Why Anchorsholme Park has been Redeveloped
The next photo is an aerial view of Anchorsholme Park in March 2020. Although complete, the park was still closed at the time because of coronavirus restrictions.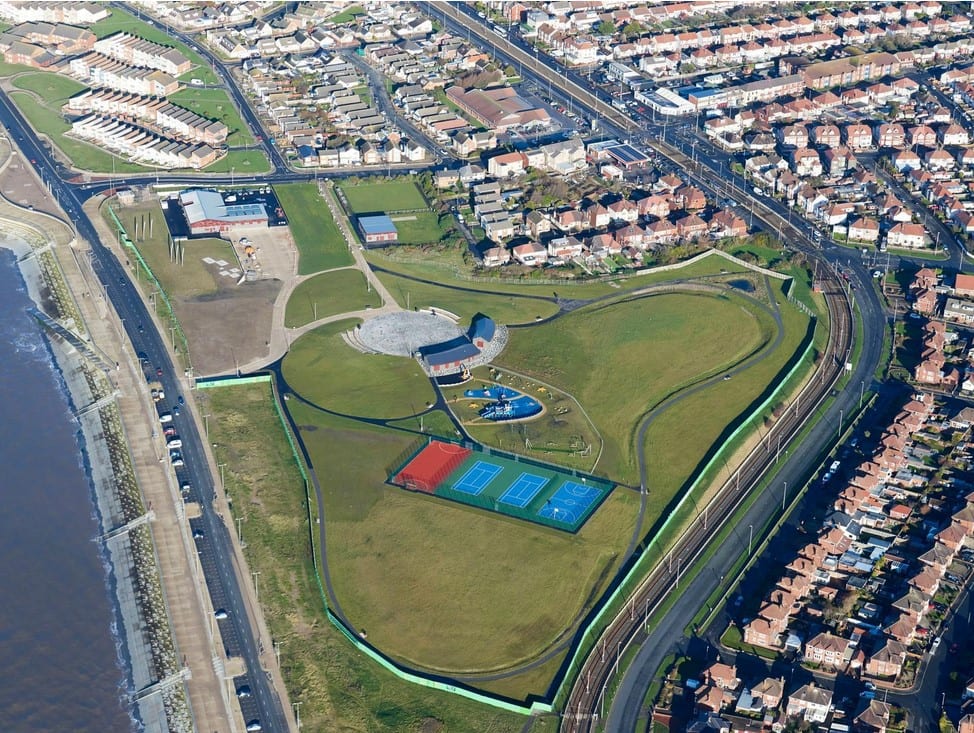 We also went to have a snoop and see what we could see in mid March. The answer's not much! Take a look at our Video Diary of 17.3.20 –
Enjoyed this video? Why don't you subscribe to our Visit Fylde Coast YouTube channel – make sure you don't miss out!
Works in Anchorsholme Park
Two separate construction projects have been taking place for a few years, using most of the green space at Anchorsholme Park.
Balfour Beatty has built a new sea wall at Princes Way using the compound nearest to the tram stop as their base.
United Utilities has carried out £200m of work to improve bathing waters. They've been working behind the green fence and on the beach from 2015 to 2020.
In this photo you can see both projects when they were in full swing –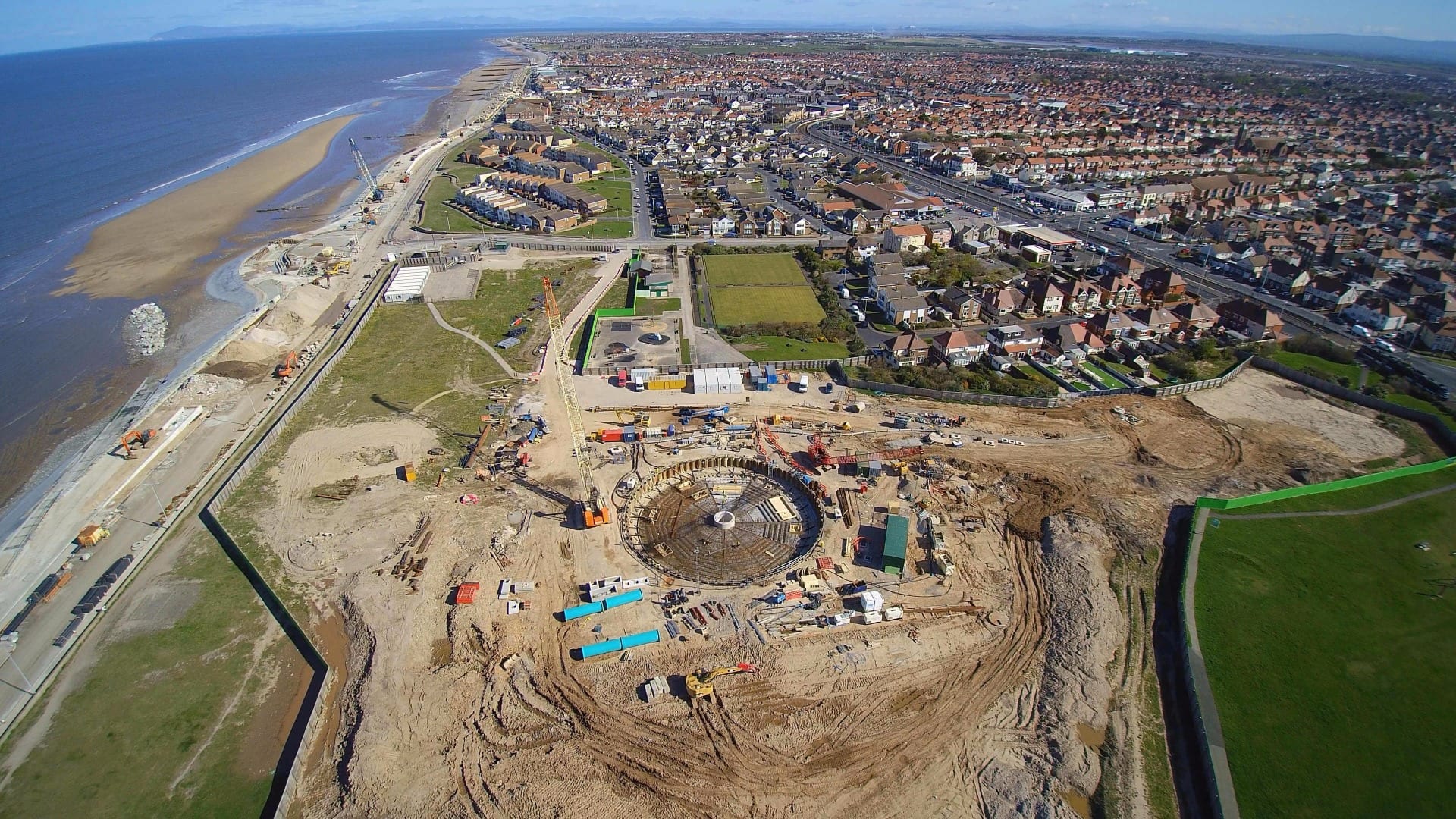 Anchorsholme Park in Days Gone By…
This is how Anchorsholme Park used to look before the diggers moved in… It's also where the once famous Cleveleys Hydro Hotel was to be found – although that was more where the adjacent 'pointy-roofed' houses are nearby.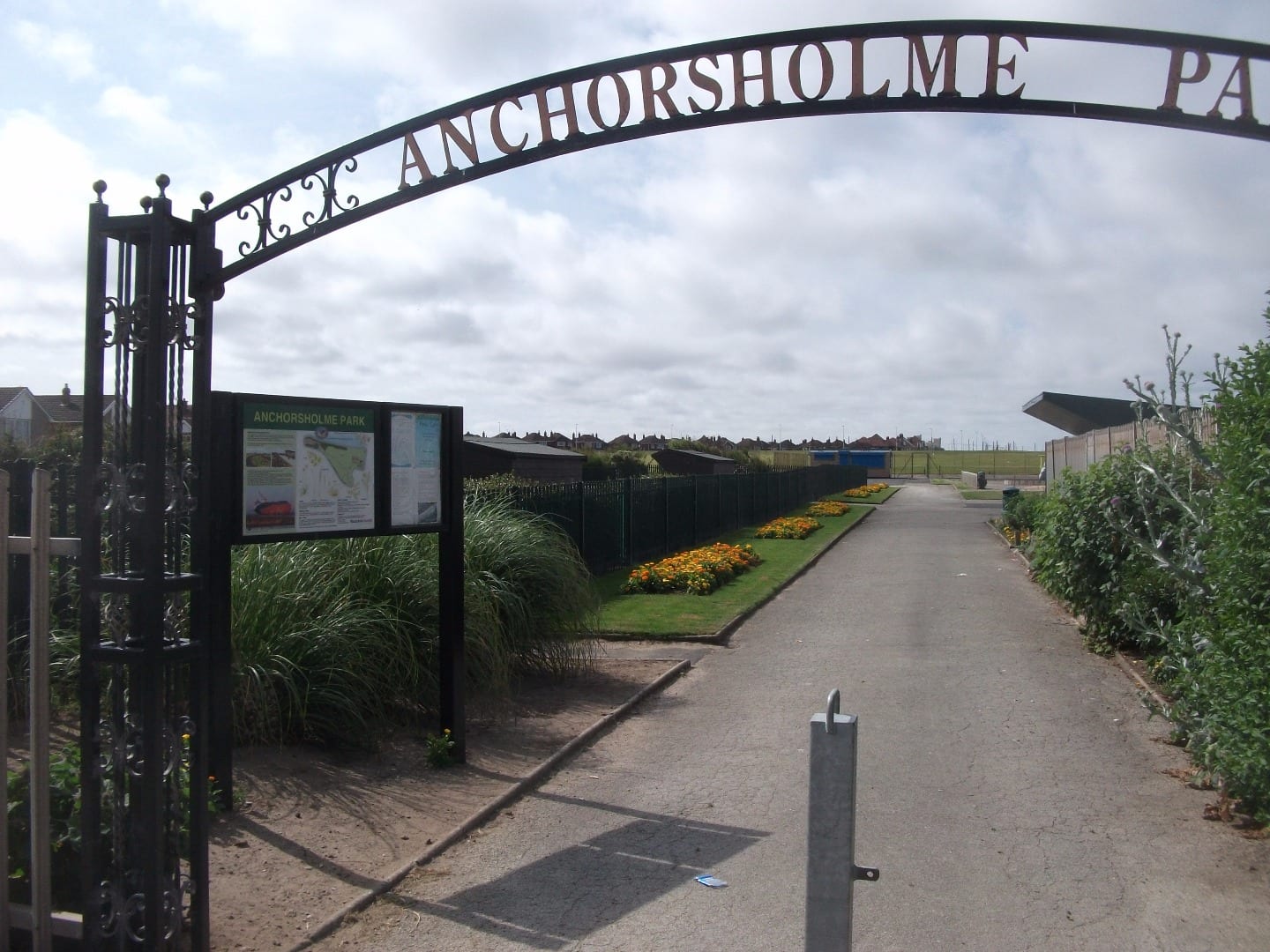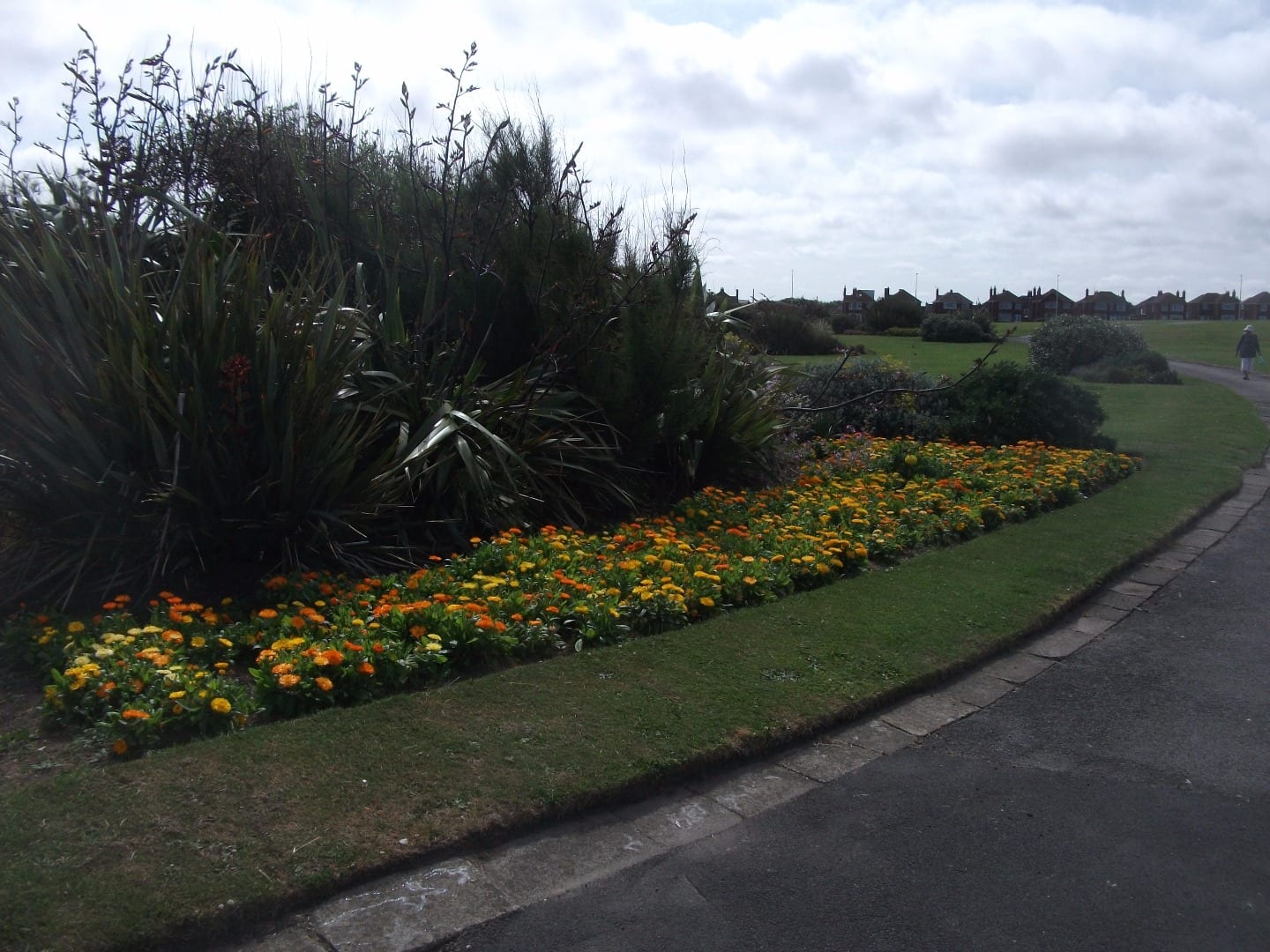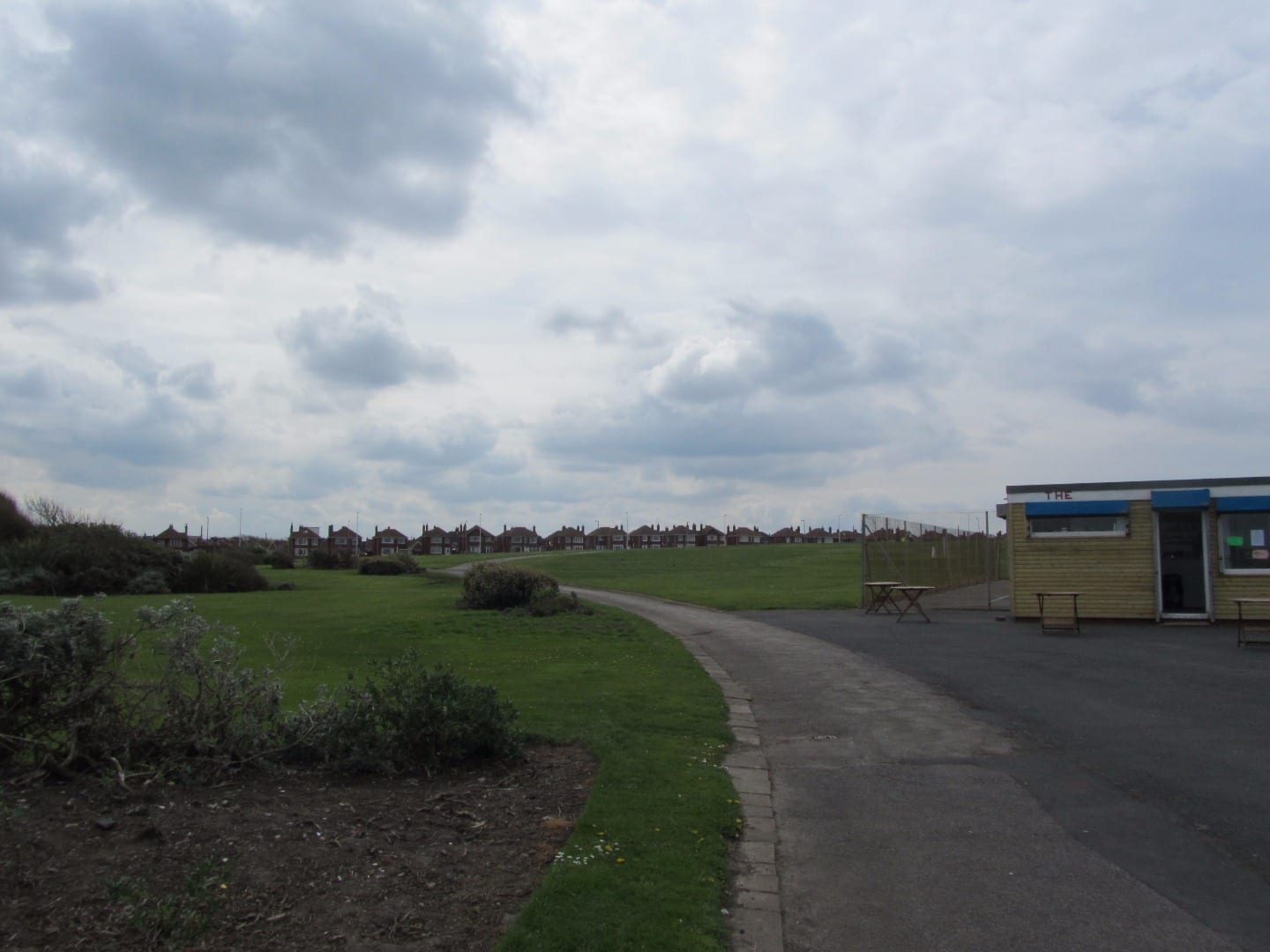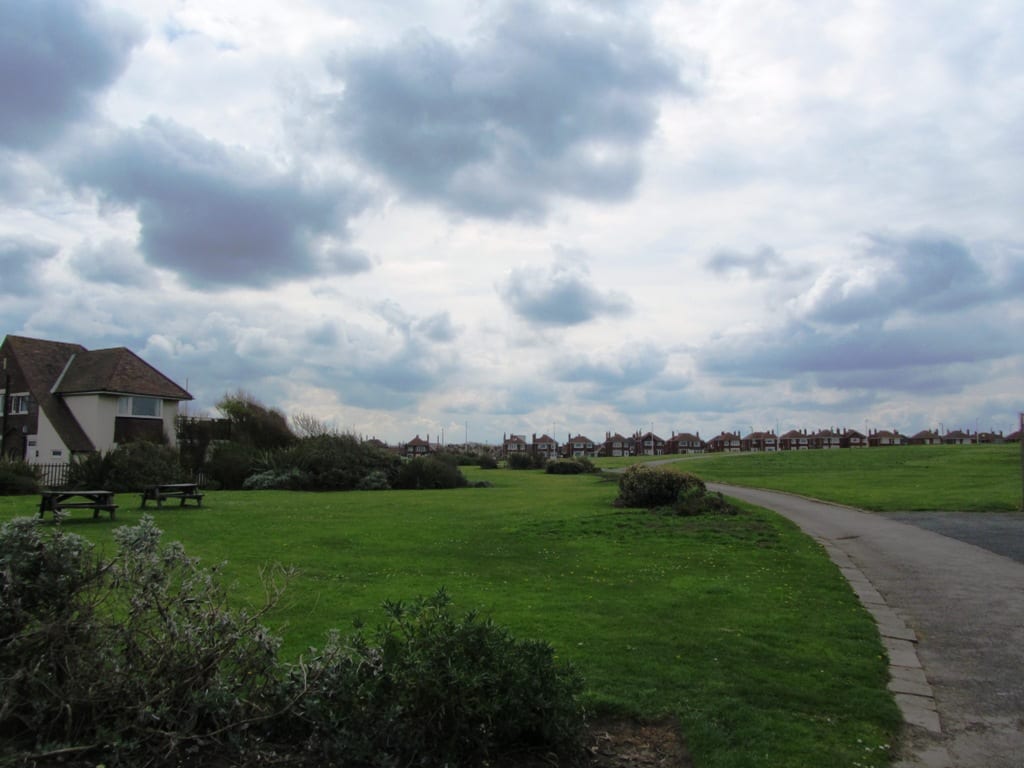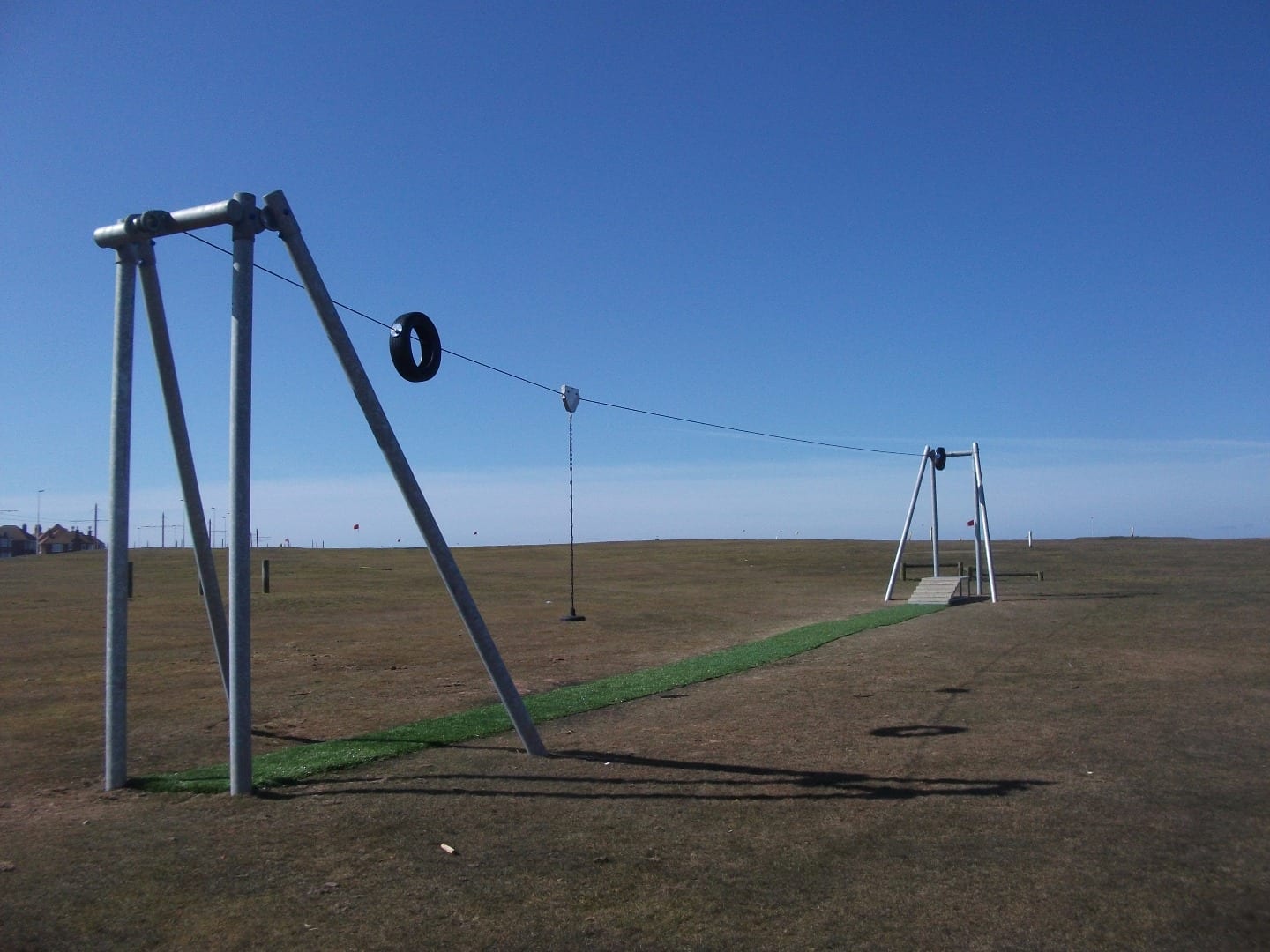 While you're here…
WHAT DO YOU THINK? Why don't you join in and leave a comment below?
Have a look at the homepage of the Live Blackpool website for more of the latest updates.
Love the Fylde Coast? Sign up for your weekly email newsletter. Packed full of interesting things, it arrives in your inbox all 52 weeks of the year.
Join us on Facebook at our Visit Fylde Coast Facebook Group
Don't forget to follow us on Twitter @visitFyldeCoast