Great news! After a ten year absence deckchairs are back again in Blackpool this summer! Hire one for a traditional afternoon out on the beach or promenade. Find them at the northern side of Central Pier.
Enjoyed this video? Why don't you subscribe to our Visit Fylde Coast YouTube channel – make sure you don't miss out!
Deckchairs are Back in Blackpool!
Local businessman, Andrew Beaumont, saw the potential in a summer of staycation holidays. In 2021 he leased a section of the Promenade from Blackpool Council to operate his deckchair business.
Andrew and his family operate their business of 500 deckchairs and windbreaks from the section of the Promenade between Central Pier and the RNLI station.
Beach-goers can pick chairs with the traditional blue and white or red and white stripes. There are also some with tangerine stripes – to match the town's football club colours.
With prices starting from £3 for a day's hire there's no better way to soak up a sunny day in Blackpool. They're available to hire every day, weather permitting.
Did you know? In the United States, an early patent for a folding chair was by John Cham in 1855. Folding wooden chairs with woven or cane seats and backs, of the type now known in the UK as "steamer chairs", began to be used on ocean liner decks from about the 1860s, and were known at the time as "deck chairs".
Andrew from Blackpool Deckchairs said: "Back in the 80s and 90s I spent many years hiring out deckchairs in the Blackpool. They were very much a part of my childhood and working life so it's great for me to be able to take a trip down memory lane. In 1989 as a 16-year-old it was my first job, in between leaving school and preparing to go back for A-levels.
"It's great that Blackpool Council has given me the opportunity to re-introduce the deckchair to Blackpool sands. They've had a really positive response from locals and visitors."
Check the Weather and Tides
If you're planning a day on the sands, you'll want to know what the weather is doing! You'll also want to know whether the tide is in or out. That said, there's a bit of beach close to the deck chair base which stays dry at high tide. So you're mostly OK to soak up the sun!
Return of a Seaside Tradition
John Moore took out the first patent for adjustable and portable folding chairs in 1886 – they type we know as deck chairs. He began making them in Macclesfield.
The first successful deckchair hire business began in Margate in 1890, and a Mrs Rose Osborne saw the opportunity to bring them to Blackpool. She made so much money that Blackpool Corporation bought her out in 1921 to do it themselves!
At one time they had more than 27,000 chairs of their own, stored and repaired at Harrowside garage. It was a sad day in June 2014 when the last 6000 were sold off to a private company.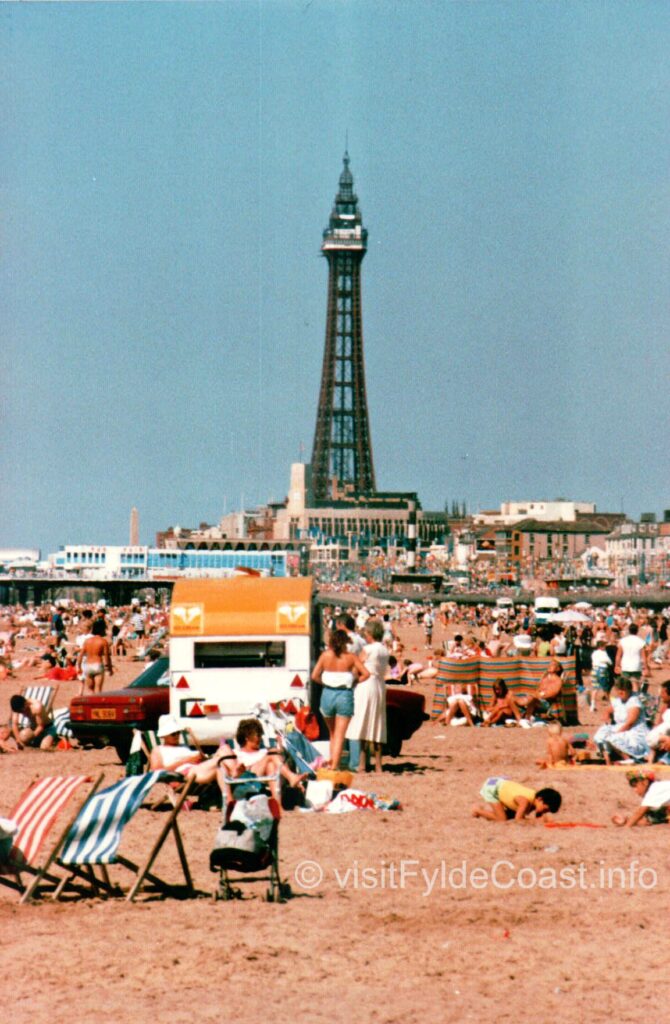 While you're here…
Have a look at the homepage of the Visit Fylde Coast website for more of the latest updates.
Love the Fylde Coast? Sign up for your weekly email newsletter. Packed full of interesting things it arrives in your inbox all 52 weeks of the year.
Join us on Facebook at our Visit Fylde Coast Facebook Group and follow us on Twitter @visitFyldeCoast
Plus hundreds of videos to watch on our YouTube channel – from all over the Fylde Coast!
Booking a stay? Pick a safe, clean and legal place to stay, at the very best price. Book with the Visit Fylde Coast and StayBlackpool guide.