There's SO much to see and do in the UK's favourite resort that your money could run away with you! So we've put together some ideas for Cheap Days Out in Blackpool – to make your money go further!
How to have Cheap Days Out in Blackpool
We've got a keen eye on the pennies on this page, with the added bonus that many of these ideas are quite nostalgic too. Relive your own childhood days and make memories with the children of today. Hark back to the Good Old Days of the traditional British seaside and try out some of these fun and cheap things to do!
Pack a Picnic (and drinks)
There's food on every corner in Blackpool and if you tried everything you liked the look of you'd spend a fortune! Keep the cost of meals down by packing a picnic before you set off. Bring plenty of food to keep you full for the day – so you can splash out on a treat or two.
Make sure you bring plenty of drinks too. Use empty cordial bottles and fill with water or diluted cordial and make sure you stay hydrated. Especially when it's hot!
Bag a £1 Burger at Blackpool Lights
We all enjoy a bit of a treat when we're at the seaside. If you fancy something naughty-but-nice, head to Dale Street (opposite Central Pier) and grab a £1 burger from Chris Higgitt at Blackpool Lights.
Chris, his pals Roy and Pete, and the next door neighbours at Haworth's Bingo, are a bit of a YouTube sensation – and meeting point for the Blackpool vloggers! We often pop in for a chat and to collect our own post…
Blackpool Illuminations
You've got a whopping four months to enjoy the Blackpool Illuminations – from the beginning of September to the start of the New Year! Dress for the weather and get out onto the seafront, to enjoy miles of free displays and loads of atmosphere.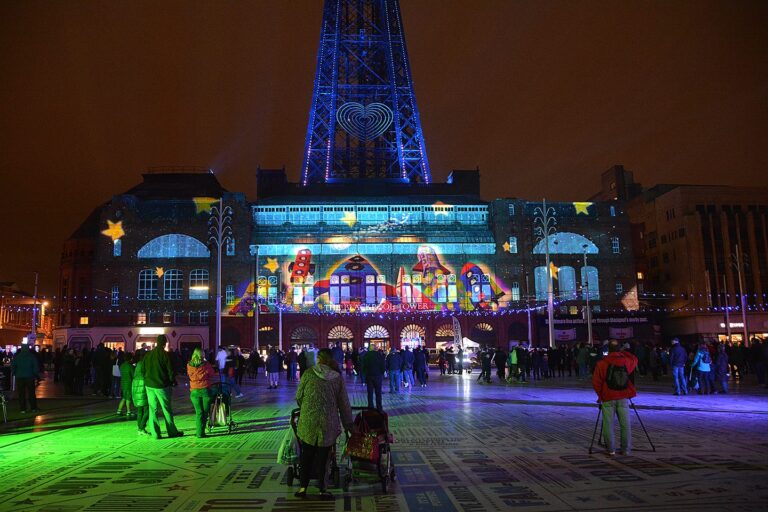 Brooks Collectables and Toy Museum
If you love toys and gifts you'll love this free-to-enter gem! Find the Toy Museum above the Brooks Collectables shop, at the promenade corner of Waterloo Road. It's packed with all kinds of everything, from years of play!
Classic Crazy Golf at Princess Parade
This is an original, restored crazy golf course at the side of the Metropole Hotel, close to North Pier. It's run by Street Angels, a charity helping homeless people. Help a great cause while you're having fun on your cheap days out in Blackpool. We went for a try – goodness me – what a cheat!
Comedy Carpet and Central Promenade
Head to The Tower and straight in front of it you can't miss the Comedy Carpet – pictured above. You can spend a pleasant hour wandering around it in the sunshine, reading catch-phrases and jokes from over the years. Then have half an hour sunbathing on one of the comfy concrete benches – and watch the world go by!
Coral Island
Blackpool's favourite free attraction comes into its own in poor weather – head indoors to Coral Island and explore the arcade and funfair games. It's a good idea to go with a budget – and an idea of which things you want to try and play. Otherwise this most definitely won't be a cheap day out in Blackpool!
and Kids Eat Free at Coral Island!
Coral Island Blackpool is the resorts largest FREE to enter family entertainment venue, where kids eat free, everyday!
Find it at the centre of the Golden Mile, a stone's throw from the Blackpool Tower! It's a brilliant place to visit – at any time of the year and whatever the weather ☂️?☀️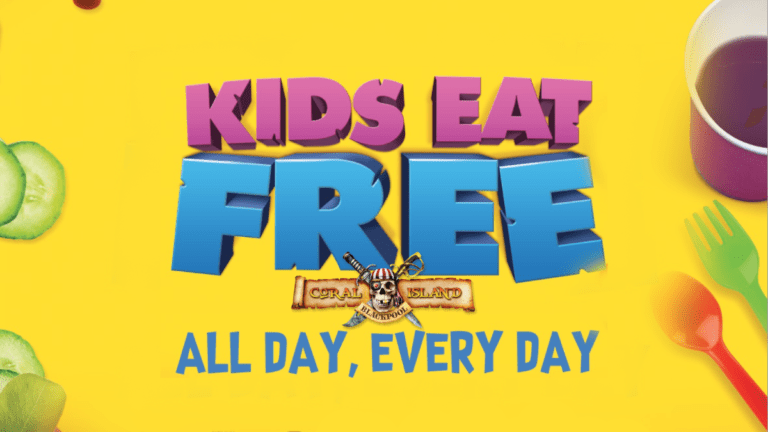 Day at the beach
Hire a couple of deckchairs and enjoy a great day on the sands. Adults can relax and watch the world go by, while little ones build sandcastles, dam streams and swim in the safe ponds on the beach. Don't forget to have a family paddle.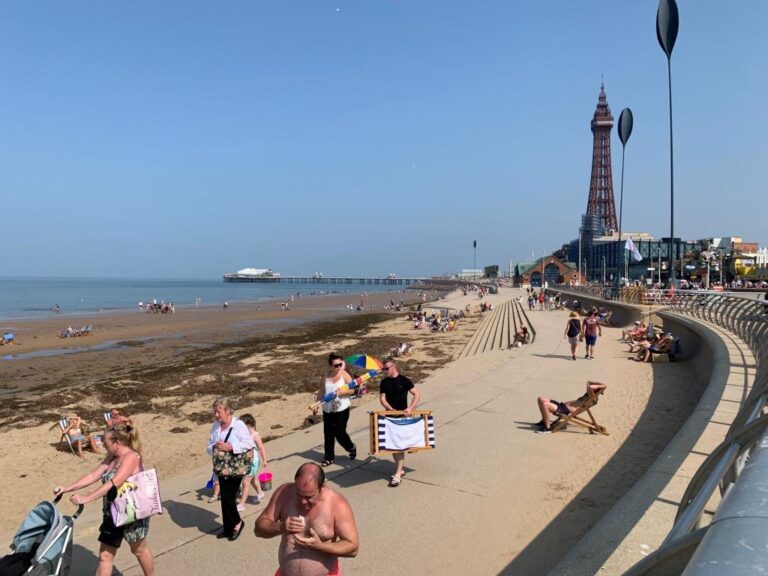 Tip: Get a bucket and spade set from a pound shop at the start of the holiday and use it every day. When you're done, take it home for the kids to use in the garden. Mud pies have never been so much fun!
Family entertainment at Pirates Bay
There's FREE entry to Pirates Bay – find it at the end of a short walk along Central Pier. Enjoy daily fun and games to keep everyone entertained, from lunchtime to late. Keep an eye on your bar bill though – it won't be a cheap day out if you drink the bar dry!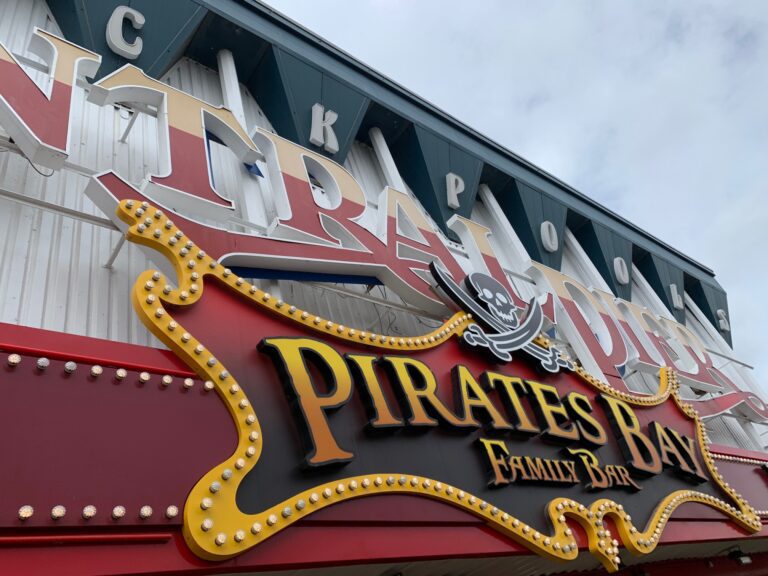 Looking for somewhere to stay?
Book your stay with the Visit Fylde Coast and StayBlackpool accommodation guide. Know that you'll have a great place to stay with a choice of Trusted accommodation.
All the properties listed on the Visit Fylde Coast websites by StayBlackpool are annually inspected. This means that you can book with confidence, safe in the knowledge of a great stay, somewhere that's safe, clean and legal, at the very best price.
Bookings from these sites are also ultra-low or zero commission. This means that more of the money from your booking helps to support the local economy.
Search for Accommodation
Accommodation you can trust from StayBlackpool
Go to the Grundy
Something very different to the usual Blackpool razz-a-matazz – why don't you pop into the Grundy Art Gallery? It's a beautiful, original building, where modern and contemporary art is on display. The exhibits change throughout the year, so you're sure to see something different.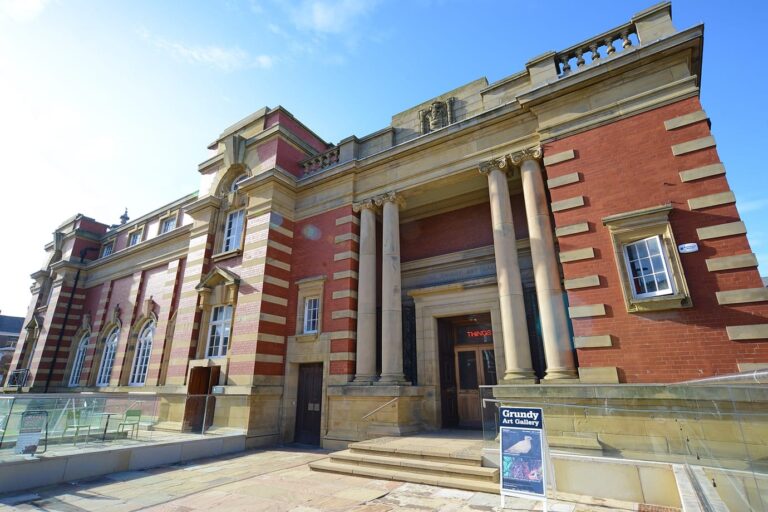 Haworth's Prize Bingo
This is next door neighbour to the £1 burger bar – and an authentic prize bingo hall. It's also complete with certainly the only original 1960's bingo-ball machine in Blackpool, possibly the UK!
Enjoy an authentic evening with all the banter and great prizes. Just 50p a game and there's a prize for every win. We went for a look inside this Aladdin's Cave – come take a look…
See the South Shore Art Trail
New South Promenade is a lovely walk in its own right, stretching from Squires Gate all the way to South Pier. There's the added bonus of the Great Promenade Art Show – an outdoor art trail featuring a variety of different pieces. Enjoy the views, sunshine and things to explore!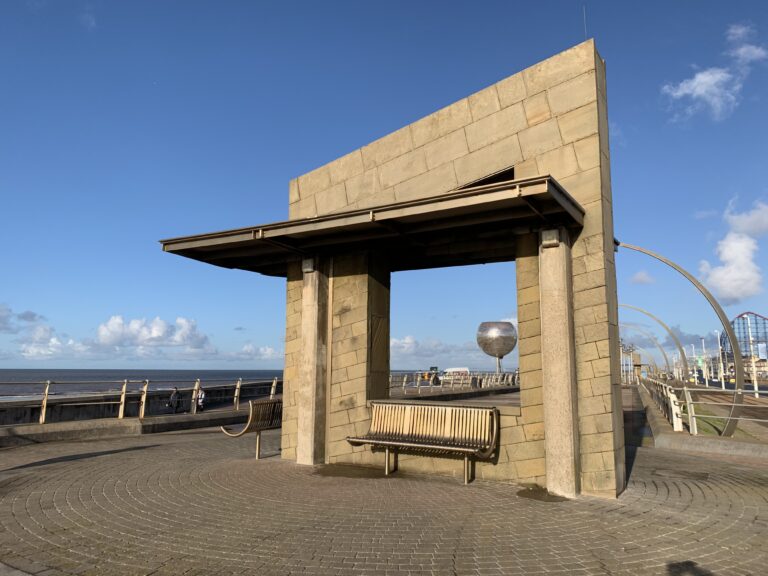 Stroll along the Pier
You've got three to choose from – or make a day of it and stroll along all three piers! Entry to the piers is free so you can experience good old traditional seaside fun without spending a penny if you don't want to. North Pier (below) is the traditional promenading pier. Central is packed full of fairground rides, and adrenaline seekers need to head to South Pier… if you're brave enough!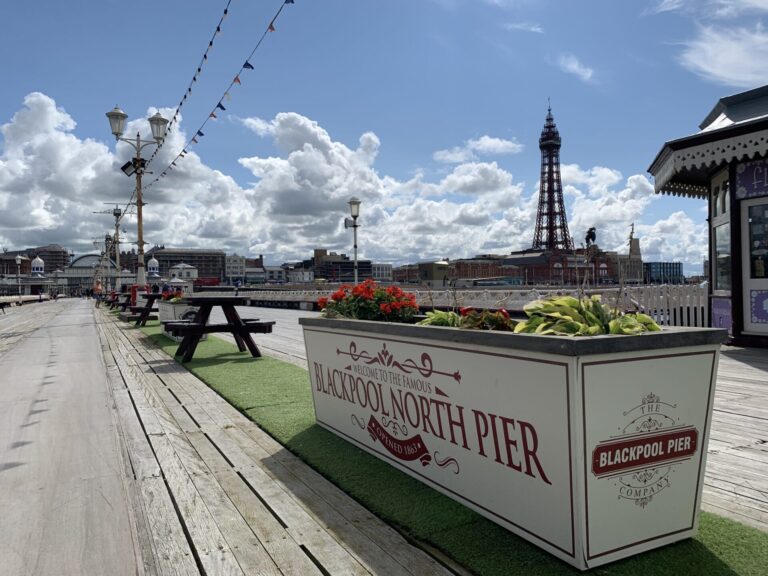 The Tower Ballroom
There's a variety of different, ticketed attractions within The Blackpool Tower. A day pass for The Blackpool Tower Ballroom is great value for money, especially on rainy days. Marvel at the surroundings, dance on the sprung floor and watch the dancers twirl to the music!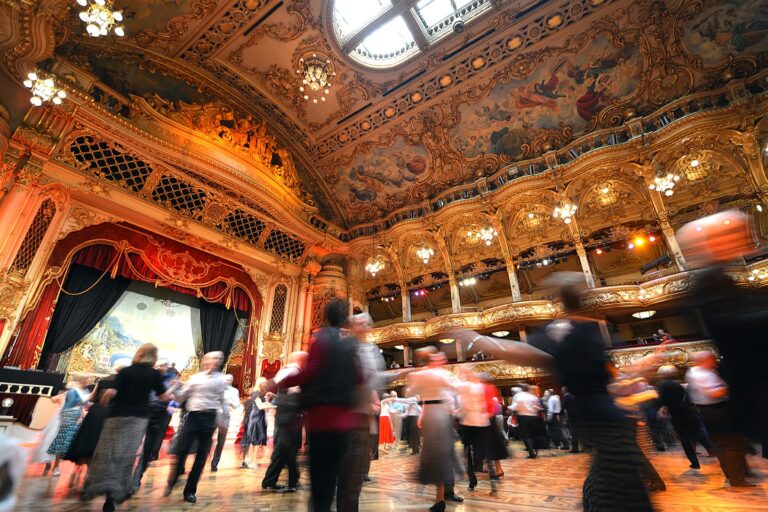 Visit Stanley Park
This park is the green jewel in Blackpool's crown. Located just a way out of the town centre, next door to Blackpool Zoo, it's a huge site with all kinds of features.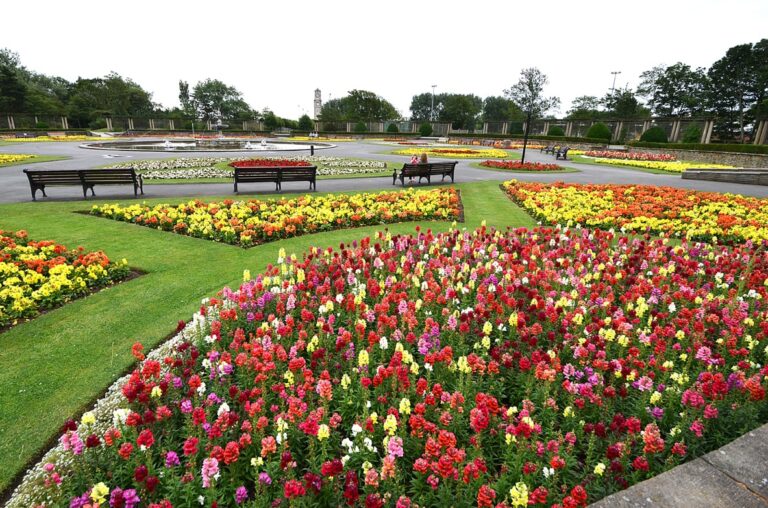 Visit Stanley Parks formal gardens and explore the wild areas around the lake. Watch out for shy wildlife that hides in the foliage – and the brazen ducks and geese who beg for food! There's playground equipment, formal water fountains, and acres of paths to explore.
Take a stop at the cafe for an ice cream or refreshments. On Sundays throughout summer you can enjoy free live music and concerts with local performers at the bandstand. It's a fabulous atmosphere and all for free!
Any more ideas?
We'll keep jotting things down on this page as we think of them. But if you have any favourites to add to cheap days out in Blackpool, please leave a comment below.
And finally, here's our list of FREE things to do along the Fylde Coast. Enjoy!
While you're here…
Have a look at the homepage of the Live Blackpool website for more of the latest updates.
Love the Fylde Coast? Sign up for your weekly email newsletter. Packed full of interesting things it arrives in your inbox all 52 weeks of the year.
Join us on Facebook at our Visit Fylde Coast Facebook Group and follow us on Twitter @visitFyldeCoast
Plus hundreds of videos to watch on our YouTube channel – from all over the Fylde Coast!
Booking a stay? Pick a safe, clean and legal place to stay, at the very best price. Book with the Visit Fylde Coast and StayBlackpool guide.