New York Show
of Limited Edition Hand pulled Screen Prints
Robin Ross is a screen printer based in Blackpool. He was the founder of the 'Sand Sea and Spray' event which sees ugly walls transformed through street art, and does a lot of work to support the growing independent arts sector in the town while at the same time developing his own creative skills.
He's already Crowdfunded trips to Cuba where he's learned from some of the best screen print artists, and this time he's after your help to go to New York in March 2017.
Robin says 'There are rarely opportunities to show work in the Blackpool area, therefore I have to look elsewhere and have shown in London, Lisbon, Lancashire, Manchester, Albuquerque and Austin Texas.
"I have been offered the opportunity to show my work in an Art Cafe in Brooklyn New York. The work will be developed from images in Cuba, New York and more…. This project is not only an opportunity to show my work but also to convince people that Blackpool (a holiday resort by its pure definition) does have a creative scene."
All Crowdfunders will receive a limited edition print which will only be available to backers of the project and will be worth £95 and rising.
Robin adds "I believe that if you invest £25 in me then I should send you the best work that I can. Brooklyn has a special place in the imagery and work which I create, having visited there many times. I hop you will support the project and make the Blackpool to Brooklyn project a reality."
You can donate to Robin's KickStarter campaign here
---
If you're 'sand-grown' as they say, you might remember Robin from radio – before my time but he was a Radio Wave DJ back in the day.
I've got to know Robin over the last few years and you can't help but be fired by his energy and enthusiasm. Loud, happy and friendly he's a staunch advocate of our wonderful Blackpool and indeed the Fylde Coast, and is one of the many people who are working hard on that positive image that we're all building.
If, like me, you're a recent import to our sunny shores, then you might not remember his days on air, but you're to have seen the huge walls of artwork around town. Robin is the mastermind behind the growing Sand, Sea and Spray festival which attracts international artists to Blackpool to transform dull brick walls, and the urban art festival is back again for 2015.
He's also an artist, working from the Old Rock Factory, specialising in limited edition screenprints. Keep your eyes peeled for 'Free Art Friday' and see if you can find one of the limited edition pieces of art which are free for the finder, provided by artists around the town.
---
The Cuban Journey Continued…
Published June 2015
As one of the leaders of the Blackpool independent arts scene, Robin is on a mission to hone his screen printing skills and he's off back to Cuba – 'The Cuban Journey Continued'.
In February 2014 he was diagnosed with Type 1 diabetes and four weeks later he made his first trip there, paid for by Crowdfunding.
If you haven't heard of it, 'crowdfunding' is where lots and lots of people all pay a tiny amount of money, usually in return for something (in this case a limited edition print) in order to finance something big.
He's after your cash again – but once again there's something in return… Robin says "The first time I went to Cuba was a fascinating, almost surreal experience. I spent 9 of the 12 days in meetings at studios and with artists – and some government officials. I printed in a studio with Cuban artists and met with the international head of art for Cuba.
"I met 73 year old Lazaro Abreau – the man who created the original posters for Palestine and Guatemala solidarity for Fidel Castro. I even got to see the poster archive from the 1960's to the present day. That was so incredible that I had to take the audio off the video because I was stuttering so many expletives!
"I believe that Blackpool can add the Arts to its attractions. The independent art scene in Blackpool is growing organically and my eventual aim is to create weeks and courses where visitors come to Blackpool to take part in the arts. Photography, printing, painting, drawing…"
---
I'll also let Robin tell you the rest of the story about his first journey to Cuba….
"For many years I've been influenced by amongst others Warhol, Jasper Johns, and Cuban Art prints. 20,000 of these prints and posters printed for propaganda and film promotion were created between the 60's and 80's.
I'm a pretty printmaker but these artists know things I do not and the only way to learn those skills and bring them back here is to go and check them out.
I've made contact with studios and artists in Havana and with the British Council so all's good so far. The journey will be part of my development and experience as an artist.
Funding for such a project is impossible to secure (and Arts Council funding for the second visit was rejected) so Crowd Funding is the only way. Crowdfunding works by offering rewards for support for creative projects.
For example, for £20 support I will create a limited edition hand pulled screen print and if only 10 take up that reward there will only ever be 10 prints. Similarly for the T-Shirts.
I have a London Show in September so the price of my work will increase considerably, even now my work sells for between £35 and £50 so already backers are making a profit.
I also have collectors for my work and the backers are all over the world, Australia, Ireland, Kent….. Lytham…. Cleveleys.. Its truly international.
As Ry Cooder said when he did a similar thing with The Buena Vista Social Club, "I do not know if they are alive or dead"…..
This is about expanding Blackpool and Fylde as an arts area. It's a great place, and with your help we can make it greater!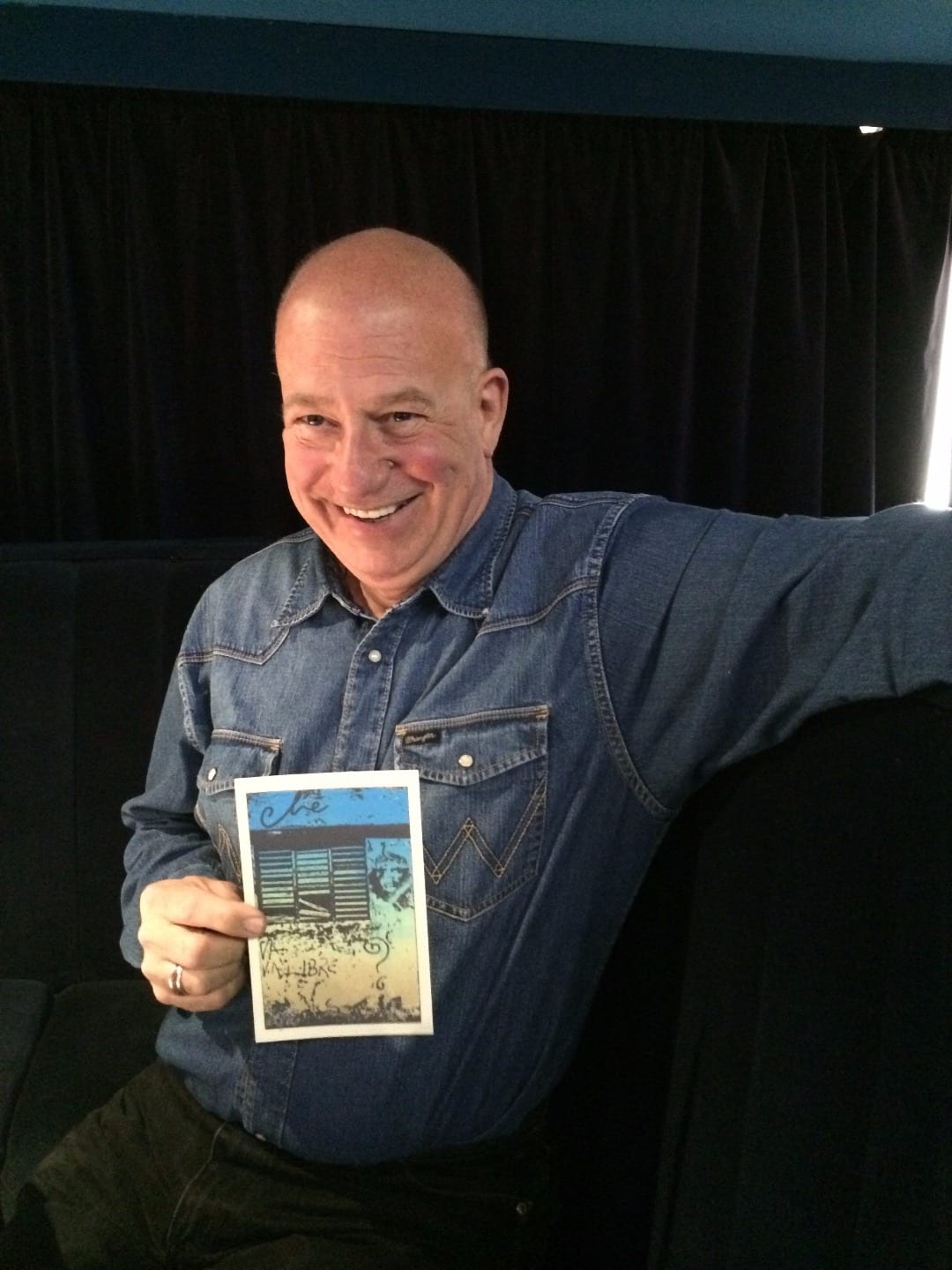 Robin Ross, with one of the 'Free Art Friday' limited edition prints, given away in the resort by independent artists each week.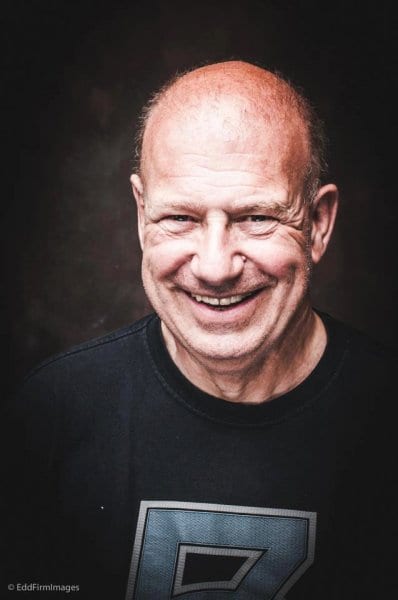 Robin Ross, photo by Ed Firminger