We are all reading more (I hope) during our enforced Covid-19 house arrest and Vic Heaney's Big Walk to Blackpool is a book you can read while doing some good at the same time.
In 2010 Vic walked 2,000 kms, in old money that's 1300 miles, from his then home in the French Pyrenees to the house in Blackpool where he was born.
He did it in a symbolic 70 days, to arrive at the house on his 70th birthday.
In fact, for the whole project, with training, he walked 14,500 kms – 9,000 miles.
In Memory
Vic's first wife, born Maureen Gaile Galloway in Blackpool, succumbed to pancreatic cancer in 1994.
Pancreatic cancer remains an appalling serial killer. Unlike most other cancers, very little progress has been made in diagnosis and treatment during the past 40 years. The survival rate is just 4%.
Vic Heaney's Big Walk to Blackpool
This walking project was all to raise funds and awareness for Pancreatic Cancer UK.
Vic set a target of £7,000 but raised over £10,000. He's since raised more than a further £17,000.
To document the training, the walk and all of the other things that go with a project of this scale, he wrote a book – "Vic's Big Walk from SW France to NW England". It's the one we mentioned at the beginning of this article.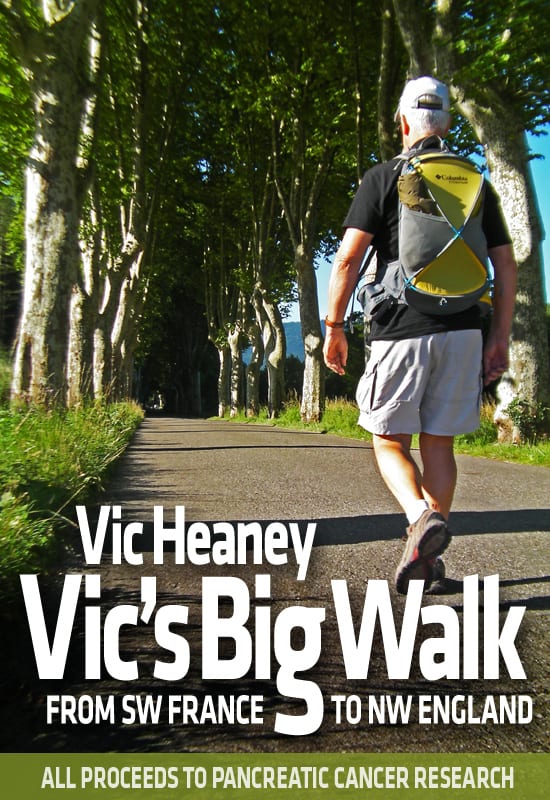 Not only available in paperback, you can read it in virtually every kind of e-version known to man. Kindle, iBooks, Kobo, and many more. All proceeds of all versions go to Pancreatic Cancer UK.
Inspired by producing the first book, Vic went on to write another one "Living in the Real Cyprus". And there are more books to come. The proceeds of all of them go to Pancreatic Cancer UK.
Downloading the books costs about the same as a coffee, but it all adds up.
Get in touch
If you want a signed copy of the paperback or would like to make a donation to Pancreatic Cancer UK –
Please email Vic at victalksthewalk@gmail.com