Sadly, the Blue Flag for Blackpool Beach wasn't renewed in 2019. Which just shows it's not to be taken for granted, and needs a lot of hard work every year. But for three years from 2015 to 2018, Blackpool South was the only Blue Flag beach in the North West!
The award recognises coastal destinations that boast the highest quality of water, facilities, safety, environmental education and management. Blackpool South lost the flag this year due to just a 1.89% drop in water quality.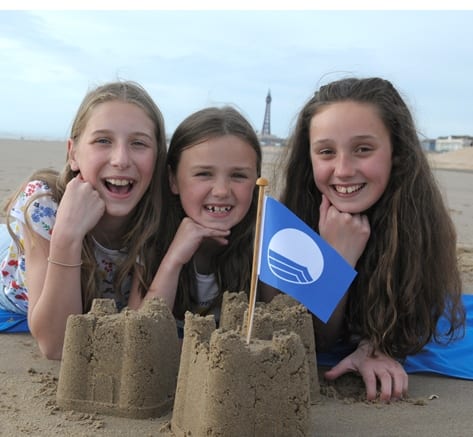 The stretch of beach at Blackpool South Shore enjoyed its place on the prestigious global list of Blue Flag beaches that includes the Mediterranean Sea and the Pacific coastline.
The Third Blue Flag for Blackpool Beach in 2018
South Beach, opposite Blackpool Pleasure Beach and the Solaris centre, originally became eligible for Blue Flag status in 2015 after being classed as having 'excellent' sea water quality by the Environment Agency. It went on to achieve the accolade for the first time in 2016.
In 2019, Blackpool South has secured a Seaside Award. Blackpool North beach opposite the Tower, Blackpool Central beach and Bispham beach have also been given the Seaside Award status.
When you enjoy a trip to a beach flying an international Blue Flag or Seaside Award, you know you are on one of the safest, cleanest and very best in the country. The Blue Flag scheme is run across the world but administered in the UK by environmental charity Keep Britain Tidy.
There are miles of golden sandy beaches to explore at Blackpool. Why don't you take a look. It might all look like sand, but each one has its own particular characteristics. Blackpool has the busy, lively traditional seaside atmosphere of Central Beach. Head to the north shore to find peace and quiet and solitude, if that's what you prefer.
Cleaning up our Seas and Beaches
Since 2011 the Fylde Peninsula Water Management Partnership has worked hard to clean up the bathing waters and beaches along the Fylde Coast. The Partnership is made up of public and private sector companies, working along with organisations, charities and the public. Significant investment has been made in the area's infrastructure, as well as enlisting the help of teams of volunteers and businesses to look after the Fylde Coasts sea.
For example, significant investment has been made in the area's sewer network. United Utilities has invested more than £600m since the early 1990s on schemes to capture and treat wastewater.
A further £200m programme of work is well underway at Anchorsholme Park in Blackpool. This is set to bring even more improvements to bathing waters.
The Environment Agency carries out water quality sampling throughout the bathing water season. Beach goers are encouraged to check bathing waters results online and follow advice on signs at the beach to help keep the water clean.
The First Ever Blue Flag for Blackpool Beach
Published May 2016
The stretch of beach, which is located opposite Blackpool Pleasure Beach, became eligible for Blue Flag status after being classed as having 'excellent' sea water quality by the Environment Agency in 2015.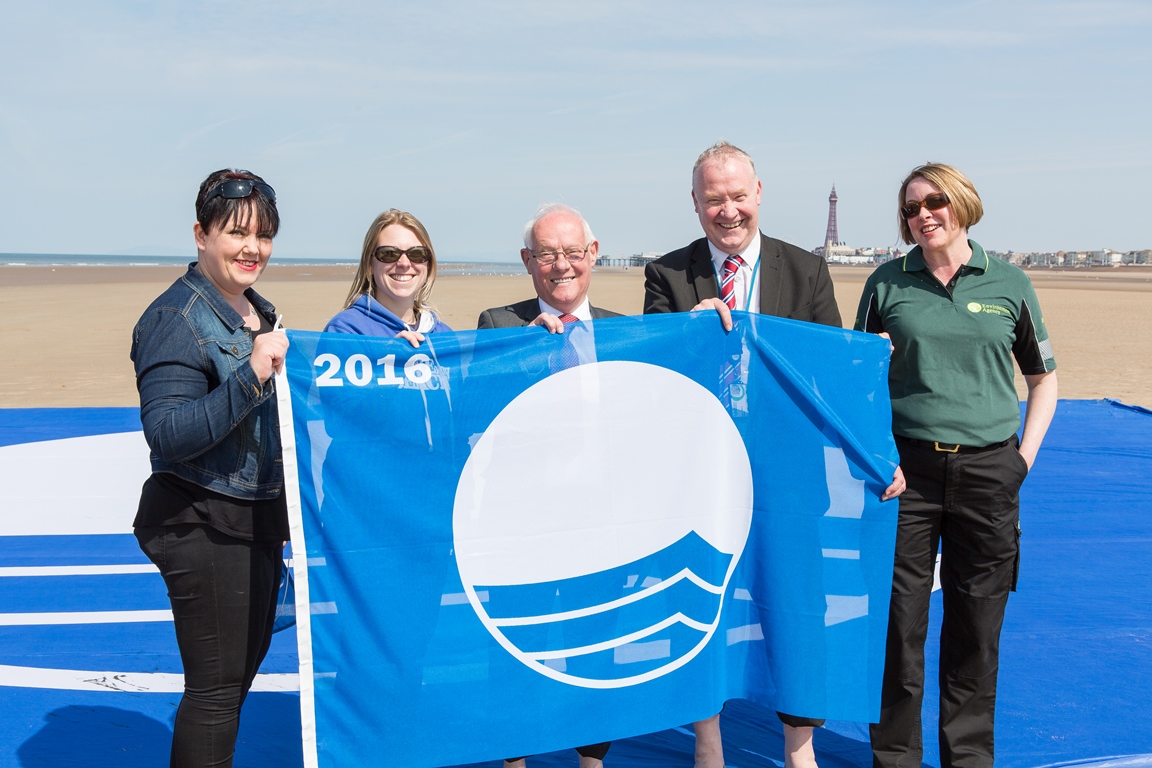 Fylde Peninsula Water Management Partners on Blackpool South beach. L-R Cllr Gillian Campbell, Deputy Leader of Blackpool Council, Emma Whitlock LOVEmyBEACH co-ordinator, Cllr Fred Jackson, Cabinet Member responsible for bathing water at Blackpool Council, Robert Tidswell from United Utilities, Louise Maxwell, Environment Agency.
Blackpool is the only beach in the North West to have the prestigious Blue Flag in 2016. Local facilities as well as access, cleanliness and public safety were assessed to make sure the beach reached Blue Flag's very high international standards.
The first Blue Flag for Blackpool beach is the culmination of years of work to improve the quality of the town's sea water and adds an extra reason for people to visit this year, according to the Deputy Leader of Blackpool Council, Gillian Campbell.
She said: "The amount of investment and effort that has gone into improving Blackpool's sea water over the last few years is nothing short of phenomenal.
"Only four years ago every expert in the country was telling us we would fail the bathing water standards and have to put signs up advising people not to swim.
"That simply wasn't an option for us and, through hard work with our partners as well as the hundreds of businesses and volunteers who have joined in with the LOVEmyBEACH campaign, we've now got an entire stretch of beach in Blackpool that we should all be immensely proud of.
"To have been awarded our first ever Blue Flag is an outstanding achievement and it's another boost to our local economy as we secure our position as the UK's number one seaside resort.
"Not only is it fantastic to be granted Blackpool's first Blue Flag but to be the only one in the North West is a great honour which means Blackpool has to be to go-to choice for beach goers this summer."
The Fylde Peninsula Water Management Partnership is made up of:
Blackpool Council,
Wyre Council,
Fylde Council,
Lancashire County Council,
Environment Agency,
United Utilities,
Merlin Entertainments
Keep Britain Tidy
working with regional partnership 'Turning Tides' towards making all eight bathing waters on the Fylde coast continue to pass the new bathing water standards.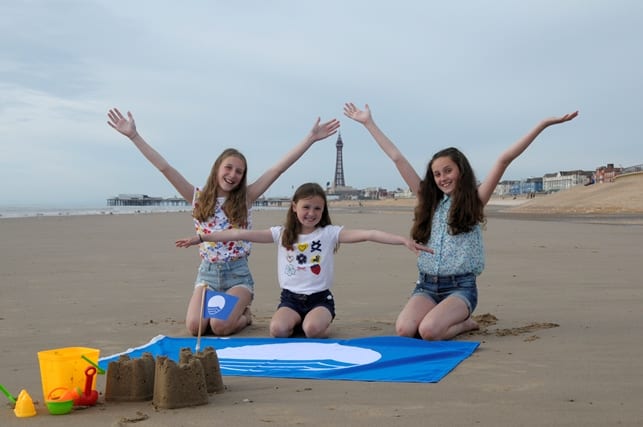 Find out More
Have a look at the Live Blackpool website homepage for more of the latest updates.
If you love the Fylde Coast you ought to sign up for our weekly email newsletter. It's packed full of interesting things and will arrive in your inbox all 52 weeks of the year.
Sign up for the Visit Fylde Coast enews here
Join us on Facebook at our Visit Fylde Coast Facebook Group
Don't forget to follow us on Twitter @visitFyldeCoast