Experience the history, sights and sounds of an operational WW2 RAF aircraft hangar at the Spitfire Visitor Centre Hangar 42. Pictured above: Polish Spitfire BM597
Spitfire Visitor Centre Hangar 42
Come along to take a look around on the monthly, public open days.
First Saturday of the month, March – November inclusive
Open from 10am – 4pm (last entry 3:15pm)
Pay on the door.
(Closed December to February)
Spitfire Visitor Centre has been developed to keep the sights, sounds and equipment of the era alive. Here, you'll get a valuable insight to the realities of fighting on the ground, as well as in the air during the dark years of WW2.
Hangar 42 is an original Bellman hangar, constructed in 1939 for the RAF at the outbreak of WW2.
This attraction is operated by a wonderful team of dedicated volunteers. They all contribute in different ways towards this attraction and the visitor experience.
The Sights and Sounds of WW2
Strap yourself in for the experience of a lifetime! At Hangar 42 you can fly a replica Spitfire MKV in the UK's only full size Spitfire flight simulator.
Where will you fly today? An exhilarating flight over the Swiss Alps? A big city or countryside approach? Or an authentic period dogfight to see if you would have made the grade? Your perspectives will change once you've been in this full-size replica/simulator of the legendary Spitfire MKV. You're not a passenger, you're the PILOT!
Immerse yourself in the atmosphere of our replica operations and briefing room.
Experience the sights and sounds of an operational WW2 RAF fighter squadron.
Corporate events, tailored specifically for your company, employee events, away days, presentations and more.
Free car parking

Accessible venue

Hot drinks available in our NAAFI

Toilet facilities on site

Strictly NO PETS due to being located on a live airfield.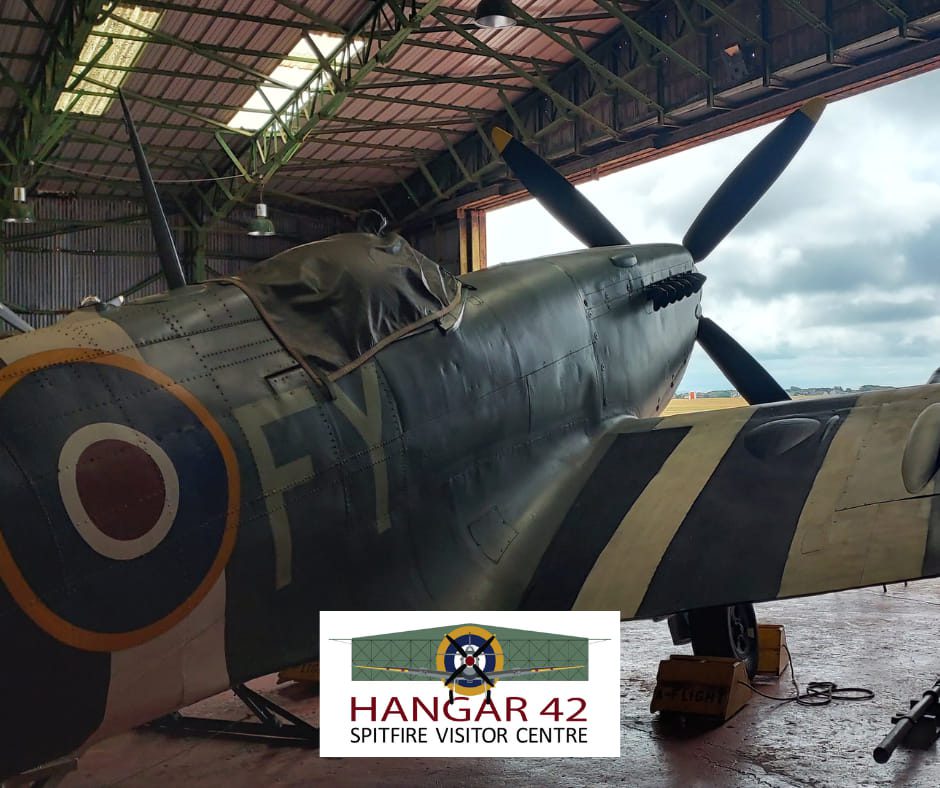 2022 Travellers' Choice
The Spitfire Visitor Centre has been recognized by Tripadvisor as a 2022 Travellers' Choice Award winner!
This award celebrates businesses which have received great reviews from travellers around the globe on Tripadvisor during the previous 12 months. "As challenging as the past year was, The Spitfire Visitor Centre stood out by consistently delivering positive experiences to travellers."
This means it's in the top 10% of attractions worldwide on Tripadvisor!
Find out more
Spitfire Visitor Centre Hangar 42 is based at Hangar 42, Blackpool Airport. Squires Gate Lane, Blackpool, FY4 2QY
Tel: 01253 341902
Find them on Facebook and check out their website
While you're here…
Have a look at the homepage of the Live Blackpool website for more of the latest updates.
Love the Fylde Coast? Sign up for your weekly email newsletter. Packed full of interesting things it arrives in your inbox all 52 weeks of the year.
Join us on Facebook at our Visit Fylde Coast Facebook Group and follow us on Twitter @visitFyldeCoast
Plus hundreds of videos to watch on our YouTube channel – from all over the Fylde Coast!
Booking a stay? Pick a safe, clean and legal place to stay, at the very best price. Book with the Visit Fylde Coast and StayBlackpool guide.