Following the Electrification of the Blackpool Railway Line, Virgin Trains announced a significant number of new direct rail services between Blackpool and London. Plus a new Saturday service between Birmingham and Blackpool, the first direct link for 15 years. Monday 21 May 2018 saw this historic train arrive.
[arve url="https://www.facebook.com/plugins/video.php?href=https%3A%2F%2Fwww.facebook.com%2Floveblackpool%2Fvideos%2F1679700292084412%2F&show_text=1&width=267″ title="First electric Pendolino train arrives at Blackpool on 21 May 2018″ description="First electric Pendolino train arrives at Blackpool on 21 May 2018″ /]
Before this passenger service train arrived, the first Pendolino arrived at the station on the evening of 14 May 2018. The train, operated by Virgin Trains, was used to test the new infrastructure along the 17 mile route between Blackpool North and from Preston.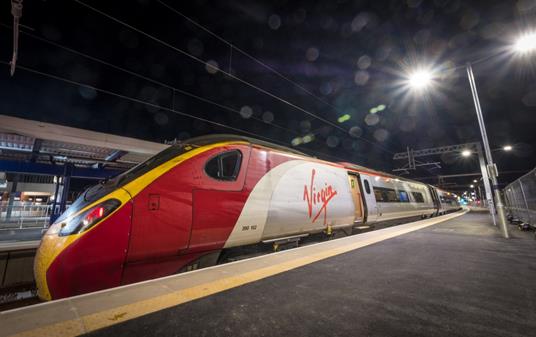 The train travelled from Preston to Blackpool North and back under the supervision of Network Rail's Team Orange engineers who were on hand to check and inspect the route's new overhead equipment.
The new timetable from 21 May sees train operators Northern and Virgin Trains introduce greener, quieter and more reliable trains to and from Blackpool.
Virgin Trains boost services on Blackpool route
Virgin Trains is to introduce 35 additional Pendolino trains per week between London and Blackpool, following electrification of the route by Network Rail. It will add nearly 17,000 seats per week onto the route.
Launching on Monday, 21st May, the electric Pendolino services will strengthen connections to and from the city six days a week, providing eight direct services each weekday and six services on a Saturday.
The move has been hailed as a "step change in connectivity" by tourism leaders and follows Virgin Trains' move to reintroduce direct rail services to London in 2014.
The extra weekday services between Blackpool North and London Euston (three northbound and three southbound) will also call at Rugby, Warrington Bank Quay, Wigan North Western and Preston.
In addition to five Saturday services between Blackpool and London (two northbound; three southbound), Virgin Trains is set to operate a service from Birmingham on Saturdays, offering the West Midlands a direct service to Blackpool for the first time in 15 years.
The boost in services will generate an additional 16,900 seats a week* as the seaside resort welcomes three new major attractions. ICON (the UK's first double launch roller coaster); the elephant house at Blackpool Zoo; and Marvel Comics super-heroes attraction at Madame Tussauds.
First time for Pendolino tilting trains
This is the first time the long-distance train operator will serve Blackpool with its electric-powered tilting Pendolino trains. It follows the completion of Network Rail's work to electrify the line between Blackpool and Preston and lengthen platforms at Blackpool North station to allow the longer Pendolino trains to travel to and from the resort.
Testing of the infrastructure is due to take place over the coming weeks in the run-up to the launch of the first services.
It can only be good for the leisure market, business tourism and potential inward investment. It brings a real step-change in connectivity for Blackpool and the whole of the Fylde Coast.
Electrification of the Blackpool Railway Line – Great North Rail Project
As part of the multi-billion pound Great North Rail Project, the line has reopened following 22 weeks of work to upgrade the tracks, station platforms and signalling system.
Train services between Preston and Blackpool North resumed from Monday 16 April 2018. Initially with one train per hour, allowing time for driver training on the route.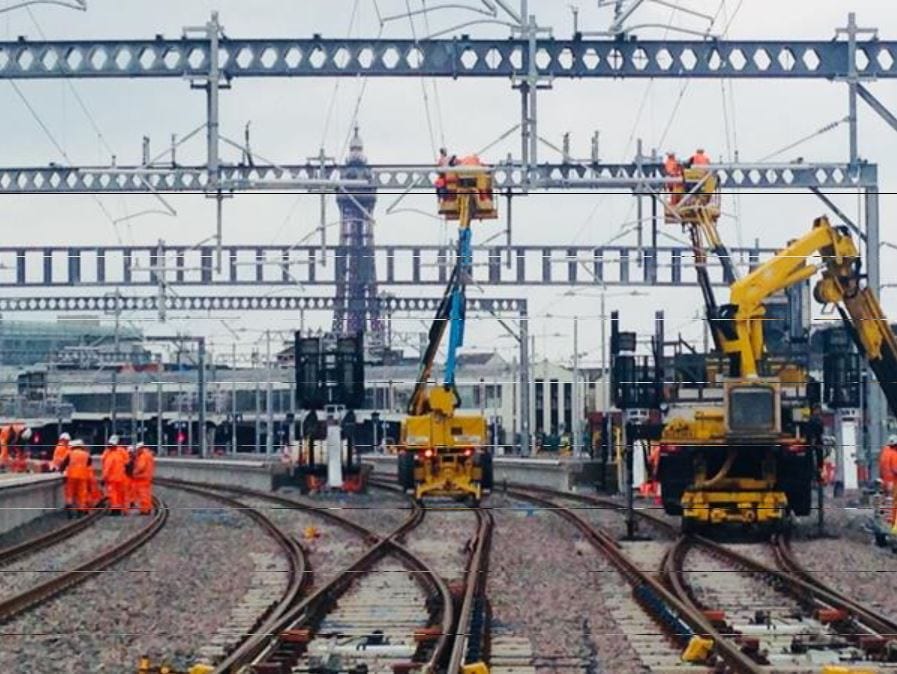 From Monday 16 April, Northern will operate one train per hour between Blackpool North and Manchester Airport – via Preston. They will continue to supplement this with two stopping and two express bus services every hour between Blackpool North and Preston. The hourly service between Blackpool South and Preston will continue to operate but with many services extended to operate to/from Colne.
Also on Monday 16 April, Virgin Trains on the west coast reinstated its direct service to Blackpool North, which departs London Euston at 16.33.
A full rail service will continue to operate from Blackpool South.
Delay in reopening the line
The closure of the line was extended in March to complete the route upgrade following severe weather and the breakdown of critical machinery used to install new overhead line equipment. The new timetable will be introduced on 20 May following essential driver training.
Great North Rail Project in Blackpool and the Fylde Coast
This project has seen over £1bn+ investment to improve the railway infrastructure, so that new electric trains can be introduced between Manchester and Blackpool via Preston.
Most crucially, once this work is completed, passengers travelling on the line from Blackpool to Preston and Manchester, and vice-versa, will benefit from better, greener, quieter and more reliable journeys. The improvements will also serve passengers for many decades to come and help boost the economy across the north of England.
As part of Blackpool's rail upgrade Network Rail has:
rebuilt 11 bridges,
remodelled 11 station platforms,
replaced 11,000 metres of track,
installed 200,000 metres of overhead power line,
upgraded railway drainage systems,
installed 84 new modern signals.
The brand new signalling system, controlled from Network Rails operating centre in Manchester, will help to reduce delays and improve railway performance.
When the railway reopens, upgrade work will continue into spring during overnight shifts when trains aren't running.
It's seen major improvements at Blackpool North station, Kirkham & Wesham station, as well as at Blackpool depot to support the roll-out of modern trains across the region from later this year.
While the railway is running, lifts will be completed at Kirkham & Wesham station in the next few weeks, making it fully accessible.
This photo was taken from Sainsbury's Supermarket, across the road from Blackpool North, in February 2018.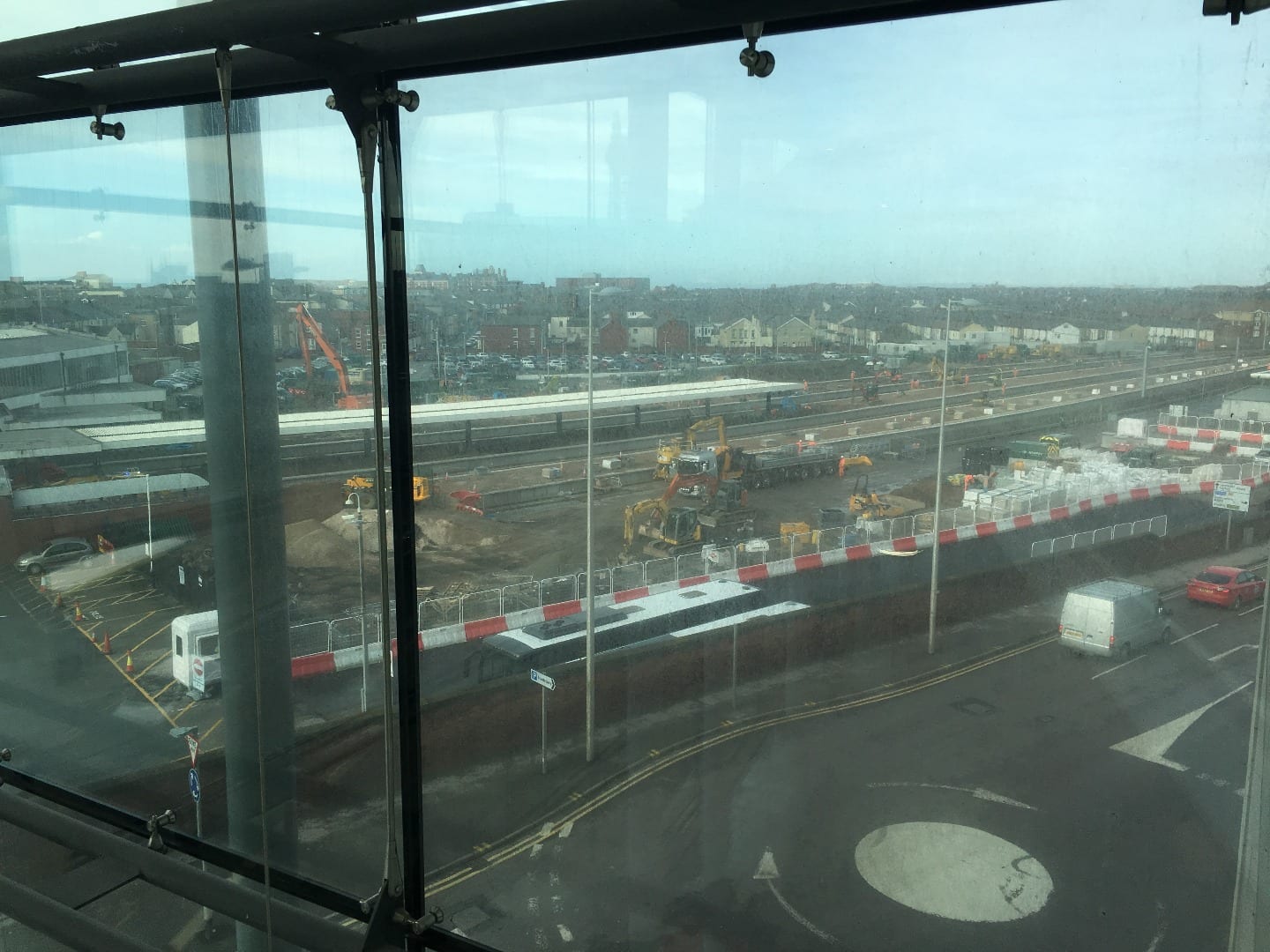 Blackpool South Station Reopened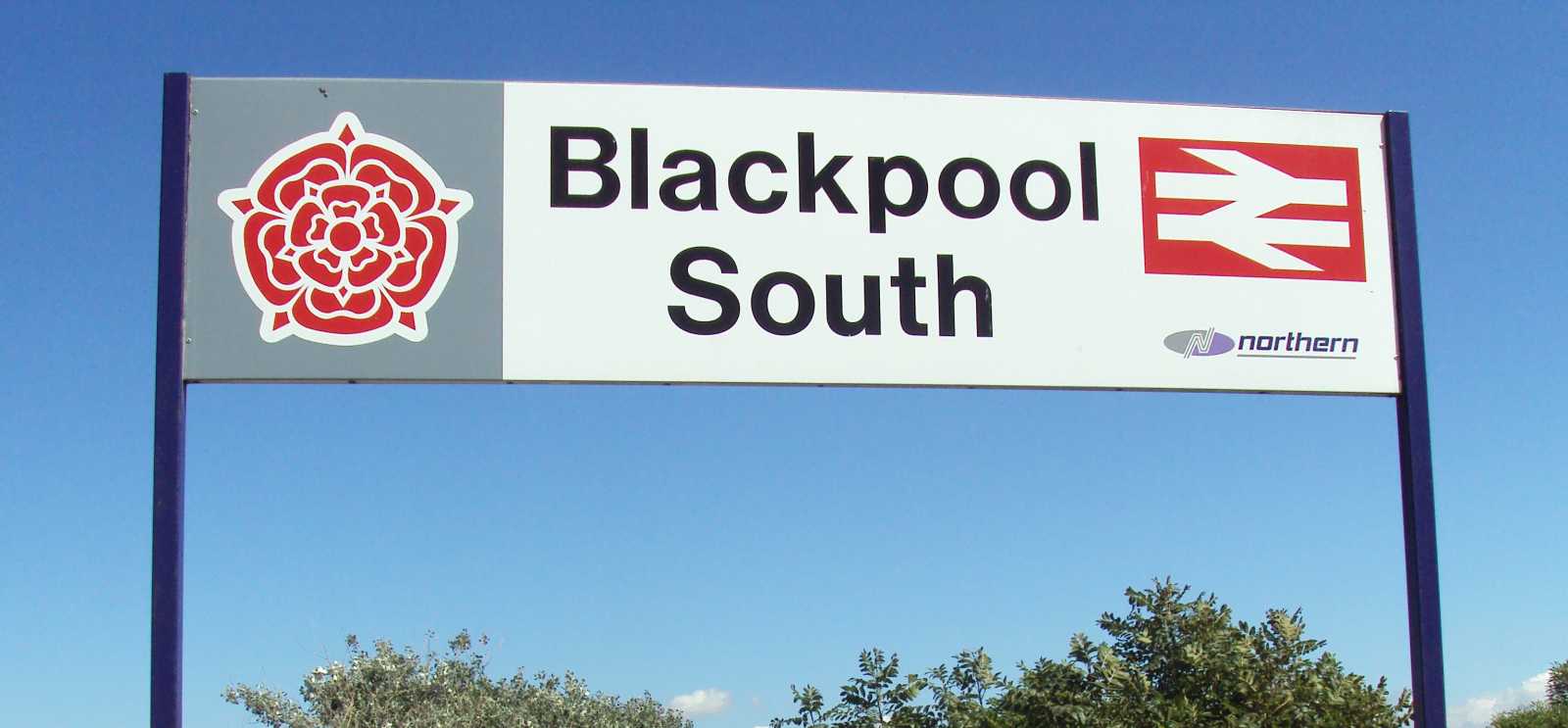 On Monday 29th January 2018 train services returned to Blackpool South Station.
Trains run from Blackpool South Station to Preston on an hourly basis calling at:
Blackpool Pleasure Beach
Squires Gate
St Annes-on-the-Sea
Ansdell & Fairhaven
Lytham
Moss Side
Kirkham & Wesham
Find out More
Have a look at the Live Blackpool website homepage for more of the latest updates.
If you love the Fylde Coast you ought to sign up for our weekly email newsletter. It's packed full of interesting things and will arrive in your inbox all 52 weeks of the year.
Sign up for the Visit Fylde Coast enews here
Join us on Facebook at our Visit Fylde Coast Facebook Group
Don't forget to follow us on Twitter @visitFyldeCoast