St John's Square is at the heart of Blackpool Town Centre. It's the pedestrianised space between the Winter Gardens and St John's Church.
Have a look around with this walking tour of St John's Square, filmed in August 2022. We'll take you for a walk round, beginning at Abingdon Street outside Vintro Lounge, exploring the whole of the space –
Enjoyed this video? Why don't you subscribe to our Visit Fylde Coast YouTube channel – make sure you don't miss out!
Look around St John's Square
Not familiar with where St John's Square is? The address for St John's Church is Church Street, Blackpool, FY1 1BP. And of course St John's Square is the space between the Church and Winter Gardens, incorporating Church Street.
Church Street is the main road which passes the front door of the Winter Gardens. Abingdon Street and Cedar Square join it at top and bottom. These roads are access only, with priority for pedestrians.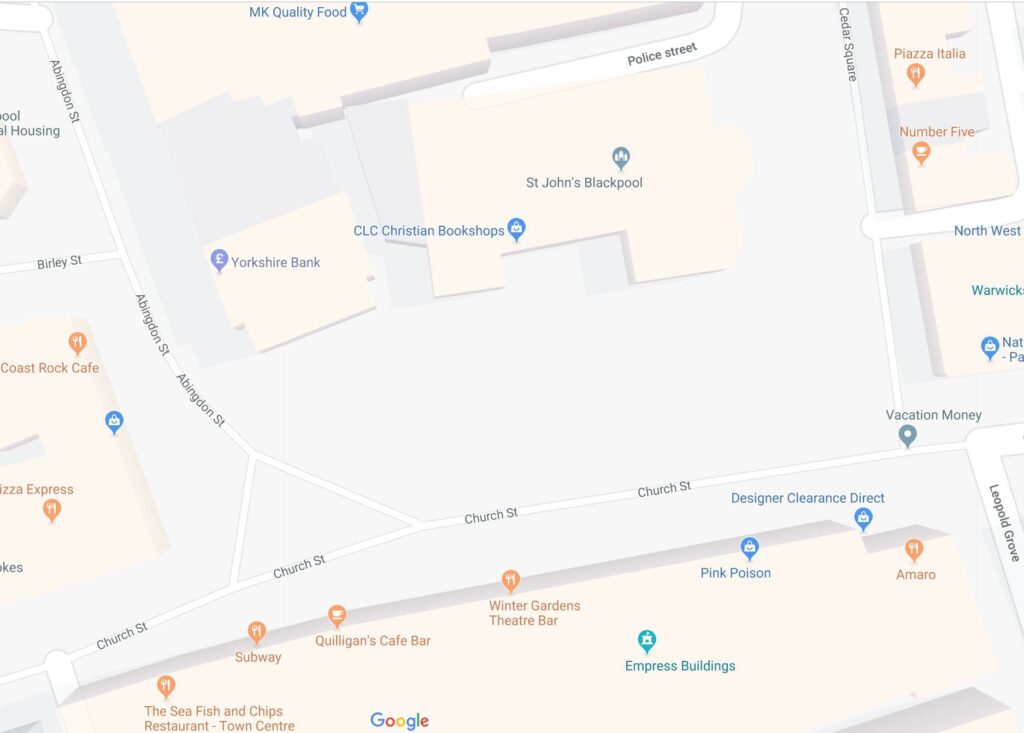 Now the vast majority of traffic is gone it's a multi-use open public space, attractively paved in cobble setts. And more recently the shop fronts of the Empress Buildings have been restored to how they would have once looked. It's a detail which makes a surprising difference to the look of the Square.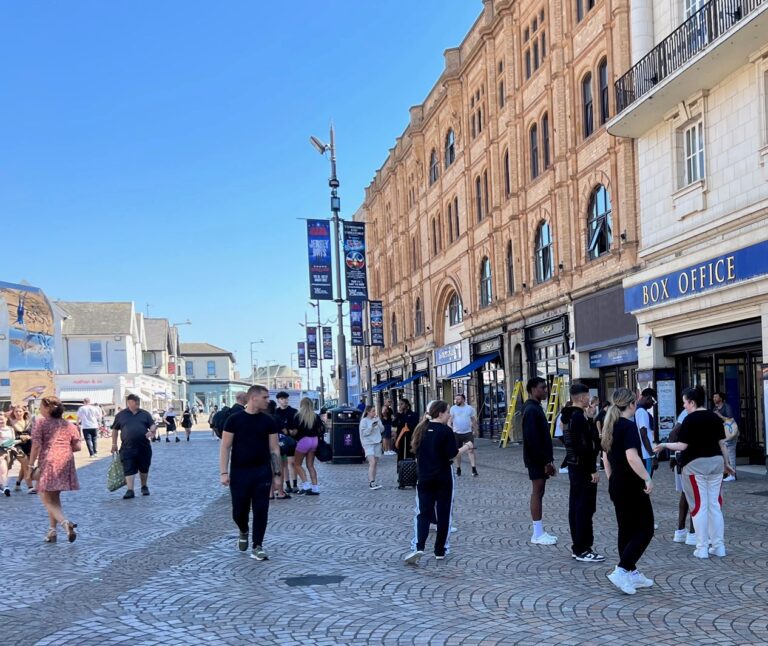 The many cafes and restaurants around the perimeter of the open space have pavement seating so it's a lovely spot to head to for a bite to eat. Sit outside in the sunshine and soak up the atmosphere. It's also where you'll sometimes find open air events throughout the year. This popular meeting point is especially interesting during one of the big events. Like Rebellion Festival when the punks come to town in summer!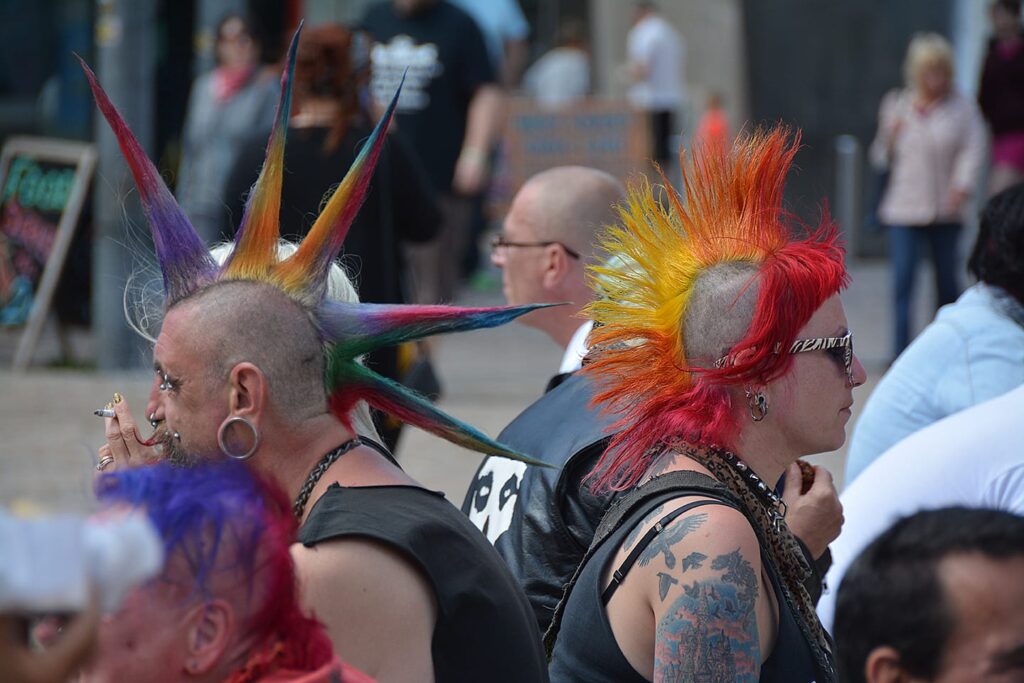 Public Art and Features in St John's Square
You must have seen this sculpture in St John's Square! A huge stainless steel wave towers above, with a transparent glass person high diving from the top of it. Huge watery-coloured glass pebbles around the base are droplets of water displaced by the performer.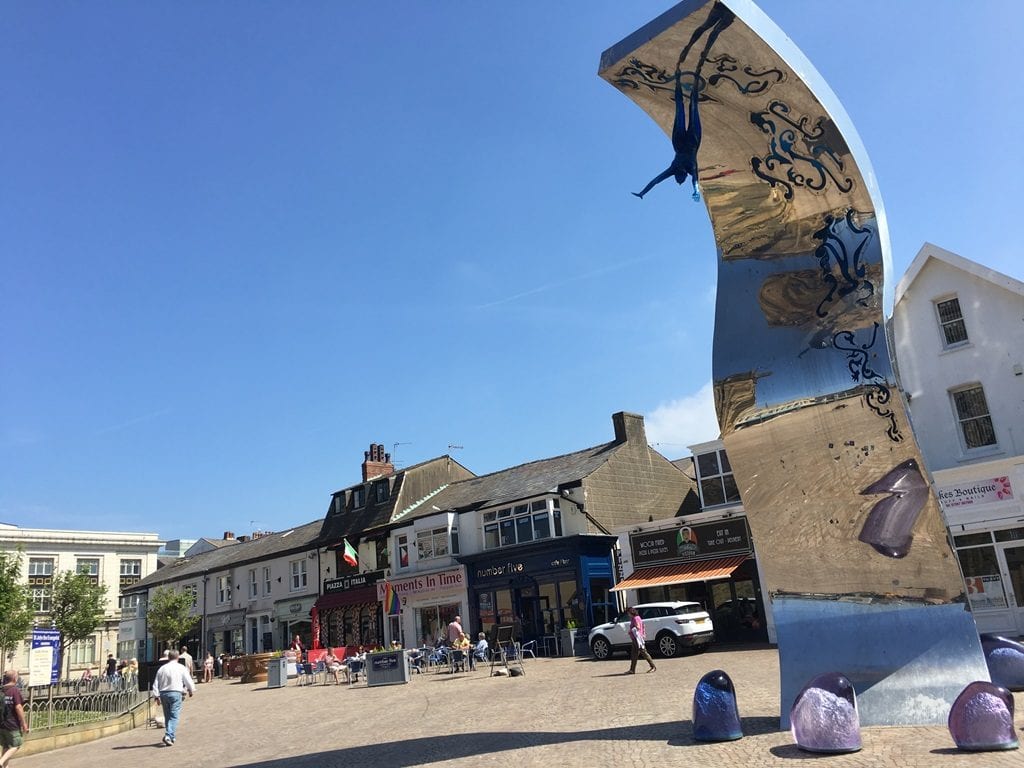 Called 'The Wave' it's a piece by Lucy Glendinning. Unveiled on 5 September 2009 when the pedestrianisation completed, it's a whopping 10.5m high and 2.5m wide. The fluid steel twinkles in the sunlight just as a wave would, supporting the twice life-size figure at the top.
Not a sculpture as such, but an attractive thing nonetheless. Keep an eye out for the water fountains in front of St John's Church. Dogged by technical problems in recent years, they're now working again. A welcome relief from summer heat for children – and a welcome drinking spot for the local birds.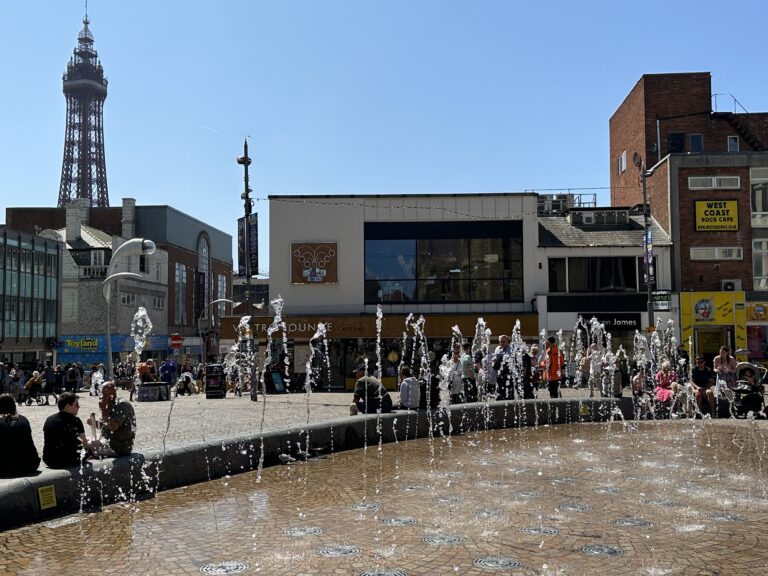 Looking for somewhere to stay?
Book your stay with the Visit Fylde Coast and StayBlackpool accommodation guide. Know that you'll have a great place to stay with a choice of Trusted accommodation.
All the properties listed on the Visit Fylde Coast websites by StayBlackpool are annually inspected. This means that you can book with confidence, safe in the knowledge of a great stay, somewhere that's safe, clean and legal, at the very best price.
Bookings from these sites are also ultra-low or zero commission. This means that more of the money from your booking helps to support the local economy.
Search for Accommodation
Accommodation you can trust from StayBlackpool
At the Heart of the Town
It feels like the improvement of Blackpool town centre has been happening forever. Huge amounts of work are taking place all over resort, and will be for some time. Improvements are being made to transport, public facilities, conference facilities, entertainment and even pavements.
The downside of all of this work is a certain amount of disruption and road closures. St John's Square steps up to the mark when needed, to become a diversion route. Bollards and road markings are installed when needed, to later be moved when everything returns to normal again.
The Church and, also operating from there, Streetlife Trust are both at the heart of the town. Streetlife Trust supports homeless and vulnerable people in town. The charity first opened there in 1992 in an old air-raid shelter, later rebuilt and reopened on 22 October 2004.
Connecting Blackpool
St John's Square is a bit of a hub for that end of town. Not only is it a meeting place and home to activities, it also connects a number of streets together. Church Street bisects it, right through to the seafront. Adelaide Street joins it at a right angle, with Birley Street in eyeshot. It's a busy spot!
It's only going to get busier now that the new Conference Centre is complete. Built on Leopold Grove at the side of the Winter Gardens, the building was completed in 2022 and already hosted a number of big events.
It was back in 2007 when a London architectural practice called Leit-Werk won an international competition to remodel this area. The £3.5m project to design and create a flexible space was known as St John's Horizon. The fountain and statue were both unveiled in September 2009, once the project was complete.
No Cars in St John's – Access Only
As part of an effort to improve pedestrian and road user safety in the town centre, Blackpool Council has implemented new traffic regulations in and around St John's Square as of Monday 5 June.
An Experimental Traffic Regulation Order (ETRO) now applies to the roads surrounding St John's Square including Cedar Square, Birley Street, Adelphi Street, Carter Street, part of Church Street (from St John's Square to Corporation Street) and part of Abingdon Street (from Church Street to Cheapside).
Only buses, taxis and authorised vehicles (such as emergency services) are permitted into the restricted area.
Note that there's no loading between 10.30am to 6pm, and no waiting at any time.
To keep disruption to a minimum for businesses within the restricted area, access for delivery vehicles will be permitted between 6pm to 10:30am.
Taxis are permitted to stop for pick-up and drop-off within the restricted area. A new designated taxi rank will also be introduced on Church Street outside the Empress Buildings.
The ETRO will be in place and enforceable for an experimental period of up to 18 months. Blackpool Council will review it after 6 months, with the right to amend the order at any time during the 18 month experimental period. Following the implementation of the ETRO, on site monitoring and information gathering will take place. You can give feedback and share your views on the new restrictions, and help to determine whether it should be made permanent or not. Further details can be found at www.blackpool.gov.uk/consultations.
A Place for Events
The beauty of St John's Square is that it's not as exposed to the weather as the seafront! With a little more shelter from those harsh winds blowing straight off the sea, it's a good spot for public events.
Over the years all kinds of events have taken place here. How many of these do you remember from the last ten years?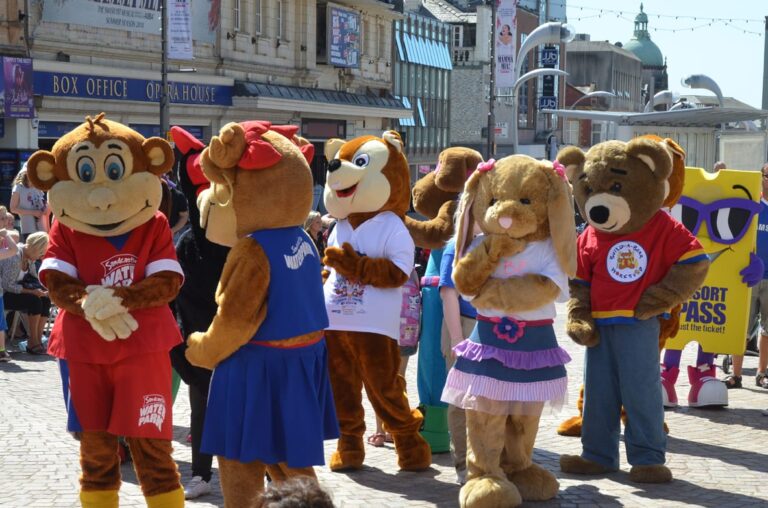 It's also the place where you might see big names and musical stars from time to time! For example in 2013 when the cast of Mamma Mia! took a photocall to launch the new musical.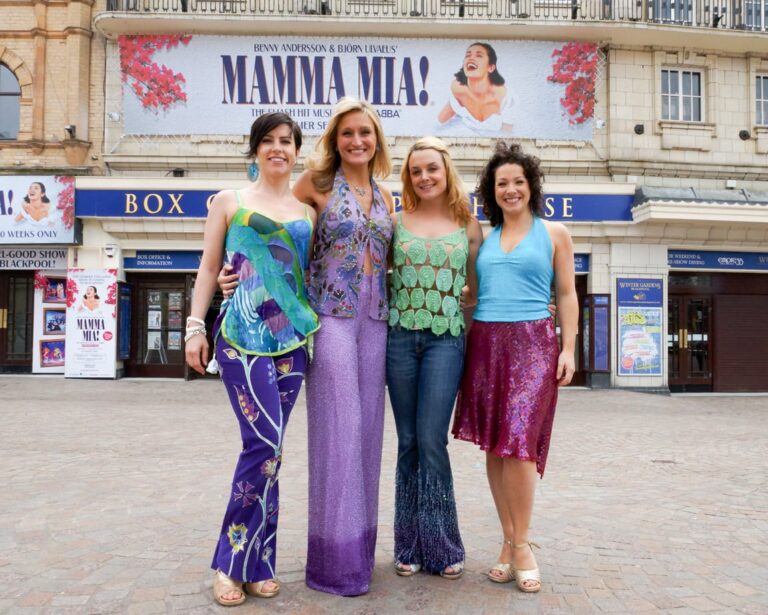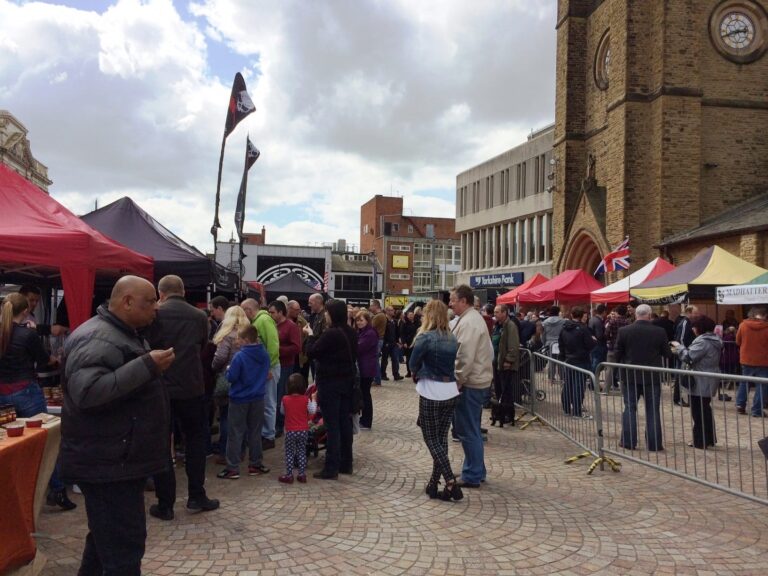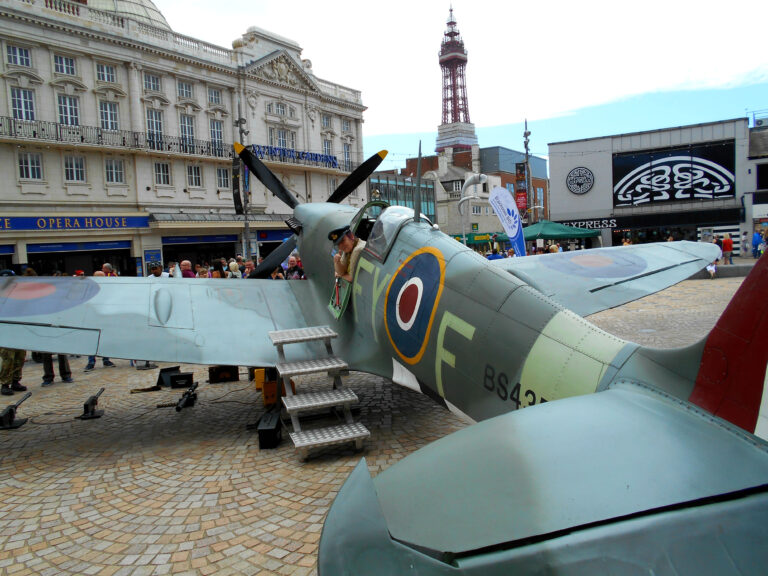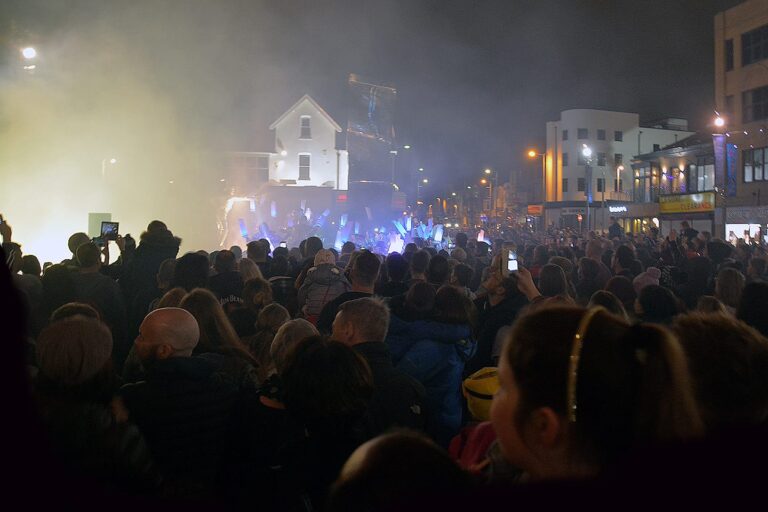 Looking After St John's Square
Blackpool Town Centre BID look after St John's Square, as they do the whole of the town centre area, up to and including the promenade. The BID supports the town centre with wardens, litter collections, CCTV and security, along with many other functions.
You've probably also noticed there's usually a street cleaner busy at work, keeping Blackpool tidy. Some of these wardens are employed by the BID, others are contracted to Blackpool Council. Have you also spotted their huge Teletubby-style street hoover!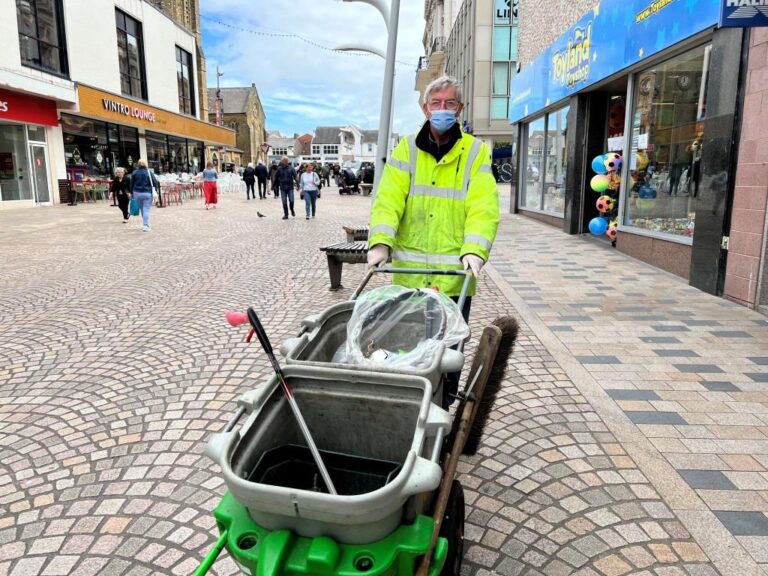 St John's Square in the Past
Here at Live Blackpool, we clearly remember when this section of Church Street was a normal highway, a main route through Blackpool town centre. Do you remember the days when it was a normal road?
St John's Church – Blackpool Church
St John's Church was built by Garlick, Park & Sykes and consecrated on 25 June 1878. It's the main Parish Church of Blackpool, recognised as such since 9 March 1860 by an Act of Parliament. You might have noticed that the sign at the front now reads 'Blackpool Church'.
Today's Church is actually the second one to be built on the site. The first one was built in 1821. The Parsonage of 1826 had huge grounds with ornamental and kitchen gardens, stretching all the way to Adelaide Street. The Empress Ballroom now covers much of this former green space.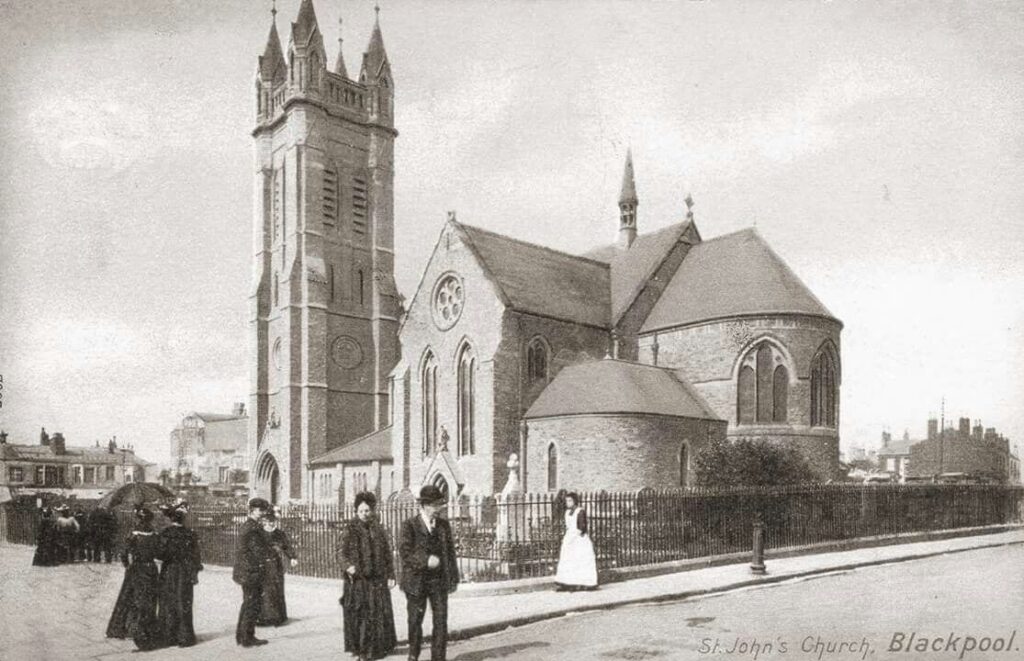 St John's Church is now Grade II Listed, assigned in 20 October 1983. Built in stone in an Early English style, it includes a nave with low aisles, tall transepts, a semi-circular chancel with painted ceiling and a four storey southwest tower with pinnacles. A nave arcade of cylindrical columns supports a wagon roof, and the tall windows have plate-traceried stained glass. The chancel screen and panelling are in a Gothic style, and the pulpit has a dome of intricate open-work.
So that's the official bit. But have you noticed this curious looking piece of stone, to the right of the front entrance? It's a marooned glacial remnant, donated many years ago to William Thornber when he was Vicar.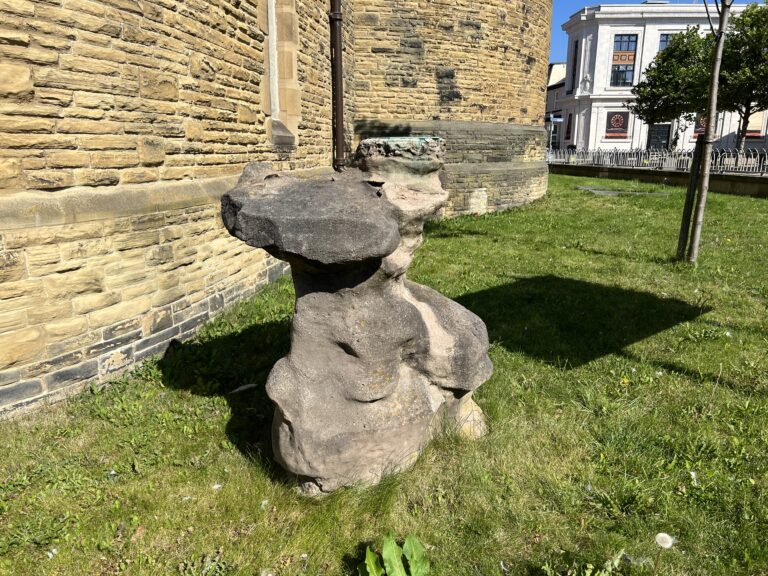 Burial Ground
When it was built it was complete with a graveyard at the front of it which closed when Layton Cemetery opened on 31 May 1870. The graves were later moved to Layton Cemetery in 1927, with the work taking place at night so as not to upset anyone.
In 2009 some improvement works were carried out, where the remaining grassy garden areas at the front of the church were removed and laid to paving. While the workmen were carrying out the changes they found the remains of a woman, an occupant of the graveyard at the Cedar Square side of the church. She was also respectfully removed and reburied at Layton.
Tramway
Did you know that the Layton route of Blackpool tramway once passed this way? You can see the rails in the bottom of the next photo.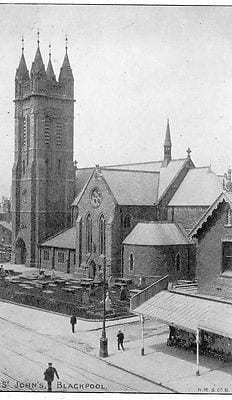 We hope you've enjoyed this look around the St John's Square of today and yesteryear. If you know anything you'd like to add or have any special memories of it, please leave a comment below. You can email any photos you'd like us to include here to jane@theRabbitPatch.co.uk
While you're here…
Go to the homepage of the Live Blackpool website for the latest updates.
Love the Fylde Coast? Sign up for your email newsletter. Packed full of interesting things it arrives in your inbox all 52 weeks of the year.
Join us on Facebook at our Visit Fylde Coast Facebook Group and follow us on Twitter @visitFyldeCoast
Plus hundreds of videos to watch on our YouTube channel – from all over the Fylde Coast!
Booking a stay? Pick a safe, clean and legal place to stay, at the very best price. Book with the Visit Fylde Coast and StayBlackpool guide.