Well, April 2023 turned out to be an eventful month, when a devastating fire ripped through Hacketts Hotel Blackpool. Now raised to the ground, here's a look at what happened – and this hotel's past.
Fire at New Hacketts Hotel Blackpool
At 2.46pm on Monday 24 April 2023, emergency services were called to a fire at the site.
After covering the afternoon of the fire for our Visit Fylde Coast YouTube channel, we've been back pretty much every day to document the events as they unfolded.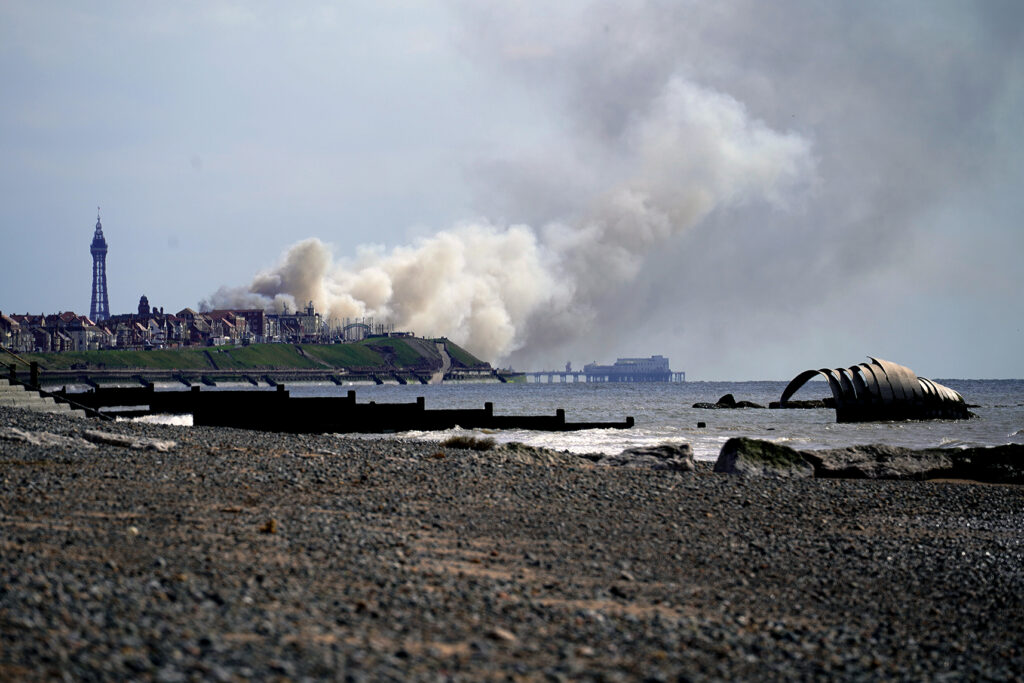 And here's the playlist of videos on the Visit Fylde Coast YouTube channel (most recent one first) –
Fighting the fire
It took around 70 firefighters and a full range of Lancashire Fire and Rescue appliances to get it under control and stop it spreading to neighbouring buildings. 12 fire appliances were there – including two aerial ladder platforms and a stringer. Once the fire appeared to be quenched, teams wearing breathing apparatus went inside with thermal imaging cameras to ensure fire spread was prevented.
The fire left high unsupported walls and extreme levels of heat which 'could lead to partial collapsed or more significant collapse of the building'. There was no other choice – it had to be demolished – and demolished straight away. Work began on the morning of Thursday 27 April – starting with the removal of the unsafe central section first.
Road closures were in place on Queens Promenade between Empress Drive and Dickson Road until Tuesday 2 May 2023.
About New Hacketts Hotel
Unbelievably, at the time of writing this page (3 May 2023) there are still listings on booking websites for this hotel! "This venue features rooms with showers and complimentary toiletries as well as air conditioner, multi-channel television and coffee/tea making equipment. Some units have an electric kettle and coffee maker."
There's certainly air-conditioning – largely because the whole thing is now open plan! It certainly marks a new chapter in the history of this prime corner plot. Here's what we've managed to find out. Have you got anything else to add? Just email jane@theRabbitPatch.co.uk full credit given.
MANY THANKS to Nick Moore and his fascinating History of Blackpool for some of the historical information used in this page. You can read it here
First: York House Hotel
Strangely, there's not much online about the past history of the terrace which was to become New Hacketts. We do know that the 4-storey hotel on Queen's drive, North Promenade, was run by T and D Nevison.
Lynn Jackson got in touch with some fascinating information – as her family were the Nevisons who had actually owned part of it for all those years. Lynn tells us:
"As you face the hotel block, the one on the left corner of Queen's Promenade and King Edward Avenue was White Lodge Hotel. Next to that was The Holborn, and next to that was York House Hotel – as seen in this photo –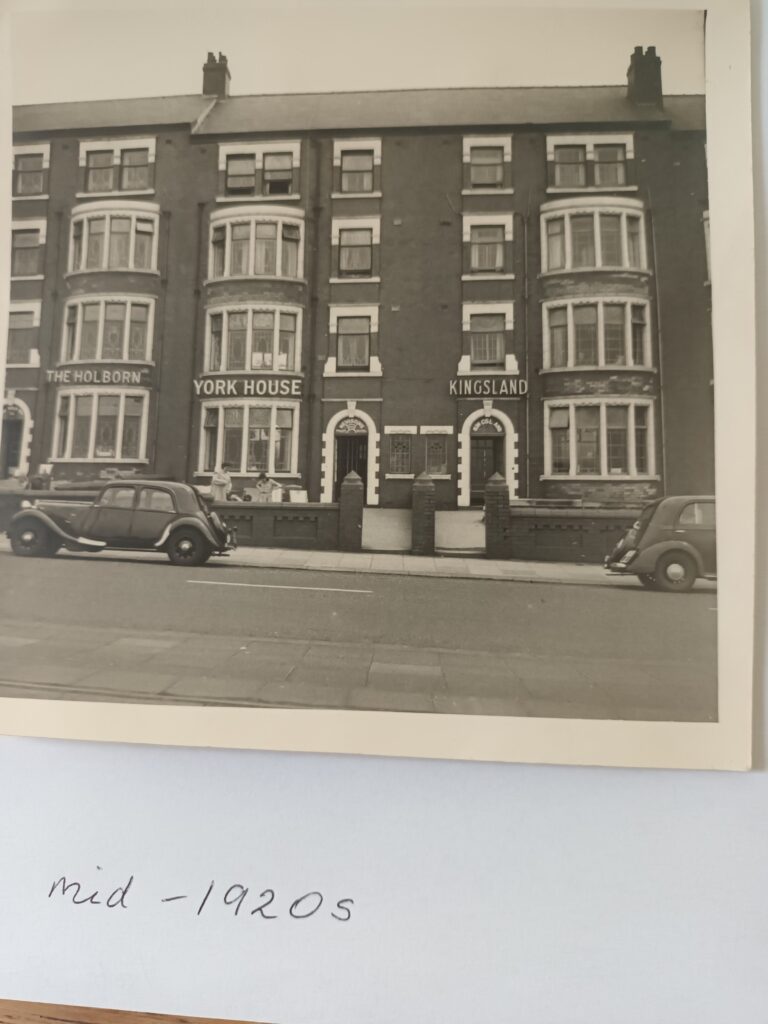 "York House used to be two separate hotels in the 1920's the other one being Kingsland. In about 1926, my great grandmother, Ellen Lawson, bought Kingsland, and soon after York House Hotel. Ellen Lawson. One of her daughters was Dorothy who married Tom Nevison (hence the T and D Nevison).
They were made into one property and belonged to my family from 1926-84. Betty and Bill Jackson ran the hotel from 1969. (Betty was Dorothy"s daughter.) My father and brother Steven ran York House from 1976 to 1984 after the death of my mother up to the point when it was sold.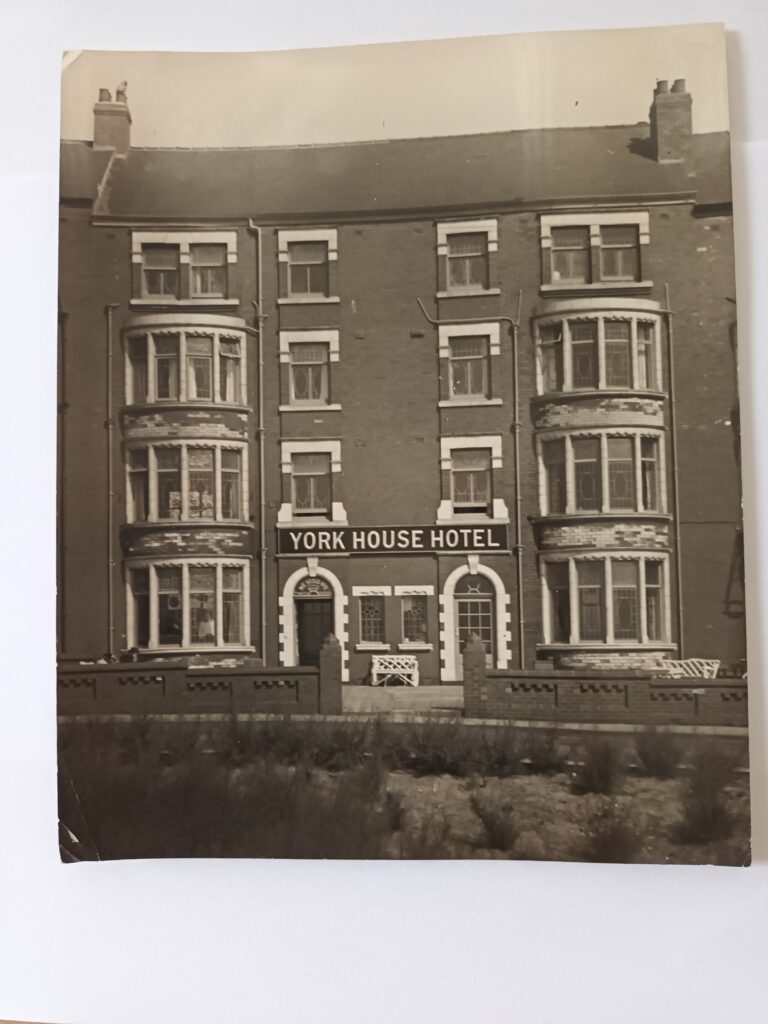 "I think Dale Hackett bought it a few years after that, acquired the Holborn and White Lodge and made it into one hotel. To the right of York House Hotel is the former Welbeck Hotel, which wasn't damaged by the fire."
Blackpool's Booming Years
Lynn adds "I love these old black and white photos and the later ones from the 50s, 60s and 70s. The tourist trade in Blackpool was buzzing then, with annual conferences (Fancy Goods Fair, Inner Wheel and Rotary, then the Illuminations, and we were always open at Christmas). A long season. It was a very popular block in North Shore, with visitors returning each year.
"My grandparents, the Nevison family, were well-known hoteliers at that time. That's her and I at the front of the hotel in the photos. The start of package holidays in the 70s affected everything. We added the sun lounge part in about 1972 and also a bar/drinks licence."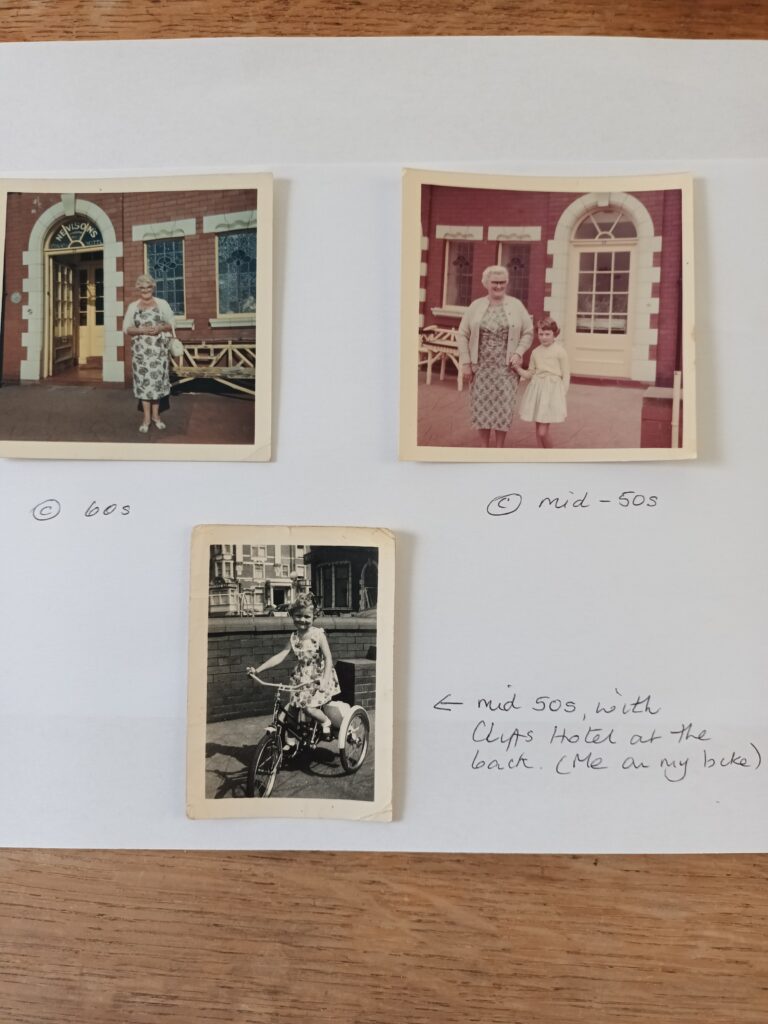 Next: Hacketts York House
In 1989, Leonard Dale Hackett opened Hacketts York House Hotel on what had by then become the corner of 14 to 18 Queen's Promenade and King Edward Avenue.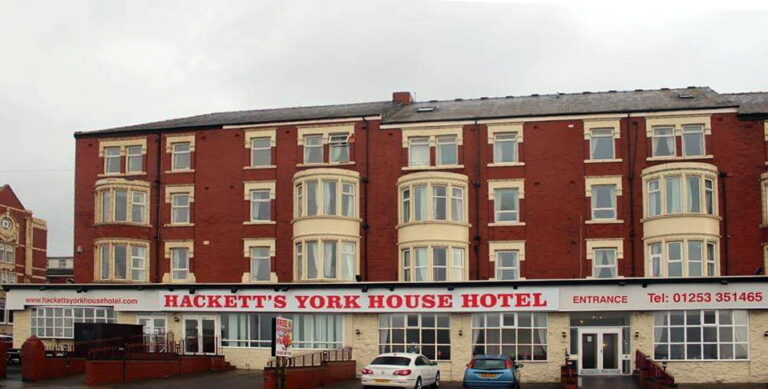 On 19 August 1996 a new company, Hacketts York House Hotel Ltd, was established by Dale Hackett (as he preferred to be called). The adjacent number 20 was soon bought and linked, and the hotel renamed The New Hacketts Hotel.
Then: The Slow Decline
In December 2007, Bernie Suresparani from Oxfordshire bought the hotel for more than £2 million. He "intends to continue running the hotel, in his first venture into the hospitality trade".
'hf' posted a comment on YouTube with some more information: "A bit of background info for you. Hacketts was bought in 2007 from the Hackett family by a Sri-Lankan businessman, Bernie Surespuran, who ran it into the ground over a period of only a few years. I worked there as Operations Manager for 3 years and left when he sacked most of the staff and entertainers to run the hotel on a shoestring. He owned nursing homes and had absolutely no hotel experience. The hotel when the Hackett family sold it was a vibrant, well maintained, loved hotel. Extremely busy all year round. This hotel is a prime example of what happens when people buy hotels with zero experience. Gutted to see it end up like this."
So by 2015 the hotel was back on the market again. The 102-bedroomed hotel was described "with a range of bars, restaurants, meeting rooms, banqueting facilities and function areas". It was bought on 3 June 2015 by private buyers from London for an undisclosed sum, thought to be about £800,000. Previously it had operated under management.
Hacketts York House Hotel Ltd was dissolved on the 19th of December 2017. It's been closed since 2018.
The End of an Era
In July 2020, Blackpool Council's Environmental Protection Team were called to secure the building at the corner of King Edward Avenue, after complaints of antisocial behaviour.
On the 1st of December 2020, a fire broke out, damaging much of the interior, and needing 40 firefighters to attend.
The Start of the Fires at Hacketts Hotel
At 2.22pm on 1 December 2020, fire crews were called to a fire on the second floor. Under control by 4.30pm, the fire caused a fair amount of damage to the left hand side of the building.
We went to take a look at the damage the next day. From the outside there wasn't a lot to see – just a lingering smell of smoke. But our video captures the start of the end of Hacketts.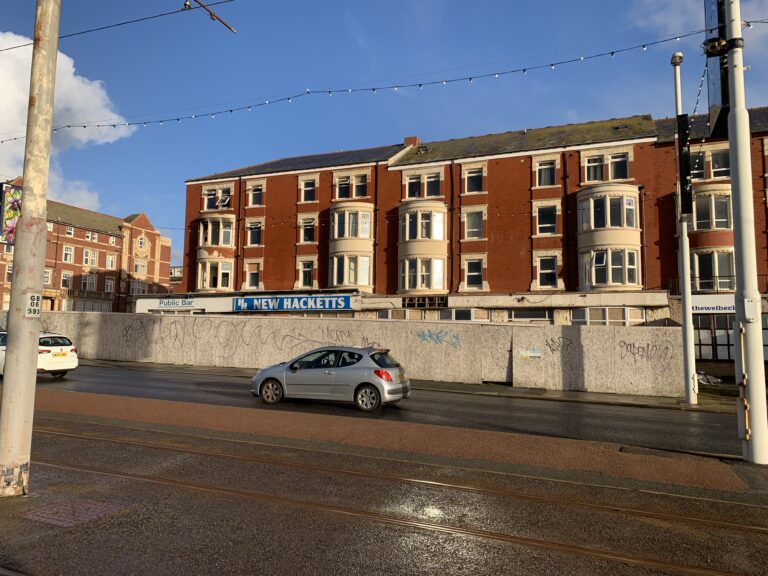 Enjoyed this video? Why don't you subscribe to our Visit Fylde Coast YouTube channel – make sure you don't miss out!
All the time it's been empty, the building's been plagued by anti-social behaviour and fire-setting – and it's looked an eyesore!
The story doesn't end there though, because as we know, on Monday 24 April 2023 it went up in flames again – big time! However this fire proved to be the final straw. Once extinguished the extent of the damage was obvious – with high unsupported walls left standing it clearly had to come down. Finally!
Demolition…
There's one thing for sure, we're all fascinated by demolition and big machines! The interest in the end of the Hacketts Hotel Blackpool has been quite something. The comments on the videos themselves make interesting reading. Together we've learned about fire engines, extinguishing fires and sorting rubble!
Did you know? teamidris told us that "Power screen" is the YouTube search you want for everything left after demolition. All that bust up smokey rubble goes in one end and sorted rubble comes out of many conveyor belts. Cool machine.
and Accrington Bricks
Tea Boy, otherwise known as Daddy Rabbit (or even Derek sometimes!) has been determined to get an Accrington brick (or two) to save for posterity. So he was delighted when I returned home one day with these two beauties in the boot of the car…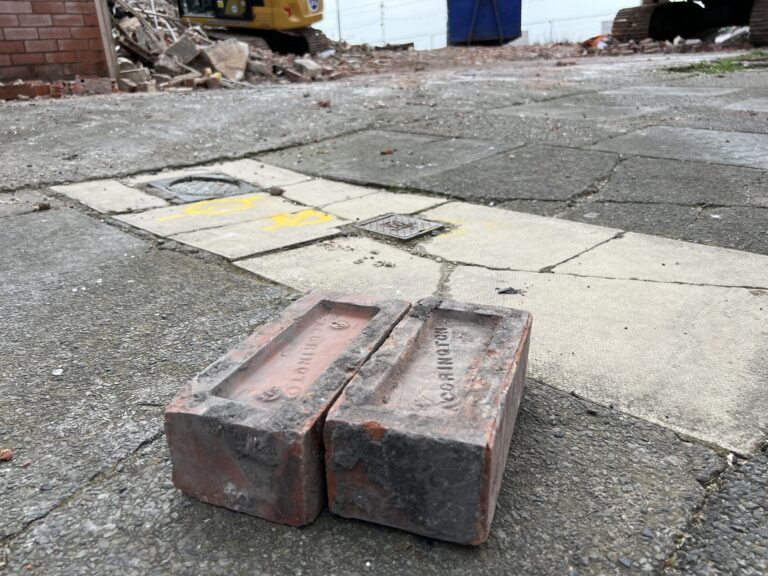 Did you know? Michael Cahill told us that "All of Blackpool's waste goes to the quarry which produced the clay for Accrington brick. It is so big, it receives waste from all over Lancashire and beyond and will take another 17 years to fill. Nearest town to the quarry is Clayton-le-Moors. Clue is in the name, Clay town!
He also added "History is that the clay made the hardest bricks in the country and the clay was only found in Accrington and Shropshire. The base of The Blackpool Tower, the Empire State Building and most of St Annes were all built with Accrington brick."
What will happen next with the plot is the next chapter in the story… to be continued!
While you're here…
Go to the homepage of the Live Blackpool website for the latest updates.
Love the Fylde Coast? Sign up for your email newsletter. Packed full of interesting things it arrives in your inbox all 52 weeks of the year.
Join us on Facebook at our Visit Fylde Coast Facebook Group and follow us on Twitter @visitFyldeCoast
Plus hundreds of videos to watch on our YouTube channel – from all over the Fylde Coast!
Booking a stay? Pick a safe, clean and legal place to stay, at the very best price. Book with the Visit Fylde Coast and StayBlackpool guide.