Roll up! Roll Up! Blackpool Council in partnership with the Blackpool Pier Company and World Monuments Fund is pleased to announce the Big Pier Day at North Pier. It's just one of the steps towards protecting Blackpool's Piers.
Blackpool's First Big Pier Watch Day
Saturday 9 June 2018. From 11am to 4pm
The day will include lots of fun activities and entertainment for families and the best part is that it's all free!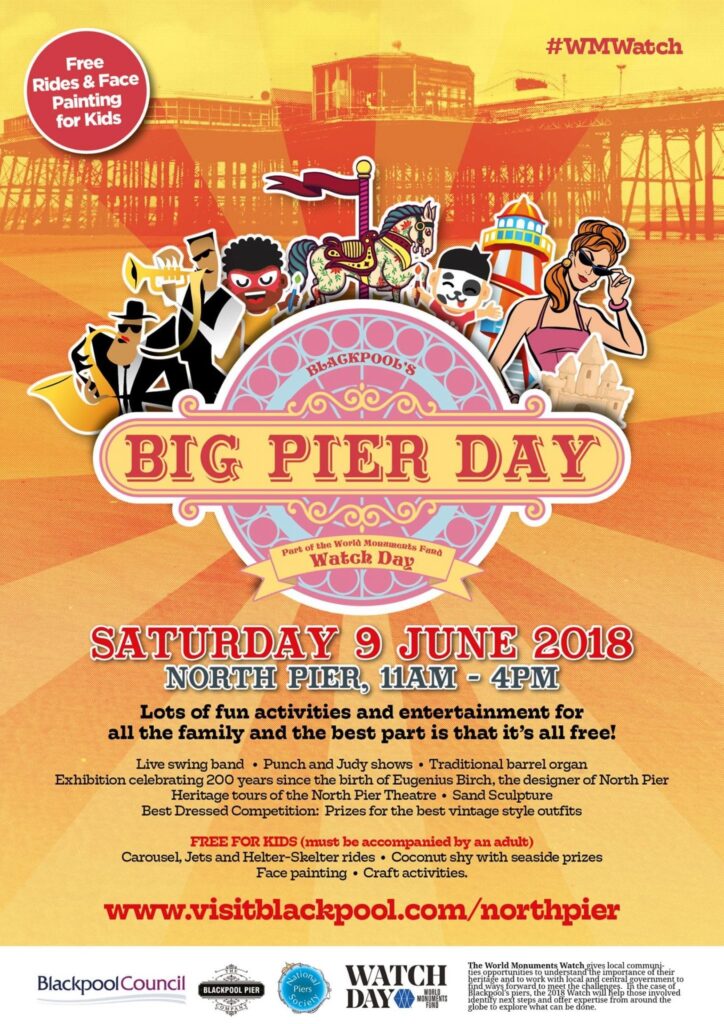 There'll be music, and entertainment including swing band The Billionaires, live Punch and Judy shows and a traditional barrel organ. The Carousel, Jets and Helter-Skelter rides will be completely free for kids (who must be accompanied by an adult) and there will be a free coconut shy with seaside prizes along with face painting and craft activity.
For the pier buffs there will be an exhibition celebrating 200 years since the birth of Eugenius Birch, the designer of North Pier and many other early piers around the country.
Leader of Blackpool Council, Cllr Simon Blackburn, said: "This is a brilliant opportunity for local families to enjoy some time out on Blackpool's oldest pier. We've been working with the Blackpool Pier Company and World Monuments Fund to make sure that we bring as many people together as possible to enjoy what promises to be a brilliant day. On a more serious note though, our piers are at risk from increased storm surges and the mounting cost of repair is putting owners across the UK under huge financial pressure, hopefully what we do here in Blackpool will lead to greater awareness of the challenges and maybe even some changes to how we manage them. "
Blackpool's Piers were included on the 2018 World Monuments Watch in October of 2017 in recognition of the challenges they face from climate change. The biennial campaign provides local people, activists, and experts around the world with an opportunity to initiate a grassroots call-to-action for the places they want to protect. Watch Day is a component of the program that aims to connect communities to their built heritage through public events. Support from World Monuments Fund and Blackpool Council will ensure as many people as possible can take part in the Watch Day activities.
Peter Sedgwick of the Blackpool Pier Company said: "We're really grateful to the Council and the World Monuments Fund for working with us on this. We hope that the open day will help people understand the challenges we face as owners into the future and how we're working to improve North Pier. It's easy to forget that the bulk of our repair money has to go into the structure itself, so a bad season will limit what we can do in terms of restoration or decorative repair. We can't change the weather, but with help, we can be more prepared for what it brings."
"The community that has passionately rallied around the Blackpool Piers is a perfect example of what the World Monuments Watch is all about," said Joshua David, President and CEO, World Monuments Fund. "These beloved and historic piers are facing a dangerous and increasingly urgent threat. By expanding dialogue, exploring conservation solutions, and celebrating these great piers, Blackpool can serve as model for sites facing similar issues around the world."
International recognition with inclusion on the 2018 World Monuments Watch – a step towards protecting Blackpool's piers
The World Monuments Fund announced that Blackpool's piers are to be included on the 2018 World Monuments Watch. It's a call to action for cultural heritage sites facing imminent threats and challenges, helping create opportunities for positive change.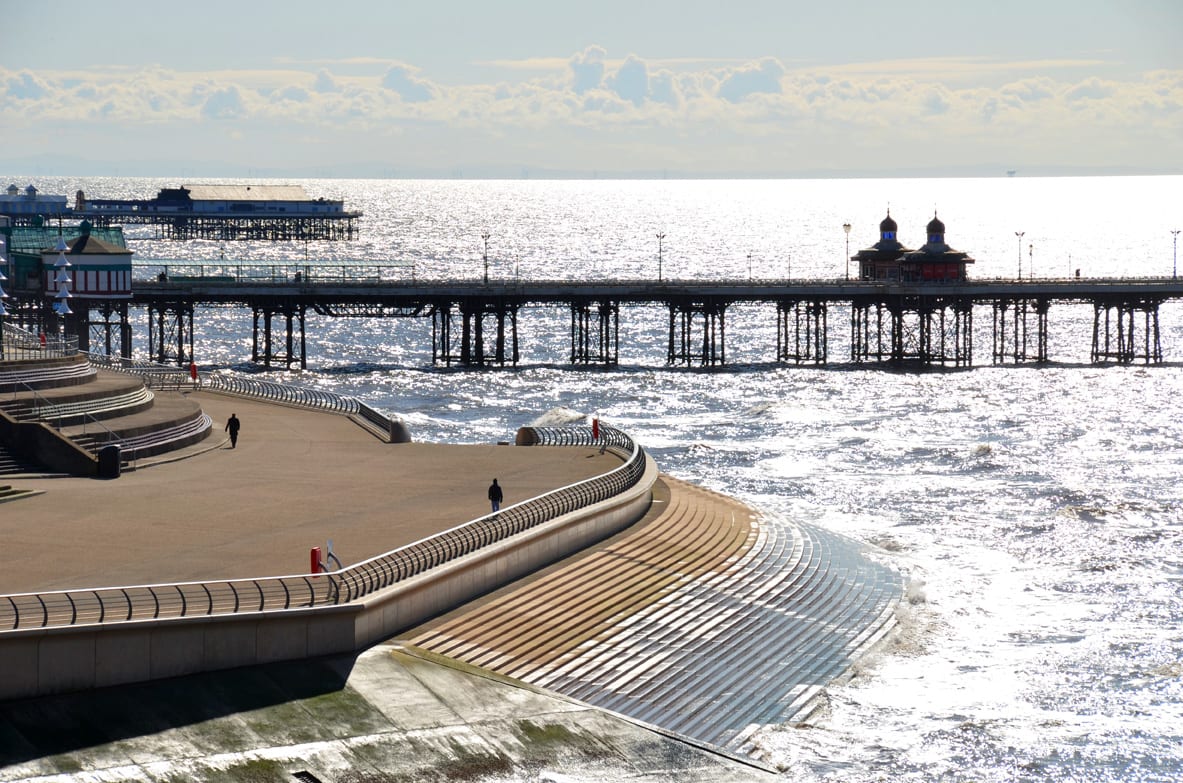 Blackpool North Pier. You can see the end of Central Pier back of shot.
The World Monuments Watch was founded in 1996 in partnership with American Express and has served as a catalyst for action for hundreds of sites.
It's led to improved safeguarding of places of cultural heritage, more suitable tourism management, and increased community engagement. The historic Blackpool piers are included on the 2018 Watch due to threats from the effects of climate change.
Issued every two years, the World Monuments Watch calls international attention to threatened cultural heritage sites around the world. Watch-listing provides an opportunity for sites and their nominators to raise public awareness, foster local participation, advance innovation and collaboration, and demonstrate effective solutions.
The list is compiled by a panel of international heritage experts in the fields of archaeology, architecture, art history, and preservation.
Since the program's inception, more than 800 sites in more than 135 countries and territories—including those on the 2018 Watch—have been included. The international attention given to Watch sites provides a vital tool with which local entities may leverage funding from a variety of sources, including municipal, regional, and national governments; foundations; corporate sponsors; international aid organizations; and private donors. Since 1996, WMF has contributed more than $105 million to Watch sites; while almost $300 million has been allocated to Watch sites by other entities. In addition, Watch Day is a component of the program that aims to connect communities to their built heritage through public events.
The World Monuments Watch gives local communities opportunities to understand the importance of their heritage and to work with local and central government to find ways forward to meet the challenges. In the case of Blackpool's piers, the 2018 Watch will help those involved identify next steps and offer expertise from around the globe to explore what can be done.
World Monuments Fund is the leading independent organization devoted to saving the world's treasured places. For more than 50 years, working in over 100 countries, its highly skilled experts have applied proven and effective techniques to the preservation of important architectural and cultural heritage sites around the globe. Through partnerships with local communities, funders, and governments, WMF seeks to inspire an enduring commitment to stewardship for future generations. Headquartered in New York City, the organization has offices and affiliates worldwide.
The Only UK Resort with Three Piers
Blackpool is unique in being the only UK seaside resort with three piers.
Grade II listed North Pier is particularly significant as it is now the oldest remaining example of a pier designed by Eugenius Birch using his revolutionary screw pile system. They also incorporate important and innovative design and engineering elements that make them a unique collection of seaside structures.
Read more about the history of our piers:
– Blackpool North Pier
– Blackpool Central Pier
– Blackpool South Pier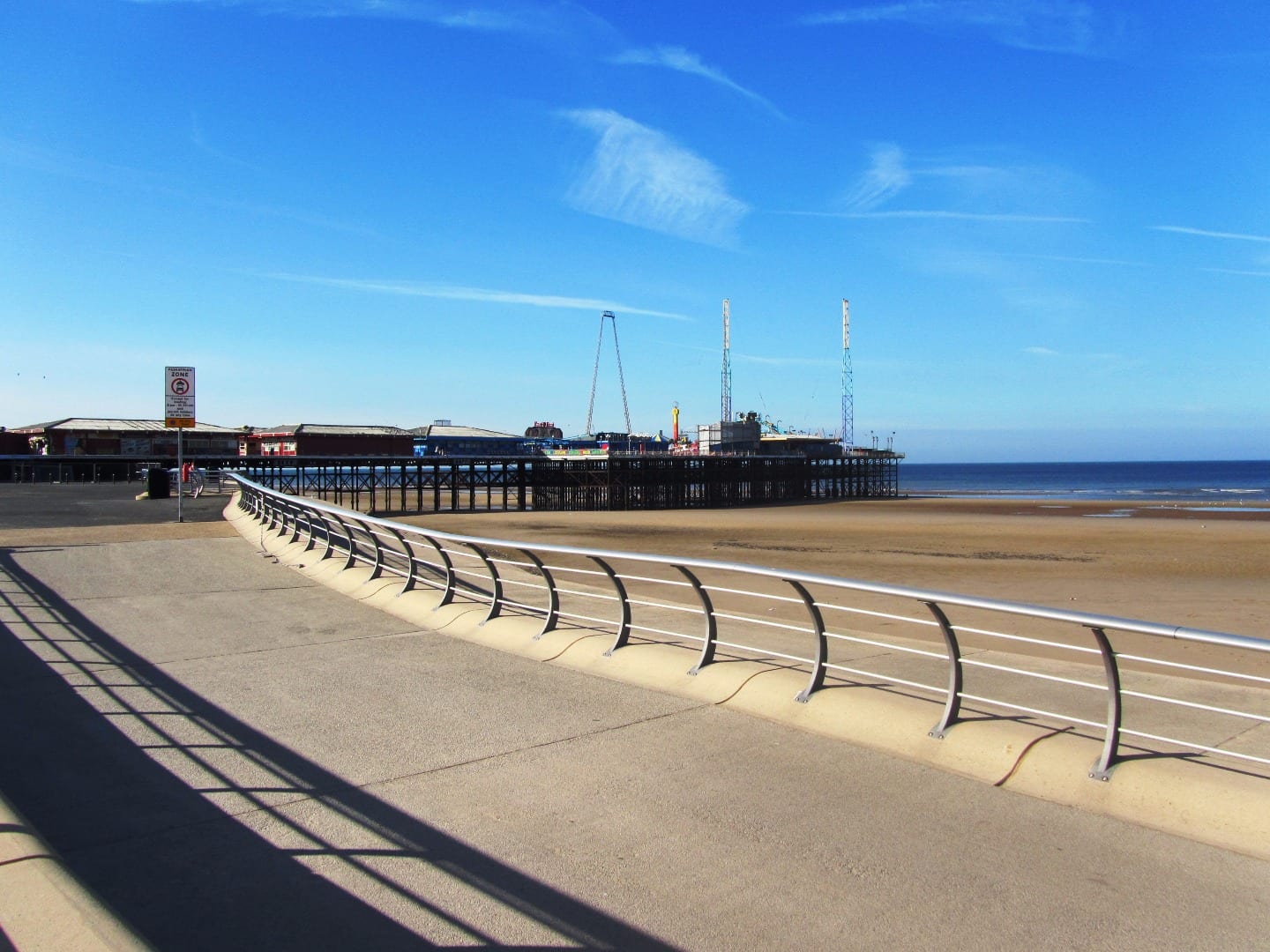 Blackpool South Pier, looking from Waterloo headland
Blackpool Council Leader, Cllr Simon Blackburn, says he has long been concerned for the future of the piers in the face of significant changes to both weather patterns including rising sea levels and what people are looking for in a seaside holiday.
He said: "We are delighted that the Worlds Monuments Fund has recognised the significance of Blackpool's piers. We know how important they are historically and that they are key flagships for our tourist offer. They are also vital to our community in terms of resort identity, heritage, employment and community pride.
"The piers are three of the most iconic structures in Blackpool and we need to ensure that through local and international collaboration that they remain significant features of the town to be enjoyed by future generations. Being included on the watch list offers real opportunities for dialogue with central government as well as other towns, nationally and internationally, that are experiencing the same problems."
Joan Humble, chair of Blackpool Civic Trust welcomed the announcement and said: "We know people in Blackpool are concerned about the future of the piers, particularly North Pier, which has seen serious damage from storms over the last few years.
"Part of the problem is that often, private owners can only do so much and there are understandable limits on how much public money can be spent on what are effectively private businesses. We have to begin talking about what the future of our piers is for the next hundred years and how we protect them into the future."
Part of the History of Blackpool
All three of Blackpool's piers are hugely significant in the history of the town.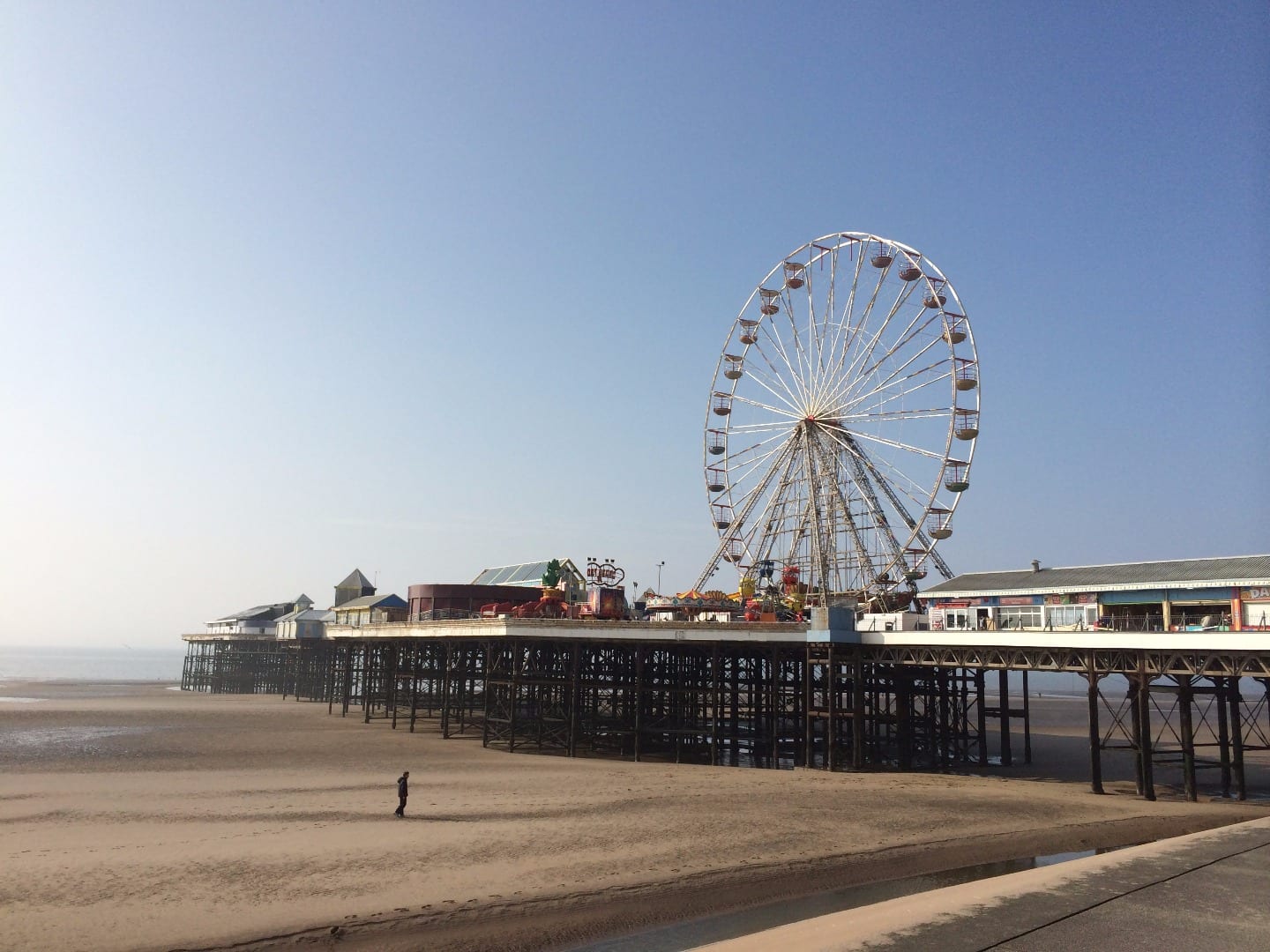 Blackpool Central Pier and big wheel
The entrepreneurial pier builders were in part responsible for how the town developed with all three close to railway stations; creating hubs for tourist activity with the town growing around them.
Recent research published by AOL (2016) has shown that a walk along the pier is the most popular activity for visitors to the British seaside. However, all three of Blackpool's piers face serious challenges from climate change, changing tourism trends and funding.
Vulnerable Structures
Increased damage from storm surges combined with rising sea levels are one of the biggest challenges for the UK's pleasure piers, but they are not alone. Piers and boardwalks across the Atlantic on America's east coast are also suffering increased storm activity as weather patterns change.  This offers sites like Blackpool the opportunity to look at what is happening worldwide and identify what can be done with local, national and international partners to protect these vulnerable structures.
The National Piers Society estimate that 20% of piers  are currently 'at risk' of being lost and it is significant that many of the coastal towns that lost their piers during recent decades have struggled to maintain their identity as seaside resorts or have significantly declined as destinations.
Tim Wardley, Chairman of the National Piers Society, also welcomed the inclusion of Blackpool's piers on the 2018 Watch. "Blackpool is such an important place. In fact it is probably unique in the history and development of a seaside resort, the seaside holiday and piers, with the Tower, Winter Gardens and Pleasure Beach at the heart of that importance.
"So few resorts have so much infrastructure intact and still enjoyed by the public which tell the story of a seaside community born through tourism.
"This is an opportunity for Blackpool to lead the way in a dialogue that has the potential to help other piers across the country and to raise the profile of the difficult situation many of them are in today. We've already been working closely with the council to see how we can bring people together as part of understanding the future of the piers and how we protect them."
Protecting Blackpool's piers
Blackpool Council is now completing an action plan setting out how it will work with the World Monuments Fund and other local and national partners to create a programme of events and activities that both highlight serious issues and bring people back to the piers to celebrate their place in Blackpool's seaside story.
The National Piers Society is a non-profit making registered charity which was founded in 1979 under Sir John Betjeman, at a time when some of the finest piers were threatened with demolition. The Society's aim is to promote and sustain interest in the preservation, building and continued enjoyment of seaside piers.  Visit https://www.piers.org.uk
Blackpool Civic Trust was formed in February 1975 to encourage and support the town of Blackpool and its people. The objectives and aims are to stimulate a sense of Civic Pride to promote high standards of planning and architecture and to secure the preservation, protection and improvement of features of historical or public interest.
The Trust keeps an eye on Listed Buildings and Conservation Areas maintaining an interest in areas relevant to Blackpool's status as a premier resort. The Blackpool Civic Trust initiated the forming of the Friends of Stanley Park – the first parks' Friends group in the town.
It's a grassroots member of the of the national umbrella group, Civic Voice (Joan Humble, Chair of BCT is also the Chair of Civic Voice). It is part of both the North West Association of Civic Trusts and Societies (NWacts) as well as the Lancashire Federation of Civic Societies. More about Blackpool Civic Trust
Find out More
Have a look at the Live Blackpool website homepage for more of the latest updates.
If you love the Fylde Coast you ought to sign up for our weekly email newsletter. It's packed full of interesting things and will arrive in your inbox all 52 weeks of the year.
Sign up for the Visit Fylde Coast enews here
Join us on Facebook at our Visit Fylde Coast Facebook Group
Don't forget to follow us on Twitter @visitFyldeCoast