Barrie C. Woods is a local train enthusiast, and he got in touch with a photo from his archive that he just can't fathom, asking if anyone out there could help.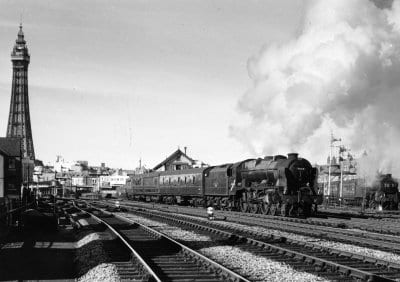 Barrie says:
"The photo shows Blackpool Central Station with a train departing, taken back in the 1960s. Myself and my collegues are stuck as to what the exact date was and where the train was going, as it doesn't appear in any of our records.
Some more details:
Locomotive is LMS royal Scot class No. 46160 named "Queen Victoria's Rifleman".
The engine was at the time based at Derby, see the "17A" plate on the smokebox door.
The train is a special, note No. 1X37 chalked on top of smoke-box – but where is it going to?
The other train is also a special 1X31 with a Black 5 type of engine at its head. – Where is that going?
Both trains appear to be full of passengers, and the coaches behind 46160 are from the eastern region, so could it be returning to Leeds or York perhaps on a summer Saturday? Photo was taken in the evening, note shadows.
It doesn't seem to be a Football Special as there is a baggage car behind the engine, indicating luggage being carried. The picture was probably taken around July-Aug 1965.
A lot of my friends who are very much into railway history have seen this Blackpool Central photograph of 46160 and none can ID it. So if anyone locally can that would be great.
We don't know if anyone has copyright on the photo. A question asking whom the photgrapher was would cover that and interestingly may lead us to the actual person, and who knows what else he/she may have in their own archive if that happens?"
---
22.10.15 – reader Brian Hogarth shares some information-
"I worked on the footplate at Blackpool from 1953 to 1964 when Blackpool Central closed. I also started my working career in the signal box shown in the picture, Blackpool Central.
"The train shown is leaving from one of the excursion platforms and I would guess that with this loco it was going to Nottingham. There were a number of works outings in those days from firms like Raleigh cycles. It would have to have been taken in 1964 at the latest."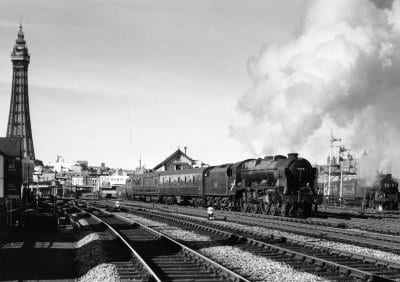 If you've got some idea what this train might be and would like to have a closer look at the photo, just email jane@theRabbitPatch.co.uk