Welcome to Blackpool Tramtown! In 2023 ambitious plans begin to transform it into a brand new museum.
The tram depot at Rigby Road in which Tramtown is located is one of only three remaining working locations in the world. It features around 40 trams, some up to 120 years old.
Red Heritage Plaque for Rigby Road Tram Shed
Fantastic news, Blackpool's Heritage Tram Shed has been awarded a red Heritage Plaque by The National Transport Trust. It recognises the historic significance of this industrial heritage building in the heart of Blackpool.
Jerry Swift is Deputy Chairman of the National Transport Trust. He proudly announced, "Established in 1965, The National Transport Trust is the only national body that promotes and encourages the preservation and restoration of Britain's transport heritage in all its forms – road, rail, wings and water. Our red plaque initiative is a national scheme of marking key locations around the UK which have significant historical value to British transport heritage. We considered that Blackpool's Rigby Road Tram Shed met all our aspirations in this regard."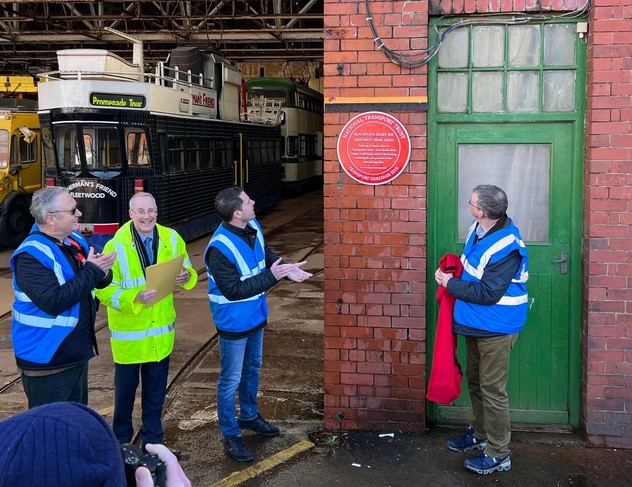 Bryan Lindop is Blackpool Transport Head of Heritage. He said "The national recognition of the historic status of this building means a lot to us, because it firmly cements our faith in retaining and restoring it. It has always been overshadowed by its iconic and scene-stealing contents, but it is a significant piece of heritage in its own right and a rare survivor. I am grateful to the National Transport Trust for this significant award. Also to Paul Maynard MP not only for suggesting it, but for kindly agreeing to unveil the plaque for us, ably supported by Scott Benton MP".
The plaque unveiling took place today, Friday 10th March 2023, at 14.00 hours.
Early Days at Rigby Road
The Blackpool Heritage Tram Shed at Rigby Road is a purpose-built tram shed. Built in 1935 it was part of the Blackpool Corporation Transport Department's five-year modernisation plan (1933-1938). It housed many of the modern streamline tram fleet delivered to Blackpool between 1934 and 1939. Remarkably, many of which are still housed, maintained, and operated from there.
When completed it could house around 120 trams. Now, it's the last operational first-generation tram depot in the United Kingdom. It is also one of only three tram depots in the world that operate double deck trams on a mainline tramway.
Designed as a dual-purpose building, it was originally known as Kirby Hall. Trade exhibitions were hosted at the rear half of the building in the early days, accessed via Kirby Road. However, this use of the shed was relatively short-lived.
Now known as Tramtown, the iconic Blackpool heritage trams operate from here under the Heritage Tram Tours brand, and regular depot tours take place. £800,000 of funding has just been secured to undertake the first phase of a five-to-seven-year redevelopment plan to restore the building. A dynamic new heritage visitor attraction is being developed in Blackpool by converting a third of the building into an exhibition hall.
Welcome to Blackpool Tramtown!
It's wonderful news! Blackpool Tramtown, the heritage tram depot, has secured £800,000 to start work on Phase One of a new four-phase vision to create a brand new visitor attraction for the town.
We went along to the launch event on Saturday 25 February, to hear about the exciting Four Phase Plans –
Enjoyed this video? Why don't you subscribe to our Visit Fylde Coast YouTube channel – make sure you don't miss out!
Phase One
Phase One will ensure the continued maintenance and running of Heritage Trams for years to come.
Funding is now secure for works to begin. Including –
A new roof for a third of the tram shed
A new headbeam
A new partition wall
Repairs to the gutters and drains
Relocation of engineering equipment into the redeveloped facility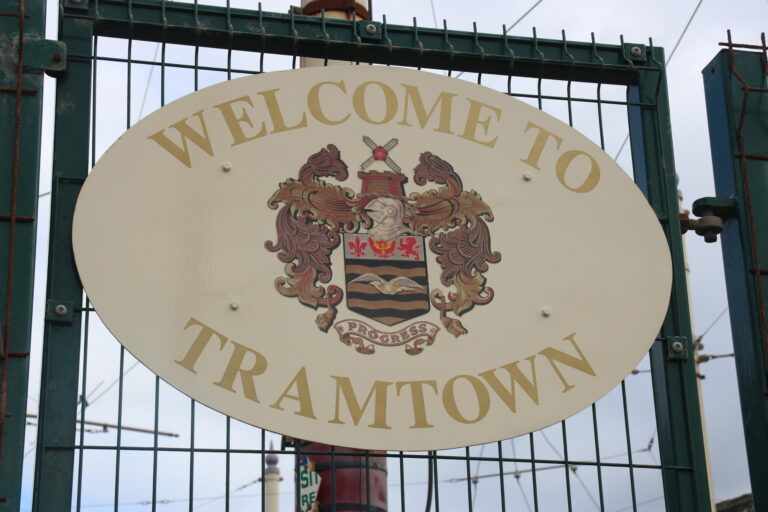 Fundraising continues for an Enhanced Phase One
This is just the start of the story. Heritage Trams still need your support to deliver an enhanced Phase One scheme. The last part of Phase One is the installation of purpose-built doors for a third of the tram shed.
£70,000 buys purpose-built doors to keep the wind and rain out of the facility.
The new doors will create better working conditions for engineers and protect the trams stored in this part of the tram shed.
Ultimately creating the first truly water-tight area – and supporting the next three development phases.
Can you help?
Every penny takes the team closer to their target of a safe and sustainable future for Heritage and Illuminated trams in Blackpool.
If you can spare £5, please donate NOW!
Take a Tour of Tramtown Today!
See the inner-workings of Blackpool's Heritage Tram Centre and hear how the wheels keep on turning on the wonderful world-famous Heritage Trams.
Book your Tramtown Tour
Tours run on Mondays and Saturdays from 9 January to the end of 2023.
Starting at 10.30am from the main tram gates on Hopton Road/Blundell Street (use postcode: FY1 6EA)
It's around a 90 minute tour where you'll be guided around Rigby Road tram sheds and engineering workshops. One of the resident experts will talk you through each area and the work being done to preserve history for years to come.
All money collected from these unique tours contributes to the preservation of trams for future years. Their fundraiser explains the challenges and ambitions for the future.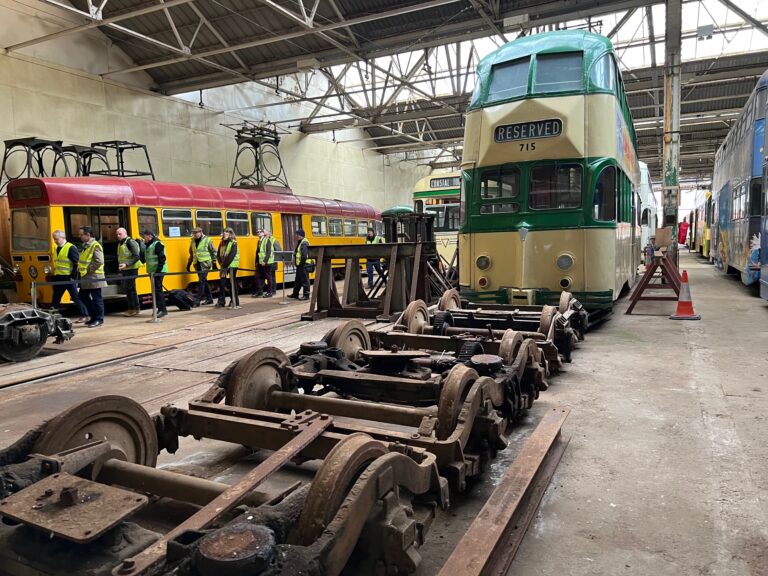 Take a Heritage Tram Ride
Don't forget that you can also enjoy a ride along Blackpool seafront on one of these lovingly restored beauties.
Book your Blackpool Heritage Tram Tour here
Looking for somewhere to stay?
Book your stay with the Visit Fylde Coast and StayBlackpool accommodation guide. Know that you'll have a great place to stay with a choice of Trusted accommodation.
All the properties listed on the Visit Fylde Coast websites by StayBlackpool are annually inspected. This means that you can book with confidence, safe in the knowledge of a great stay, somewhere that's safe, clean and legal, at the very best price.
Bookings from these sites are also ultra-low or zero commission. This means that more of the money from your booking helps to support the local economy.
Search for Accommodation
Accommodation you can trust from StayBlackpool
The Next Three Phases of Tramtown
The recently submitted four-phase vision will see repair works to the depot plus a brand new exhibition hall, viewing platform, café and shop.
Work is now underway on funding bids for the next three phases in the Tramtown vision. This includes:
A full roof replacement for the remaining two thirds of the depot
New doors
A brand new exhibition area including a café, conference facilities and retail areas
A mezzanine floor for visitors to freely walk and look out over all of the trams
You can be part of this exciting future for Blackpool's oldest working trams!
Artist impressions: Studio John Bridge | Blackpool Tramtown | Blackpool Heritage Tram Tours
While you're here…
Go to the homepage of the Live Blackpool website for the latest updates.
Love the Fylde Coast? Sign up for your email newsletter. Packed full of interesting things it arrives in your inbox all 52 weeks of the year.
Join us on Facebook at our Visit Fylde Coast Facebook Group and follow us on Twitter @visitFyldeCoast
Plus hundreds of videos to watch on our YouTube channel – from all over the Fylde Coast!
Booking a stay? Pick a safe, clean and legal place to stay, at the very best price. Book with the Visit Fylde Coast and StayBlackpool guide.