Find Central Drive Park in one of Blackpool's most densely populated areas – opposite the petrol station, not far from Bloomfield Road Stadium. Above photo: Central Drive Park – from Google Street View
In March 2015, a new £40,000 playground was built on the ground outside Ibbison Court by Blackpool Council and Groundwork. It includes a slide, swings and a climbing wall.
The address for the park is: Central Drive, Blackpool, FY1 5HZ
Open daily throughout the year
Facilities include: Children's play area, Bowling green, Playing fields, Flood-lit games area
Creating Central Drive Park
Cllr Graham Cain was then Blackpool Council's cabinet member for leisure and tourism. He was also one of the local councillors for Bloomfield ward. He said: "Blackpool is a densely populated town at the best of times, and around Central Drive it is probably more enclosed than anywhere else.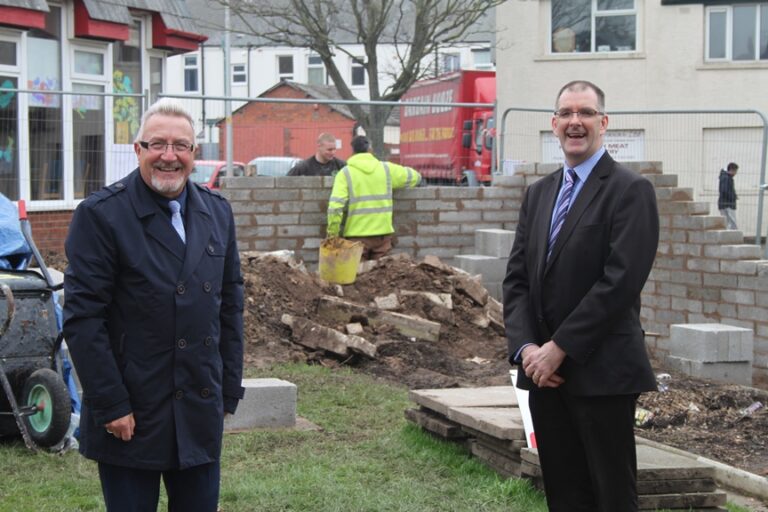 "This park will help to improve the look of Central Drive, making it greener and more colourful. We think that it will help to make it nicer for families and the local businesses too. The investment covers installation of new equipment and a commitment to maintain the park in coming years.
Part of the reason why the work was carried out is to make the area safer and more enjoyable for everybody who lives nearby.
The playground and park tie in nicely with the new community planting garden at the back of Ibbison Court. All of these things help the community foster a pride in the local area. Hopefully it will bring its own benefits and encourage people to continue to look after the area in the future.
While you're here…
Go to the homepage of the Live Blackpool website for the latest updates.
Love the Fylde Coast? Sign up for your email newsletter. Packed full of interesting things it arrives in your inbox all 52 weeks of the year.
Join us on Facebook at our Visit Fylde Coast Facebook Group and follow us on Twitter @visitFyldeCoast
Plus hundreds of videos to watch on our YouTube channel – from all over the Fylde Coast!
Booking a stay? Pick a safe, clean and legal place to stay, at the very best price. Book with the Visit Fylde Coast and StayBlackpool guide.