On 31 January 2008 an almighty storm blew a cargo ferry off course and gave us the Riverdance Shipwreck where Blackpool meets Cleveleys.
Riverdance Shipwreck
The Riverdance Ferry ran aground at Anchorsholme, the last place on the map at the north end of Blackpool seafront.
It was the latest in a long line of ships to have wrecked over the centuries on the Fylde Coast. Have you seen the Shipwreck Memorial which marks all of these lost vessels? It's at the boundary between Cleveleys and Blackpool.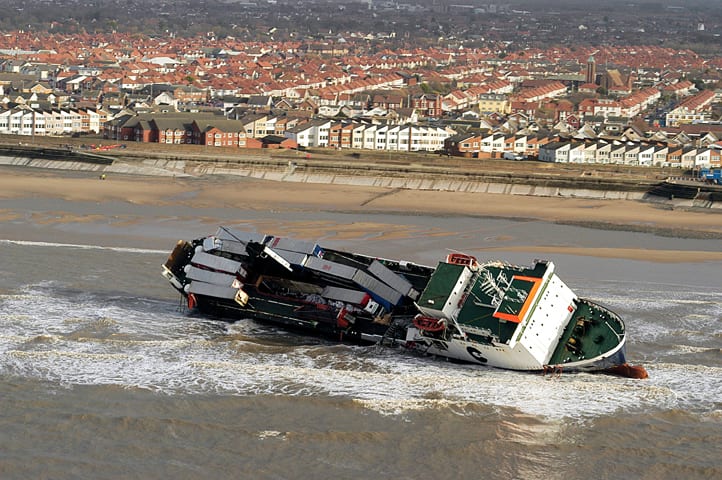 The Riverdance Ferry had set sail from Ireland on its route to Heysham. During an exceptional storm and winds that reached up to 80mph she was 'broadsided' by a huge wave, which made the cargo shift and the ferry list.
It started to run aground at Anchorsholme, which is at the northern end of Blackpool seafront, where it meets Cleveleys.
Technically the Riverdance Shipwreck was just in Blackpool. But this bit of seafront feels like it's part of Cleveleys, and it was widely reported as a Cleveleys event.
Find out More
You can find out all about this incident from our Visit Cleveleys website. There you'll find photos, videos and much more, about the wreck itself and the clean-up operation.
While you're here…
Have a look at the Live Blackpool website homepage for more of the latest updates.
Love the Fylde Coast? Sign up for our weekly email newsletter. Packed full of interesting things it arrives in your inbox all 52 weeks of the year.
Join us on Facebook at our Visit Fylde Coast Facebook Group
Don't forget to follow us on Twitter @visitFyldeCoast