Louie Horrocks Park is a lovely open green space on Lytham Road at the South of Blackpool. Find it just south of the Highfield Road community shopping area.
It's a well used green space at the south of Blackpool on the main route between Blackpool and St Annes. It's popular with locals and people passing through to the shops. There are three entrances, which are all wheelchair accessible. The flat landscape makes it a park for everyone.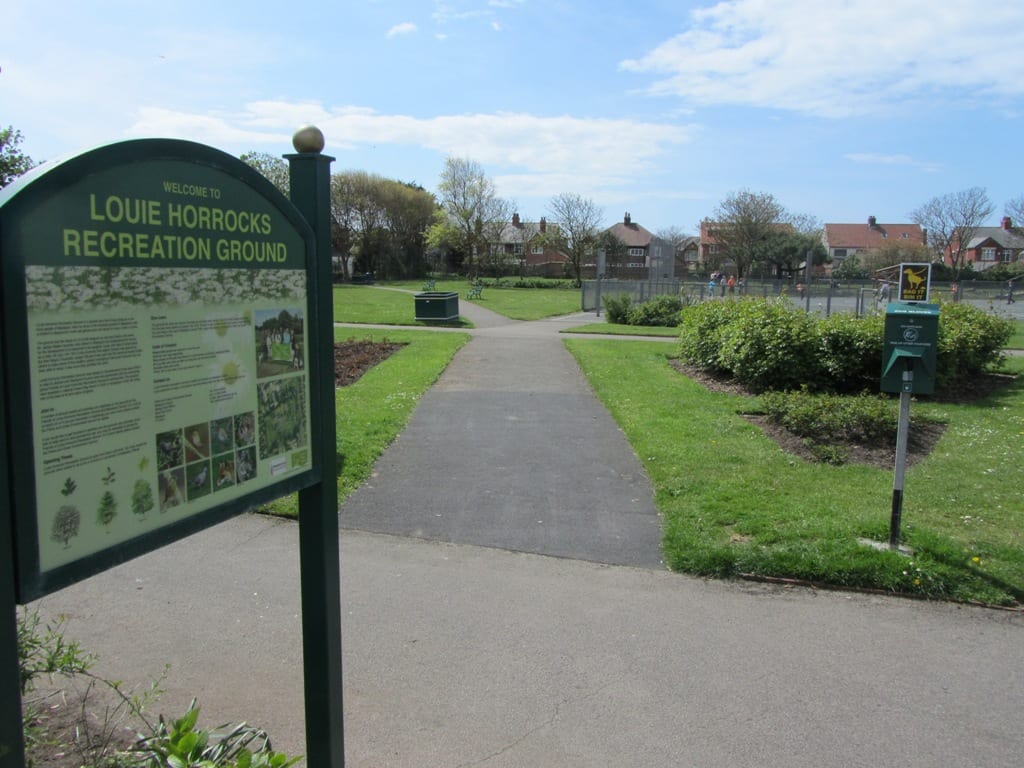 Transforming Louie Horrocks Park
Work started to transform Louie Horrocks Park back in 2006.
New gates and fences have been added
Old disused tennis courts were removed and landscaped.
Not long afterwards, also in 2006, the Park won the prestigious "Green Flag" award, which it's held ever since.
Close working between the Friends Group and Blackpool Council has created a valuable and well maintained open space for everyone to enjoy.
Through joint effort, the planting and shrubbery at the park has been improved over the years, along with facilities for all age groups. Picnic tables and benches, bins and dog bins have been provided, along with playground facilities for young children and teenagers.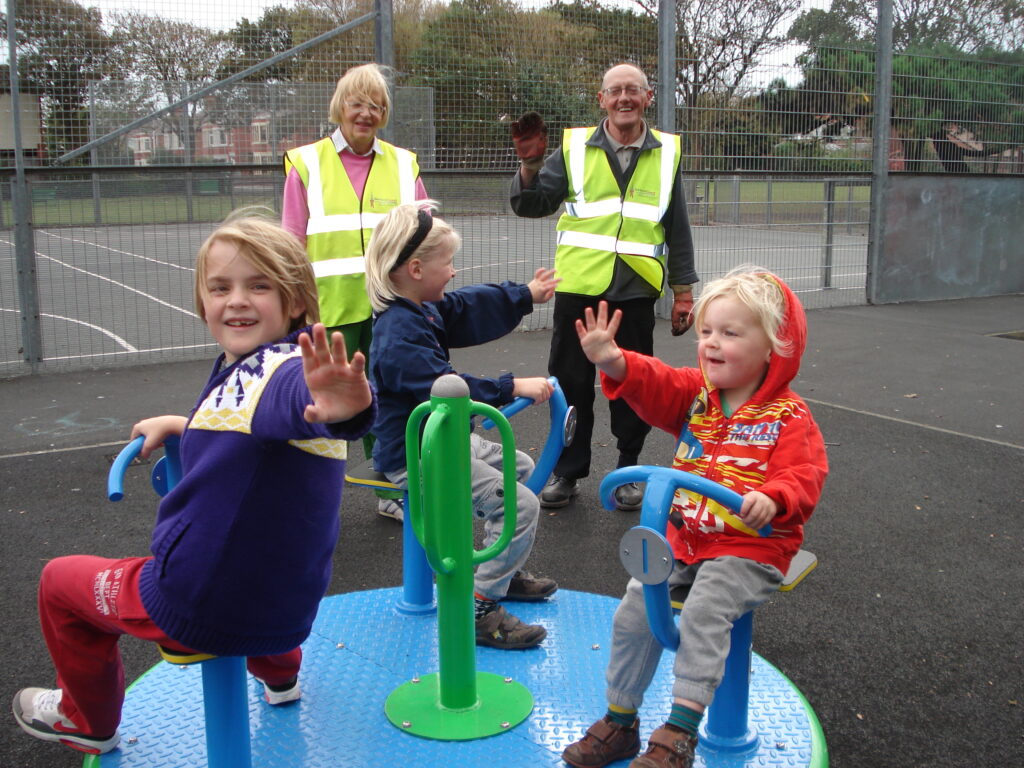 In autumn 2014, the new roundabout arrived and it was enjoyed by a local family (above). All thanks to funds raised from the Squires Gate Councillors, the local Area Forum and the 'Friends of Louie Horrocks Park'.
Friends of Louie Horrocks Park
Every green space needs its friends. Established in 2006, the Friends of Louie Horrocks Park look after this space.
They work with Blackpool Council to maintain this open space as a good community resource for everyone to enjoy.
The committee does a lot of work, but extra volunteers are always welcome. You can do as little or as much as you like. If you live in the area or enjoy using the park why don't you give a little bit back to making it nice?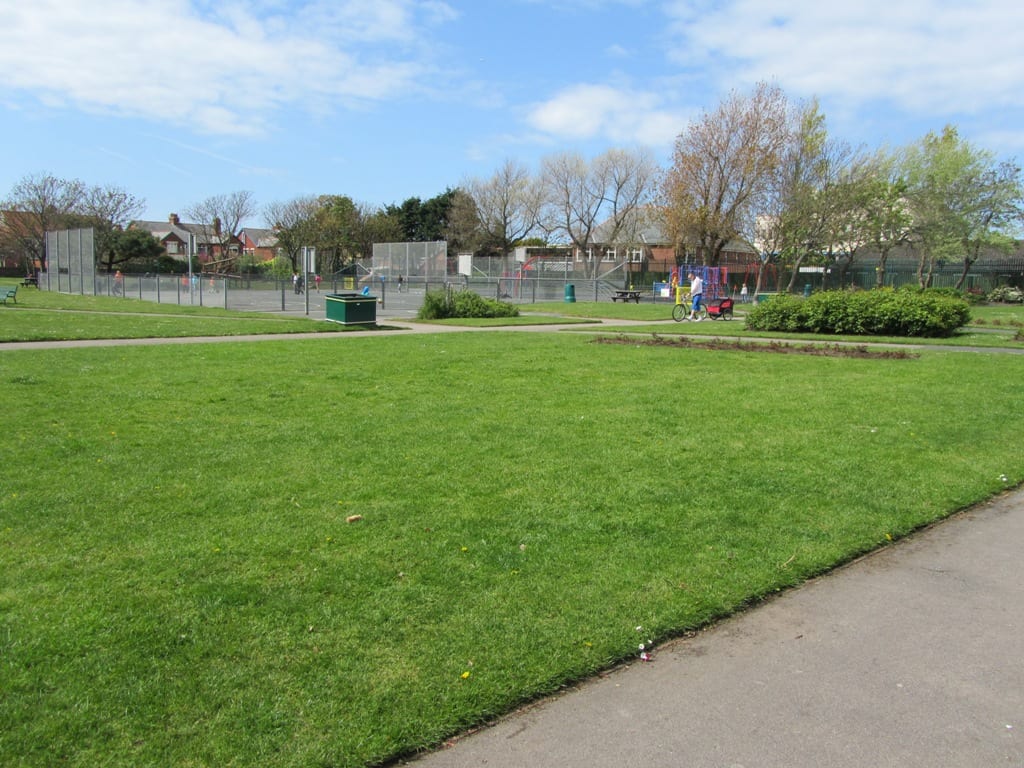 More about the Friends
The Friends has done a fabulous job!
They've enhanced the shrubbery and planting, provided picnic tables, benches and bins, and planted 40 saplings as part of the Jubilee Woodlands project.
They created a small children's playground, and an adventure area for young teenagers. There's also a multi-use football/sports enclosure.
As with all open public spaces, the Friends Group continue with the campaign against dog fouling.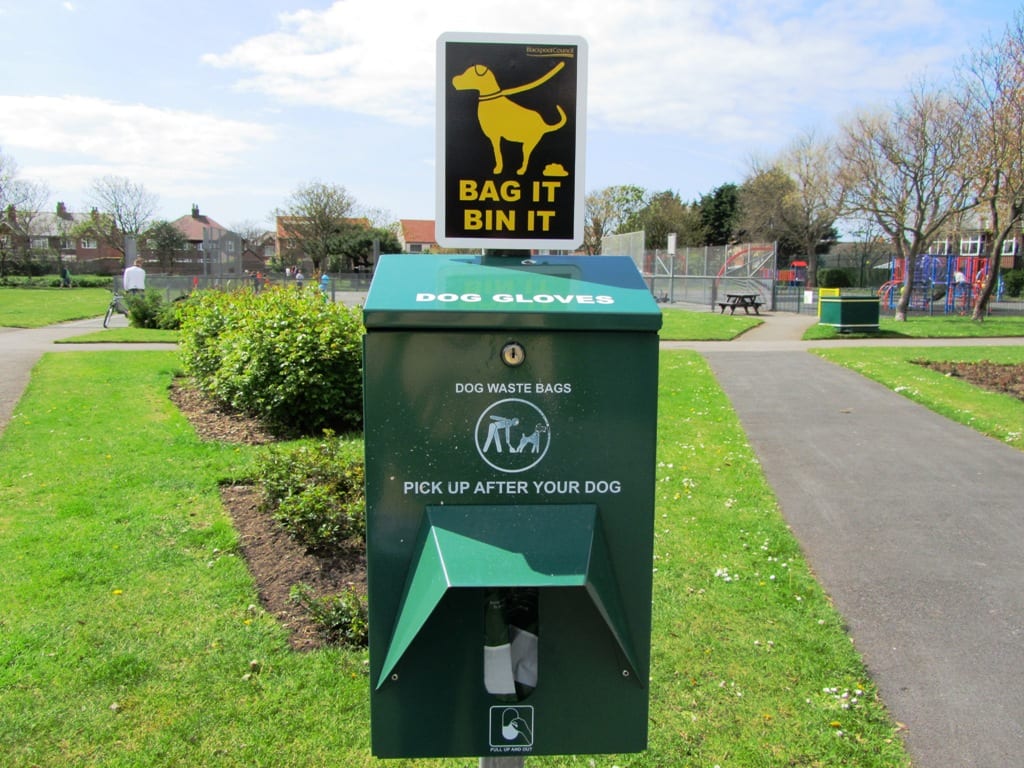 Don't forget: if you walk your dog in the park, please bag and bin its poo. Remember that dog poo can cause many nasty conditions for both dogs and humans.
The Friends Group were also successful in their campaign to see CCTV installed at the park. Images link to the central Blackpool CCTV monitoring system, so anti-social behaviour can be acted on at the time.
History of Louie Horrocks Park
Horrocks, the cotton manufacturer, gave the park to the people of Blackpool.
His daughter had TB and although he tried every known remedy at the time, she sadly died of the disease. Her memory lives on in the park.

Entrance to Louie Horrocks Park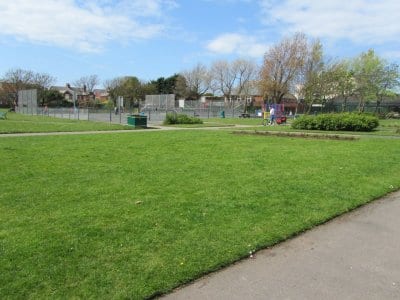 Beautifully kept park for everyone to enjoy