Our beaches are a precious natural resource. Over the years they've suffered from pollution and our bad habits. Here's a quick look at what goes into looking after Blackpool beach today.
Blackpool has miles of beautiful golden sand for you to enjoy. Please do your bit towards keeping it clean and gorgeous!
Who's Looking After Blackpool Beach?
A LOT of work goes into protecting and preserving this natural resource.
National charities like the Marine Conservation Society (MCS) campaign for major changes. Like the introduction of the 5p carrier bag charge, and changing cotton bud sticks to cardboard.
National organisations like the Environment Agency monitor the quality of bathing waters to make sure they're not full of pollution.
United Utilities has spent hundreds of millions of pounds on our coastline alone. Their work has prevented untreated sewage from getting into the sea. See what United Utilities has done under Anchorsholme Park
A number of community groups look after their own small patch of beach, litter picking and flagging up any problems.
Many individuals now pick up litter while they're out walking.
Added together, all of this effort makes a huge difference!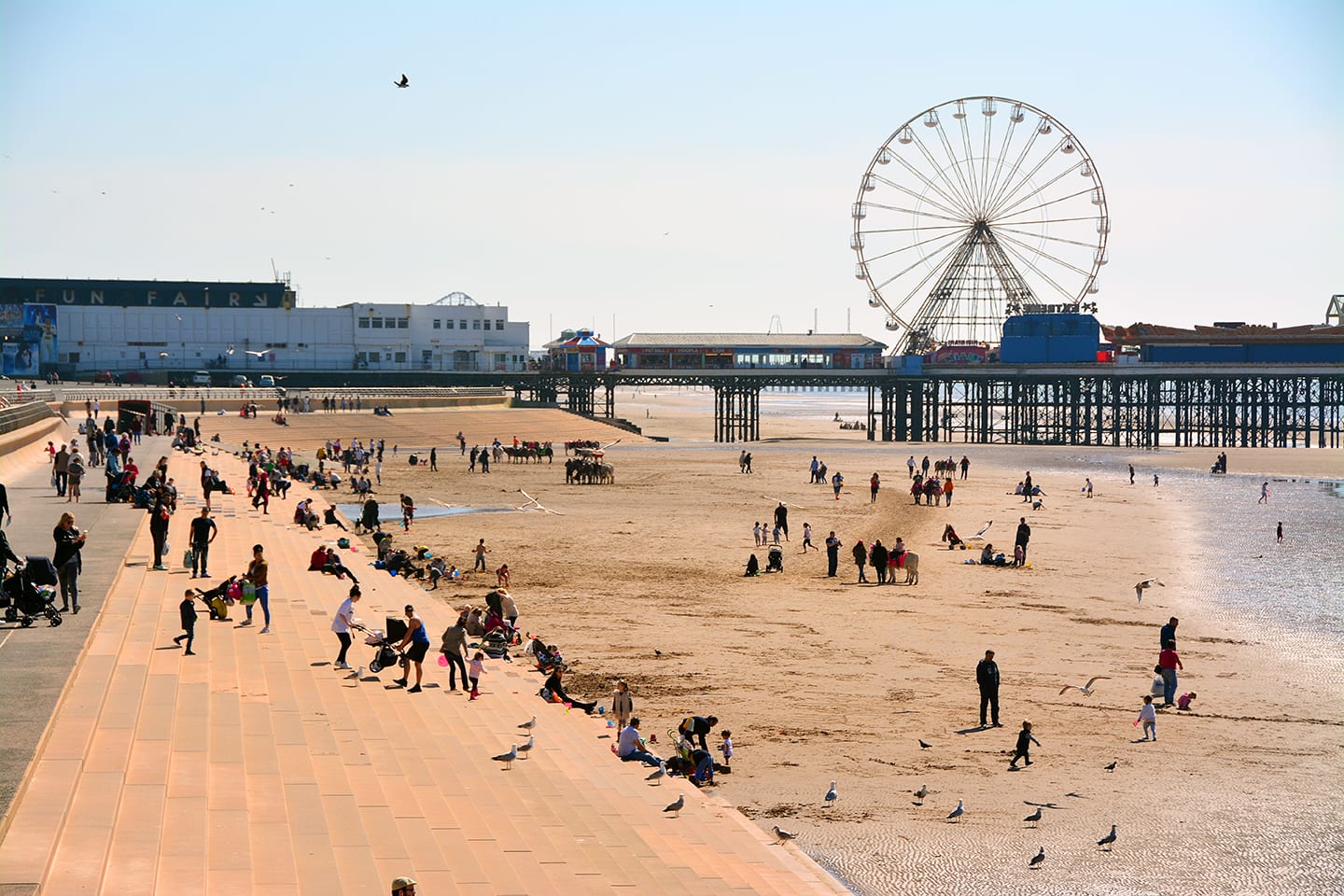 Looking after Blackpool Bathing Waters
Throughout the summer bathing season, the Environment Agency takes samples of sea water from specified places at specified times. This happens on registered bathing beaches all around the UK coastline. The results of these tests determine the beach award for the following year.
Many different factors can affect the readings, possibly causing them to fail. You can help to play a part – both at the beach and at home – and small changes can make a big overall difference.
Only flush the 3 P's – pee, poo and paper. Putting the wrong things down your toilet and using it as a bin can lead to the sewage system blocking. It causes overflows into rivers and the sea during times of heavy rainfall. And, it can even cause flooding from the sewage system. Ugh!
Don't put fats and oils down your sink. On it's own or mixed with wipes, fat blocks the sewers just like cholesterol blocks your arteries. These 'fatbergs' reduce the capacity of the sewage system and cause overflows.
Are your household drains connected properly? Make sure your foul drains don't join your surface water system. Otherwise untreated sewage can drain away with rainwater, eventually discharging into rivers or the sea.
And yes, even leaving dog poo on the beach can cause a bathing water reading to fail. Bag it and bin it – wherever your pooch goes to the loo! Watch out for the dog-walking exclusion areas too, during the bathing water season.
In 2016 Blackpool South Beach secured its first ever Blue Flag. It just shows just how much work took place to get so far!
Join in and Help Out
A number of community groups carry out regular beach cleans. Community events are sadly affected by the Covid-19 pandemic. But you can still do your bit if you want to!
The Big Blackpool Beach Clean is led by Blackpool man Steven King. Steven has been litter picking every day for years and single-handedly removed hundreds of tonnes of litter from the beach.
These are some of the buckets and spades he retrieved from Blackpool beach in 2020 –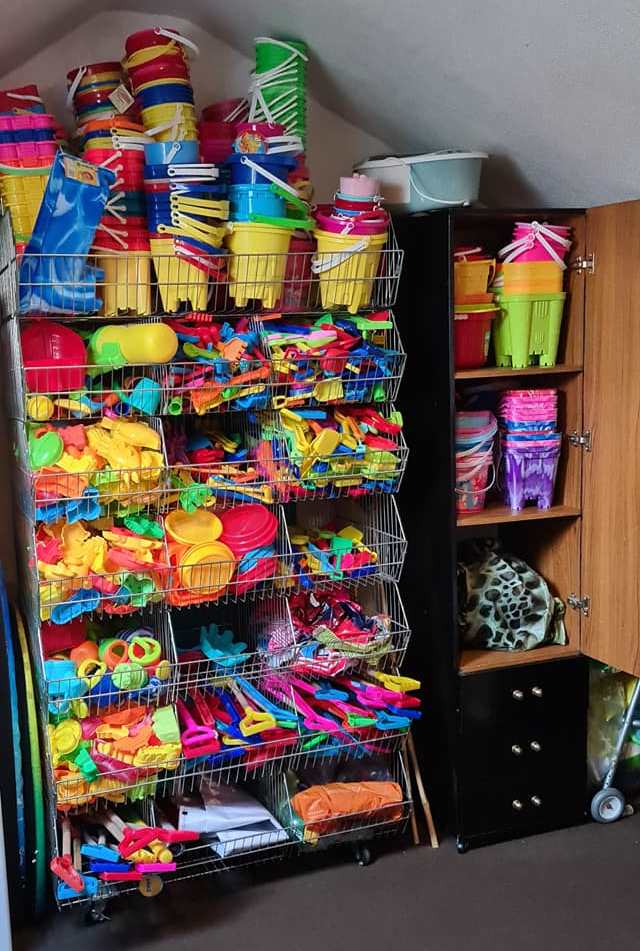 Keep Blackpool Tidy is another group which litterpicks in the town and on the seafront.
Feel free to pick litter up while you're out on the beach on your own. Just take a carrier bag and a pair of disposable gloves. Pop what you collect in one of the big council bins.
Looking after Fylde Coast Beaches
Elsewhere on this coast there are a number of other beach care groups.
There's a monthly beach clean on Blackpool seafront near to the RNLI (Covid permitting). You can find details of all these beach cleans from the LovemyBeach website
What gets Washed Up?
Some of the litter and debris is washed up from the sea and some has been dropped on the shore.
This video was filmed a couple of miles north of Blackpool, at Cleveleys beach. It's where a lot of the litter left at Blackpool gets washed to shore.
Enjoyed this video? Why don't you subscribe to our Visit Fylde Coast YouTube channel – make sure you don't miss out!
People find the weirdest selection of things, along with the buckets and spades. The most annoying culprits are the fast food wrappers and food litter. Oh and bags of dog poo – and used babies nappies! PLEASE don't leave rubbish on the beach or steps. Put it in once of the bins.
Marine litter has huge consequences for wildlife, so please bin your litter. Do your bit to contribute to looking after Blackpool beach!
In winter 2020, millions of fragments of tiny plastic pieces appeared on beaches along the Fylde Coast.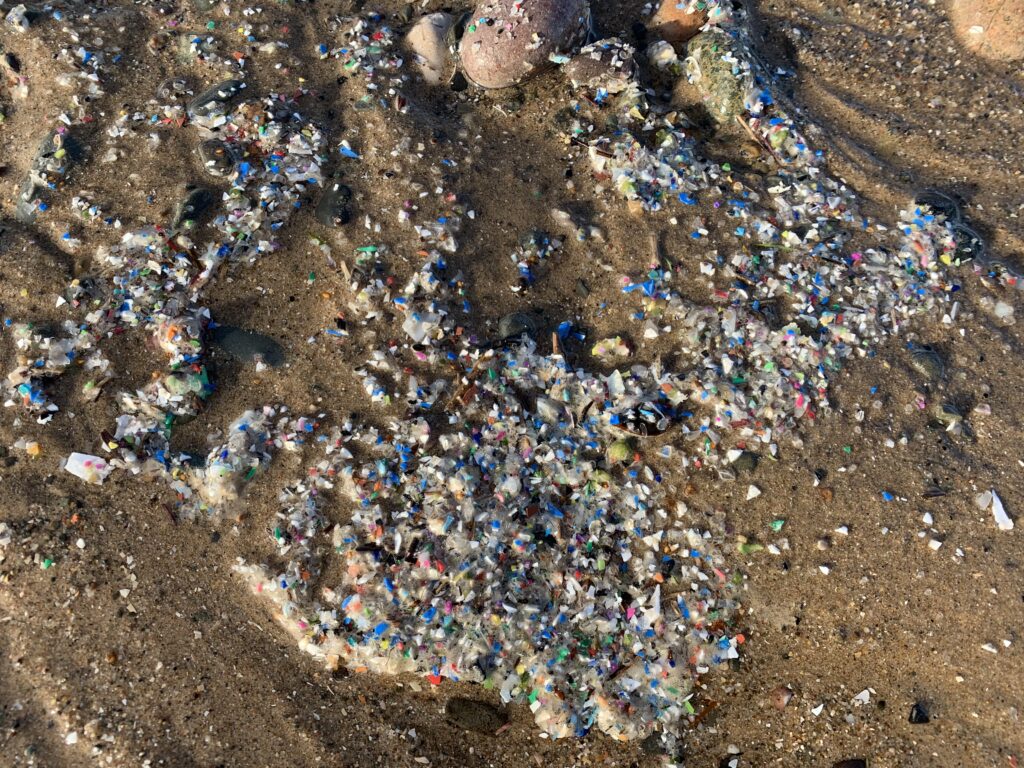 Found in Cleveleys, Blackpool and elsewhere, they looked like they'd come from a spill. Perhaps from a container carrying recycled waste?
Enjoyed this video? Why don't you subscribe to our Visit Fylde Coast YouTube channel – make sure you don't miss out!