If you're lucky, you might spot Pennystone Rock at a very low tide, opposite Pennystone Road at Bispham. Sort of opposite the end of Red Bank Road, a little north of the Illuminations arch. You can often see it's smaller relative, Carlin Rock. It's even visible at low tide as you drive along the promenade.
We went for a walk along the cliff at Bispham, to take a look from the highest vantage point –
Enjoyed this video? Why don't you subscribe to our Visit Fylde Coast YouTube channel – make sure you don't miss out!
MANY THANKS to Nick Moore and his fascinating History of Blackpool for historical information used in this article and video. You can read it here
The Folklore of Pennystone Rock
This notorious but elusive stone is said to be the site of the Pennystone Inn. Where landlord Thrifty Jack sold his famous penny pots of local brew.
Porters book of 1837 says "In olden times, Penny Stone stood in the midst of a green plain, on which was a public inn. While the traveller was refreshing himself inside with a penny pot of ale, the bridle of his horse was attached by a ring."
However, on the rare occasions when the rock is visible, there are no traces of any rings.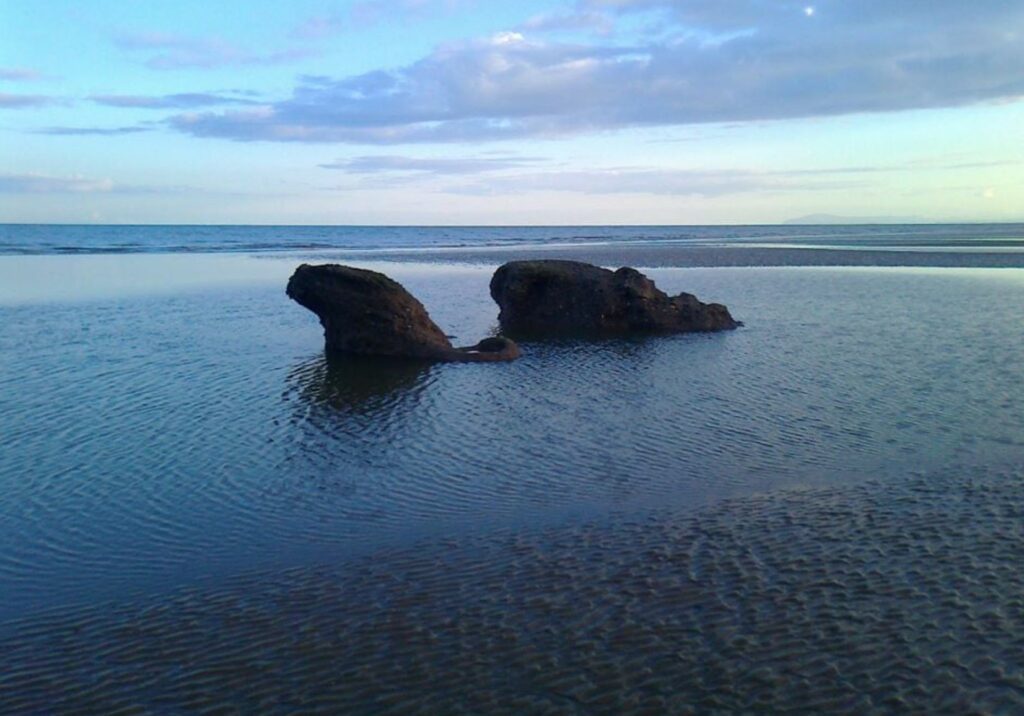 In 1893, Mr Bowman of the British Waterworks Association stated that he had excavated evidence of 'unknown buildings' around the Carlin and Pennystones. His digging at neap tide had revealed traces of the foundations of a wall, the rafters of a large room, a door and it's lintel.
Yet more recent searches have found nothing….
A More Likely Origin of the name 'Pennystone'
Ironic how history so often repeats itself… Nick's history explains a much more likely explanation for the origin of the name of this stone.
In olden times of plague, traders would use a large, hollowed out stone filled with vinegar to transact and disinfect coins. Much like shopkeepers used plastic pots to take cash and return change during the covid pandemic.
And where did the Pennystone come from?
The Pennystone is one of a line of rocks in the Bispham area. They're all made of hard conglomerate – consolidated shingle that's too heavy for the sea to move. In their position offshore from the cliffs at Bispham and Norbreck they're most likely evidence of a cliff line from the long forgotten past.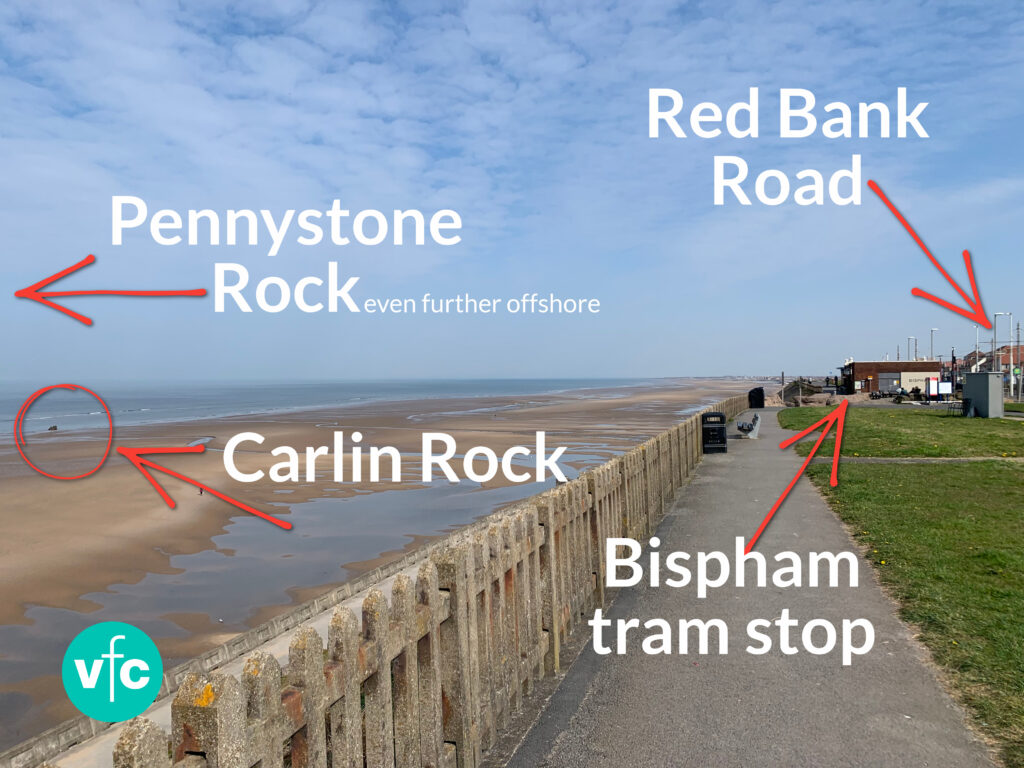 The Pennystone is the largest of the rocks at about 20′ long. Others include the Carlin Rock and his colts – also known as Mussel Rock and often visible at low tide. There's Higher and Lower Gingle, Silkstone, Owd Woman's Heyd and the Bear and Staff.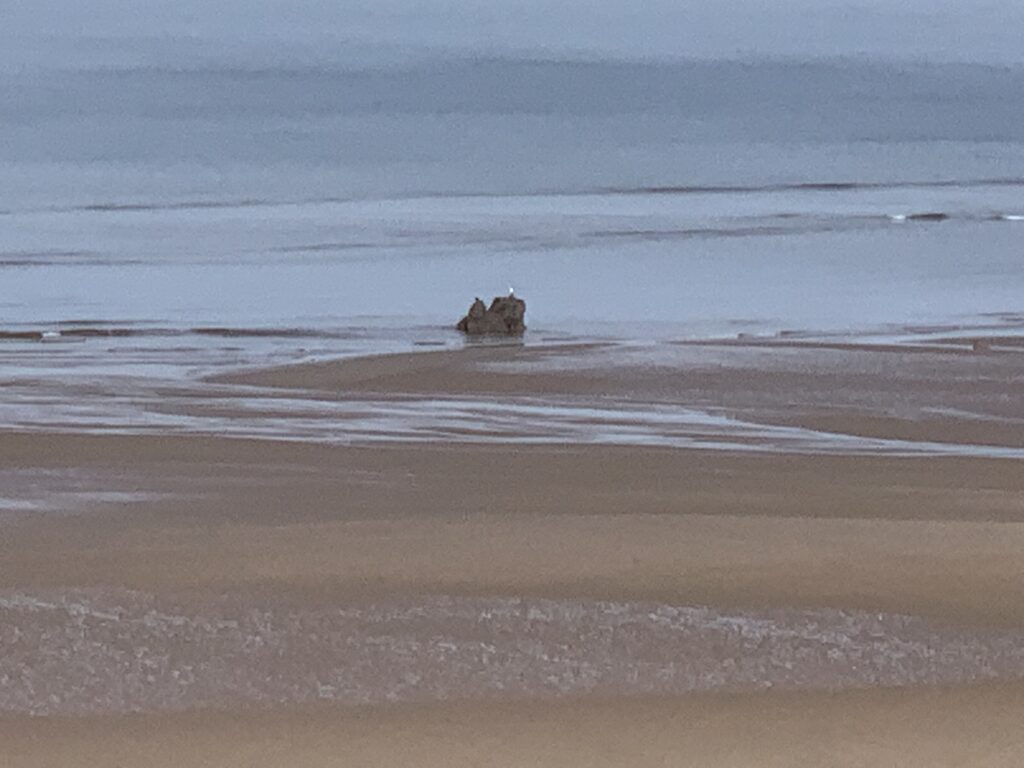 A Long Eroded Land
Pennystone Rock is a type of stone that's only found in the middle sands section of the cliff. In which case, it's got to be remnants of long eroded land. We also know that this coastline changed dramatically in the 1500's following an inundation of the tide.
In the summer of 2019, Lancaster University masters student Immogen Lyons, researched the question of rising sea levels and the shoreline at Cleveleys. Her dissertation is fascinating, revealing new information about our shoreline.
You can read highlights of it on our Visit Cleveleys website. You can also download and read the work in full.
A Word of Caution…
Pennystone is half a mile west from land and only visible at the lowest Spring tides. It's so far out that it's a rare event when you can walk around it.
However, it's not advisable to go so far out on the beach unless you are knowledgeable about the tides and beach environment. It's very easy to get cut-off on the incoming tide which moves very quickly, filling gullies and forming sandbanks.
It's far safer to do what we did in our video – stand at the seafront on the Cliffs to look from there. Bring binoculars for a great view!
While you're here…
Have a look at the homepage of the Live Blackpool website for more of the latest updates.
Love the Fylde Coast? Sign up for your weekly email newsletter. Packed full of interesting things it arrives in your inbox all 52 weeks of the year.
Join us on Facebook at our Visit Fylde Coast Facebook Group
Don't forget to follow us on Twitter @visitFyldeCoast