Blackpool's Bloomfield Road is another one of those old, historic roads that make up the skeleton of the resort. Dating back to 1928 it's both a road and the name of the town's football stadium. Come and take a look…
This film was made on a beautiful, cold morning at the beginning of February 2021, just a few weeks before the Covid pandemic took hold. Join us and walk from Lytham Road, past Blackpool Football Club to Ansdell Road.
Enjoyed this video? Why don't you subscribe to our Visit Fylde Coast YouTube channel – make sure you don't miss out!
Bloomfield Road
Bloomfield Road begins in the West at the traffic light junction with Lytham Road, not far from the famous football ground.
Head East and this main road crosses plenty of smaller side streets. Bloomfield Road also crosses a number of main North/South roads including Seasiders Way, Central Drive and Ansdell Road, before ending at Park Road.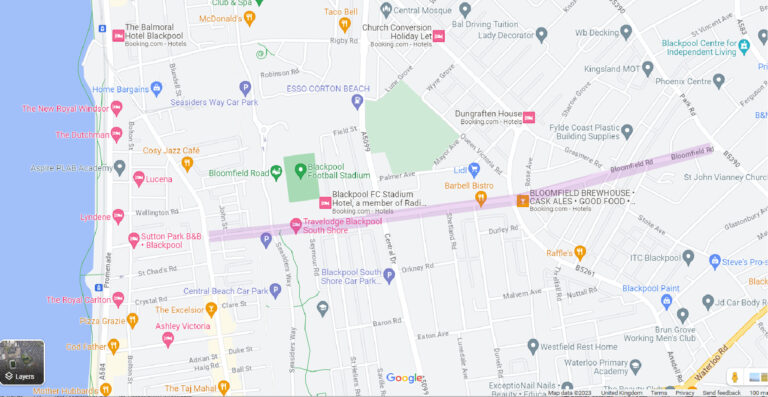 As you set off from the Westerly end, the first thing you see is the football stadium – the most obvious and well known landmark on Bloomfield Road. And at the junction of Bloomfield Road and Seasiders Way, standing proud on the front corner of the site, is a life size statue of the legendary Jimmy Armfield (see it further down the page).
Turn left here at Seasiders Way to access Blackpool town centre and the new multi-storey car park at Blackpool Central (opens 2024 – road closed until then). This land was once the site of the massive main-line railway into Blackpool – and some of it is being redeveloped once again as a new leisure development.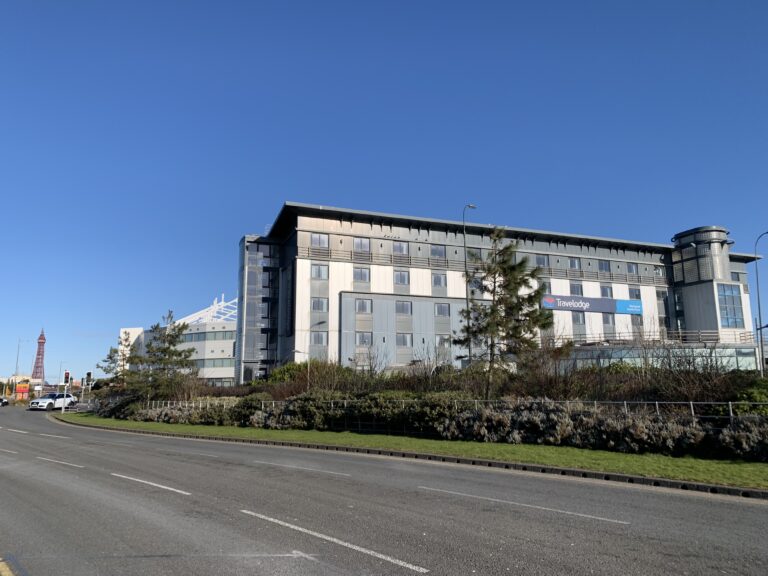 On the opposite corner to Jimmy on your right is the Travelodge. Just behind that is the long, linear George Bancroft Park and facing it a huge car park with long stay parking. Turn right here off Bloomfield Road to head to Yeadon Way and the main road to the M55.
As you continue beyond the Blackpool Football Club Hotel, Bloomfield Road carries on through largely residential streets. Blackpool is a large town with a population in excess of 141,000 people – and this is one of the places where they live!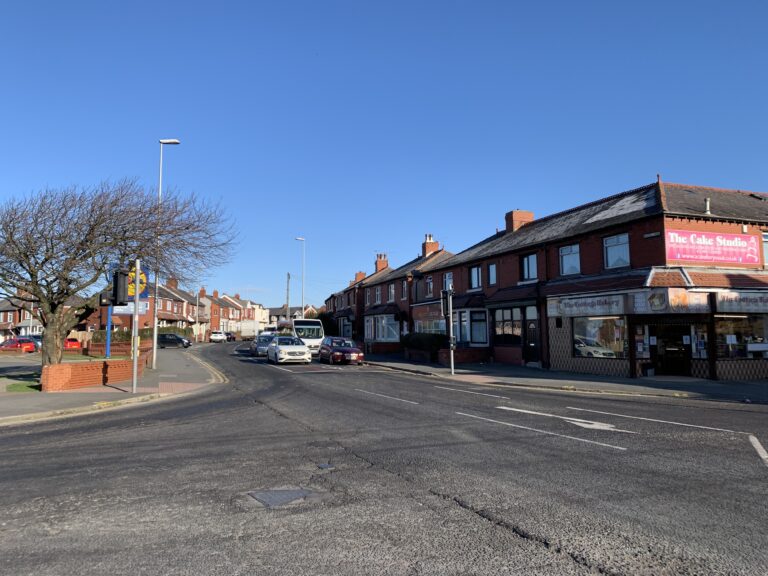 Now and Then – on Bloomfield Road
Way back in 1767 it was known as Spen Green Lane, running from the sea to what's now Park Road.
Todays Bloomfield Road is named after William Henry Cockers bungalow on Spen Gap Lane (also known as Main Road). 'Bloomfield' in 1888 but the road name wasn't changed until 1928.
William Henry Cockers father, John Cocker, had previously built Victoria Promenade. William married the daughter of Henry Banks, another landowner known as the father of Blackpool, and inherited all his land and buildings. He went on to one of the most influential men in the growth of Blackpool, going on to become the towns first Mayor in 1876 and in 1896 its first Freeman. William Henry Cocker died on 14 April 1911 and the clock tower at Stanley Park is named after him.
Swallows and Jaguars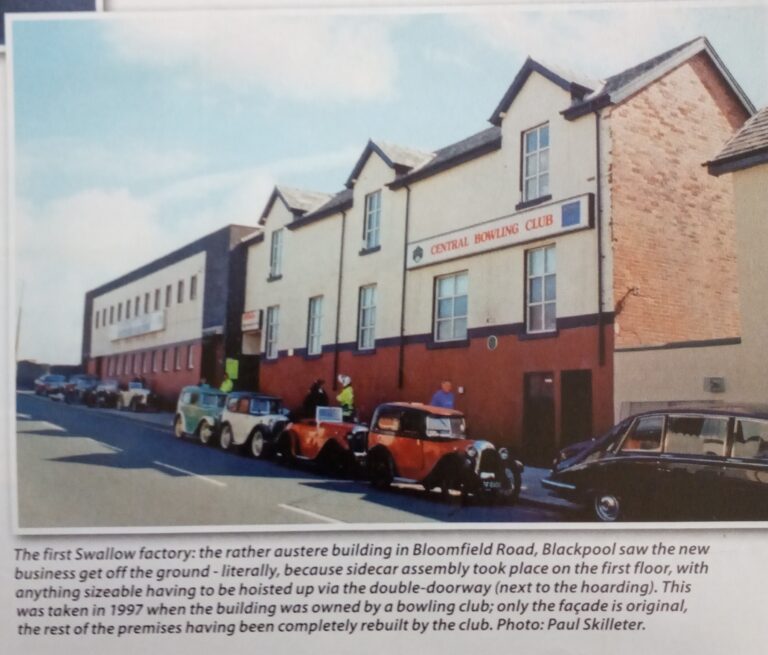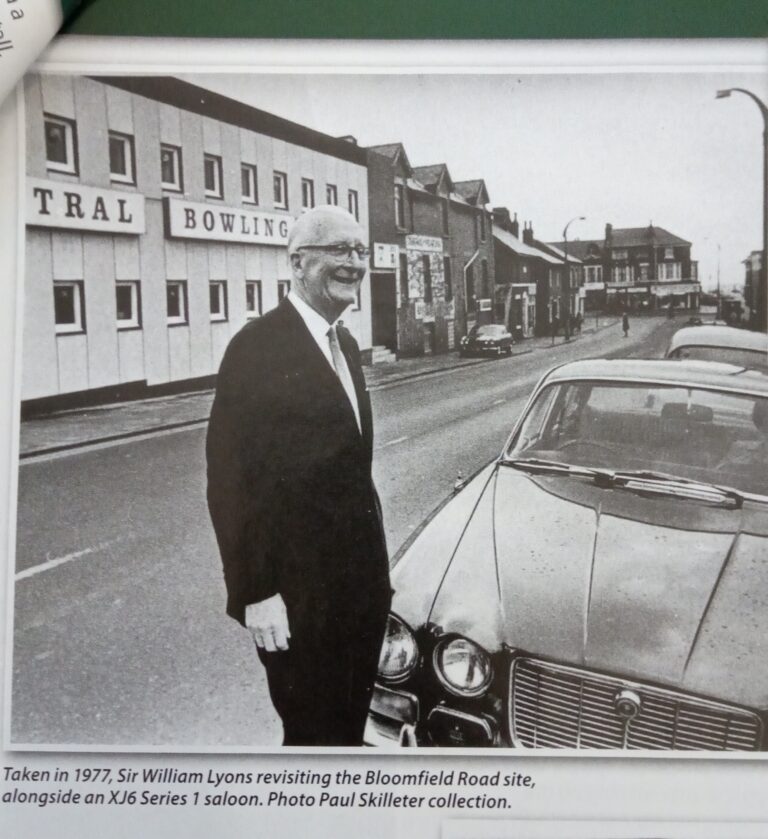 There's another claim to fame for Bloomfield Road. You might know that the town is the birthplace of Jaguar cars? Originating in what's now a guest house at King Edward Avenue, it went on to be called the Swallow Sidecar Company. They opened with eight employees in premises on the first and second floors of 5 Bloomfield Road, Blackpool. The business quickly grew, converting ex-army motorcycles for civilian use and making sidecars.
Read more: about the development of Jaguar Cars from beginnings in Blackpool
Did you know? On 21 June 1919 the Lancashire and Cheshire Miners' Federation chartered 130 trains to bring more than 97,000 miners into Central Station for a rally at Bloomfield Road football ground.
Bloomfield Road and Blackpool Football Club
Ever been to The Brew Room? Built in 1880 as The Stanley Arms after Fred Stanley – Earl of Derby. It's famous for being where Blackpool Football Club formed on 26 July 1887.
South Shore Football Club opened their Bloomfield Road Football Ground on 24 October 1899, followed by an FA Cup tie against Newton Heath on 28th. BFC and South Shore FC amalgamated on 12 December, playing Blackpool's fixtures. The newly structured Blackpool Football Club played their first game at Bloomfield Road on 23 December 1899 and eventually bought the Bloomfield Road land in 1920 after years of renting it.
We've already mentioned the lifelike statue of Jimmy Armfield which welcomes visitors to the Blackpool FC stadium.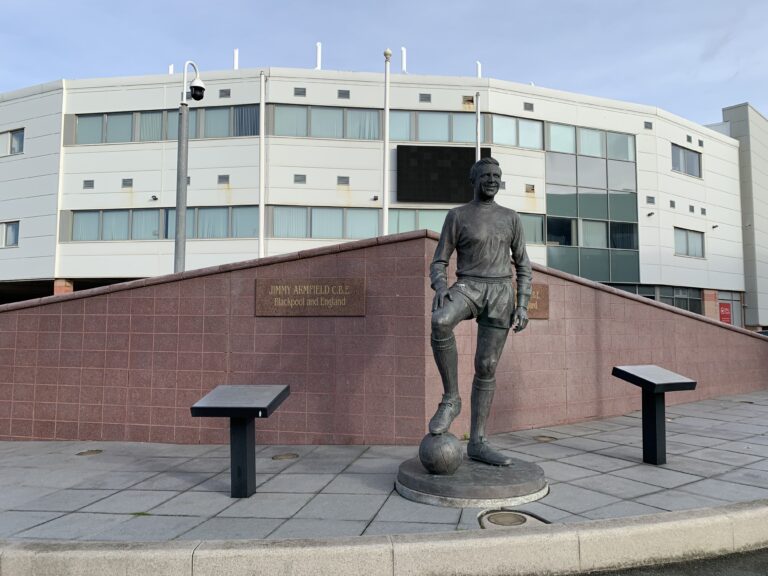 Jimmy Armfield was born on 21 September 1935 in Denton, Manchester, moving to Blackpool with his family when he was just six years old. He signed for Blackpool in 1952 as an amateur, winning a record 43 English Caps. Throughout his career he played for just two sides – Blackpool and England. He was also the first player to perfect the 'defensive overlap'. His last Blackpool game on 1 May 1971 marked the end of a run of 627 appearances for the club. A stand at Bloomfield Road was named after him in 2010 and on 1 May 2011 the statue of him was unveiled outside the ground. Sadly, Jimmy died of cancer on 22 January 2017 at Trinity Hospice.