Join us for a look around Blackpool seafront. Here at Live Blackpool we've explored it all for you! Enjoy lots of photographs, video clips and much more.
We've split the seafront up into sections, with individual pages about each part. Come and take a look – and there are lots more pages in this section for you to explore!
Did you know? Blackpool seafront is 7 miles long, from Anchorsholme in the north to Squires Gate Lane in the south?
Explore Blackpool Seafront – from North to South
The town of Blackpool covers a big area, stretching inland as far as the M55. But it's a long, thin town too, with a big coastline!
We bet you're surprised at just how big Blackpool is. Look at it on a map – and you can see why the seafront is 7 miles long! Have you explored it all?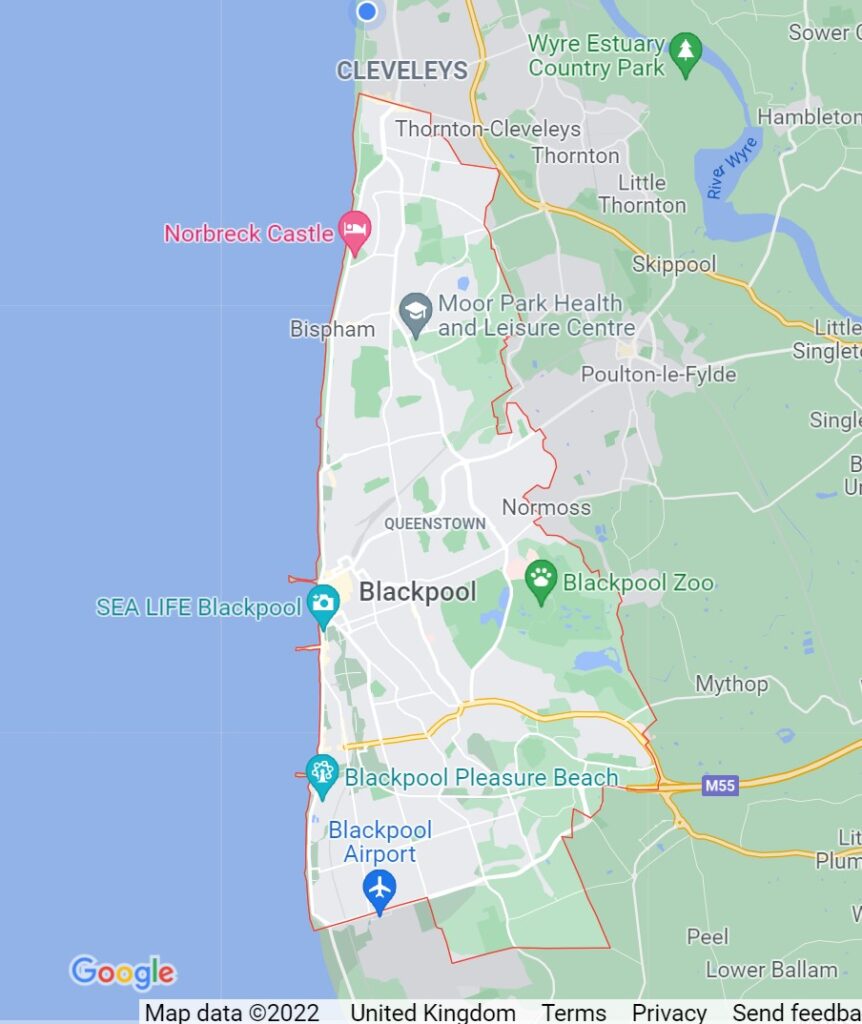 Blackpool Seafront – in the North
The northernmost end of Blackpool seafront is the highest bit of this coast with great views across the Irish Sea.
Anchorsholme sea defences is the very last part of Blackpool seafront in the north, as you reach the neighbouring seaside town of Cleveleys.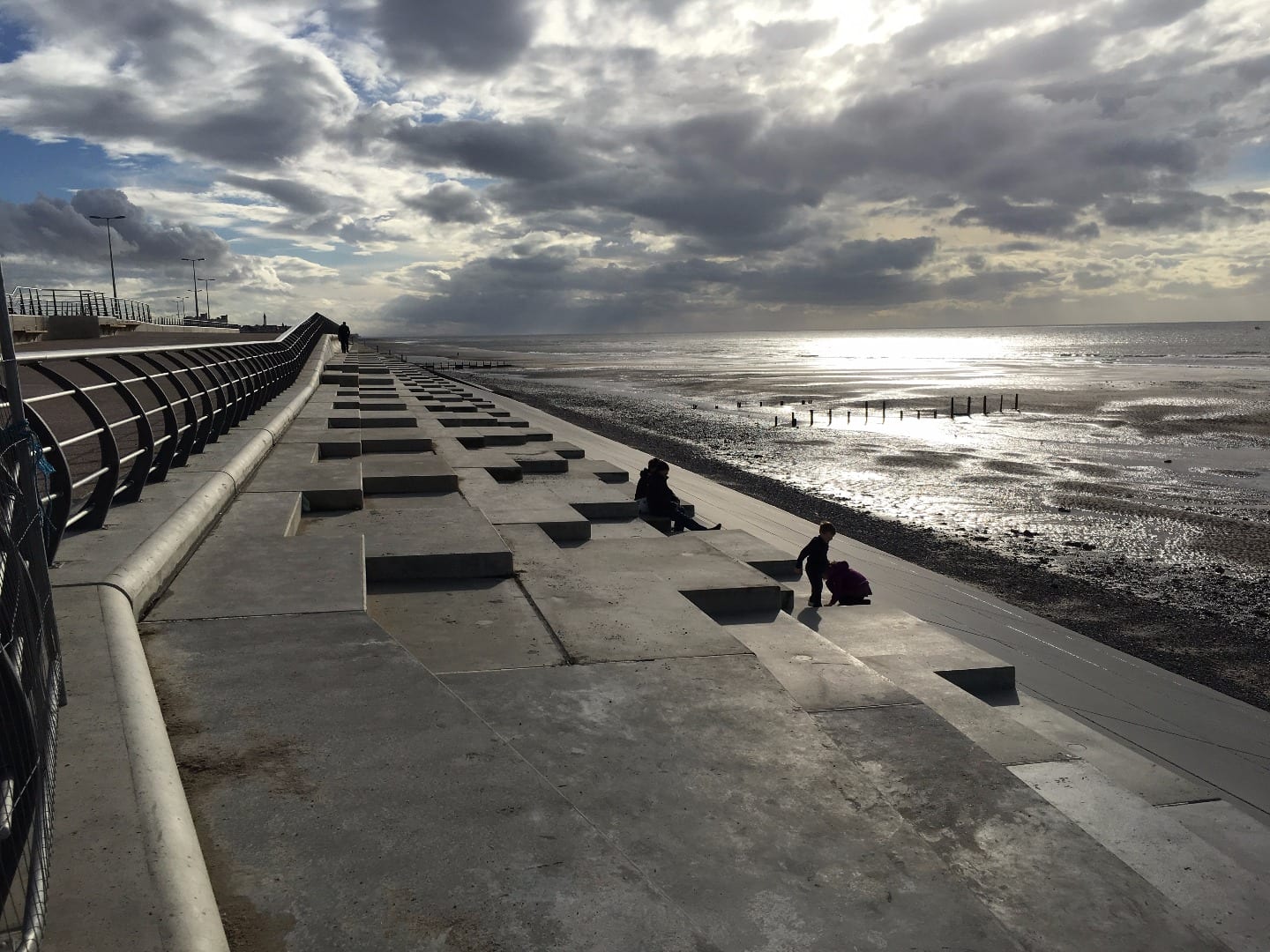 The £22m Environment Agency funded project to rebuild this seawall completed in 2017. It's worth a look – you can also park here, right against the seafront, overlooking the view.
From Anchorsholme sea wall (opposite Anchorsholme Park) the land rises steeply at Little Bispham. There's a big drop between the main road and cliff top walk and the lower promenade against the beach. The top walkway is a great, safe spot for wave watching!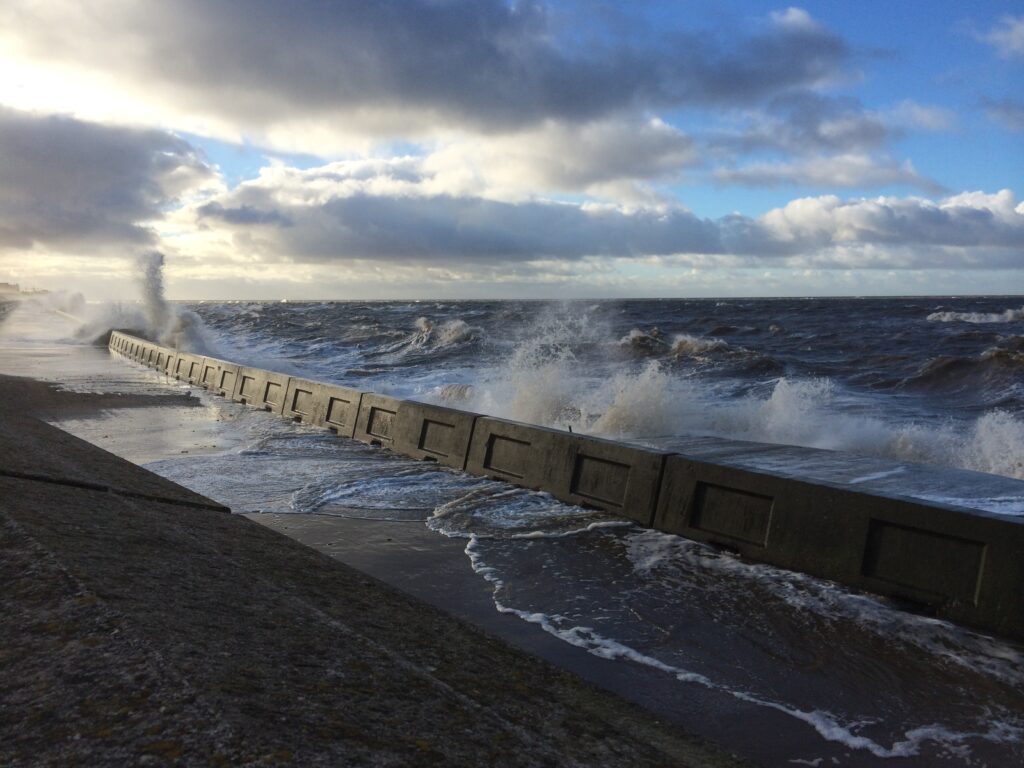 Next stop south on your journey along Blackpool seafront is Bispham. This is where the Blackpool Illuminations begin, at the end of Red Bank Road. You can get a lovely fish and chip supper here, before you begin your walk through the Lights.
Where the Bright Lights Begin…
The next video begins right at this junction, heading south to the Cliffs. Follow the big tableaux illuminations against the sea.
Enjoyed this video? Why don't you subscribe to our Visit Fylde Coast YouTube channel – make sure you don't miss out!
There's also the Cliff Lift here, against the lower level Boating Pool – now a karting track. Explore this area in the next video –
Enjoyed this video? Why don't you subscribe to our Visit Fylde Coast YouTube channel – make sure you don't miss out!
Explore the colonnades, hidden between the upper and lower levels of the seafront between Gynn roundabout and Cocker Square. You can just see them in the next photo…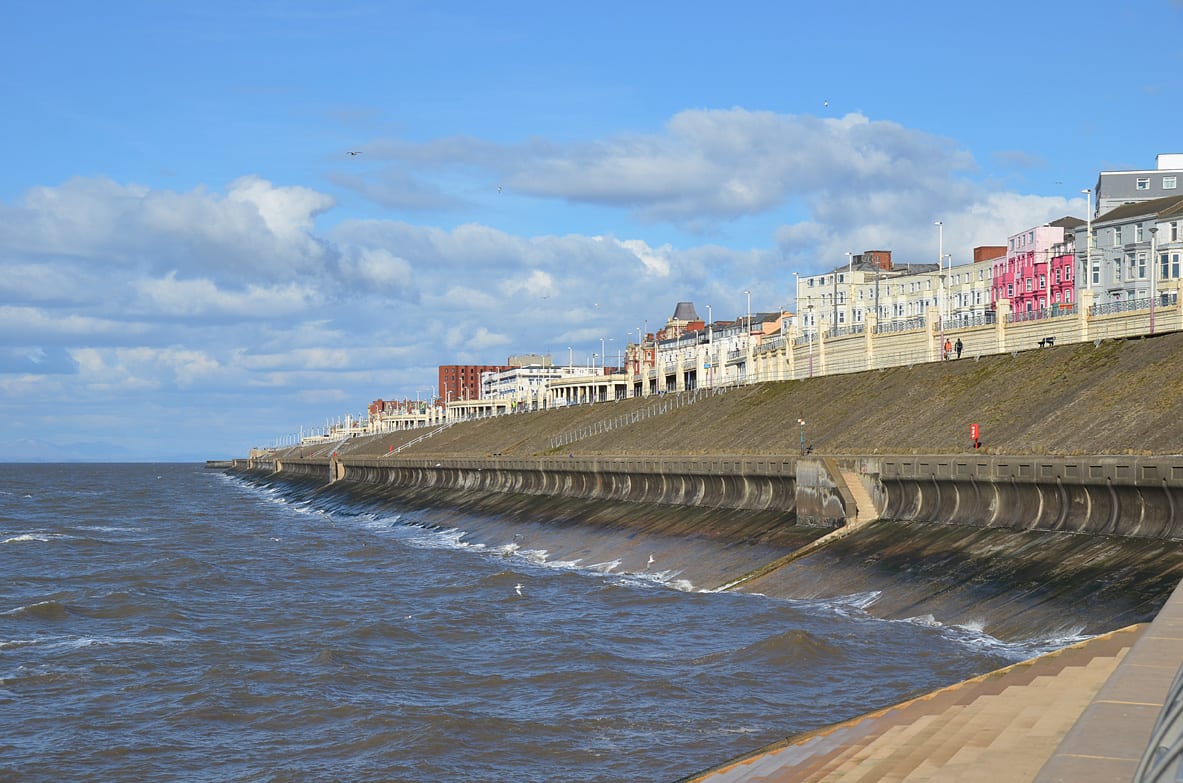 The only high spot on this coastline, it's a place to enjoy fabulous views over the shore. To your left you'll see North Pier and to the right Bispham and Cleveleys. Over the water, still looking to the right, are the Lakes. Out to sea you'll see the offshore windfarms.
Central Blackpool Seafront
This is the bit of Blackpool seafront which everyone knows and loves the most! The central section – otherwise known as Blackpool's Golden Mile. Overlooked by The Blackpool Tower, it's got that 'essence of Blackpool'!
At Tower Festival Headland you can stop to read the Comedy Carpet, sit on a seat to soak up the atmosphere and enjoy the views.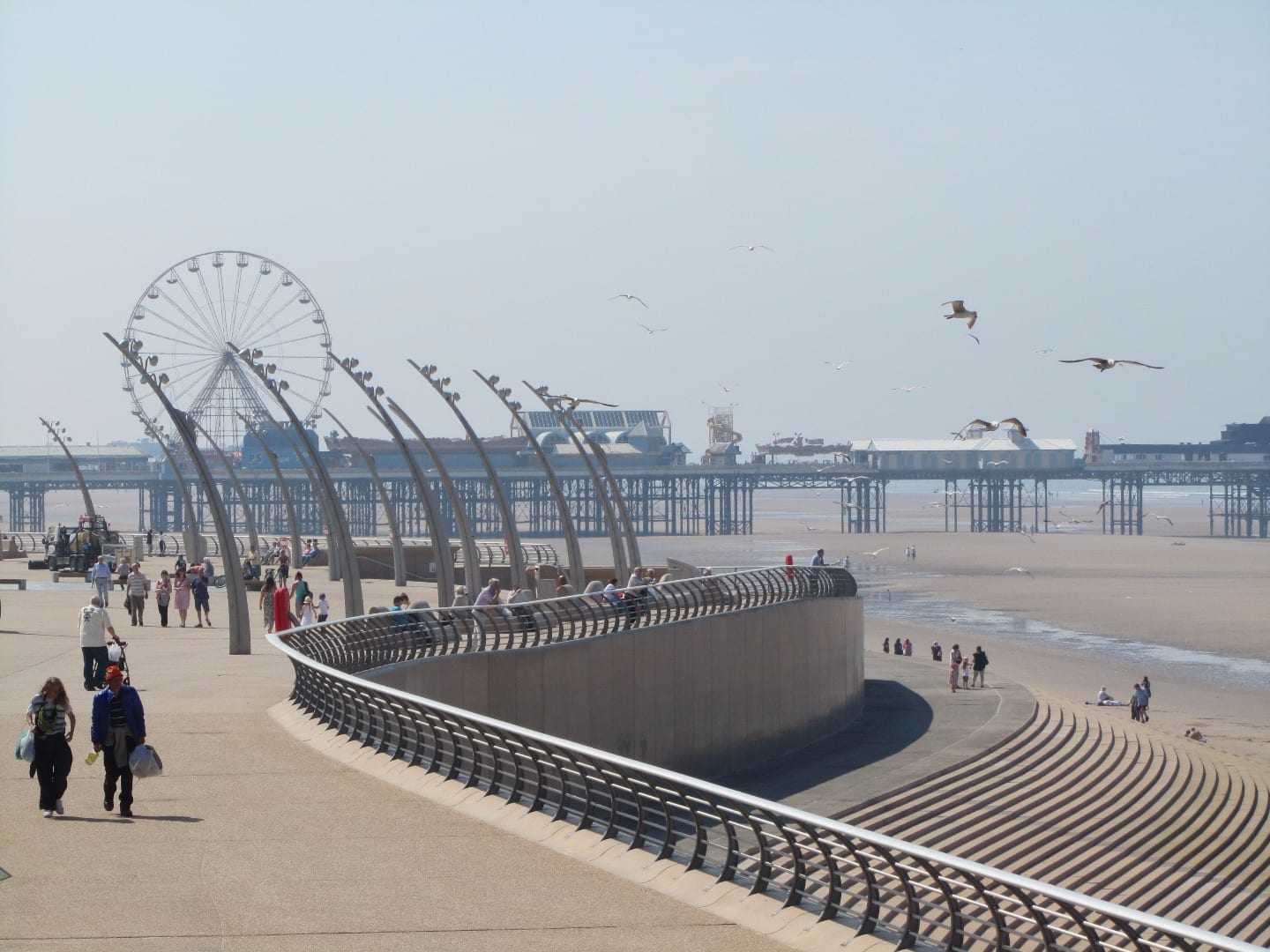 Here's a quick clip of it, looking north from Central Pier, towards The Blackpool Tower, North Pier, central promenade and the beach.
Enjoyed this video? Why don't you subscribe to our Visit Fylde Coast YouTube channel – make sure you don't miss out!
Next, put your feet up and enjoy a virtual walk along Blackpool central seafront. This video is from June 2020 while coronavirus restrictions were still in place. A number of seafront attractions were taking advantage of the quieter times to make improvements. See what's new!
Enjoyed this video? Why don't you subscribe to our Visit Fylde Coast YouTube channel – make sure you don't miss out!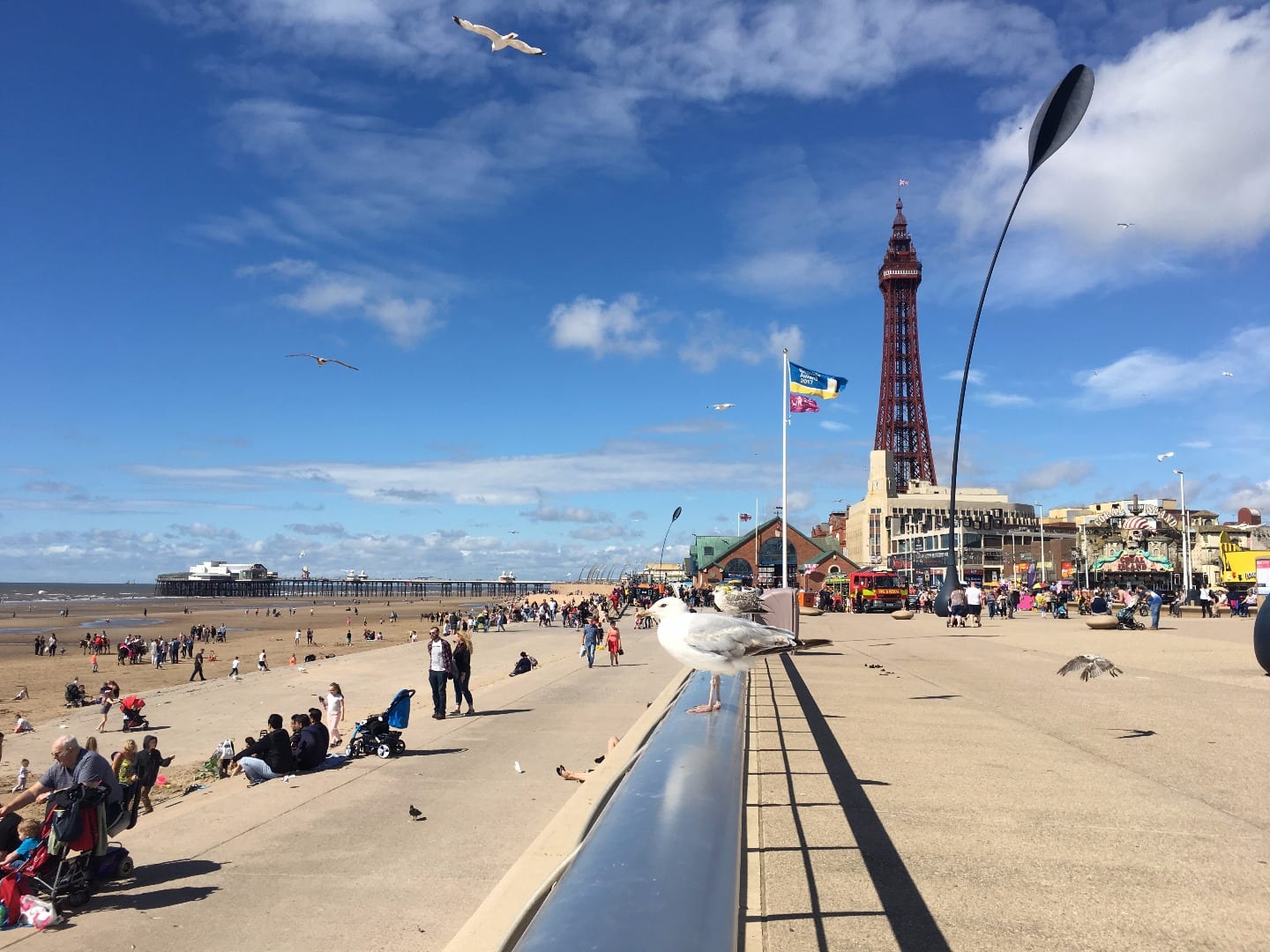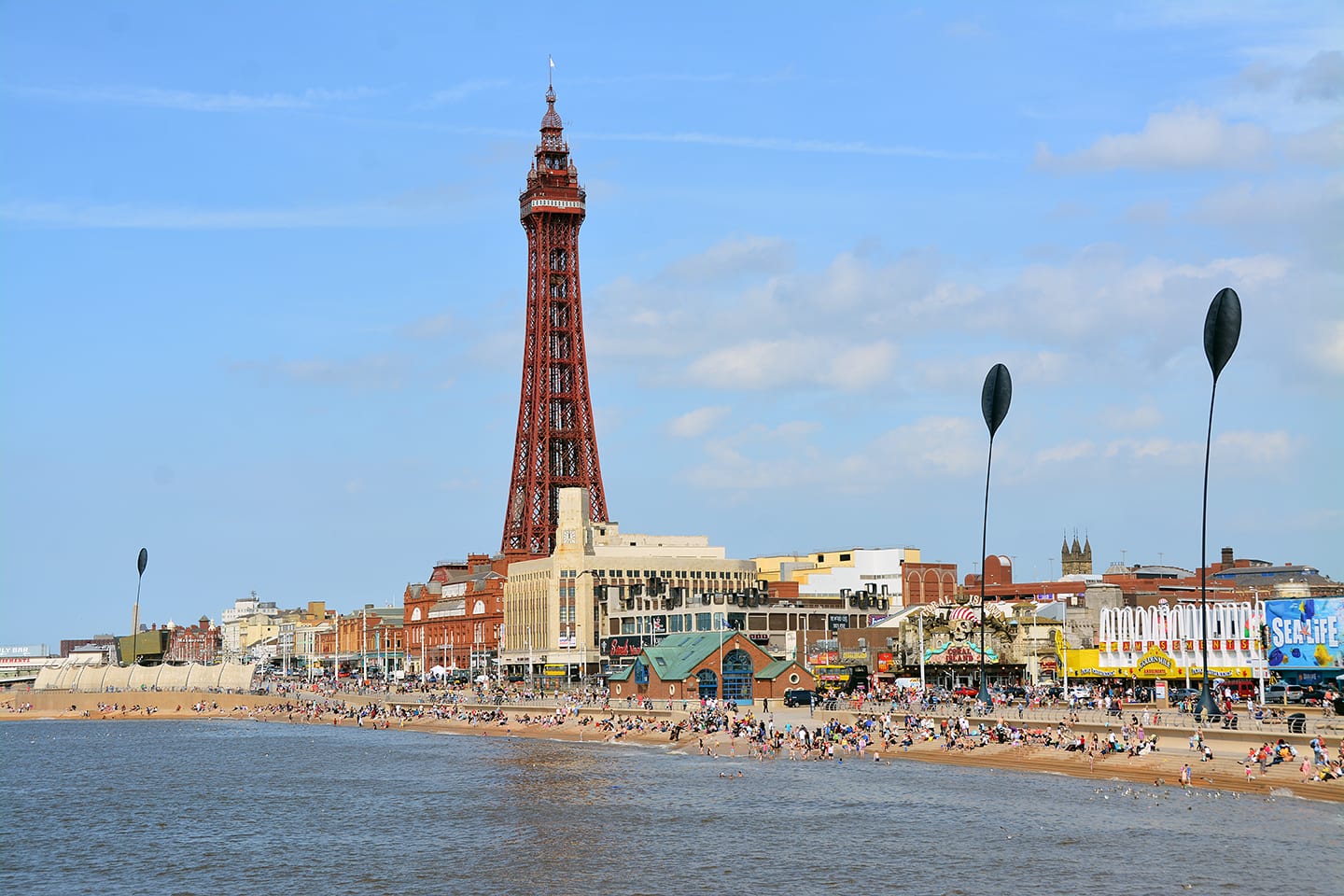 Blackpool Seafront – in the South
Carry on past Central Pier and the sweeping curves of the stepped sea defence continue as far as South Pier. This is a lovely part of the coast to enjoy a walk – on the promenade or big sandy beach.
Here's the view from Central Pier –
This video is a walk from a midpoint between Central and South Pier at about Waterloo Headland, going as far as South Pier. Look how clean it is – and that lovely beach!
Enjoyed this video? Why don't you subscribe to our Visit Fylde Coast YouTube channel – make sure you don't miss out!
Around South Pier are the Pleasure Beach and Sandcastle Waterpark. Two of your favourite attractions, making for a great atmosphere!
This next video features Blackpool seafront at the Sandcastle. Join us for a walk around the back of this big blue building, to see the part between it and South Pier –
Enjoyed this video? Why don't you subscribe to our Visit Fylde Coast YouTube channel – make sure you don't miss out!
New South Promenade
Meanwhile heading further south on the seafront, Blackpool's most recent stepped sea defences end. The new design with extended headlands stretching out into the sea changes into the straighter shape of New South Promenade.
Here, the wide promenade opposite the Solaris Centre includes pieces of public art. You can't miss the iconic Glitterball!
The concrete sea wall at New South Promenade also includes 'sea bees'. They're hexagonal concrete shapes (below) that disperse the energy of the waves.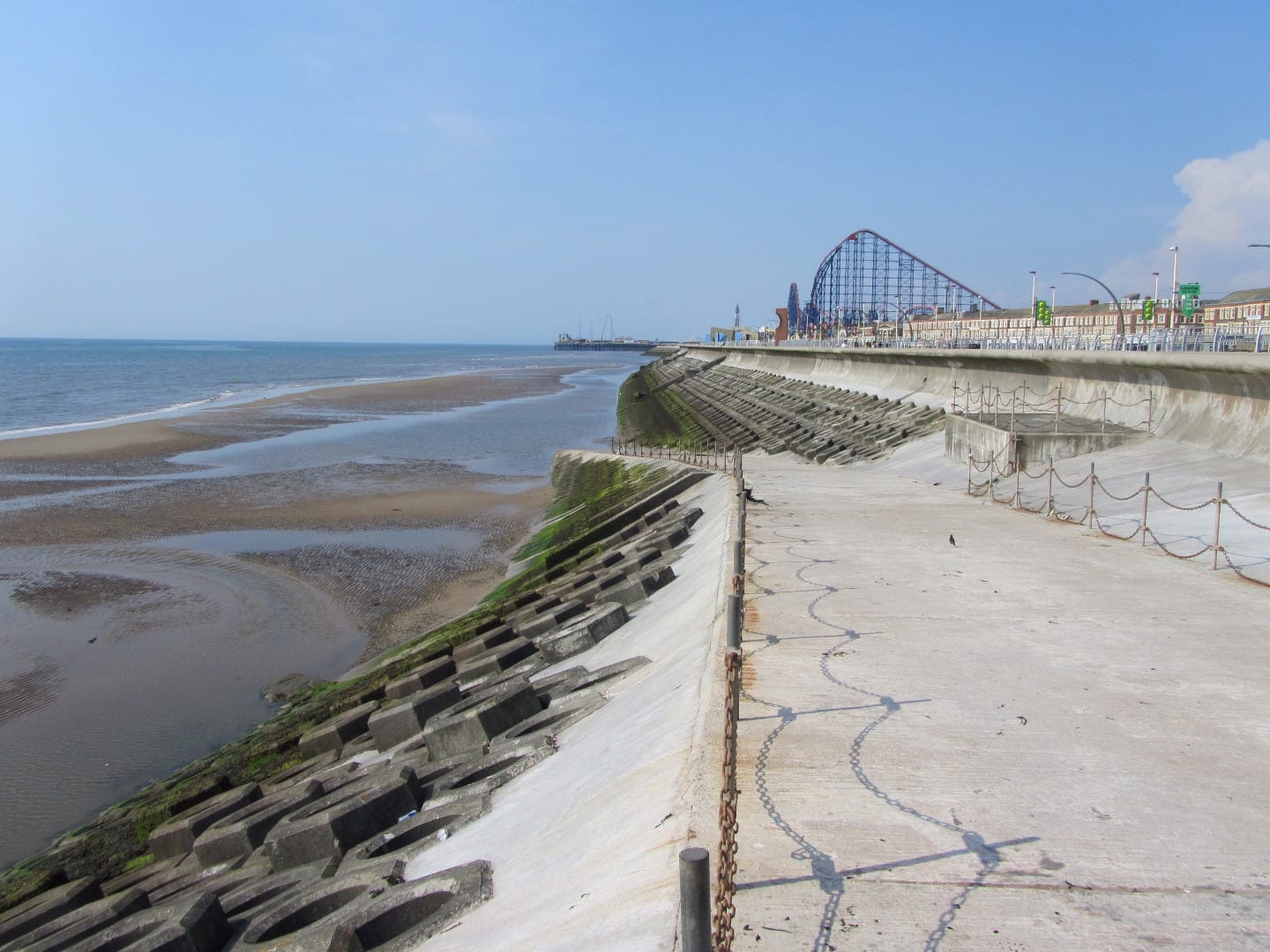 More than a sea defence, they're home now to wildlife in their little artificial rock pools. After years of being submerged in water twice a day, seaweed and marine life now grow in them. The pockets of water left with each outgoing tide are a perfect size to create individual rockpools.
Golden Sandy Beaches of Blackpool Seafront
Miles of golden sandy beach are yours to enjoy in winter or summer. Whatever the weather you can enjoy the promenade walkway right against the sea. And don't forget those amazing sunsets!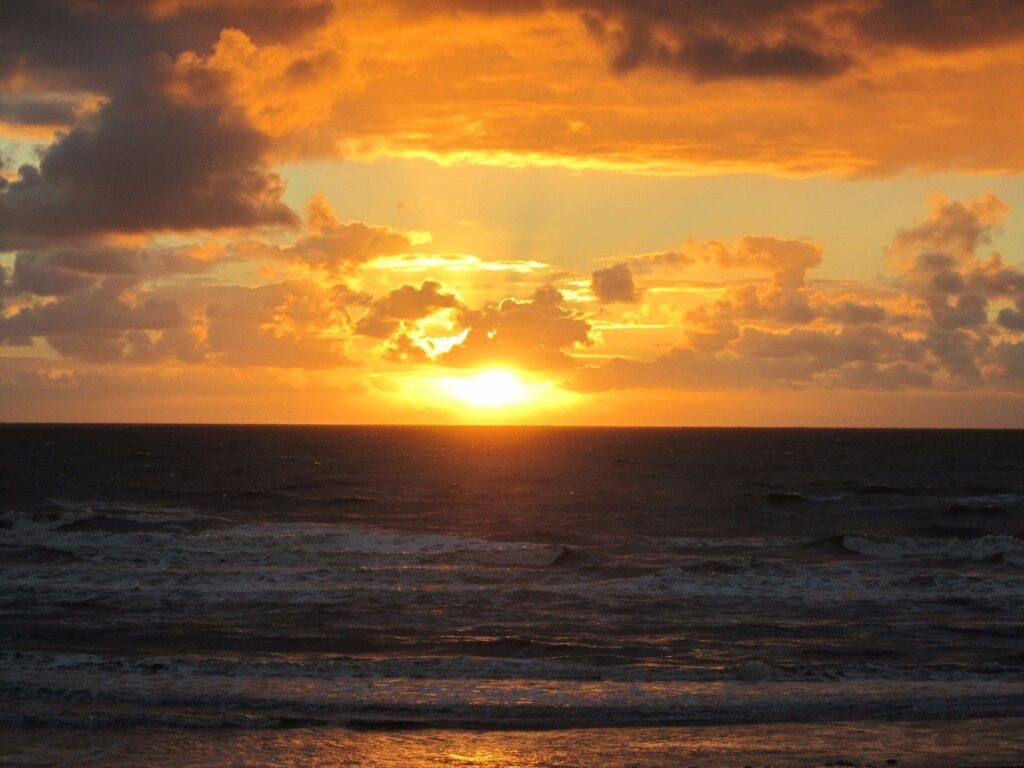 Blackpool beach is so amazing that we've got a whole other page about just that and nothing else! Explore Blackpool beach here.
Although it's a man-made wall, the beach is still a rich table for the birds that feed there. And of course Blackpool wouldn't be Blackpool without the resident seagulls!
You might have seen great big clouds of starlings, flying in swoops and turns over Blackpool beach. They're an amazing natural sight – called a murmuration. Find out more about these birds and when's best to see them.
Did you know? If you're lucky you might see Dolphins and porpoise swimming offshore from Blackpool?
Keep your eyes open and you'll see lots of wildlife along the whole of the Fylde Coast.
Own your own Blackpool Seafront!
Live Blackpool is part of Visit Fylde Coast, a digital media product, independently published by The Rabbit Patch Ltd. We're a design and creatives company right here on the Fylde Coast and we have an online shop called Seaside Emporium where we sell our own original art.
This is our original watercolour painting of Blackpool Seafront – it's available in various sizes as a framed, mounted or plain print. Have a look around at both local scenes and traditional seaside views.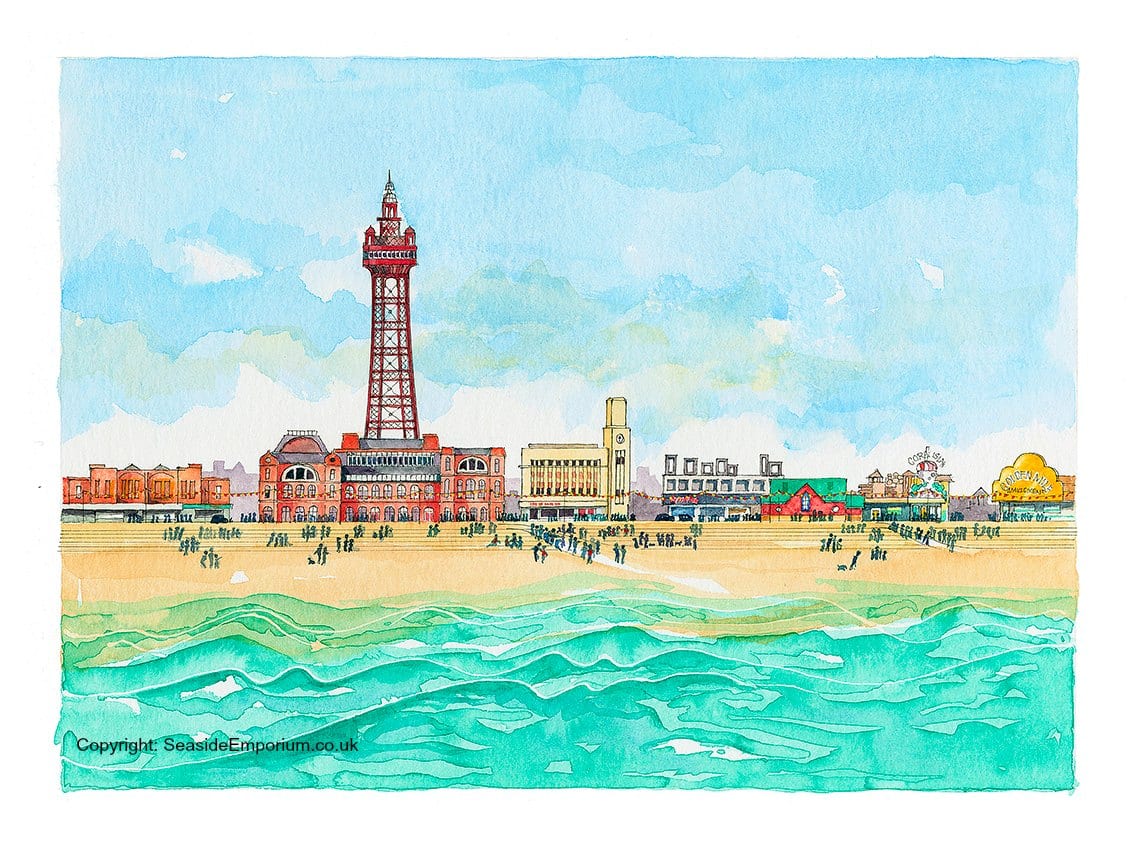 While you're here…
What do you think? Why don't you join in and leave a comment below?
Have a look at the homepage of the Live Blackpool website for more of the latest updates.
Love the Fylde Coast? Sign up for your weekly email newsletter. Packed full of interesting things it arrives in your inbox all 52 weeks of the year.
Join us on Facebook at our Visit Fylde Coast Facebook Group
Don't forget to follow us on Twitter @visitFyldeCoast