Lots of us care what it looks like and how much harm rubbish does. Find out what everyone in the community is doing towards cleaning up Blackpool.
As the lockdown period of the coronavirus crisis began to ease, people flocked to seafronts all over the UK. Blackpool was no exception – sadly it also created a tidal wave of litter.
And there are plenty of bins! One of the big bins is in the foreground of the above photo – there are plenty of them on Blackpool promenade.
Fans of the town were appalled to see so much litter dropped by beach visitors. Especially as crystal clear, clean sea had been seen only a few short weeks before.
Cleaning Up Blackpool
With organised volunteer group activities suspended, some small self-started groups have formed.
Big Blackpool Beach Clean
The Big Blackpool Beach Clean is one of them. Steven, Mandy, Dawn, Josh and Karen have been out and about litter picking. Spot them in their blue vests, sponsored by hoteliers association StayBlackpool.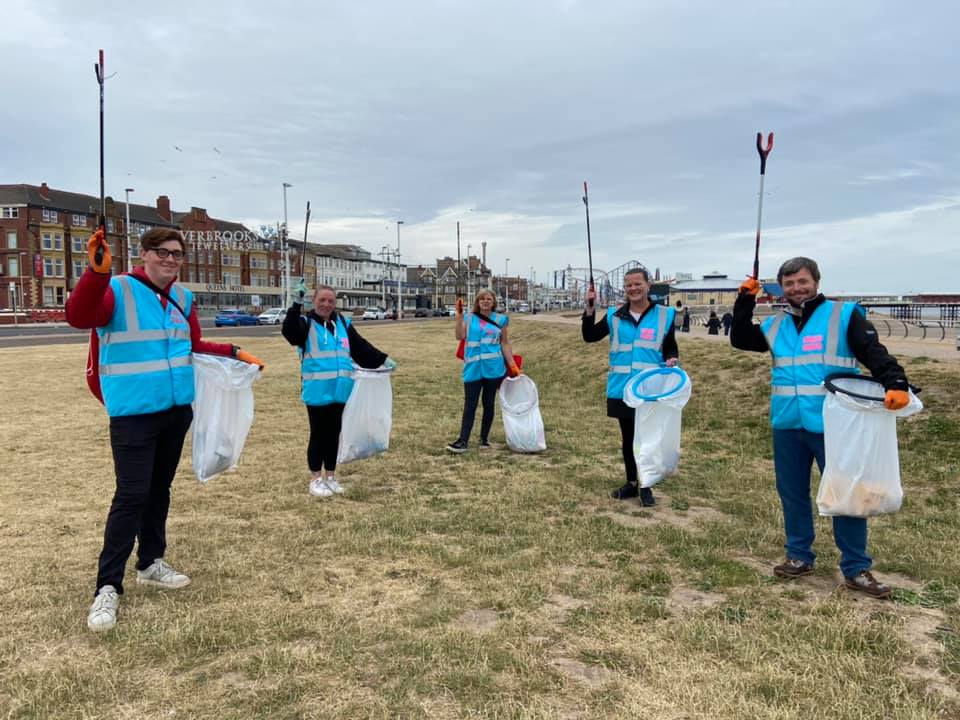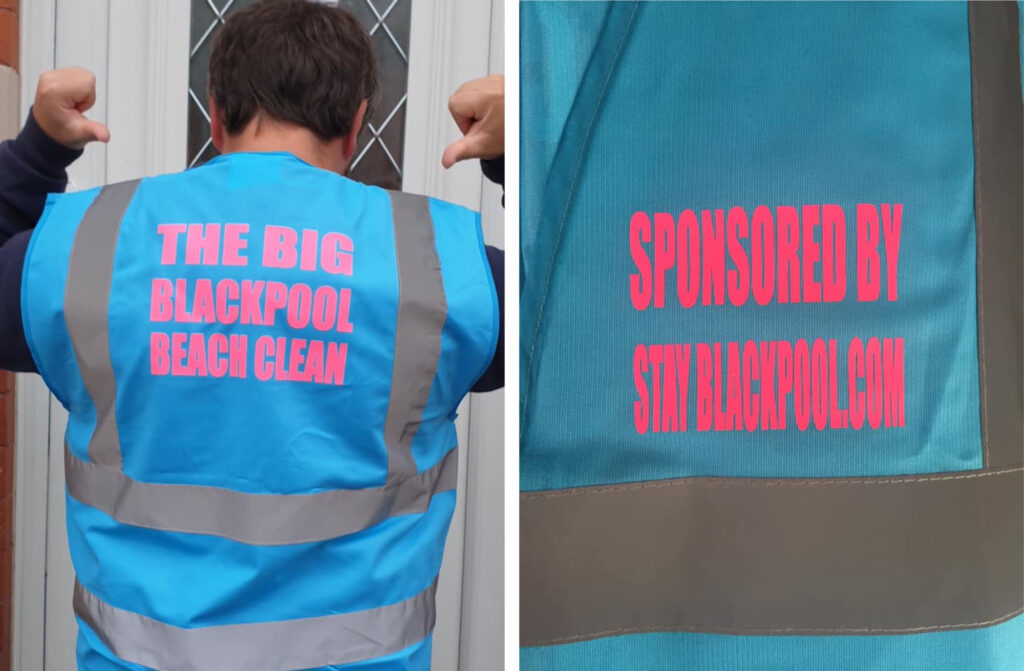 Keep Blackpool Tidy
Meanwhile in Central Blackpool, another team of volunteers has also formed, Keep Blackpool Tidy.
Their aim is to spread awareness and encourage people to pick up their litter when visiting our lovely town. With support from the Winter Gardens, they organise litter picks on the sea front and other areas.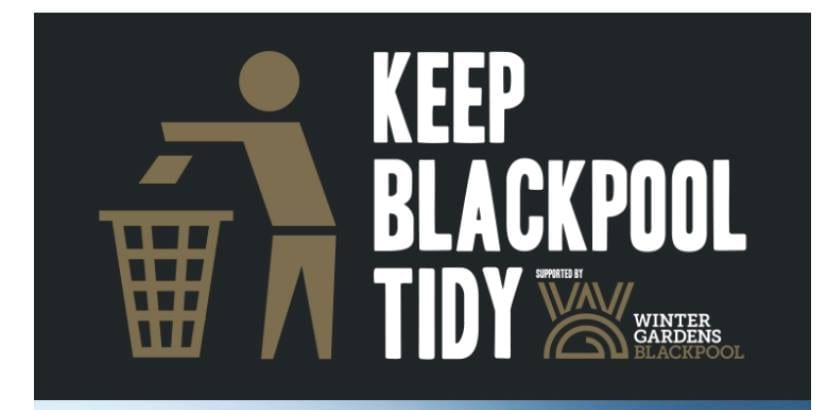 LoveMyBeach
LoveMyBeach has been around for some years. The project is managed by Keep Britain Tidy and our various local authorities on the Fylde Coast.
They have helped to start litter picking groups along the Fylde Coast. The groups haven't been active while the coronavirus pandemic has been ongoing.
Don't Be a Scruff
Blackpool Council is launching a new June 2020 campaign after growing concerns from residents about littering.
Posters with the caption "Don't be a scruff, bin your stuff" will be installed in bus and tram shelters in central areas and the Promenade during the next few days.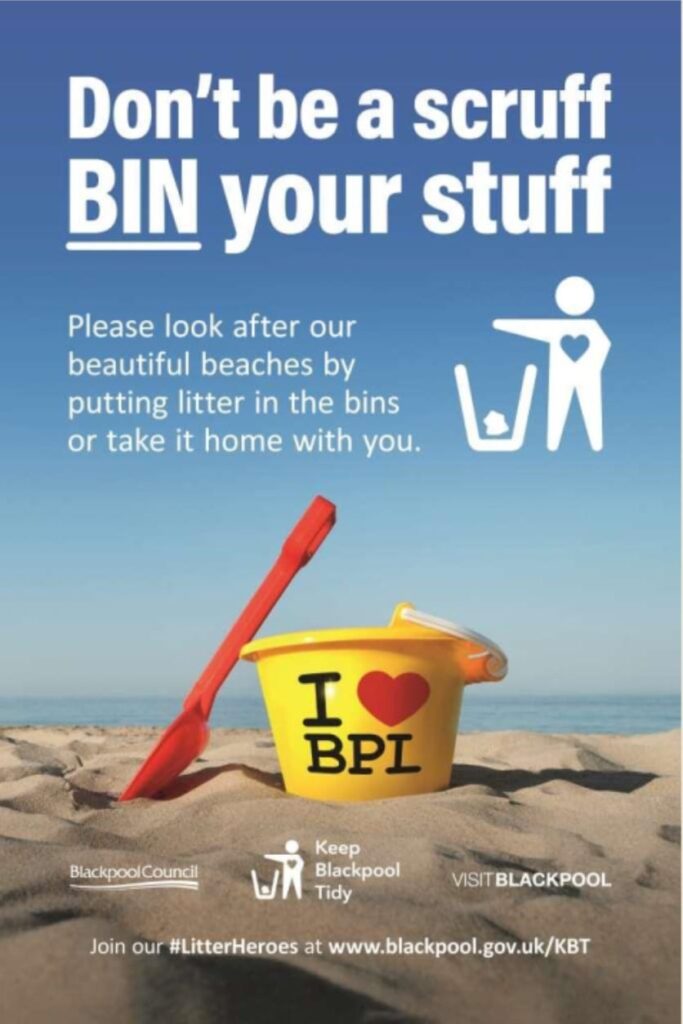 These are intended to encourage people to use the many litter bins available. If beachgoers see that the bins are full, then they are being reminded to take their rubbish to the next one or take it home with them.
The anti-litter message emphasises that the ultimate responsibility lies with people, whether they live locally or come to visit the town to keep it clean and tidy.
Lots of Bins – use them!
Blackpool has more than 800 litter bins across the borough including 250 large capacity litter bins on the Promenade alone. They are emptied daily under normal conditions and collections are increased in line with good weather and higher visitor numbers.
The service operates daily from 6am to 6pm to ensure where possible litter bins have the capacity to accept litter after the staff have left the areas. Tannoy announcements are made throughout the day from service vehicles to encourage everyone to clear their litter there and then, and not simply wait until they leave the beach.
The existing Keep Blackpool Tidy campaign encourages more residents, visitors and businesses to take pride in keeping the resort clean.
Run between Blackpool Council and environmental charity Keep Britain Tidy, the campaign focuses on reducing litter in the streets and encouraging more people to take up community litter picks.
Get involved
Residents can volunteer to become a litter hero and help to make a difference to their local area.
Whilst the scheduled Keep Blackpool Tidy litter pick events are currently on hold, community-spirited residents have still been doing their bit to help keep the town clean.
The service has seen a recent spike in those registering to become Keep Blackpool tidy ambassadors over the last few months, with around 120 litter pick packs distributed over the last few weeks alone, with requests coming in daily.
For more information on the campaign or to join the litter heroes, visit www.blackpool.gov.uk/KBT
Cleaning up Blackpool Campaign 2017
The campaign to make Blackpool the cleanest seaside resort in the UK by 2020 started in 2017. The aim is to remind people to look after their local area. Published February 2017

Blackpool Town Centre last summer – busy – and no litter
Run between Blackpool Council and environmental charity Keep Britain Tidy, the campaign focuses on reducing litter in the streets and encouraging people to take up community litter picks.
Since the start of the campaign, extra bins have been installed in the town centre. Special litter enforcement officers handed out fines to people caught dropping litter on the ground.
Cllr Gillian Campbell, Deputy Leader of Blackpool Council, said: "The first year of the campaign made changes which contribute to a cleaner Blackpool. Enforcement officers have handed out plenty of fines to people who have been caught dropping litter. That £80 fine should act as a deterrent to stop them doing it again.
"More bins around the town centre should also make it easier for people to throw their rubbish away responsibly. A lot of the onus should be on members of the public to actively use the bins and not drop litter on the ground. If a bin is full then you are never too far from another one that can be used.
For more information on the campaign, or to sign up as a Keep Blackpool Tidy ambassador, visit www.blackpool.gov.uk/tidy
A Message Against Rogue Dog Owners
Bloomfield councillors Graham Cain and Jim Hobson (seen above with residents) worked with the local community to tell dog owners to pick up after their pets. Or face an £80 on the spot fine. Published in 2016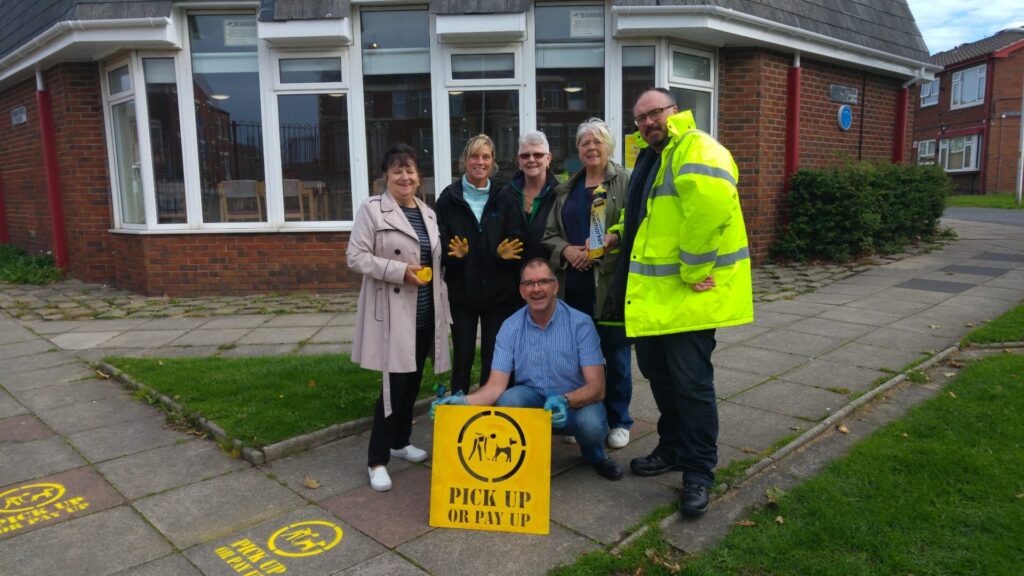 To help the message stick, they used environmentally friendly paint to stencil the message onto the pavement.
The striking yellow paint displays the message 'pick up or pay up' and was stencilled around the Ibbison Court area just off Central Drive.
Painting of the stencils took place over the weekend. Members of the local New Revoe Residents Association helped.
Cllr Graham Cain, said: "We're keen to help clean up the streets in Bloomfield for families to use safely. The council is cracking down on people who are caught not picking up after their dogs. Hopefully, our work will spread the message that failing to pick up after your dog is not acceptable and if you're caught then you will be fined."
Fellow ward councillor Jim Hobson added: "Dog fouling is one of the biggest complaints we get from members of the community. It is a filthy habit and an emotive issue."
New Litter Enforcement
Blackpool Council's Executive Committee considered a strategy to cut down on litter and dog fouling when they met in June 2016. Published June 16
The Keep Blackpool Tidy campaign focuses on six strategic objectives aimed at cleaning up Blackpool, including
education and engagement with the local community,
promoting the importance of picking up litter to residents and tourists
clamping down on people who ignore the rules.
The campaign involved stronger enforcement on people who drop litter or dog foul. A new enforcement team was brought in by the Council to get tough on people who don't follow the law.
A one year pilot contract with civil enforcement company 3GS Environmental Enforcement Solutions was recommended.
The company will provide a more visible presence in the town centre and Promenade, handing out on the spot fines to people who don't obey the rules. 3GS is a proven company with good results in reducing littering and dog fouling in busy areas such as Leeds, Bournemouth and Swansea.
Thankfully, 80% of people in Blackpool do the right thing. They take their litter away with them or pick up after their pet. The heat is being turned up on those who ignore the rules.
Both littering and dog fouling are offences that incur on the spot fines of £80.